CSL South Conference Championship
Saturday, October 17, 2020
Duke Childs Field
---
Race Times: #8-14 @ 8:30am, #1-7 @ 9:40am
This week was a busy one for the Titans as they competed in the Central Suburban League (CSL) South Conference Championships hosted by New Trier High School. Due to the COVID health restrictions from the IHSA, the conference meet was held in a very unorthodox manner. In a usual year, the conference meet would be a one day, one location ordeal with thousands of runners from both the CSL North and CSL South divisions. This year, the North and South divisions ran separately, racing in flights of no more than 42 runners. On Monday, October 12th, the Junior Varsity and freshman teams competed at Duke Childs Field and New Trier's freshman campus respectively. On Saturday, October 17th, the Varsity team ran again at Duke Childs Field. This was the last race of the season for most of our runners, and they sure went out with a bang.
Starting off the meet, the JV team raced at Duke Childs Fields on Saturday morning. This was the first time any of our runners had raced at the course; usually, New Trier hosts all of its races at its freshman campus. The morning was a cold and rainy one, or, as Coach Hass likes to call it, "Real Cross Country Weather." The boys went out there and gave it their all, competing hard in their last meet of the season. Unfortunately, the flighted nature of the meet made it difficult to combine results, so the JV level went unscored. Sully Richards (SO) was the first Titan through the line, setting a PR of 17:49 for 3 miles. He was followed by a close pack including James Scott (SR, 18:15), Luke Gregory (SR, 18:17), and Tyson Anthony (Sr, 18:19). Ryan Schaefer (SO) was the fifth Titan to finish at 18:28. On the JV level, 10 seniors competed in their last high school cross country meet ever. Congratulations to James Scott, Tyson Anthony, Dane Branstrom, Carter Adams, Cole Brady, Karol Bakawski, Kyle Segelen, Ricky Egen, Stefanos Lahanis, and Captain Luke Gregory on a fantastic season and fantastic cross country career.
Later in the afternoon, the freshmen ran their conference meet at New Trier's freshman campus. New Trier's course was not their traditional 1-mile loop that passes through the neighboring forest preserve, but rather a slightly shorter loop contained within the campus. Going into the meet, we knew it would be a tough battle with New Trier and Evanston, teams who the freshmen narrowly lost to in their respective dual meets. When the gun sounded, the freshmen took out the race hard, running together in their usual tight pack. Andy Ordway was the first Titan to cross the line, finishing with a personal best of 11:13 in 6th place. Behind him, Geoff Maddalozzo finished in 8th at 11:20. Jack Qualkenbush (11:30, 12th), Jefferson Wei (11:32, 14th), and Matt Barney (11:45, 18th) all ran personal bests. Andy, Geoff, Jack, and Jefferson all made the "Freshman All-Conference" team. It was a great race for the freshmen, who almost all ran personal best times. Behind the Top 5, were Sam Knezevich (12:14), Yosh Jedynak (12:17), Ryan Gershowitz (12:39), Patrick Kuprewicz (12:50), Winston Chu (13:02), Nathan Mihm (13:03), Jack Clark (13:07), Luke Chavez (13:17), Tom McDonagh (13:29), Nathan Trosman (13:33), Jovan Gvero (13:53), Aditya Shah (14:20), Danny Laurencelle (14:41), Aayan Ali (14:44), Aidan Hogan (15:08), Adam Wojciechowicz (15:10), Ryan Solesky (15:12), and Eric Nardulli (18:27). In all, the freshmen finished in 3rd with a score of 58.5, just behind New Trier with 44 and Evanston with 45. We are immensely proud of the freshmen for running such a great season and showing what it means to be a Titan.
On Saturday, the Varsity team lined up at Duke Childs Field for their conference meet. The morning was a cold one, and running first were our 8th-14th runners, who ran in their own scored race. Finishing first for the Titans was junior Michael Westfall, who ran a huge PR of 16:51 to finish in 9th place. Behind him, Elie Nassif (JR, 17:04) led Sebastian Zimmer (JR, 17:06) and Brett Wittenstein (JR, 17:06) through the line, finishing in 13th, 14th, and 15th respectively. Harrison Wollney (SR) finished in 20th with a time of 17:16. John Paul Philbrick (JR, 17:33) and Matthew Klonecki (JR, 17:45) were the last two Titans through the line. Together, the boys finished in 2nd place behind New Trier, demonstrating the depth of our team. Special shout out to Captain Harrison Wollney for finishing his high school cross country career. Click HERE for drone footage from the race.
In the last race of the week, the Top 7 from each CSL team took to the course to race for the conference title. The race went out fast with a large pack of runners coming through the first mile in the 4:50-5:00 range. Brian Hiltebrand (JR) led the Titans, who were running in a strong pack behind him. In the end, Brian finished in 9th place with a time of 15:28.9, earning his second consecutive All-Conference award. Mrugesh Thakor (SR) followed Brian in 16:08.9. Jayson Stamm (JR) finished in 20th with a 16:14.3. Behind him, Cody Slutzky (SR) and Matthew Finkel (SR) finished together in 22nd and 23rd with times of 16:26.7 and 16:29.9. In 29th and 38th were Michael Jerva (JR) and Preston Davidson (SR). The Titans finished in the top half of the conference with a 3rd place team score of 89 points. Click HERE for drone footage from the race.
With the season now finished for the majority of the team, the Titans now have their eyes focussed on the upcoming IHSA Regional. On Saturday, October 24th, the Top 7 will race at Hoffman Estates. There, they will compete to qualify for a spot at the following week's Sectional meet, also hosted at Hoffman Estates.
Team scores for all events, including short-distance, field, etc.
Varsity
| | | |
| --- | --- | --- |
| 1 | New Trier | 27 |
| 2 | Maine South | 50 |
| 3 | Glenbrook South | 89 |
| 4 | Evanston | 98 |
| 5 | Glenbrook North | 127 |
| 6 | Niles West | 149 |
Junior Varsity
| | | |
| --- | --- | --- |
| 1 | New Trier | 15 |
| 2 | Glenbrook South | 62 |
| 3 | Glenbrook North | 83 |
| 4 | Evanston | 95 |
| 5 | Niles West | 113 |
Team scores only for Distance Events (ones featured on results tabs). This is an automated process, so results should be treated as-is.
Varsity
Junior Varsity
Course Map & Directions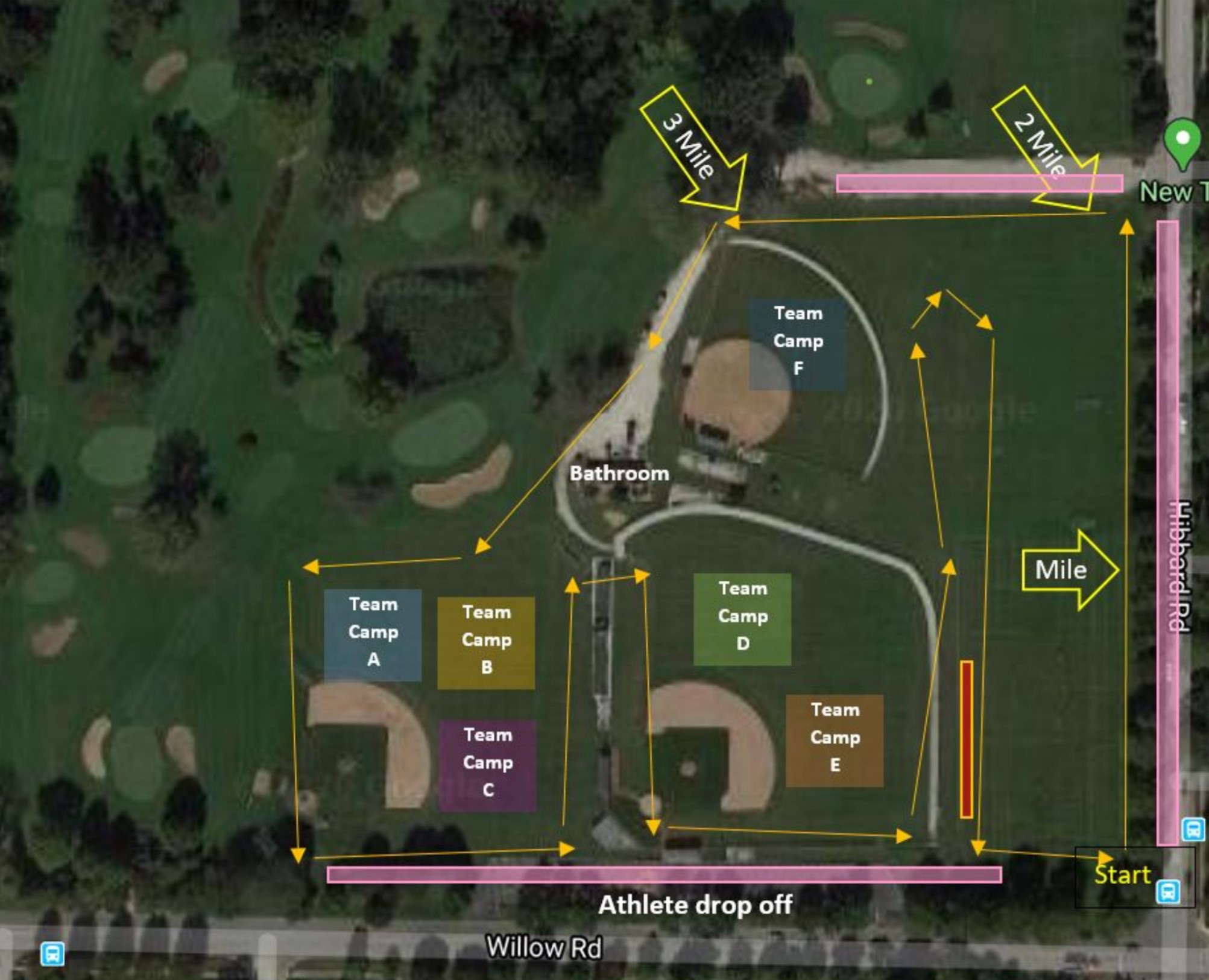 ---
Photos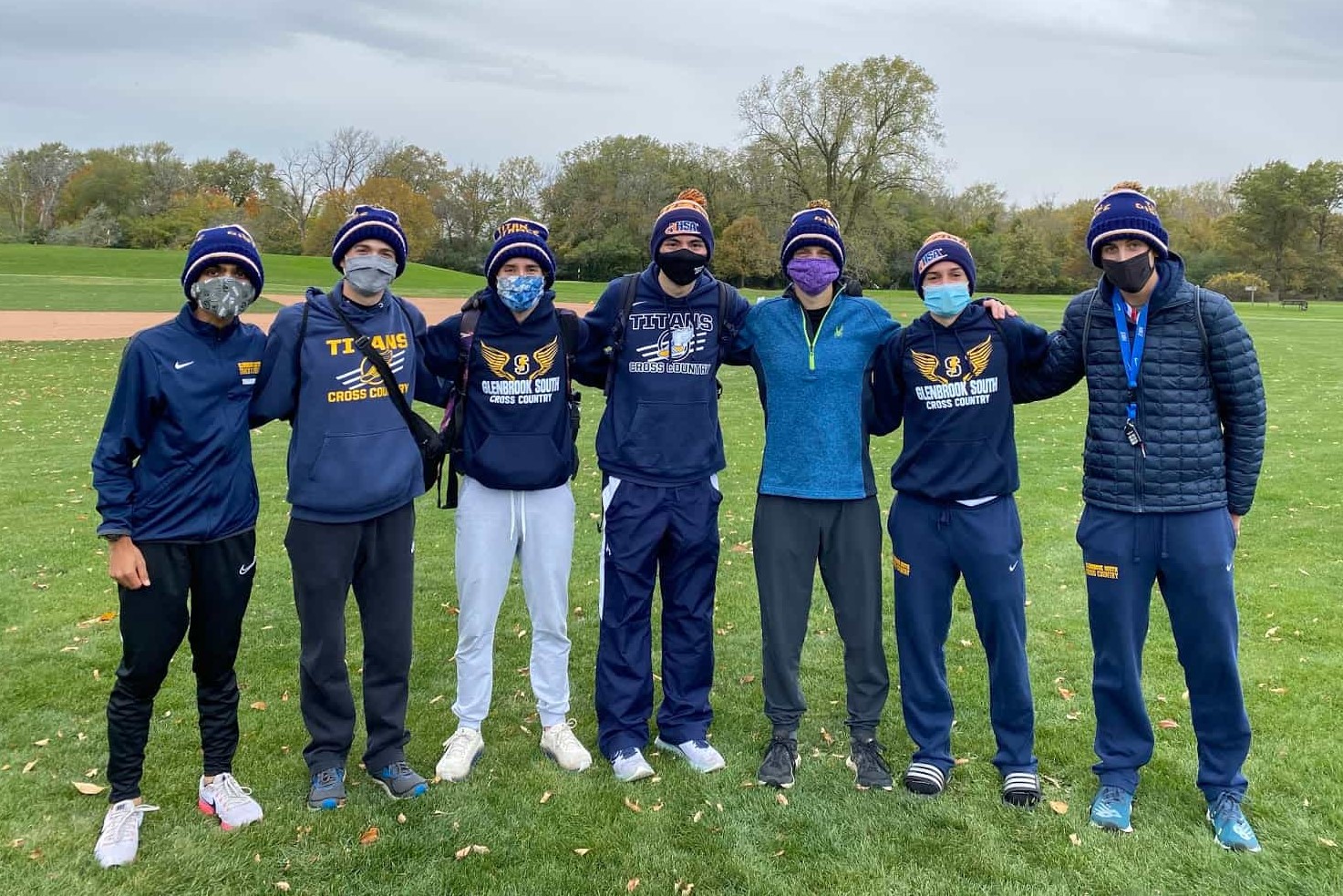 Photographer(s): Preston Davidson, Brett Wittenstein
Official Results (F.A.T.)
Place
Name
Grade
Time
Team
1 Mile
2 Mile
Finish
1
Nick Falk
Jr.
14:59.9
New Trier
2
Matt Coyle
Sr.
15:01.9
Maine South
3
Essay Tolosa
Jr.
15:09.9
Evanston
4
Eamon Brady
Sr.
15:16.9
Maine South
5
Charlie Siebert
Sr.
15:18.4
New Trier
6
Conor O'Neill
Sr.
15:20.0
New Trier
7
George Esteve
Sr.
15:21.9
New Trier
8
George Cahill
Jr.
15:24.3
New Trier
9
Brian Hiltebrand
Jr.
15:28.9

SR

Glenbrook South
5:00
5:15
5:13
10
Andrew Flynn
Sr.
15:42.6
New Trier
11
Matt Cull
Sr.
15:46.0
Maine South
12
Nick Ihrke
Sr.
15:47.4
Glenbrook North
13
Noah Rush
Sr.
15:49.7
New Trier
14
Bora Celiknal
Jr.
16:00.7
Niles West
15
Mrugesh Thakor
Sr.
16:08.9
Glenbrook South
5:12
5:33
5:23
16
Luke Pravecek
So.
16:09.3
Maine South
17
Joey Karlesky
So.
16:11.6
Maine South
18
Luca Arcuri
So.
16:12.2
Maine South
19
Sonny Granzetto
Jr.
16:13.3
Evanston
20
Jayson Stamm
Jr.
16:14.3

PR

Glenbrook South
5:13
5:34
5:27
21
Declan Ahern
So.
16:26.4
Evanston
22
Cody Slutzky
Sr.
16:26.7

PR

Glenbrook South
5:16
5:39
5:31
23
Matthew Finkel
Sr.
16:29.9

SR

Glenbrook South
5:16
5:41
5:32
24
Ellis Allen
Sr.
16:34.0
Evanston
25
Will Huddleston
So.
16:34.9
Maine South
26
Gabe Johnson
So.
16:35.8
Glenbrook North
27
Nick Redstone
Sr.
16:39.0
Glenbrook North
28
Patrick Herbst
Jr.
16:42.5
Glenbrook North
29
Michael Jerva
Jr.
16:42.7
Glenbrook South
5:18
5:42
5:42
30
Jack Wernecke
Jr.
16:44.0
Niles West
31
Solomon Greene
Jr.
16:44.1
Evanston
32
Dylan Eyler
Jr.
16:50.5
Evanston
33
John McGivern
Sr.
16:52.1
Niles West
34
Josh Stolyarov
Jr.
16:55.9
Glenbrook North
35
Max Nauman
Jr.
16:56.7
Niles West
36
Alex Krull
Sr.
17:01.9
Glenbrook North
37
Matthew Carey
Sr.
17:04.7
Niles West
38
Preston Davidson
Sr.
17:10.7
Glenbrook South
5:20
5:55
5:55
39
Will Lande
So.
17:17.2
Niles West
40
Ethan Suh
Sr.
17:33.1
Niles West
41
Daniel Weaver
Sr.
18:03.2
Glenbrook North
Print Results
Junior Varsity Results (3mi)
Official Results (F.A.T.)
Place
Name
Grade
Time
Team
1 Mile
2 Mile
Finish
1
Patrick Jamieson
Jr.
15:48.1
New Trier
2
Blake Deger
Jr.
16:09.7
New Trier
3
Jack Moran
Jr.
16:10.1
New Trier
4
Evan Veneziano
Jr.
16:12.7
New Trier
5
Lincoln Crowe
Sr.
16:22.9
New Trier
6
Gabe Nosek
So.
16:24.2
New Trier
7
Ben Keenan
Sr.
16:37.3
New Trier
8
Nico Lospalluto
So.
16:43.5
Maine South
9
Michael Westfall
Jr.
16:51.0

PR

Glenbrook South
5:38
5:52
5:22
10
Alex Wille
So.
16:52.7
Maine South
11
Graham Paterson
Jr.
17:01.0
Glenbrook North
12
Branden Chi
Jr.
17:02.4
Glenbrook North
13
Elie Nassif
Jr.
17:04.2

PR

Glenbrook South
5:38
5:54
5:33
14
Sebastian Zimmer
Jr.
17:06.4

PR

Glenbrook South
5:38
5:54
5:35
15
Brett Wittenstein
Jr.
17:06.8

PR

Glenbrook South
5:39
5:54
5:34
16
Anthony Raciti
Jr.
17:07.1
Niles West
17
Jack Nelson
Sr.
17:08.7
Evanston
18
Paul Garcia
Jr.
17:10.0
Evanston
19
Dean Kousiounelos
Jr.
17:11.4
Glenbrook North
20
Harrison Wollney
Sr.
17:16.5

SR

Glenbrook South
5:33
5:59
5:45
21
Cormac Schliesman
Jr.
17:17.5
Evanston
22
Rohan Kuttan
Sr.
17:19.5
Evanston
23
Ebaad Siddiqui
Sr.
17:20.3
Niles West
24
Ali Karatas
Jr.
17:21.0
Niles West
25
Sam Rubinstein
Jr.
17:24.8
Glenbrook North
26
Graham Hetzler
So.
17:25.5
Glenbrook North
27
Gael Santiaguillo
So.
17:26.2
Evanston
28
Evan Polak
So.
17:26.2
Niles West
29
Alan Sung
So.
17:31.2
Glenbrook North
30
John Paul Philbrick
Jr.
17:33.6
Glenbrook South
5:38
5:56
6:00
31
Nathan Stolyarov
Jr.
17:37.1
Glenbrook North
32
Zachary Cheuk
Sr.
17:38.6
Niles West
33
Matthew Klonecki
Jr.
17:45.3
Glenbrook South
5:40
6:08
5:57
34
Noah MorrisHoffer
Sr.
17:49.8
Evanston
35
Dominick Parrillo
So.
18:01.0
Maine South
36
Thomas Magdaleno
Jr.
18:04.0
Niles West
37
Aidan Vernon
Sr.
18:14.6
Evanston
38
Otmane Jbara
Jr.
18:23.9
Niles West
Print Results