CSL Conference Championship
Meet Name: CSL Conference Championship
Meet Date: Saturday, October 16, 2021
Location: Maine East High School
Opponents: Deerfield, Evanston, Glenbrook North, Highland Park, Maine East, Maine South, Maine West, New Trier, Niles North, Niles West, Vernon Hills
Levels: Varsity, JV, Sophomore, Freshmen
The Titans ran their final race of the 2021 Cross Country Season on Saturday, October 16th at Maine East High School for the CSL Conference Meet. It finally felt like racing weather as the day began under 50 degrees, and the boys took advantage of this with many personal bests on every level. The 7 Varsity runners along with 7 alternates will continue racing with regionals next weekend at home.
The Freshmen ended their season first with the first race of the day. Twelve out of the nineteen freshmen that could race set their best time ever with a pack of three leading the way. Charles Finkel and Cole Malecki led that pack sneaking under 12 minutes for 2 miles with times of 11:58 for 15th and 11:59 for 16th. Cole Branstrom brought up the rear of this great pack by edging out a Glenbrook North runner for a time of 12:01 for 17th. Max Goodman improved on his great start to his career in 12:32 in 28th place, and rounding out the top 5 was Connor Herrington, who finally was able to PR again, with a time of 12:32 in 32nd. This ended up being enough for the Freshmen team to finish in 5th just 2 points behind Glenbrook North. Nice job Freshmen on a great first season on Titan Distance!
The Varsity was the only level that did not take Saturday as their last race with the whole postseason ahead of them. Their race lined up next against some amazing competition. Senior Brian Hiltebrand used his frustrations from the Peoria Invitational two weeks prior to power him to a 15:51 finish in 5th place. Senior Jayson Stamm followed closely behind in 16:13 in 12th. Both, Hiltebrand and Stamm, finished in the top 14 which won them All-Conference nods! Senior Brendan Tanaka closed off his one and only cross country regular season finishing just a few spots off of All-Conference in 22nd with a time of 16:56. Seniors Michael Westfall (17:05) and Elie Nassif (17:06) were the 4th and 5th Titans to cross the line finishing back to back in 26th and 27th. Seniors John Paul Philbrick (17:36) and Michael Jerva (17:55) came across soon after in 33rd and 35th. The team secured a great 3rd place overall. The team will now focus on next Saturday where they will host the Regionals meet with the chance to advance to Sectionals the following week.
The Sophomores ended their season on a high note led by some great times all around. Cyrus Cooke led the way once again in 17:38 for 6th place. Following close behind, Sam Knezevich crossed the line in 17:45 for 10th, and Jefferson Wei finished in 12th with a time of 17:58. Andy Ordway (18:31) and Jack Qualkenbush (18:56) rounded out the top 5 Titan Sophomores in 16th and 21st. Finishing with 5 runners in the top 25 of a big meet is a great way to end the season, and it got a great 2nd place finish behind the dominant New Trier team. The future is bright for the Titans!
The Junior Varsity team closed out the day as it started to heat up from the noon sun. Eleven long-term Senior runners lined up for the very last time for this race. It was a bittersweet moment as they ran hard one more time to put a great cap on their amazing careers. Senior Sebastian Zimmer and Junior James Hiltebrand raced hard to the finish line with Zimmer kicking hard to finish in 17:36 in 19th with Hiltebrand on his heels at 17:36 in 20th. Senior Lucas Houser represents the final Houser to come through Glenbrook South, and he put the final marks on their elite legacy in 17:41 for 23rd. Seniors Jack Cleary and Matthew Penne ended their 4-year careers with their best times ever, both sneaking under the 18-minute mark, in 17:50 for 29th and 17:59 for 35th. In a race that was swept by the New Trier JV team, the Titans JV team still got a hard-fought 3rd place.
Great job to everyone who raced on Saturday! It was an amazing day to represent the Glenbrook South Titans, and now the majority of the team will have some time to rest up before winter running and long-distance Track & Field in the Spring. The postseason time trial for non-varsity runners will take place on the track on Wednesday after school. Also, we are hosting Regionals this year, so come out and support our Varsity boys on Saturday as they look to extend the season to Sectionals the following Saturday. We will see you there!
Individual Results
Official Results (F.A.T.)
Please select an event/division from the dropdown above.
Varsity
| Place | School | Score |
| --- | --- | --- |
| 1 | New Trier | 26 |
| 2 | Deerfield | 51 |
| 3 | Evanston | 105 |
| 4 | Highland Park | 138 |
| 5 | Glenbrook South | 150 |
| 6 | Niles West | 177 |
| 7 | Vernon Hills | 186 |
| 8 | Niles North | 215 |
| 9 | Glenbrook North | 215 |
| 10 | Maine South | 219 |
Junior Varsity
| Place | School | Score |
| --- | --- | --- |
| 1 | New Trier | 15 |
| 2 | Evanston | 59 |
| 3 | Glenbrook South | 81 |
| 4 | Glenbrook North | 97 |
| 5 | Niles West | 150 |
| 6 | Maine South | 173 |
Sophomore
| Place | School | Score |
| --- | --- | --- |
| 1 | New Trier | 18 |
| 2 | Glenbrook South | 56 |
| 3 | Evanston | 80 |
| 4 | Glenbrook North | 81 |
Freshmen
| Place | School | Score |
| --- | --- | --- |
| 1 | Evanston | 47 |
| 2 | New Trier | 54 |
| 3 | Maine South | 61 |
| 4 | Glenbrook North | 106 |
| 5 | Glenbrook South | 108 |
| 6 | Niles West | 134 |
Maine East High School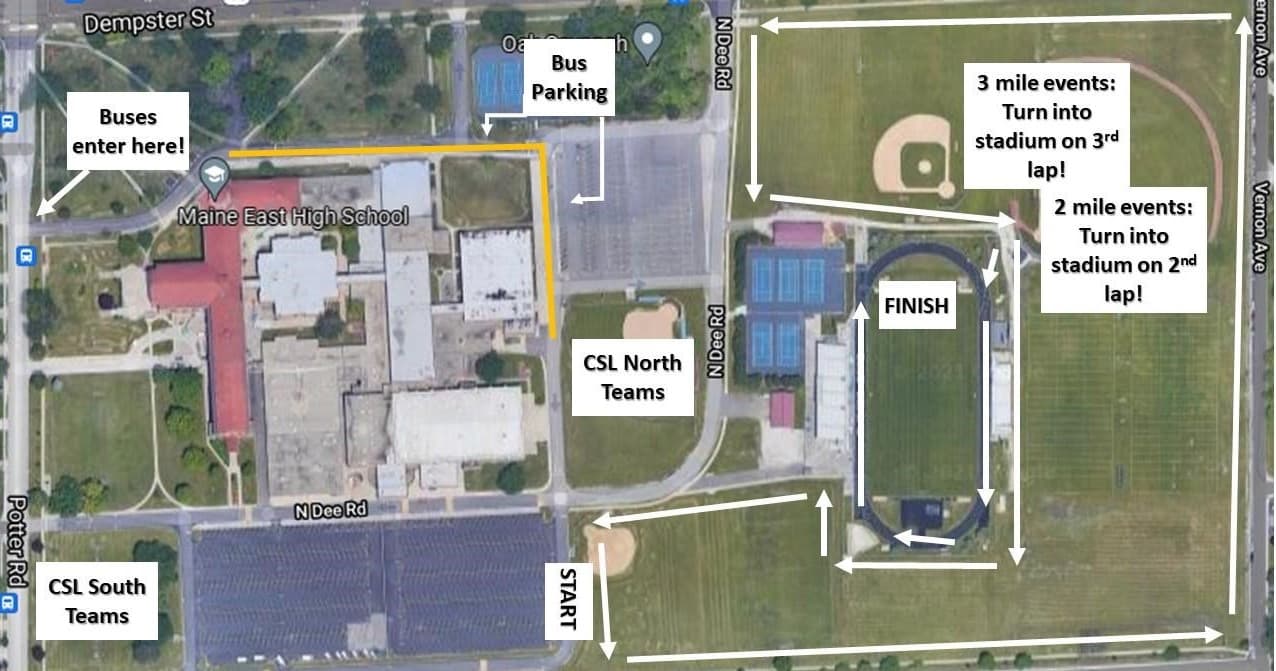 ---
---
Top 3mi Times by GBS Athletes
Previous GBS Appearances