Bill Dawson Blue Devil Invite
Meet Name: Bill Dawson Blue Devil Invite
Meet Date: Saturday, September 18, 2021
Location: Warren O'Plaine Campus
Opponents: Antioch Community, Buffalo Grove, Carmel, Cary-Grove, Crystal Lake South, Elgin, Larkin, Evanston, Fenton, Fremd, Glenbrook North, Johnsburg, Lakes Community, Maine East, Mundelein, Rockford East, Rolling Meadows, Round Lake, Wauconda, Wheaton North, Wheeling, Zion-Benton
Levels: Varsity, JV, Frosh/Soph
The Titans traveled North on Saturday morning, September 18th to Warren Township High School for the Bill Dawson Blue Devil Invite. The team spent the prior week preparing for the fast course followed by short rest with the CSL schedule starting on Tuesday. The course offered PRs on all levels as the boys worked specifically on packing up more and not trying to win the race in the first 400 meters.
The Frosh/Soph race started the day off with the last 3-mile race of the season for the freshmen. Sophomore Cyrus Cooke led the way for the Titans in 17:39 for 13th place. He was followed soon after by sophomores Sam Knezevich (18:32) and Charles Sturiale (18:35) in 35th and 36th respectively. Cole Branstrom finished first out of the freshmen with a time of 19:10 for 53rd place. Finishing off the scoring runners for the team was Jan Jedynak (19:40, SO) with Luke Chavez (19:41, SO) right behind him. Overall, the team finished 8th at this level.
Varsity was up next with sophomore Andy Ordway getting his first race at this level. Senior Brian Hiltebrand stuck with the front group through the first mile and beat out a runner from Evanston at the line to get 6th place with a time of 15:46. Senior Jayson Stamm finished soon after at 16:02 in 12th place. Senior Elie Nassif ran a great race, finishing in 16:32 for 20th place, and Michael Westfall (17:01, SR) and Michael Jerva (17:06, SR) rounded out the varsity scoring to get a 3rd place finish only 1 point behind Evanston who the team will have the chance to get revenge against on Tuesday. Also, Andy Ordway got a nice PR of 17:12 in his first Varsity race!
The Junior Varsity boys lined up for the last race of the day in the afternoon heat. They easily took a great 1st place finish led by 3 runners finishing in the top 10 and 6 runners in the top 25. James Hiltebrand (17:34, JR) and John Paul Philbrick (17:36, SR) led the way in 6th and 7th place. Following them was another group of Matthew Klonecki (17:43, SR), Lucas Houser (17:52, SR), and Sully Richards (17:56, JR) in 10th through 12th places. Senior Brett Wittenstein (18:24, SR) made his return after dealing with injuries finishing in 25th place.
It was another great day of racing for the Titans, and the team made some huge strides on all levels. The boys have a quick turnaround upcoming as they travel to Evanston Township High School on Tuesday for a CSL Quad Meet against Evanston, New Trier, and Niles West. Congrats to all runners who PRed at Warren, and we will see you all back on Tuesday!
Individual Results
Official Results (F.A.T.)
Please select an event/division from the dropdown above.
Varsity
| Place | School | Score |
| --- | --- | --- |
| 1 | Warren | 39 |
| 2 | Evanston Township | 103 |
| 3 | Glenbrook South | 104 |
| 4 | Fremd | 106 |
| 5 | Glenbrook North | 147 |
| 6 | Manitowoc Lincoln | 148 |
| 7 | Cary-Grove | 156 |
| 8 | Wheeling | 227 |
| 9 | Buffalo Grove | 236 |
| 10 | Fenton | 252 |
| 11 | Madison East | 291 |
| 12 | Antioch | 356 |
| 13 | Carmel Catholic | 369 |
| 14 | Larkin | 397 |
| 15 | Rolling Meadows | 399 |
Junior Varsity
| Place | School | Score |
| --- | --- | --- |
| 1 | Glenbrook South | 46 |
| 2 | Evanston Township | 52 |
| 3 | Manitowoc Lincoln | 78 |
| 4 | Fremd | 84 |
| 5 | Warren | 115 |
| 6 | Glenbrook North | 136 |
| 7 | Round Lake | 224 |
| 8 | Rolling Meadows | 242 |
Frosh/Soph
| Place | School | Score |
| --- | --- | --- |
| 1 | Fremd | 74 |
| 2 | Evanston Township | 84 |
| 3 | Rolling Meadows | 126 |
| 4 | Antioch | 130 |
| 5 | Wheeling | 133 |
| 6 | Glenbrook North | 166 |
| 7 | Mundelein | 179 |
| 8 | Glenbrook South | 198 |
| 9 | Zion Benton | 209 |
| 10 | Carmel Catholic | 249 |
| 11 | Warren | 266 |
| 12 | Crystal Lake South | 280 |
| 13 | Round Lake | 321 |
| 14 | Lakeland | 391 |
| 15 | Manitowoc Lincoln | 423 |
Warren O'Plaine Campus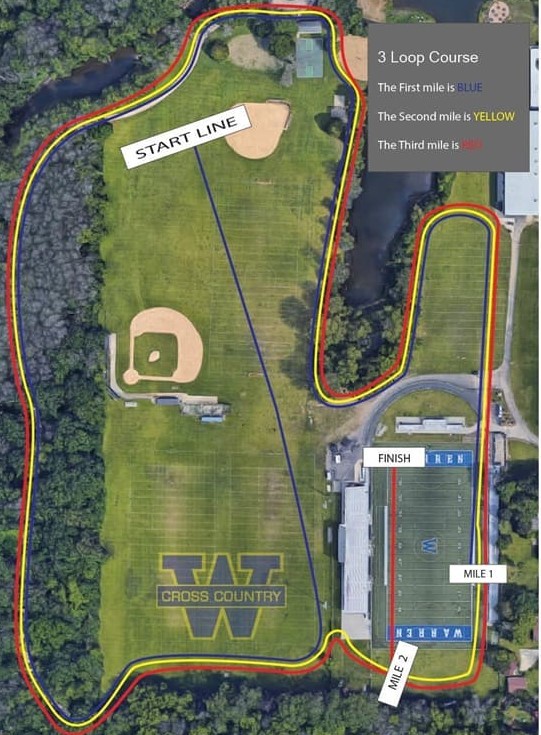 ---
---
Top 3mi Times by GBS Athletes
Previous GBS Appearances