Glenview (Glenbrook South) Sectional
Thursday, June 10, 2021
John Davis Titan Stadium
Upper 80s & Overcast
---
Sectional magic was in the air on Thursday afternoon as the Titans competed against 15 other teams to qualify for state. Never in program history had the team won the meet, but our exceptional group fought hard and brought home the sectional plaque. In the end, Glenbrook South's score of 101 bested Loyola Academy who finished in 2nd with 74 points. In addition to this fantastic team effort, 5 Titans qualified for the IHSA state meet across 8 different events. Congratulations to Nathan Shapiro, Noah Shapiro, Ryan Faut, Stefan West, and Brian Hiltebrand for this huge accomplishment.
At 4:00 PM, the field events started with the long jump. In 4th place was Ryan Schaefer (SO), who jumped just short of the state qualifying standard at 6.58m. Ahead of him was Nathan Shapiro (JR), who took 3rd at 6.81m, qualifying for the state meet. Nathan previously qualified for state as a freshman in the 300m hurdles.
As the long jump went on, Noah Shapiro (JR) and captain Artie Schleizer (SR) competed in the high jump. Schleizer took 5th, jumping a height of 5'11". Noah followed that with a personal best, jumping 6'3" to take 3rd and qualify for state.
Out at the discus ring, captain Ryan Faut (SR) dominated the event with a throw of 49.30m. This throw won him the meet by nearly 5m as he qualified for state. Behind him was Tom McDonnell (SR), who threw 36.69m to take 7th.
In the pole vault, Elie Nassif (JR) finished in 6th, vaulting a height of 3.41. Patrick Moran (SO) was a no-height.
Rounding out the jumps, Stefan West (SR) and Ben Freidinger (JR) competed in the triple jump. Finishing in 17th, Freidinger jumped 11.73m. West's jump of 13.19m earned him a 2nd place finish and a trip down to the state meet.
In the shot put, Ryan Faut again dominated with a throw of 16.86m, handily winning the sectional by over 2m. Thomas McDonnell finished in 10th at 13.00m.
With the field events over, the gun went off for the 4x800m at 6:15. Lucas Houser (JR) led off the relay with a 2:11 split. Next was Matthew Klonecki, who split a 2:18. Matthew Penne was the third leg, and he ran a PR of 2:13. Running the last race of his high school career, captain Harrison Wollney (SR) ran a 2:08.7. In all, the team took 10th with a time of 8:51.08.
In the 4x100m relay, the team of Ben Freidinger, captain George Dornan (SR), Nathan Shapiro, and Noah Shapiro narrowly missed qualifying with their 3rd place finish. Their time of 43.13 put them just 0.06 seconds behind Prospect.
Next was the 3200m run, where captain Cody Slutzky (SR) and Jayson Stamm (JR) represented the Titans with 12th and 17th place finishes respectively. They finished in times of 10:23.24 and 10:32.40.
The 3200m was followed by the 110m Hurdles. The lone Titan in the event, Tyler Hurst (SR) finished in 8th, running a 16.06, a PR.
In true Shapiro fashion, Noah and Nathan raced hard in the 100m dash. The pair finished in 3rd and 4th respectively, running near identical times of 11.24 and 11.26. Both narrowly missed qualifying in the event.
Brian Hiltebrand (JR) and Michael Jerva (JR) both had something to prove in the 800m, running their hearts out in a fantastic race. Running neck and neck with New Trier's Patrick Jamieson, Hiltebrand finished in 2nd at 1:57.75. This was the exact qualifying time for the event, and it earned Brian a trip down to the state meet. Jerva finished in 6th with a time of 2:01.74.
In the 4x200m relay, the Titans ran a time of 1:36.45 for a 6th place finish. The team consisted of Noah Collins (JR), Austin Hurst (SO), Artie Schleizer, and Ben Freidinger.
George Dornan's time of 51.68 earned him a 4th place finish in the 400m. Behind him, Jaden Dias ran a 57.54 for a 23rd place finish.
Up next was the 300m hurdles. Due to an injury, Nathan Shapiro hadn't run the event since the Conant Invitational, but he was striving to repeat his freshman year qualification. His time of 39.21, a PR, put him in 2nd place, just behind the top hurdler in the state, Kalil Johnson of Evanston. This was the second event Nathan qualified in at the meet. Behind them, Ryan Schaefer took 6th with a time of 41.51.
The 1600m was the last distance event of the evening. In it were Michael Westfall (JR) and James Hiltebrand (SO). Westfall finished in 17th place, running a PR of 4:45.62. In 28th was Hiltebrand, who ran a 4:59.48.
The final individual event of the evening was the 200m dash. Running just 0.02 seconds behind the first place qualifier, Noah Shapiro finished in 2nd, qualifying for state with a time of 22.68. Ben Freidinger ran a PR of 23.65 to take 13th.
To close out the night, the 4x400m relay began right at 9:00 PM. The team of Ryan Schaefer, Michael Jerva, Brian Hiltebrand, and George Dornan was intent on taking 2nd to qualify for state. Though the team ran hard, they fell just short, finishing in 3rd by 0.73 seconds. The two qualifying teams were Loyola Academy and Prospect. Though it wasn't the outcome the boys wanted, they competed fantastically and have every reason to be proud of their performance.
In all, this was a sectional to remember. For the first time in program history, the Titans took home a sectional plaque, sending 5 athletes down to state in 8 events. Congratulations again to Ryan Faut (Shot put, Discus), Stefan West (Triple-Jump), Noah Shapiro (High Jump, 200m Dash), Nathan Shapiro (Long Jump, 300m Hurdles), and Brian Hiltebrand (800m Run).
Team scores for all events, including short-distance, field, etc.
Varsity
| | | |
| --- | --- | --- |
| 1 | Glenbrook South | 101 |
| 2 | Loyola Academy | 74 |
| 3 | New Trier | 57 |
| 4 | Evanston | 56 |
| 5 | Prospect | 52 |
| 6 | Deerfield | 43 |
| 7 | Lake Forest | 37 |
| 8 | Rolling Meadows | 33 |
| 9 | Fremd | 29 |
| 10 | Glenbrook North | 22 |
| 11 | Hersey | 20 |
| 12 | Highland Park | 11 |
| 13 | Maine East | 10 |
| 14 | Niles North | 8 |
| 15 | Wheeling | 4 |
| 16 | Notre Dame | 1 |
Team scores only for Distance Events (ones featured on results tabs). This is an automated process, so results should be treated as-is.
Varsity
| | | |
| --- | --- | --- |
| 1 | New Trier | 49 |
| 2 | Loyola Academy | 43 |
| 3 | Glenbrook South | 17 |
| 4 | Prospect | 16 |
| 5 | Hersey | 14 |
| 6 | Deerfield | 12 |
| 7 | Highland Park | 12 |
| 8 | Evanston | 10 |
| 9 | Rolling Meadows | 10 |
| 10 | Niles North | 6 |
| 11 | Glenbrook North | 3 |
| 12 | Lake Forest | 3 |
| 13 | Fremd | 0 |
| 14 | Maine East | 0 |
| 15 | Notre Dame | 0 |
| 16 | Wheeling | 0 |
John Davis Titan Stadium
Glenbrook South's Outdoor Stadium
---
Our newly-repaved outdoor 400m-track is ready for competition! With 8-lanes and plenty of spectator seating, John Davis Titan Stadium is no stranger to hosting large competitions.
Some Things to Know:
Concessions are available in our new concessions stand, located near the south endzone.
Pay attention to announcements from the clerk over the PA System. Typical events will have two calls followed by a final call. Please check-in with the clerk as soon as possible.
Bathrooms are available in our concessions stand building, located near the south endzone.
While most events have free entry, certain invites have nominal entrance fees to help cover timing costs. Thanks for your understanding!
Stadium Map: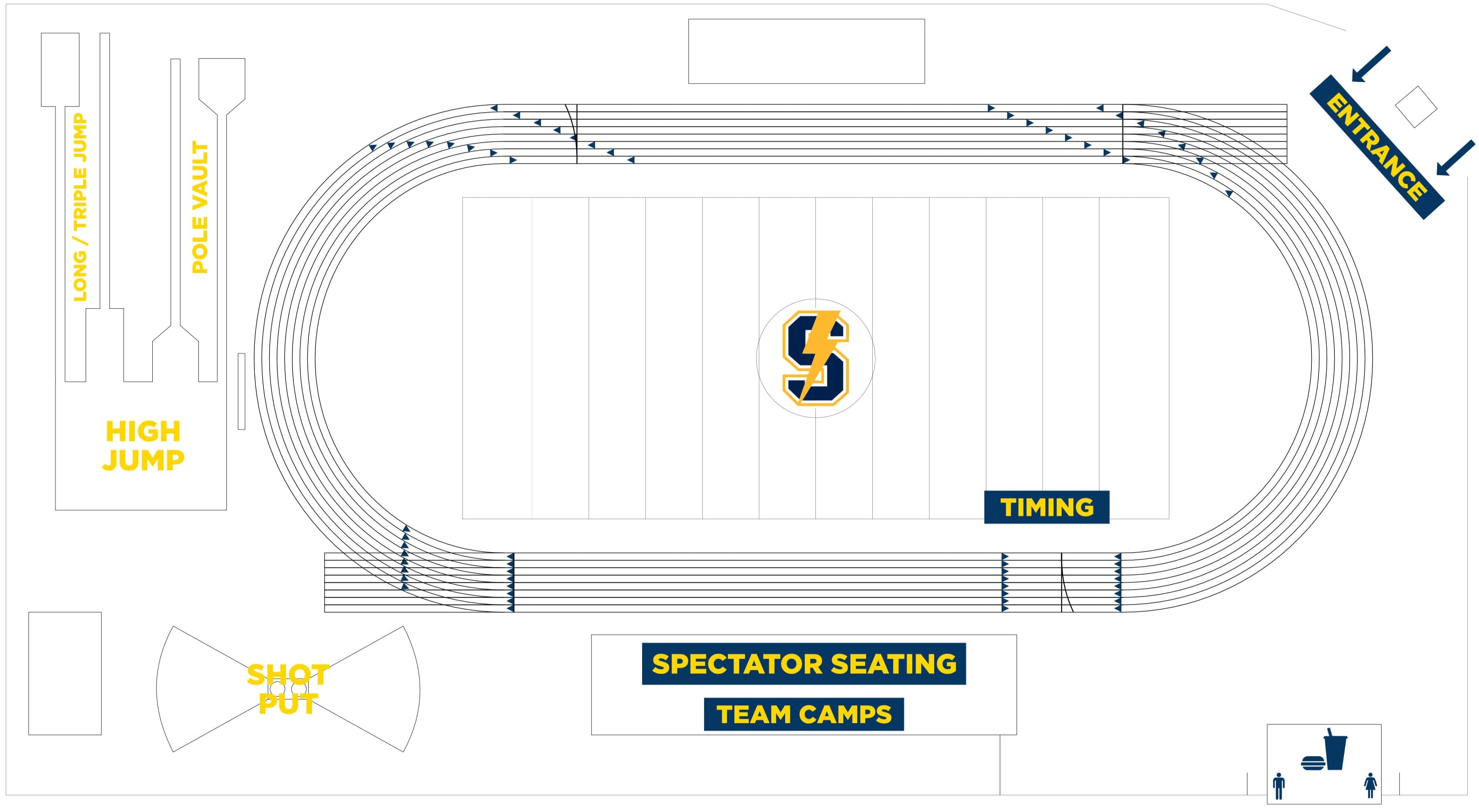 Getting Here:
John Davis Titan Stadium is located on the campus of Glenbrook South High School, located between West Lake Avenue, Pfingsten Road, and Landwehr Road. Once you arrive at Glenbrook South, the most convient parking is in the West parking lots. Turn into the parking lot at the light of West Lake Avenue and Robin Lane and proceed to the stadium.
Find on Google Maps
Stadium Records:
Event
Mark
Name
School
Year
100m Dash
10.4
Colin Hepburn
Glenbrook South
2009
10.4
Michael Bellamy
Kenwood Academy
1985
200m Dash
21.2
Neil Melcher
Glenbrook South
1991
400m Run
47.7
Neil Melcher
Glenbrook South
1991
800m Run
1:54.0
Neal Omar
Niles West
2012
1600m Run
4:09.8
Tom Robbins
Loyola
2007
3200m Run
9:03.5
Nico Composto
Loyola
2010
110m High Hurdles
13.8
Nat Page
Evanston
1975
300m Int. Hurdles
37.8
John Strickland
Glenbrook South
1990
4 x 100m Relay
42.08
Evanston
2015
4 x 200m Relay
1:28.5
Niles West
2010
4 x 400m Relay
3:18.3
Evanston
2004
4 x 800m Relay
7:55.4
Wheeling
1986
High Jump
2.13m (7-0 ft)
Nat Page
Evanston
1975
Pole Vault
2.74m (15-6 ft)
Declan Ritzenthaler
Loyola
2018
Long Jump
3.89m (23-10 ¼ ft)
Steve Battle
Gordon Tech
1989
Triple Jump
14.33m (48-1 ft)
Smith
Evanston
1985
Shot Put
17.60m (60-2 ¼ ft)
Ira Dolin
Glenbrook North
1979
Discus
49.68m (174-11 ft)
Ron Eichaker
Niles North
1974
Field events converted to metric, with actual distance measured listed.
Photos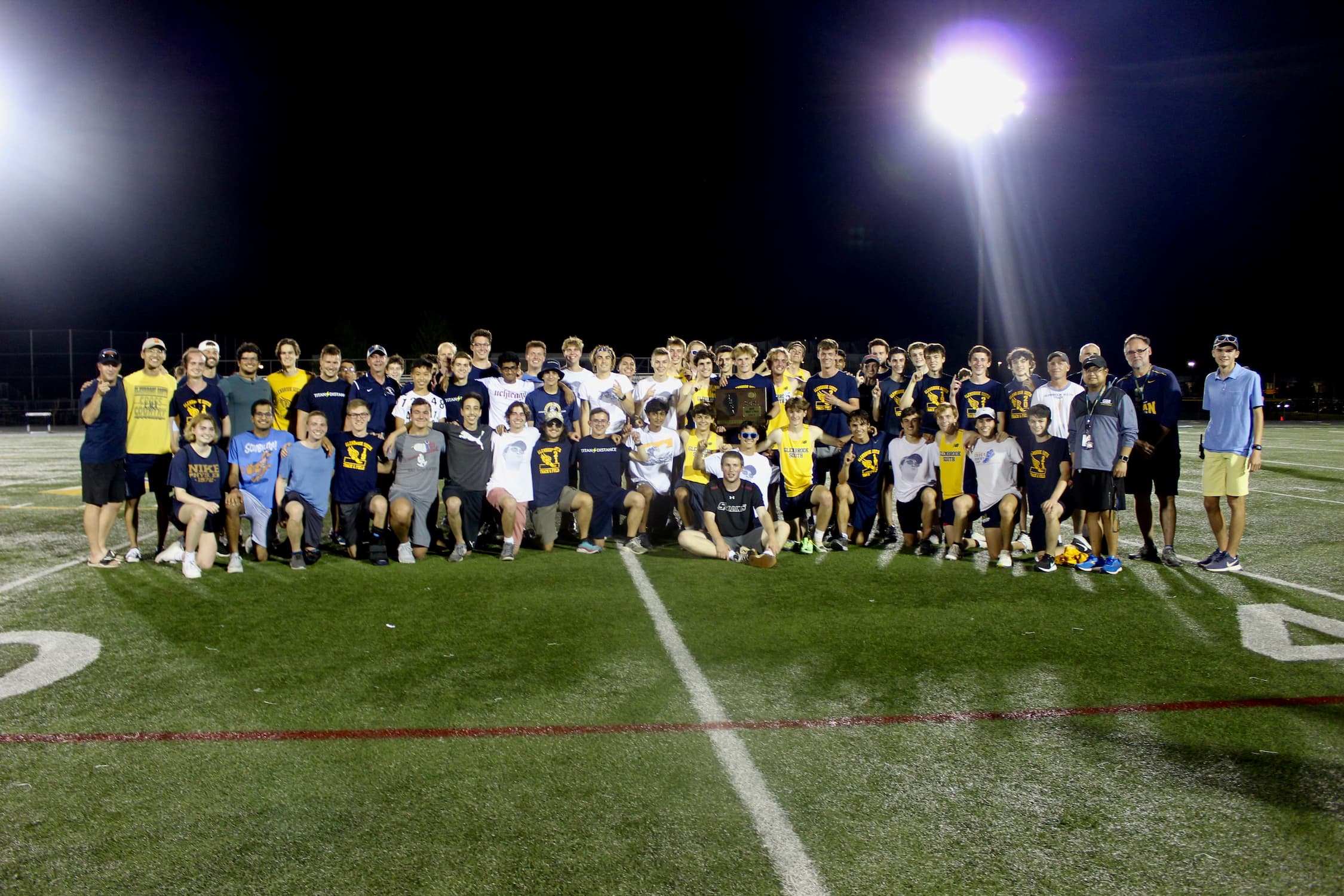 Photographer(s): Brett Wittenstein, Cody Slutzky
Official Results (F.A.T.)
800m
Place
Name
Grade
Time
Team
400m
800m
1
Patrick Jamieson
Jr.
1:57.46

IQ

New Trier
2
Brian Hiltebrand
Jr.
1:57.75

IQ

Glenbrook South
58.3
59.4
3
Aidan Simon
Jr.
1:59.07
Loyola Academy
4
Ben Zamler
Sr.
1:59.75
Deerfield
5
Blake Deger
Jr.
2:01.65
New Trier
6
Michael Jerva
Jr.
2:01.74
Glenbrook South
58.7
63
7
Liam Perreault
Sr.
2:01.97
Niles North
8
Nick Redstone
Sr.
2:02.91
Glenbrook North
9
William Simon
So.
2:03.62
Loyola Academy
10
Zach Zwolfer
Sr.
2:04.15
Notre Dame
11
Noah Jackson
So.
2:04.88
Highland Park
12
Dane Nitoi
Jr.
2:05.53
Niles North
13
John Ihrke
Fr.
2:05.56
Glenbrook North
14
Remy Jankusky
Sr.
2:06.05
Hersey
15
Vince Boberski
So.
2:06.79
Lake Forest
16
Charlie Hart
Sr.
2:07.66
Deerfield
17
Elijah Perry
Jr.
2:07.98
Rolling Meadows
18
Andrew Katsogianos
So.
2:08.00
Prospect
19
Erik Anderson
Sr.
2:08.28
Highland Park
20
Chris Ordon
So.
2:09.01
Wheeling
21
Ryan Elenz
Sr.
2:09.05
Rolling Meadows
22
Sam Bennett
Jr.
2:09.75
Evanston
23
Cormac Schliesmann
Jr.
2:10.49
Evanston
24
Liam Newton
Fr.
2:10.87
Notre Dame
25
Dylan Medley
Sr.
2:12.67
Fremd
26
Luka Kuzmanovic
So.
2:17.74
Prospect
1600m
Place
Name
Grade
Time
Team
400m
800m
1200m
1600m
1
Spencer Werner
Jr.
4:16.74

IQ

Loyola Academy
2
George Cahill
Jr.
4:22.97

IQ

New Trier
3
Andrew Flynn
Sr.
4:23.30

IQ

New Trier
4
Stephen Barretto
Sr.
4:24.46
Rolling Meadows
5
Liam Perreault
Sr.
4:25.81
Niles North
6
Nate Wehner
Fr.
4:26.10
Highland Park
7
Kaleb Whiteside
Sr.
4:29.86
Lake Forest
8
Jack Garrigus
Sr.
4:30.18
Loyola Academy
9
Connor Oiler
Jr.
4:30.51
Hersey
10
Cole Bernstein
Jr.
4:31.12
Deerfield
11
TJ Garland
Jr.
4:31.89
Prospect
12
Sammy Lagunas
Sr.
4:32.48
Rolling Meadows
13
Luis Vazquez
Sr.
4:33.12
Hersey
14
Theodore Cunningham
So.
4:37.65
Fremd
15
Jason Polydoris
Sr.
4:38.01
Highland Park
16
Lukasz Iwanowski
Jr.
4:39.94
Maine East
17
Michael Westfall
Jr.
4:45.62

PR

Glenbrook South
70
72
74
67
18
Nick Ihrke
Sr.
4:47.55
Glenbrook North
19
Ellis Allen
Sr.
4:49.03
Evanston
20
Japnam Hothi
Sr.
4:49.38
Wheeling
21
Omar Gonzalez
So.
4:49.76
Niles North
22
Matthew Jones
So.
4:50.12
Fremd
23
Sam Rubinstein
Jr.
4:50.33
Glenbrook North
24
Jake Ning
Fr.
4:50.78
Wheeling
25
Luke Davey
So.
4:54.41
Notre Dame
26
Adam Mrozek
So.
4:55.40
Maine East
27
Michael Piagari
Fr.
4:56.89
Prospect
28
James Hiltebrand
So.
4:59.48
Glenbrook South
70
73
74
82
29
Peter Elliott
Sr.
5:11.75
Lake Forest
30
Emmet Kisor
Fr.
5:22.95
Notre Dame
3200m
Place
Name
Grade
Time
Team
400m
800m
1200m
1600m
2000m
2400m
2800m
3200m
1
Spencer Werner
Jr.
9:11.24

IQ

Loyola Academy
2
Charlie Siebert
Sr.
9:16.52

IQ

New Trier
3
Nick Falk
Jr.
9:16.78

IQ

New Trier
4
Stephen Barretto
Sr.
9:17.48

IQ

Rolling Meadows
5
Jason Polydoris
Sr.
9:35.53
Highland Park
6
Quinn Born
Sr.
9:45.46
Hersey
7
Josh Puyear
Sr.
9:49.69
Deerfield
8
Sean Safford
Jr.
9:50.01
Hersey
9
Henry O'Malley
Fr.
10:18.55
Evanston
10
Sean Kura
Jr.
10:20.37
Prospect
11
Diego Buenrostro
Fr.
10:22.45
Rolling Meadows
12
Cody Slutzky
Sr.
10:23.24
Glenbrook South
72
76
75
81
80
81
81
77
13
Kyle Kenmotsu
Sr.
10:26.04
Niles North
14
Alex Brown
Jr.
10:28.27
Highland Park
15
Nic Squillacioti
Sr.
10:30.20
Prospect
16
James Lombardo
So.
10:31.63
Loyola Academy
17
Jayson Stamm
Jr.
10:32.40
Glenbrook South
72
74
77
81
81
81
81
85
18
Lucas Moskovitz
Jr.
10:36.13
Deerfield
19
Thomas Border
Fr.
10:39.92
Fremd
20
Casey Hippel
Sr.
10:41.65
Lake Forest
21
Luke Davey
So.
10:44.53
Notre Dame
22
Daniel Weaver
Sr.
11:01.49
Glenbrook North
23
Miguel Granados
Jr.
11:07.11
Wheeling
24
Dean Kousiounelos
Sr.
11:10.30
Glenbrook North
25
Bryan Martinez
Sr.
11:18.69
Wheeling
26
Maxwell Yates
Jr.
11:21.47
Lake Forest
27
Caleb Reed
Sr.
11:47.94
Fremd
4x400m
Place
Name
Grade
Time
Team
1
Relay Team
3:25.13
Loyola Academy
2
Relay Team
3:26.14
Prospect
3
Relay Team
3:26.87
Glenbrook South
Ryan Schaefer
So.
52.7
Glenbrook South
Michael Jerva
Jr.
51.6

PR

Glenbrook South
Brian Hiltebrand
Jr.
51.4

PR

Glenbrook South
George Dornan
Sr.
50.7
Glenbrook South
4
Relay Team
3:32.65
Evanston
5
Relay Team
3:34.30
Highland Park
6
Relay Team
3:34.82
New Trier
7
Relay Team
3:37.51
Deerfield
8
Relay Team
3:37.96
Lake Forest
9
Relay Team
3:38.80
Hersey
10
Relay Team
3:43.57
Niles North
11
Relay Team
3:44.26
Rolling Meadows
12
Relay Team
3:45.53
Wheeling
13
Relay Team
4:03.69
Notre Dame
4x800m
Place
Name
Grade
Time
Team
400m
800m
1
Relay Team
8:03.62
Hersey
2
Relay Team
8:04.54
Prospect
3
Relay Team
8:10.99
Loyola Academy
4
Relay Team
8:25.98
Evanston
5
Relay Team
8:26.82
New Trier
6
Relay Team
8:27.10
Deerfield
7
Relay Team
8:39.40
Glenbrook North
8
Relay Team
8:43.11
Highland Park
9
Relay Team
8:46.54
Lake Forest
10
Relay Team
8:51.08
Glenbrook South
Lucas Houser
Jr.
2:11.1
Glenbrook South
62.1
69
Matthew Klonecki
Jr.
2:18.0
Glenbrook South
66
72
Matthew Penne
Jr.
2:13.0

PR

Glenbrook South
62.7
70.3
Harrison Wollney
Sr.
2:08.7
Glenbrook South
63.3
65.4
11
Relay Team
8:52.33
Rolling Meadows
12
Relay Team
8:52.42
Wheeling
Print Results