CSL Triangular @ GBS
Tuesday, May 11, 2021
John Davis Titan Stadium
---
Due to a COVID-scheduling conflict, the girls will be competing against Maine South at this meet as well.
CSL Triangular @ GBS
Athletic.net Link
Meet Information
Meet Name: CSL Triangular @ GBS
Meet Date: Tuesday, May 11, 2021
Location : John Davis Titan Stadium
Opponents: New Trier, Maine East
Levels : Varsity, JV, Frosh/Soph
On Tuesday, May 11th, the Titans competed in their second CSL Triangular, hosting the New Trier Trevians and the Maine East Blue Demons in the John Davis Titan Stadium. Due to a COVID-related scheduling issue, our girl's team also competed at GBS, running against Maine South. With hundreds of athletes between the 5 programs present, the meet, which started at 4:30 pm, finally came to an end at 8:45 pm. It was awesome to see the team competing under the stadium light, cheering each other on up until the very end of the 4x400m relay. It's great to compete again!
To start off the evening, our 4x800 teams went out and competed well. Our fastest 4x8 team was our frosh/soph team, consisting of Andy Ordway (FR), Sanjeev Gorla (SO), Jeferson Wei (FR), and James Hiltebrand (SO). All four ran quite well, finishing with a time of 9:14.
Michael Jerva (JR) led the Titans in the 3200m, winning the event handily with a time of 10:39. Behind him were Jack Callaghan (JR) and Isaac Abraham (JR) who, after running the race side by side, finished in times of 12:16 and 12:17 respectively.
In the 800m, team captain and sprinter George Dornan (SR) chose to join Titan Distance for the evening, departing from his usual 400m. He finished in third with a time of 2:09.8, just behind a runner from New Trier. Michael Westfall (JR), who came in first, finished with a time of 2:08.5. And let's not forget James Hiltebrand, who ran a stellar 2:15 in the open 800 shortly after running in the 4x800m.
In the 400m, the sole Titan Distance runner was Will Patton (JR) who ran a 1:05.5, a PR. Congrats, Will!
Next up was the 1600m run, with 13 Titan Distance runners competing. In the frosh-soph heat, Andy Ordway took the win with a fresh PR of 5:07.2. Behind him was Jeferson Wei, who also PRed at 5:16.4. Great job, boys! In the open heat, Jayson Stamm (JR) won the event by 4 seconds, finishing ahead of New Trier with a time of 4:53.2.
Finally, at 8:45 pm, the meet finished under the lights with the 4x400m relay. Elie Nassif (JR) finished with the fastest split of the night, running a 57 second 400.
It was a great night of racing, and we're glad that we could host such great competition. Congrats to all who competed!
Individual Results
Official Results (Hand Timed)
Please select an event from the dropdown above.
Team scores for all events, including sprints, hurdles, field, etc.
Open
This is either an unscored meet, or team results are missing from our database. If you believe this is an error, please reach out.
Team scores only for Distance Events (3200m,1600m,800m,4x800m) using IHSA State Series scoring.
Open
| Place | School | Score |
| --- | --- | --- |
| 1 | Glenbrook South | 63 |
| 2 | New Trier | 53 |
| 3 | Maine East | 8 |
John Davis Titan Stadium
Glenbrook South's Outdoor Stadium
---
Our newly-repaved outdoor 400m-track is ready for competition! With 8-lanes and plenty of spectator seating, John Davis Titan Stadium is no stranger to hosting large competitions.
Some Things to Know:
Concessions are available in our new concessions stand, located near the south endzone.
Pay attention to announcements from the clerk over the PA System. Most meets will be conducted with two calls for each event- a first and a final call. Please check-in with the clerk as soon as possible.
Bathrooms are available in our concessions stand building, located near the south endzone.
While many events have free entry, certain invites have nominal entrance fees to help cover timing costs. Thanks for your understanding!
Stadium Map: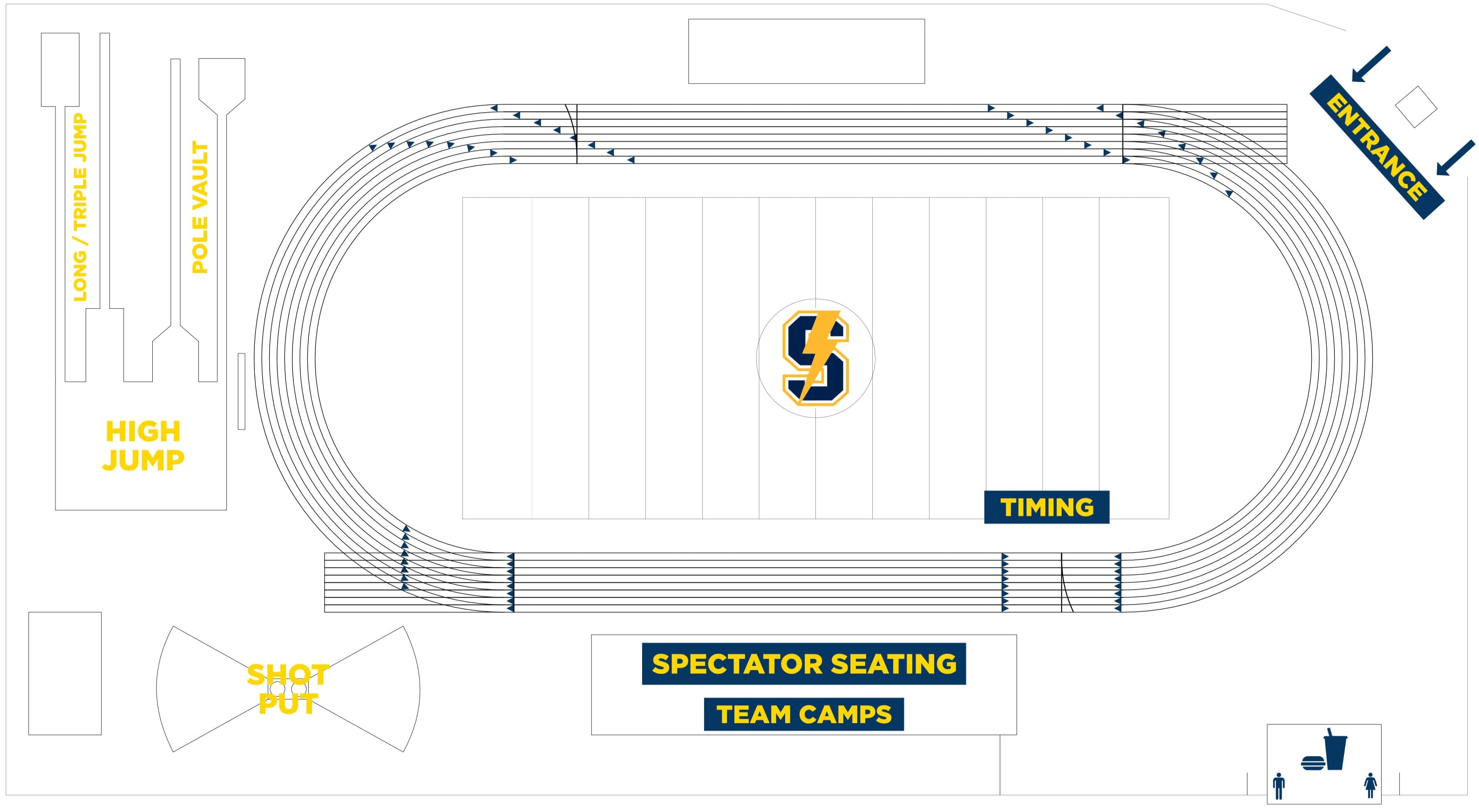 Getting Here:
John Davis Titan Stadium is located on the campus of Glenbrook South High School, located between West Lake Avenue, Pfingsten Road, and Landwehr Road. Once you arrive at Glenbrook South, the most convient parking is in the West parking lots. Turn into the parking lot at the light of West Lake Avenue and Robin Lane and proceed to the stadium.
Find on Google Maps
Stadium Records:
Event
Mark
Name
School
Year
100m Dash
10.4h
Colin Hepburn
Glenbrook South
2009
10.4h
Michael Bellamy
Kenwood Academy
1985
10.59
Nathan Shapiro
Glenbrook South
2022
200m Dash
21.2
Neil Melcher
Glenbrook South
1991
400m Run
47.7
Neil Melcher
Glenbrook South
1991
800m Run
1:54.0
Neal Omar
Niles West
2012
1600m Run
4:09.8
Tom Robbins
Loyola
2007
3200m Run
9:03.5
Nico Composto
Loyola
2010
110m High Hurdles
13.8
Nat Page
Evanston
1975
300m Int. Hurdles
37.8
John Strickland
Glenbrook South
1990
4 x 100m Relay
42.08
Evanston
2015
4 x 200m Relay
1:27.29
Prospect
2022
4 x 400m Relay
3:18.3
Evanston
2004
4 x 800m Relay
7:55.4
Wheeling
1986
High Jump
2.13m (7-0 ft)
Nat Page
Evanston
1975
Pole Vault
4.72m (15-6 ft)
Declan Ritzenthaler
Loyola
2018
Long Jump
7.42m (24-04 ¼ ft)
Nathan Shapiro
Glenbrook South
2022
Triple Jump
14.66m (48-1 ft)
Smith
Evanston
1985
Shot Put
18.35m (60-2 ¼ ft)
Ira Dolin
Glenbrook North
1979
Discus
53.31m (174-11 ft)
Ron Eichaker
Niles North
1974
For field events, actual distance measured first, conversion second.