Titans vs. Trevians
---
---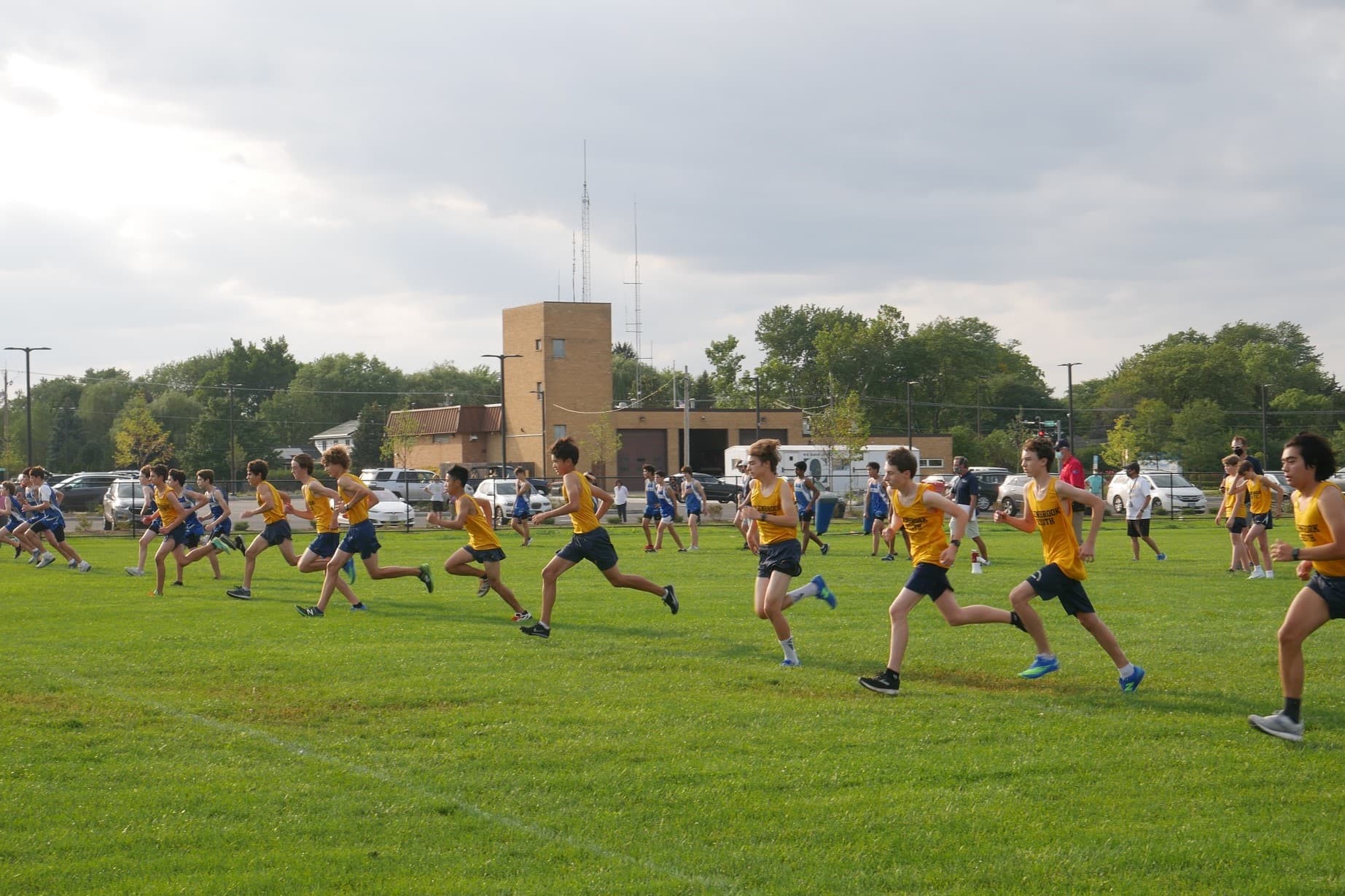 On Tuesday, September 15th and Wednesday, September 16th, the Titans lined up for their second home meet of the season to race New Trier. The number two ranked team in the state, Trevians offered formidable competition.
The JV1 team kicked off the meet on Tuesday afternoon with a 24-37 win. Sully Richards (SO) led the team with a 2nd place finish, coming through the line just behind New Trier's top runner. Behind him, Gabriel Cole (SR) came through in 19:17 with a 4th place finish. Gabe led the rest of JV1's strong pack, with Glenbrook South taking the 5th through 10th place spots. Matt Penne (JR, 19:22), Jack Callaghan (JR, 19:46), and Ethan Hernandez (JR, 19:56) closed out the Top 5.
At the Varsity level, New Trier demonstrated their strong pack running, finishing 2nd-6th place with a 5 second spread. The Titans fell to the Trevians, New Trier winning 20-41. Up in front, however, Mrguesh Thakor (SR) made a point to beat the New Trier pack, finishing in 1st with a time of 16:05. Brian Hiltebrand (JR) came through behind Mrugesh, finishing in 7th at 16:22. In 14th and 17th respectively, Jayson Stamm (JR) and Matthew Finkel (SR) ran times of 17:03 and 17:08. Preston Davidson (SR), Cody Slutzky (SR), and Sebastian Zimmer (JR) made up the rest of the Top 7. Special shout to Sebastian for making his way into the Top 7 from the second wave of the race.
On Wednesday afternoon, the Freshman started off the second day of racing. New Trier's 1 and 2 were closely followed by Geoff Maddalozzo and Andy Ordway. Geoff and Andy came through the first mile together at 5:41, but Geoff pulled away over the course of the last mile to finish at 11:52, 4 seconds ahead of Andy's 11:56. Behind them, Matt Barney, Jefferson Wei, and Josh Qualkenbush finished close together in times of 12:24, 12:29, and 12:32 In the end, New Trier just barely won, finishing 27-28. This close loss is nothing to be disappointed in, so we'll see how things play out at the conference meet.
In the last race of the meet, Sanjeev Gorla (SO, 20:22) led the JV2 team to a 19-44 victory over New Trier. Sanjeev's 1st place finish was followed up by Andy Yoon's (SO) 3rd place finish at 20:35. Behind them, Jack Olson (SO) and Danny Donnelly (SR) came through the line at 21:01 and 21:17. In a close race to the finish, Danny Klonecki (SO), Mason Adams (JR), and Derek Lentz (JR) all came through the line at 21:32. With automated timing, it's hard to say who exactly finished first, but that's up to them to debate.
This tough fought battle against New Trier is the last dual for almost two weeks. On Saturday, September 26th, the Titans will race their rival Glenbrook North at Glenbrook North. Until then, there are 10 days to recover and train even harder.
---