Meet Recap
The Titans finished 2nd at the IHSA Regionals at Prospect High School behind #4 ranked John Hersey High School.
At the mile mark, the Titans had 4 in the top 5 and after a strong push from the other schools, ended with 4 in the top 12. As a team, the Titans finished ahead of a strong push from host Prospect, beating them by 11 points. The Titans finished just 6 points behind Hersey.
Individually, Will Kelly (Sr) finished 2nd Overall behind Josh Methner of Hersey. Behind him in the Top-12 were Brian Hiltebrand (So), Will Houser (Sr), and James Kurtzweil (Sr). Jayson Stamm (So) finished the Top-5. Mrugesh Thakor (Jr) and Matthew Finkel (Jr) also with strong performances.
The Titans will next compete at the IHSA Sectionals at Busse Woods next Saturday. Meet Information will arrive this week.
Thanks to all of the fans who came out today to support!
Team Scores
| | | |
| --- | --- | --- |
| 1 | Arlington Heights (Hersey) | 58 |
| 2 | Glenview (Glenbrook South) | 64 |
| 3 | Mt. Prospect (Prospect) | 75 |
| 4 | Rolling Meadows | 101 |
| 5 | Palatine (Fremd) | 135 |
| 6 | Northbrook (Glenbrook North) | 145 |
| 7 | Hoffman Estates (H.S.) | 157 |
| 8 | Hoffman Estates (Conant) | 170 |
| 9 | Schaumburg (H.S.) | 203 |
Photos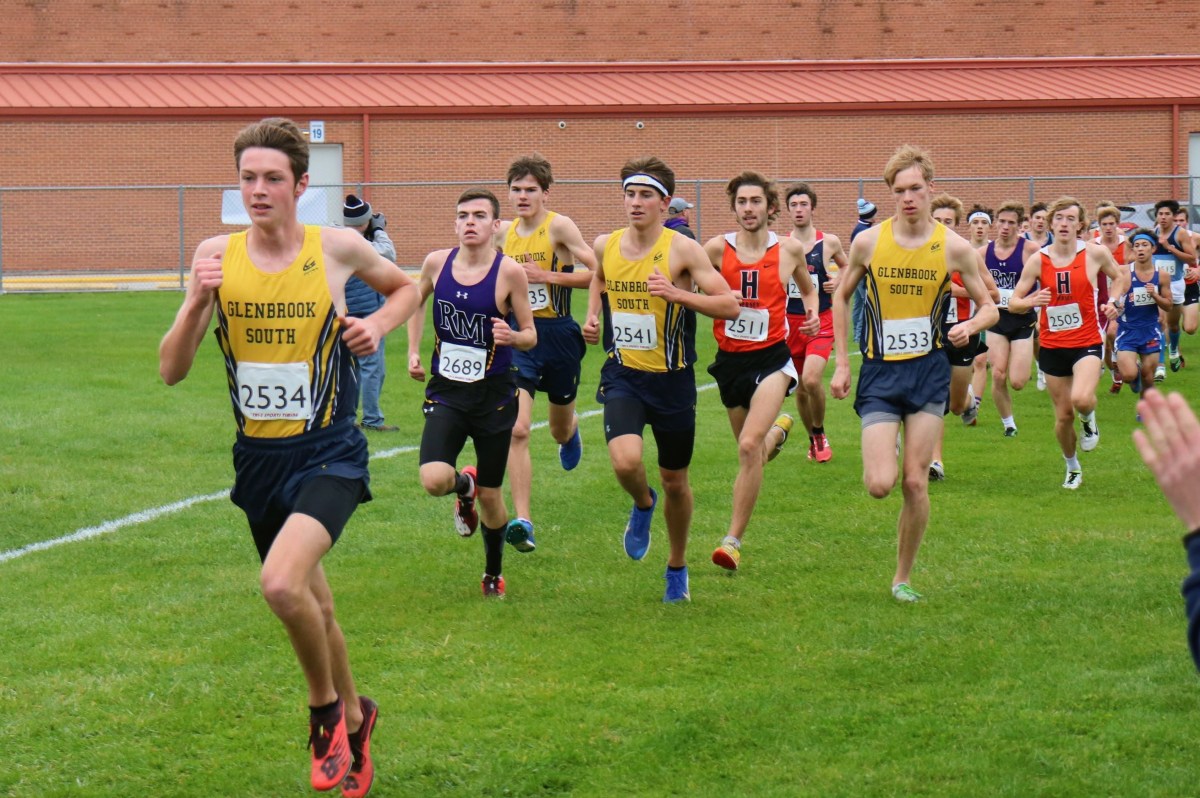 Photographer: Cody Slutzky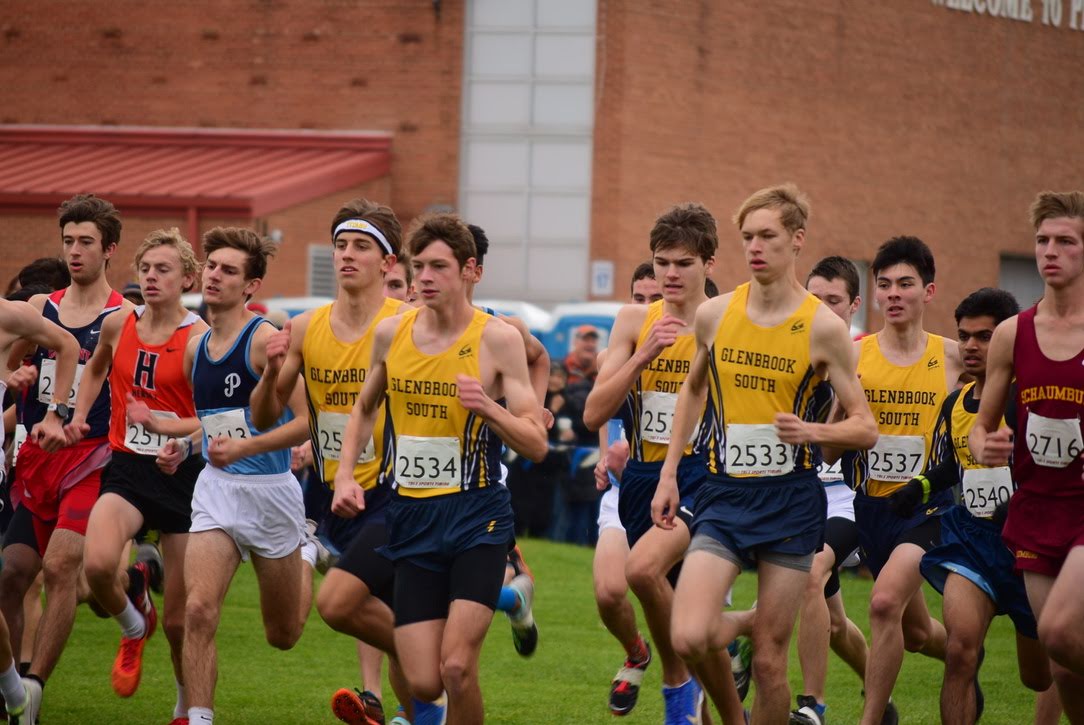 Photographer: Mr. Jortberg
Varsity Results
| Place | Name | Grade | Time | Team | 1 Mile | 2 Mile | Finish |
| --- | --- | --- | --- | --- | --- | --- | --- |
| 1 | Josh Methner | Sr. | 15:14.4 | Hersey | | | |
| 2 | Will Kelly | Sr. | 15:29.4 | Glenview (Glenbrook South) | 5:10 | 5:09 | 5:10 |
| 3 | Max Svienty | Sr. | 15:39.4 | Hersey | | | |
| 4 | Stephen Barretto | Jr. | 15:41.4 | Rolling Meadows | | | |
| 5 | Erik Snell | Sr. | 15:47.0 | Mt. Prospect (Prospect) | | | |
| 6 | Brian Hiltebrand | So. | 15:53.0 | Glenview (Glenbrook South) | 5:12 | 5:23 | 5:18 |
| 7 | Jack Martin | Sr. | 15:56.3 | Rolling Meadows | | | |
| 8 | Will Houser | Sr. | 16:01.7 | Glenview (Glenbrook South) | 5:12 | 5:22 | 5:28 |
| 9 | Tim Choma | Sr. | 16:02.6 | Hersey | | | |
| 10 | Jack Dechoudens | Jr. | 16:06.9 | Mt. Prospect (Prospect) | | | |
| 11 | Jack Wolski | Sr. | 16:08.0 | Palatine (Fremd) | | | |
| 12 | James Kurtzweil | Sr. | 16:09.8 | Glenview (Glenbrook South) | 5:12 | 5:31 | 5:27 |
| 13 | Ken Winston | Jr. | 16:11.8 | Hoffman Estates | | | |
| 14 | Jacob Johnson Wright | Sr. | 16:14.1 | Rolling Meadows | | | |
| 15 | Thomas Walter | Sr. | 16:14.2 | Mt. Prospect (Prospect) | | | |
| 16 | James Preucil | Sr. | 16:16.0 | Conant | | | |
| 17 | Grant Bonatz | Sr. | 16:16.1 | Schaumburg | | | |
| 18 | Dhruv Purohit | Sr. | 16:16.4 | Palatine (Fremd) | | | |
| 19 | TJ Garland | So. | 16:16.6 | Mt. Prospect (Prospect) | | | |
| 20 | Nick Ihrke | Jr. | 16:17.1 | Glenbrook North | | | |
| 21 | Ethan Parham | Sr. | 16:17.4 | Conant | | | |
| 22 | Sean Safford | So. | 16:17.9 | Hersey | | | |
| 23 | Nick Caraba | Sr. | 16:18.8 | Hersey | | | |
| 24 | Iverson Solis | Jr. | 16:19.4 | Hoffman Estates | | | |
| 25 | Thomas Novak | Sr. | 16:30.6 | Palatine (Fremd) | | | |
| 26 | Sean Kura | So. | 16:31.7 | Mt. Prospect (Prospect) | | | |
| 27 | Nick Redstone | Jr. | 16:33.8 | Glenbrook North | | | |
| 28 | Nic Squillacioti | Jr. | 16:34.6 | Mt. Prospect (Prospect) | | | |
| 29 | Sam Stubbs | Sr. | 16:34.8 | Hersey | | | |
| 30 | Michael Kruse | Sr. | 16:35.3 | Glenbrook North | | | |
| 31 | Josh Stolyarov | So. | 16:41.8 | Glenbrook North | | | |
| 32 | Jose Castillo | Sr. | 16:42.6 | Rolling Meadows | | | |
| 33 | Charles Zielinski | Jr. | 16:43.9 | Schaumburg | | | |
| 34 | Luke Linscott | Jr. | 16:47.4 | Hersey | | | |
| 35 | Nick Grasse | Sr. | 16:48.9 | Palatine (Fremd) | | | |
| 36 | Jayson Stamm | So. | 16:49.6 | Glenview (Glenbrook South) | 5:23 | 5:41 | 5:46 |
| 37 | Daniel Weaver | Jr. | 16:50.6 | Glenbrook North | | | |
| 38 | Preetpaul Singh | So. | 16:53.0 | Hoffman Estates | | | |
| 39 | Ahmar Khan | Jr. | 16:53.7 | Hoffman Estates | | | |
| 40 | Mrugesh Thakor | Jr. | 16:59.2 | Glenview (Glenbrook South) | 5:23 | 5:49 | 5:47 |
| 41 | Andrew Milas | Sr. | 17:01.9 | Conant | | | |
| 42 | Timothy St. John | Sr. | 17:04.7 | Glenbrook North | | | |
| 43 | Jerry Jimenez | So. | 17:10.0 | Hoffman Estates | | | |
| 44 | Carter Wachtel | So. | 17:10.0 | Rolling Meadows | | | |
| 45 | Andy Davidson | So. | 17:11.0 | Conant | | | |
| 46 | Dylan Siena | Jr. | 17:11.8 | Palatine (Fremd) | | | |
| 47 | Anthony Milas | So. | 17:12.1 | Conant | | | |
| 48 | Marcos Jaimes | So. | 17:12.4 | Schaumburg | | | |
| 49 | Jason Thomas | Jr. | 17:13.0 | Conant | | | |
| 50 | Kaden De Garmo | Sr. | 17:17.3 | Schaumburg | | | |
| 51 | Matthew Finkel | Jr. | 17:21.9 | Glenview (Glenbrook South) | 5:24 | 5:58 | 6:00 |
| 52 | Luka Kuzmanovic | Fr. | 17:24.3 | Mt. Prospect (Prospect) | | | |
| 53 | Omar Arroyo | Sr. | 17:26.9 | Hoffman Estates | | | |
| 54 | Khushin Patel | Sr. | 17:28.0 | Conant | | | |
| 55 | Nick McCoy | Jr. | 17:33.4 | Schaumburg | | | |
| 56 | Getsemani Aguirre | So. | 17:38.8 | Hoffman Estates | | | |
| 57 | Cole Martin | So. | 17:48.3 | Rolling Meadows | | | |
| 58 | Steven Veremis | Fr. | 17:56.4 | Palatine (Fremd) | | | |
| 59 | Kevin Lui | Sr. | 17:58.5 | Palatine (Fremd) | | | |
| 60 | Matt Trybus | So. | 18:02.7 | Schaumburg | | | |
| 61 | Alex Sanchez | Jr. | 18:07.9 | Rolling Meadows | | | |
| 62 | Christian Heywood | Fr. | 18:26.8 | Schaumburg | | | |