IHSA 3A Regional
Saturday, October 23, 2021
Glenbrook South High School
---
IHSA 3A Regional
Athletic.net Link
Meet Information
Meet Name: IHSA 3A Regional
Meet Date: Saturday, October 23, 2021
Location : Glenbrook South High School
Opponents: Hersey, Maine West, Evanston, Glenbrook North, Maine East, Niles North, Niles West, Wheeling, Loyola Academy, New Trier
Levels : Varsity
This past Saturday, October 23rd, the Titans hosted and competed in the IHSA Regional with absolutely perfect weather. The boys ran hard and capitalized by taking 4th place out of 11 teams overall behind three ranked teams: New Trier, Hersey, and Loyola. Their finish qualifies the team to advance to Sectionals next weekend for the IHSA Sectional, extending this streak to 7 straight years.
The race went out fast, and Senior Brian Hiltebrand stuck with the front pack to finish his first mile in under 5-minutes. He crossed the line at 3 miles in 16:08 in 13th place. Senior Jayson Stamm ran at a pretty consistent pace to finish just after Hiltebrand with a time of 16:18 in 16th. First-year Varsity runner, Senior Brendan Tanaka improved his personal best once again with a great race in 16:30 for 21st. Senior Sebastian Zimmer spent the majority of his season injured and has rapidly been making his way back. He was moved up to Varsity for this race and certainly took advantage by setting a massive personal record of 16:51 for 37th place. Rounding out the top 5 was Senior Michael Westfall with a time of 17:02 for 43rd. After not meeting his own expectations as of late, Senior Michael Jerva worked with the coaches and collectively decided to employ a new strategy heading into the postseason. As the gun was fired and everyone took off, Jerva remained at the line for about 2 seconds to allow him to go out a bit more controlled and work throughout the race to pass people. This paid off as he was able to get his time back down to 17:12 in 53rd. Finally, Senior Elie Nassif gutted out the rest of the race after reaggravating his achilles injury. Fighting through the pain, Nassif finished just after Jerva in 17:20 in 56th. In total the team had a total of 130 points for 4th place.
It was a great day to host the IHSA Regional on our home course with great competition all around. The team made some huge strides at this race, and they are all very excited as they look forward to running at Busse Woods next Saturday for the IHSA Sectional. The boys will spend the next week tapering and resting up, and we will see all of you on Saturday!
Individual Results
Official Results (F.A.T.)
Please select an event from the dropdown above.
Varsity
| Place | School | Score |
| --- | --- | --- |
| 1 | New Trier | 22 |
| 2 | Hersey | 79 |
| 3 | Loyola Academy | 100 |
| 4 | Glenbrook South | 130 |
| 5 | Glenbrook North | 138 |
| 6 | Evanston | 138 |
| 7 | Niles West | 166 |
| 8 | Niles North | 214 |
| 9 | Wheeling | 231 |
| 10 | Maine East | 273 |
| 11 | Maine West | 287 |
Team scores only for Distance Events (3200m,1600m,800m,4x800m) using IHSA State Series scoring.
Varsity
Glenbrook South Cross Country Course
---
Our cross country course is run on nearly 100% grass around the athletic fields of Glenbrook South. Over the years, tens of thousands of runners have crossed the finish line of our course in meets ranging from Duals to IHSA Competitions. The course is mostly-flat, and cut short for most meets.
Some Things to Know:
Bathrooms are available in our concessions stand building, located near the south endzone of John Davis Titan Stadium.
Per the Cook County Animal Control Ordinance, only service animals are allowed on school premises. If you bring a dog, you will be asked to leave the property.
Parking is available on-site in the "West Lot". Park nearest the stadium for the easiest access. Refer to the map below for more information.
Concessions are available for select meets in our new concessions stand, located near the south endzone of John Davis Titan Stadium.
Course Map: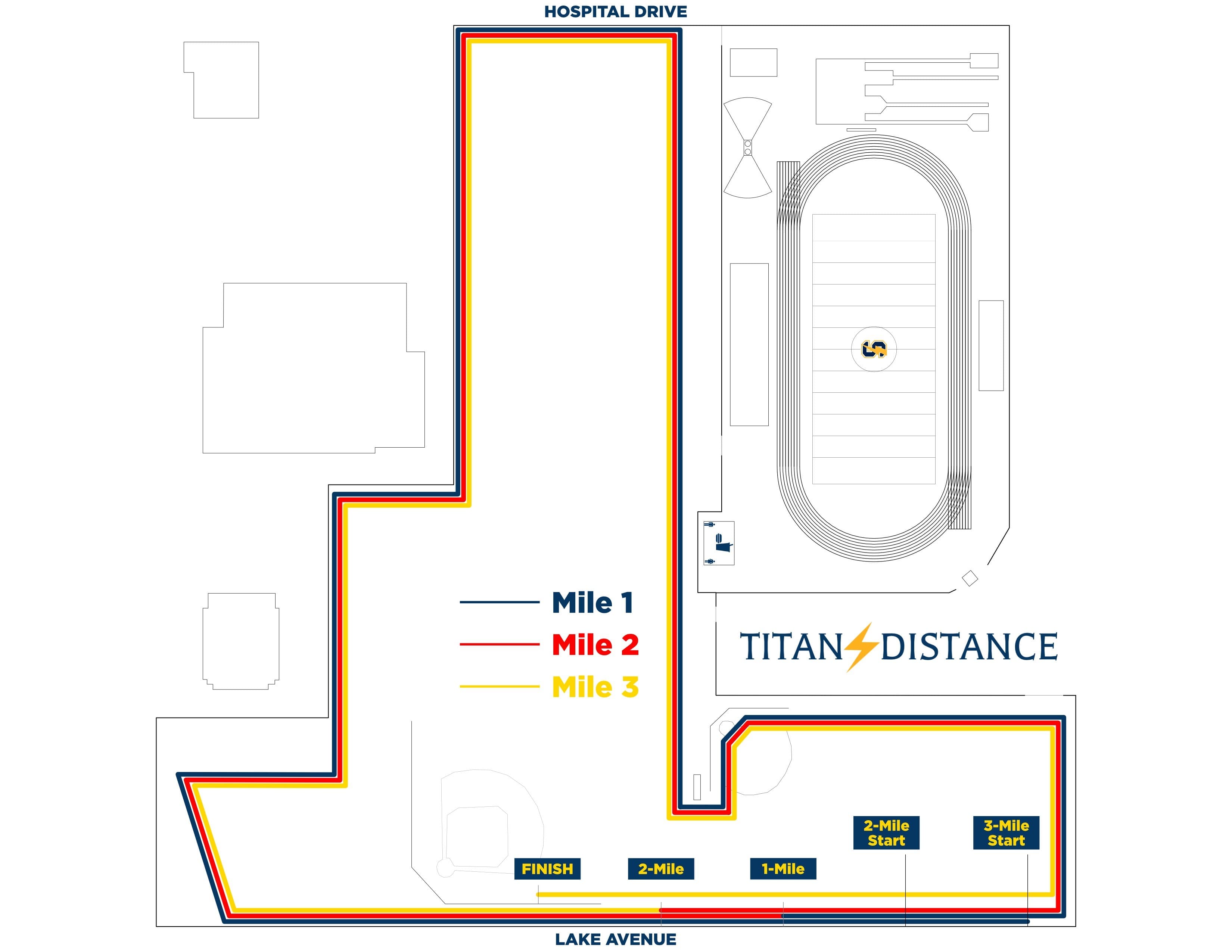 Getting Here:
Our cross country course is located on the campus of Glenbrook South High School, located between West Lake Avenue, Pfingsten Road, and Landwehr Road. Once you arrive at Glenbrook South, the most convient parking is in the West parking lots. Turn into the parking lot at the light of West Lake Avenue and Robin Lane and park nearest the stadium for easiest access.
Find on Google Maps
Course Records:
| | | | |
| --- | --- | --- | --- |
| 14:45 | Reese Jordan | Maine South | 2016 |
| 14:46 | Martin Baar | Niles North | 2015 |
| 14:47 | Brett Davidson | Highland Park | 2015 |
| 14:50 | Lenny Sitko | Niles Notre Dame | 1986 |
| 14:53 | Warren Blood | New Trier | 2016 |
| 14:59 | Scott Lidskin | Glenbrook South | 1991 |
| 15:00 | Josh Derrick | New Trier | 2015 |
| 15:00 | Joey Kasch | Maine South | 2019 |
| 15:04 | Nick Falk | New Trier | 2021 |
| 15:06 | Steve Miller | Elk Grove | 1984 |
| 15:09 | Ralph Patajuntas | Maine South | 2015 |
| 15:10 | Greg Harper | Glenbrook South | 1984 |
| 15:15 | Ryan Cahill | Glenbrook North | 1985 |
| 15:16 | Adam Christopher | Maine South | 2019 |
| 15:16 | Jason Polydoris | Highland Park | 2019 |
| 15:17 | Charlie Siebert | New Trier | 2019 |
| 15:18 | Mike Coen | Libertyville | 1983 |
| 15:18 | Max Peterson | Evanston | 2019 |
| 15:18 | Torrain Haughton | Maine East | 2015 |
| 15:19 | Brian Sedaro | Maine South | 2015 |
| 15:21 | Tommy King | New Trier | 2009 |
| 15:22 | Noah Graboys | New Trier | 2009 |
| 15:22 | Will Kelly | Glenbrook South | 2019 |
| 15:23 | Jack Litowitz | New Trier | 2015 |
| 15:24 | Nate Whitfield | Glenbrook North | 2015 |
| 15:24 | Matt Coyle | Maine South | 2020 |
| 15:25 | Spencer Werner | Loyola Academy | 2021 |
| 15:26 | Erik Sloan | New Trier | 2000 |
| 15:28 | Michael Moore | Maine South | 2009 |
| 15:28 | Connor Perreault | Niles North | 2015 |
| 15:29 | George Artope | Evanston | 1996 |
| 15:29 | Ted Oh | New Trier | 2015 |
| 15:29 | Alex Burck | New Trier | 2015 |
| 15:30 | Pete Delano | Maine South | 1985 |
| 15:30 | Rick Newman | Glenbrook South | 1985 |
| 15:31 | Jose Reyes | Highland Park | 2015 |
| 15:31 | Tommy Brady | Maine South | 2016 |
| 15:31 | Chris Langlois | Glenbrook North | 1983 |
| 15:32 | George Cahill | New Trier | 2021 |
| 15:33 | Tom O'Rourke | Loyola | 1984 |
| 15:33 | Pat Burnett | Glenbrook North | 1985 |
| 15:33 | JD Shelly | New Trier | 2019 |
| 15:34 | Patrick Norrick | New Trier | 2015 |
| 15:34 | Jeff Gallagher | Maine West | 1984 |
| 15:34 | Rocky Lee | Niles West | 1984 |