GBS-GBN Season Opening Dual
Tuesday, August 31, 2021
Glenbrook North High School
---
GBS-GBN Season Opening Dual
Meet Information
Meet Name: GBS-GBN Season Opening Dual
Meet Date: Tuesday, August 31, 2021
Location : Glenbrook North High School
Opponents: Glenbrook North
Levels : Varsity, JV
On Tuesday, August 31st, the Titans officially started off their season, traveling across town for the annual season opener against Glenbrook North with absolutely amazing weather. It's clear that the team's hard work and training over the summer is paying off, and the Titans are ready for a great season of racing.
Following the Girl's Open 2 Mile race, all of the boys outside of the top 10 lined up for a 2 Mile race of their own. From the start, a large pack of Titans led the way with seniors, Michael Westfall and John Paul Philbrick pulling away to finish 1st and 2nd with impressive times of 11:25 and 11:34. After them, Matthew Penne (11:58, SR), Sully Richards (12:00, JR), and Lucas Houser (12:03, SR) rounded out the top 5, finishing 6th through 8th overall. This ended up being enough to secure a Titan victory of 24-35.
The Varsity 4 Mile Coed Relay ensued with the top 10 runners of the boy's and girl's teams switching off miles with a baton. The girls kicked off the race, running a lap and then passing their batons off to the respective male runners. Seniors, Brian Hiltebrand (4:50 & 5:09) and Jayson Stamm (5:14 & 5:24) led the charge running great, controlled races. Sophomore runners, Andy Ordway (5:21 & 5:25) and Jefferson Wei (5:16 & 5:28), got their first taste of a varsity race following closely behind their senior captains. First-time cross country runner, Brendan Tanaka (SR), also, got to run in his first race as he dashed out to a speedy 5:09 followed by a 5:29, which was just enough to get 5 runners across the line in the top 7 places. The Titans beat the Spartans 24-34 at the Varsity level.
Overall, it was a great way to kick off the 2021 Cross Country season, competing against the Spartans and winning at both levels. The team is getting excited and ready for the first big invite in almost 2 years as they travel to Veterans Acres Park on Saturday morning for the Crystal Lake South Invitational. We'll see you then!
Individual Results
Official Results (Hand Timed)
Please select an event from the dropdown above.
Open
| Place | School | Score |
| --- | --- | --- |
| 1 | Glenbrook South | 24 |
| 2 | Glenbrook North | 34 |
Team scores only for Distance Events (3200m,1600m,800m,4x800m) using IHSA State Series scoring.
Open
Glenbrook North High School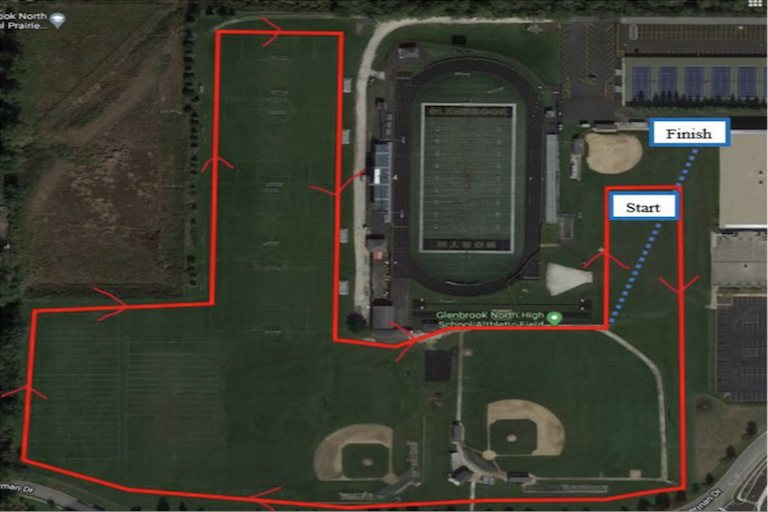 ---
---
Top 3mi Times by GBS Athletes
Previous GBS Appearances