GBS-GBN Season Opening Dual
Thursday, August 29, 2019
Glenbrook South High School
---
The Titans defeated the Spartans on Thursday, September 29th at Home. The Titans begin their season 1-0 before the CSL meets.
At the open level, the Titans finished #1-7 in the 2 mile run, with Jayson Stamm (So) leading the pack with his time of 12:00, despite the 20mph winds. Freshmen Ryan Schaefer finished right behind him with Carter Adams (Jr), Preston Davidson (Jr), Mrugesh Thakor (Jr), Lucas Houser (So), and Tyson Anthony (Jr) trailing closely behind.
At the varsity level, the Titans defeated the Spartans 23-34, with Will Kelly (Sr) and Kate Jortberg (Sr) finishing first with a total time of 22:17. Despite the high winds, times between the two miles were very reasonable. We are looking forward to a very successful season after defeating the Spartans.
Team scores for all events, including short-distance, field, etc.
Junior Varsity
This is either an unscored meet, or team results are missing from our database. If you believe this is an error, please reach out.
Team scores only for Distance Events (ones featured on results tabs). This is an automated process, so results should be treated as-is.
Junior Varsity
Glenbrook South Cross Country Course
---
Our cross country course is run on nearly 100% grass around the athletic fields of Glenbrook South. Over the years, over fifteen-thousand runners have crossed the finish line of our course in meets ranging from Duals to IHSA Competitions.
Some Things to Know:
COVID-19 Updates:
Due to CSL Restrictions, spectators will not be allowed on campus for the 2020 Cross Country season. The course has been modified to allow spectators to view from the surounding fence. Good spectator viewing locations are around Hospital Drive and the Glenview Ice Center.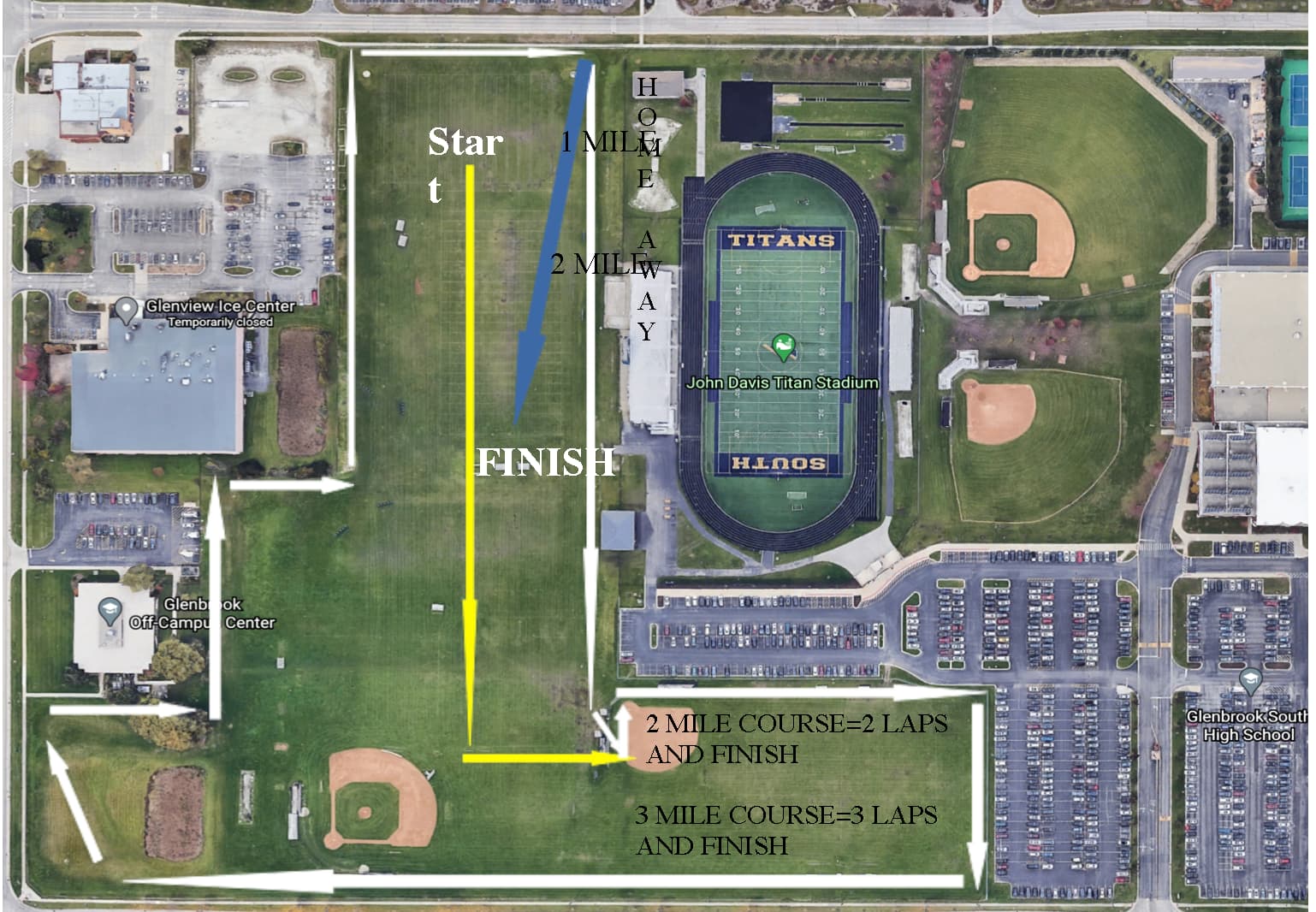 Bathrooms are available in our concessions stand building, located near the south endzone of John Davis Titan Stadium.
Per the Cook County Animal Control Ordinance, only service animals are allowed on school premises. If you bring a dog, you will be asked to leave the property.
Parking is available on-site in the "West Lot". Park nearest the stadium for the easiest access. Refer to the map below for more information.
Concessions are available for select meets in our new concessions stand, located near the south endzone of John Davis Titan Stadium.
Course Map: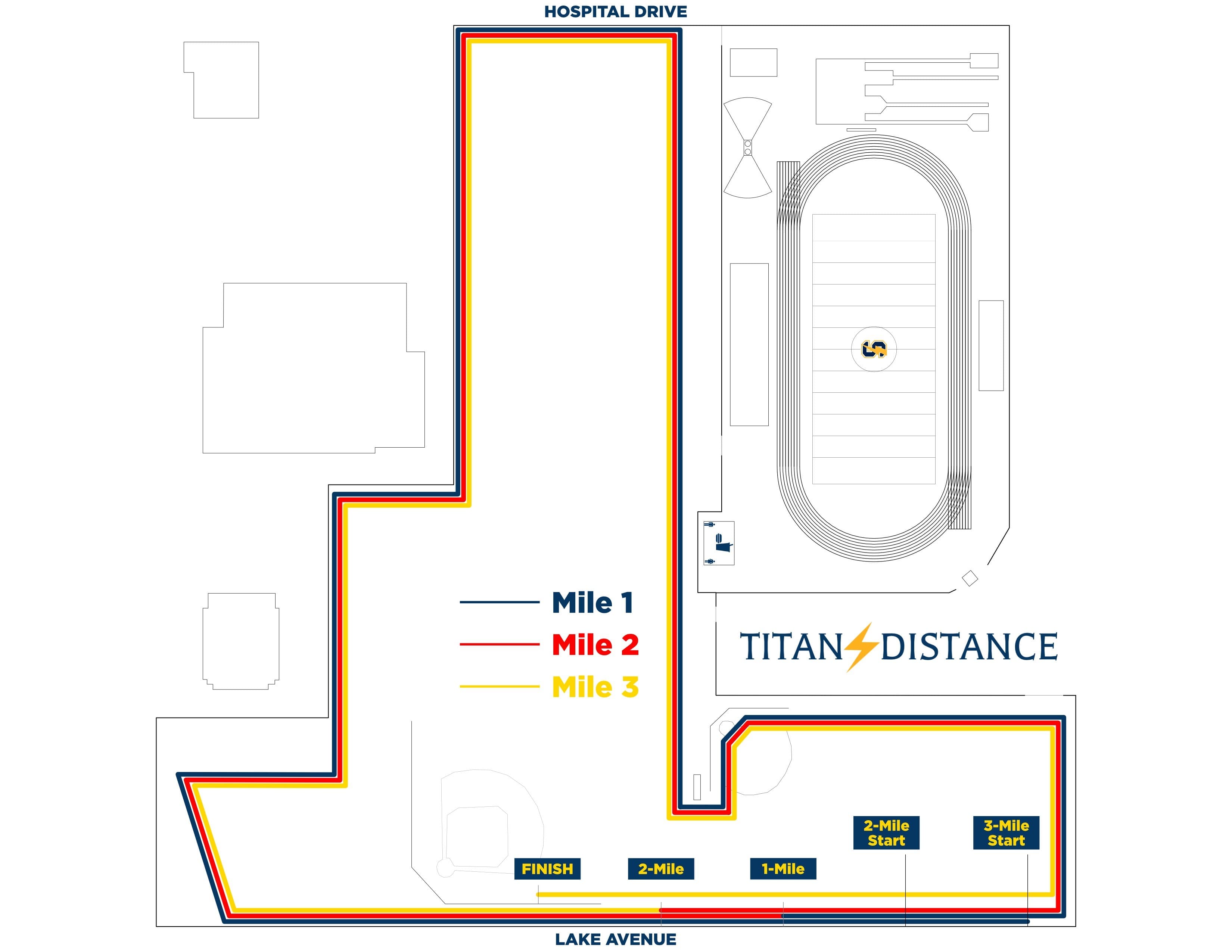 Getting Here:
Our cross country course is located on the campus of Glenbrook South High School, located between West Lake Avenue, Pfingsten Road, and Landwehr Road. Once you arrive at Glenbrook South, the most convient parking is in the West parking lots. Turn into the parking lot at the light of West Lake Avenue and Robin Lane and park nearest the stadium for easiest access.
Find on Google Maps
Course Records:
| | | | |
| --- | --- | --- | --- |
| 14:45 | Reese Jordan | Maine South | 2016 |
| 14:46 | Martin Baar | Niles North | 2015 |
| 14:47 | Brett Davidson | Highland Park | 2015 |
| 14:50 | Lenny Sitko | Niles Notre Dame | 1986 |
| 14:53 | Warren Blood | New Trier | 2016 |
| 14:59 | Scott Lidskin | Glenbrook South | 1991 |
| 15:00 | Josh Derrick | New Trier | 2015 |
| 15:00 | Joey Kasch | Maine South | 2019 |
| 15:06 | Steve Miller | Elk Grove | 1984 |
| 15:09 | Ralph Patajuntas | Maine South | 2015 |
| 15:10 | Greg Harper | Glenbrook South | 1984 |
| 15:15 | Ryan Cahill | Glenbrook North | 1985 |
| 15:16 | Adam Christopher | Maine South | 2019 |
| 15:16 | Jason Polydoris | Highland Park | 2019 |
| 15:17 | Charlie Siebert | New Trier | 2019 |
| 15:17 | Nick Falk | New Trier | 2019 |
| 15:18 | Mike Coen | Libertyville | 1983 |
| 15:18 | Max Peterson | Evanston | 2019 |
| 15:18 | Torrain Haughton | Maine East | 2015 |
| 15:19 | Brian Sedaro | Maine South | 2015 |
| 15:21 | Tommy King | New Trier | 2009 |
| 15:22 | Noah Graboys | New Trier | 2009 |
| 15:22 | Will Kelly | Glenbrook South | 2019 |
| 15:23 | Jack Litowitz | New Trier | 2015 |
| 15:24 | Nate Whitfield | Glenbrook North | 2015 |
| 15:24 | Matt Coyle | Maine South | 2020 |
| 15:26 | Erik Sloan | New Trier | 2000 |
| 15:28 | Michael Moore | Maine South | 2009 |
| 15:28 | Connor Perreault | Niles North | 2015 |
| 15:29 | George Artope | Evanston | 1996 |
| 15:29 | Ted Oh | New Trier | 2015 |
| 15:29 | Alex Burck | New Trier | 2015 |
| 15:30 | Pete Delano | Maine South | 1985 |
| 15:30 | Rick Newman | Glenbrook South | 1985 |
| 15:31 | Jose Reyes | Highland Park | 2015 |
| 15:31 | Tommy Brady | Maine South | 2016 |
| 15:31 | Chris Langlois | Glenbrook North | 1983 |
| 15:33 | Tom O'Rourke | Loyola | 1984 |
| 15:33 | Pat Burnett | Glenbrook North | 1985 |
| 15:33 | JD Shelly | New Trier | 2019 |
| 15:34 | Patrick Norrick | New Trier | 2015 |
| 15:34 | Jeff Gallagher | Maine West | 1984 |
| 15:34 | Rocky Lee | Niles West | 1984 |
| 15:35 | Patrick Wylie | Deerfield | 2009 |
| 15:36 | Brian Shanahan | Maine South | 2015 |
| 15:36 | Jason Golden | Glenbrook North | 2015 |
| 15:36 | Charlie Skurie | Highland Park | 2015 |
Photos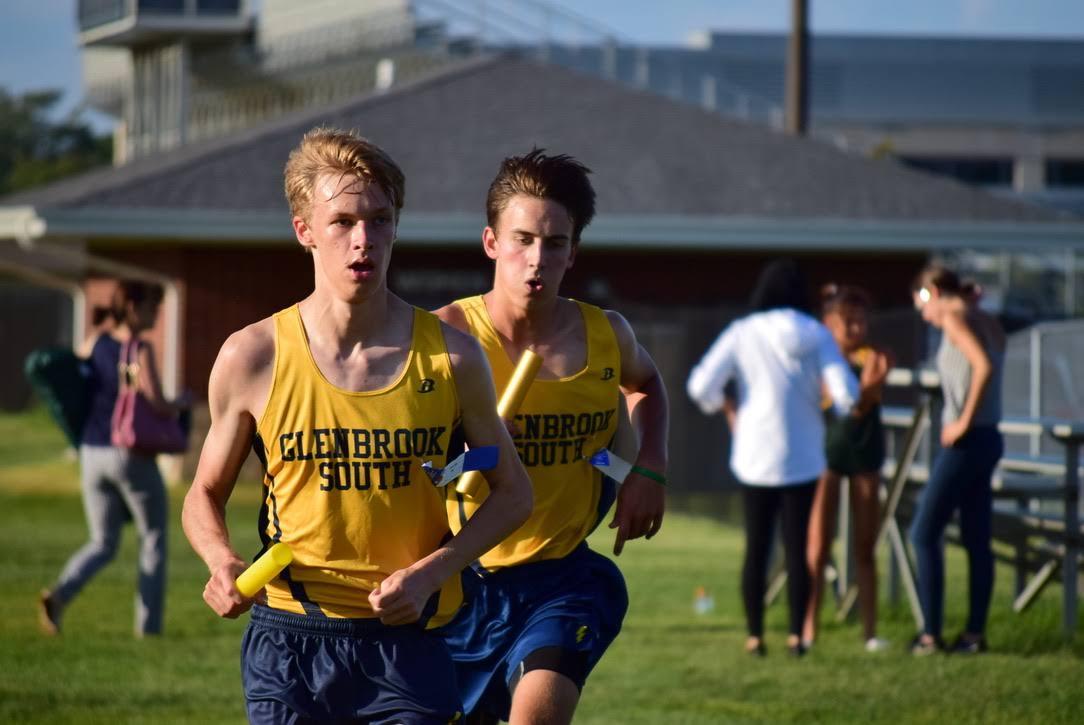 Photographer(s): Mr. Jortberg
Junior Varsity Results (2mi)
Official Results (Hand Timed)
Place
Name
Grade
Time
Team
1
Jayson Stamm
12:00
Glenbrook South
2
Ryan Schaefer
12:01
Glenbrook South
3
Carter Adams
12:02
Glenbrook South
4
Preston Davidson
12:04
Glenbrook South
5
Mrugesh Thakor
12:10
Glenbrook South
6
Lucas Houser
12:17
Glenbrook South
7
Graham Paterson
12:22
Glenbrook North
8
Tyson Anthony
12:22
Glenbrook South
9
Sebastian Zimmer
12:28
Glenbrook South
10
Ryan Jack
12:29
Glenbrook South
11
Gabe Johnson
12:30
Glenbrook North
12
Michael Westfall
12:34
Glenbrook South
13
Colin Schaefer
12:36
Glenbrook North
14
Patrick Herbst
12:45
Glenbrook North
15
Brett Wittenstein
12:49
Glenbrook South
16
Theo Gikas
12:50
Glenbrook South
17
Dean Kousiounelos
12:51
Glenbrook North
18
Zander Johnson
12:58
Glenbrook North
19
John Paul Philbrick
13:01
Glenbrook South
20
Jacob Baim
13:08
Glenbrook South
21
Erick Vandergaw
13:11
Glenbrook North
22
Nathan Stolyarov
13:13
Glenbrook North
23
Matthew Penne
13:14
Glenbrook South
24
Jack Cleary
13:15
Glenbrook South
25
Jack Callaghan
13:16
Glenbrook South
26
Ethan Hernandez
13:19
Glenbrook South
27
Henry Lato
13:21
Glenbrook South
28
Emmett Abels
13:22
Glenbrook North
29
Sully Richards
13:23
Glenbrook South
30
Michael Levy
13:25
Glenbrook North
31
Addy Otgontseren
13:28
Glenbrook South
32
Gabriel Cole
13:38
Glenbrook South
33
Bobby Hartsig
13:40
Glenbrook South
34
Isaac Abraham
13:41
Glenbrook South
35
Matthew Klonecki
13:43
Glenbrook South
36
Michael Ciancanelli
13:44
Glenbrook North
37
Ben Freidinger
13:49
Glenbrook South
38
Charlie Kuhn
13:50
Glenbrook South
39
Graham Hetzler
13:52
Glenbrook North
40
Matthew Schmidt
13:57
Glenbrook North
41
Danny Donnelly
13:58

SR

Glenbrook South
42
Alec Busch
14:00
Glenbrook North
43
Ryan Parker
14:01
Glenbrook North
44
Jason Isele
14:03
Glenbrook North
45
Zach Schaefer
14:06
Glenbrook North
46
Danny Gemignani
14:06
Glenbrook South
47
Eli Stern
14:07
Glenbrook North
48
Cole Brady
14:11
Glenbrook South
49
Matthew Nugent
14:14
Glenbrook South
50
Lance Lai
14:15
Glenbrook North
51
Luke Gregory
14:16
Glenbrook South
52
Andrew Castro
14:18
Glenbrook North
53
Joe Clemens
14:19
Glenbrook North
54
Alex Allegretti
14:20
Glenbrook North
55
Jesse Sack
14:21
Glenbrook North
56
Carson Walters
14:22
Glenbrook South
57
Owen Oldani
14:29
Glenbrook North
58
Grayson Landsman
14:38
Glenbrook North
59
Danny O'Brien
14:41
Glenbrook South
60
Sanjeev Gorla
14:45
Glenbrook South
61
Davis Fulling
14:49
Glenbrook North
62
Eli Hincapie
14:51
Glenbrook North
63
Andrew Marasco
14:53
Glenbrook North
64
Kamran Tahmooressi
14:53
Glenbrook North
65
James Hiltebrand
15:01
Glenbrook South
66
Jack Klapman
15:03
Glenbrook North
67
Jonathan Joseph
15:06
Glenbrook South
68
Luke Nelson
15:07
Glenbrook North
69
Daniel Kramer
15:16
Glenbrook North
70
Gio Canalia
15:19
Glenbrook South
71
Ethan Levy
15:21
Glenbrook North
72
Brandon Mesirow
15:37
Glenbrook North
73
Nathan Malin
15:39
Glenbrook North
74
Ricky Egen
15:45
Glenbrook South
75
Connor Love
15:51
Glenbrook North
76
Michael Bilous
15:59
Glenbrook North
77
David Keefe
16:09
Glenbrook North
78
Matthew Burke
16:19
Glenbrook South
79
Taeho Yu
16:29
Glenbrook North
80
Timothy Kelly
16:33
Glenbrook North
81
Diego Duarte
16:56
Glenbrook North
82
Piotr Szwajnos
17:38
Glenbrook North
83
Bo MacMillan
17:52
Glenbrook North
84
Nick Tiesi
18:05
Glenbrook South
85
Danny Bruns
18:13
Glenbrook North
86
John Schueller
19:00
Glenbrook North
87
Gabe Griffith
20:06
Glenbrook North
88
Patrick Ryan
21:46
Glenbrook North
Print Results