Meet Recap
The Titans have returned from the famous Veteran Acres Park in Crystal Lake for Crystal Lake South Invitational. The Varsity team finished 2nd (67) with the Frosh/Soph team finishing 5th (130). The Varsity team finished right behind the #1 2A Cross Country team, Kaneland (43), with the Frosh/Soph team finishing behind Belvidere North (51), McHenry (67), Woodstock (113), and Dundee-Crown (122).
Will Kelly (Sr) started his season off strong by winning the Crystal Lake 5k with his time of 16:12.6! He had a 8 second gap between him and the second place finisher! The previous GBS Course record at Crystal Lake was set in 2013 by David O'Gara when he just broke-17 with his 16:50.7. Will Kelly crushed that by 38.1 seconds! Later in that season, David O'Gara ran a 14:59 at the Lake Park Sectional. Will Houser (Sr) also finished better than David O'Gara did with his 6th place finish at 16:49.1.
The Wills were followed by Brian Hiltebrand (So)'s 11th place finish at 17:12.6, James Kurtzweil (Sr)'s 14th place finish at 17:21.5, and Cody Slutzky (Jr)'s 37th place finish at 18:35.1.
All returning Varsity athletes performed better than they did last year. Danny O'Brien (Sr) improved by 4:15 from last year! The Titans worked together in the race and will continue to be strong all year.
At the Frosh/Soph level, Jayson Stamm (So) finished with a 12:13.1 and Elie Nassif (So) finishing with a 12:28.8. Both athletes take a spot on the Top 5 List of GBS at the Crystal Lake 3.5k.
The Titans race again next Saturday, September 14 at Matthew's Middle School in Island Lake, IL for the Wauconda Invitational. Meet details to come mid-week.
Team Scores
| | | |
| --- | --- | --- |
| 1 | Kaneland | 43 |
| 2 | Glenbrook South | 67 |
| 3 | Rolling Meadows | 122 |
| 4 | Fremd | 133 |
| 5 | Crystal Lake South | 163 |
| 6 | Cary-Grove | 177 |
| 7 | Woodstock | 221 |
| 8 | Elgin | 231 |
| 9 | Dundee-Crown | 232 |
| 10 | Belvidere North | 256 |
| 11 | Marian Central Catholic | 275 |
| 12 | McHenry | 298 |
| 13 | Wauconda | 348 |
| 14 | West Chicago | 358 |
| 15 | Streamwood | 444 |
| 16 | Larkin | 456 |
| 17 | Lakes Community | 490 |
| | | |
| --- | --- | --- |
| 1 | Belvidere North | 51 |
| 2 | McHenry | 67 |
| 3 | Woodstock | 113 |
| 4 | Dundee-Crown | 122 |
| 5 | Glenbrook South | 130 |
| 6 | Fremd | 157 |
| 7 | Rolling Meadows | 193 |
| 8 | Kaneland | 229 |
| 9 | Elgin | 292 |
| 10 | West Chicago | 310 |
| 11 | Johnsburg | 323 |
| 12 | Wauconda | 339 |
| 13 | Lakes Community | 341 |
| 14 | Larkin | 341 |
| 15 | Harvard | 417 |
| 16 | Streamwood | 440 |
| 17 | Crystal Lake South | 451 |
Photos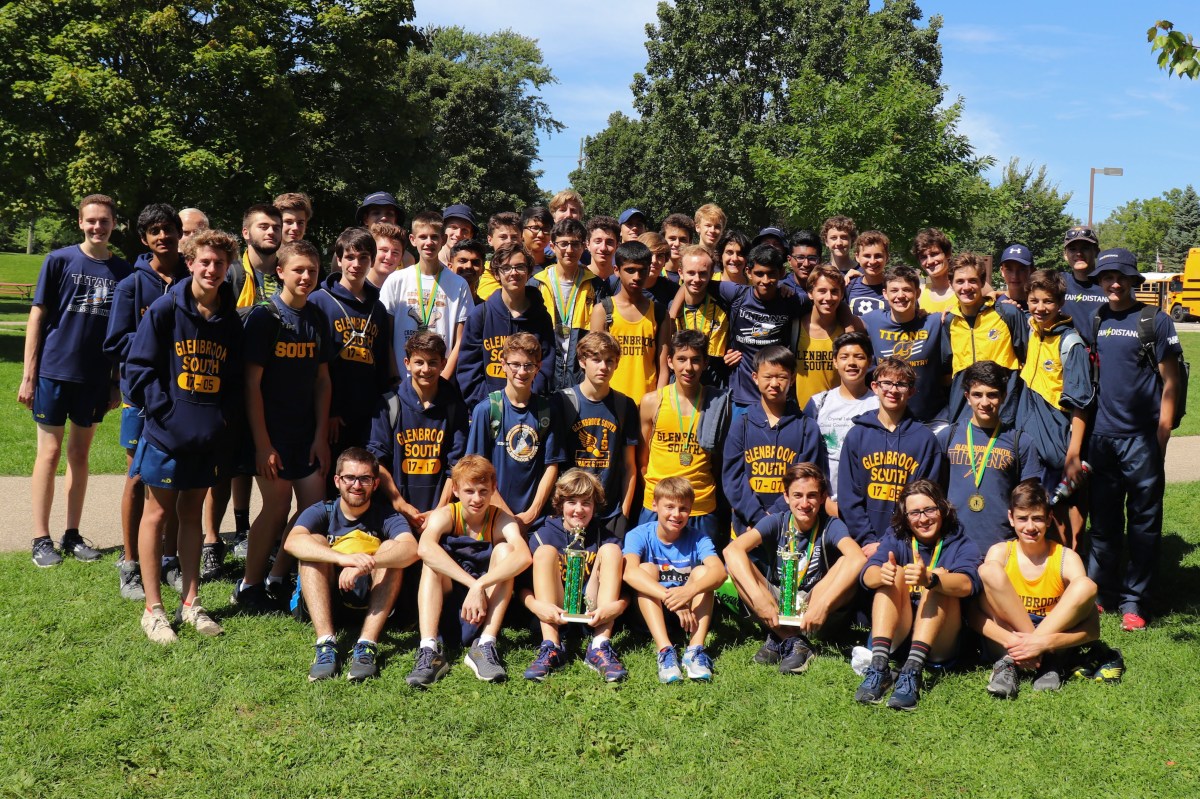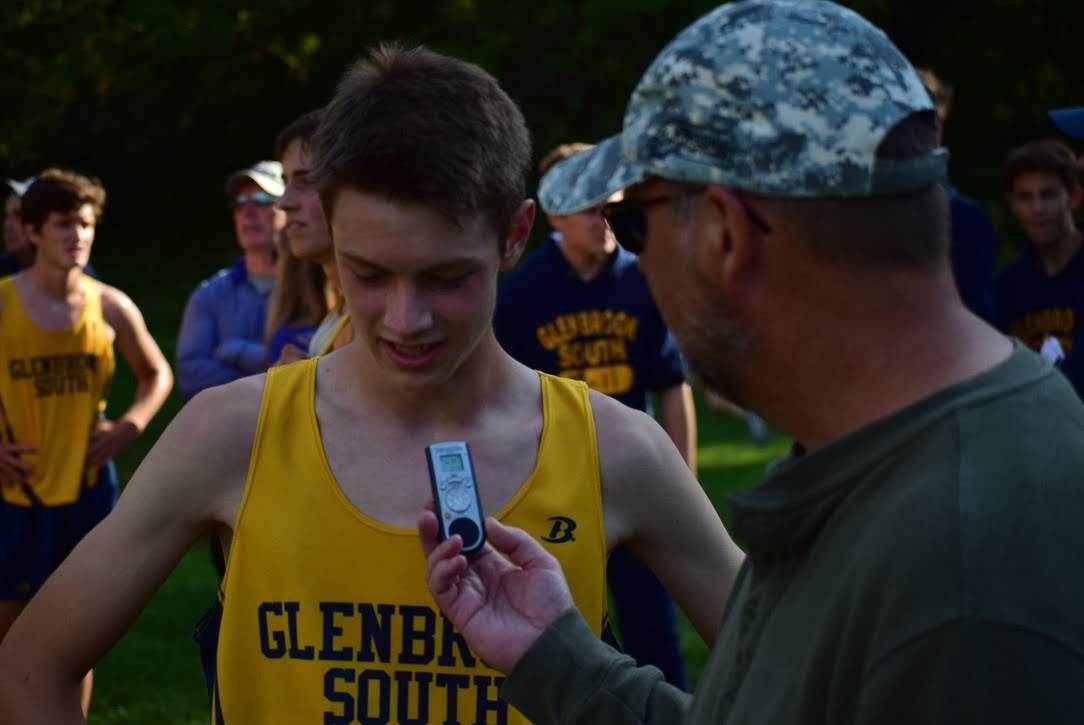 Photographer: Mr. Jortberg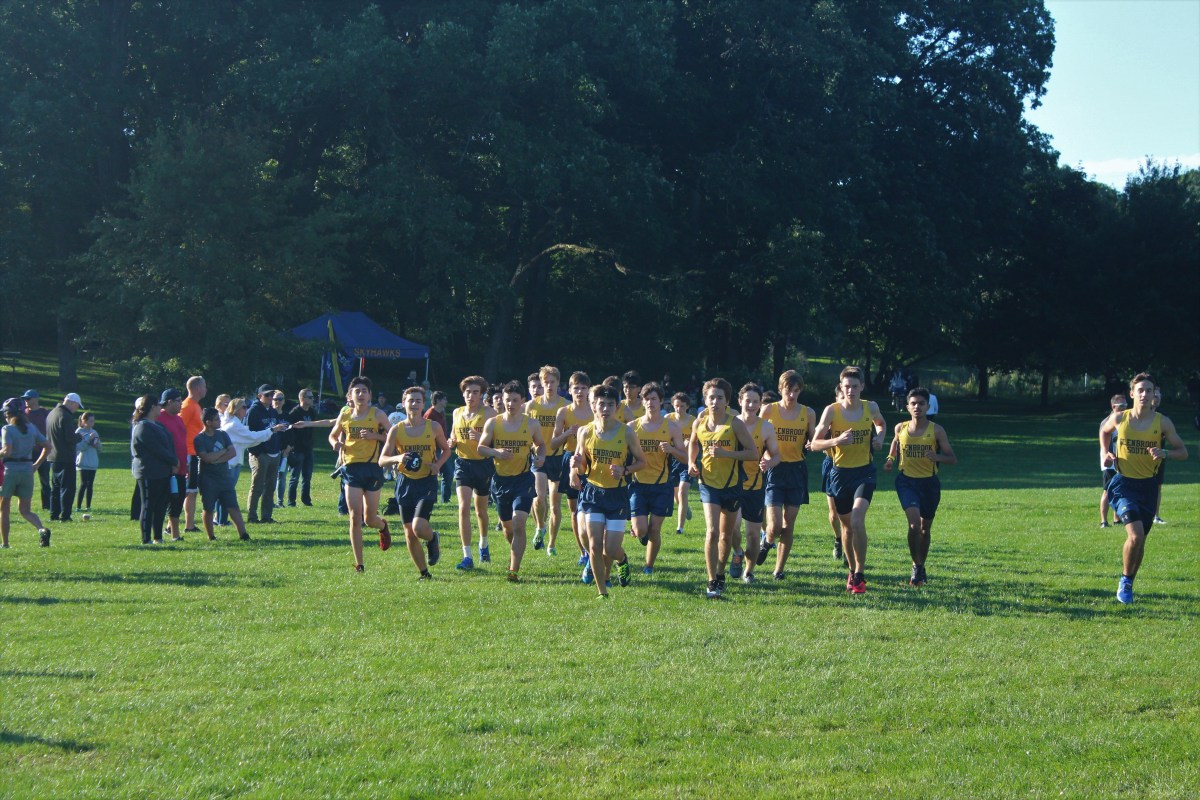 Photographer: Sam Westfall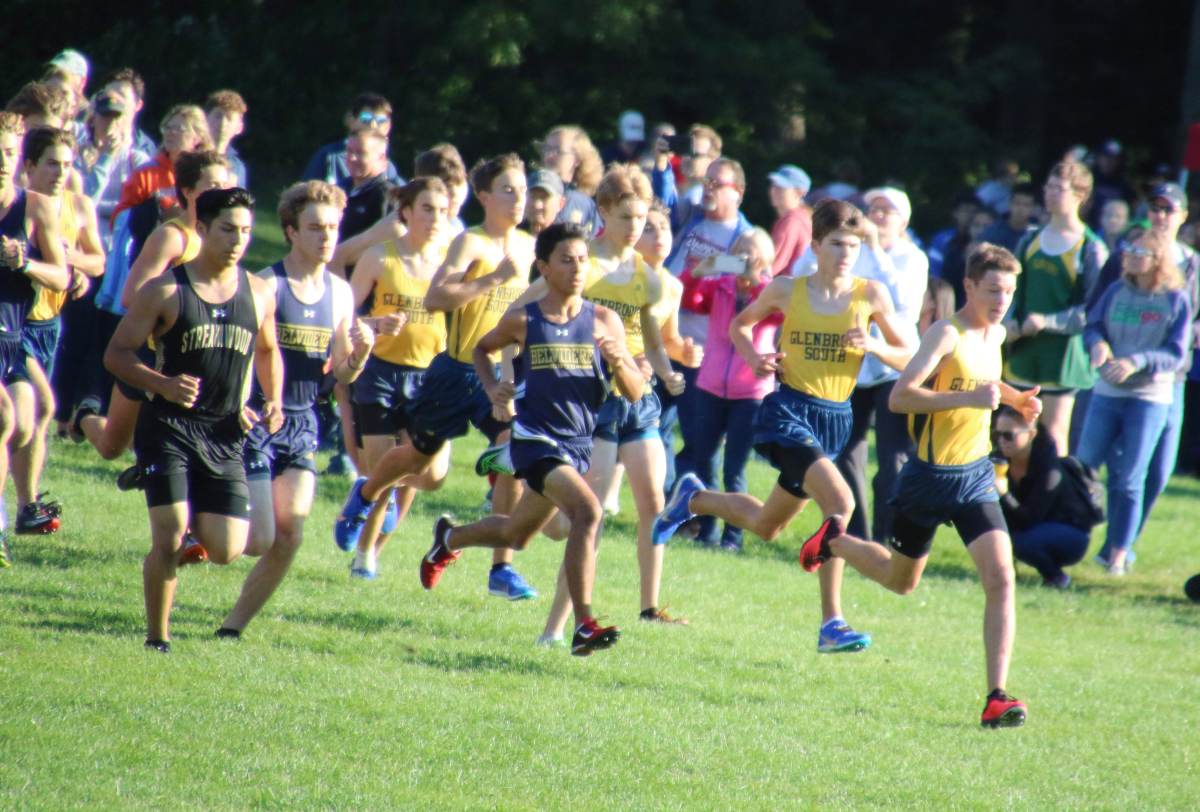 Photographer: Mrs. Kurtzweil
Varsity Results
| Place | Name | Grade | Time | Team | 1 Mile | 2 Mile | Finish |
| --- | --- | --- | --- | --- | --- | --- | --- |
| 1 | Will Kelly | Sr. | 16:12.6 | Glenbrook South | | | |
| 2 | Austin Adams | Sr. | 16:20.1 | Kaneland | | | |
| 3 | Ryan Jones | Sr. | 16:31.9 | Marian Central | | | |
| 4 | Daniel Occhipinti | Sr. | 16:39.0 | Kaneland | | | |
| 5 | Maxum Caesar | Sr. | 16:45.0 | Cary-Grove | | | |
| 6 | Will Houser | Sr. | 16:49.1 | Glenbrook South | | | |
| 7 | Peter Walsdorf | Jr. | 17:00.1 | Marian Central | | | |
| 8 | Isaiah Dallal | Jr. | 17:08.5 | Kaneland | | | |
| 9 | Stephen Barretto | Jr. | 17:09.0 | Rolling Meadows | | | |
| 10 | Jack Martin | Sr. | 17:11.2 | Rolling Meadows | | | |
| 11 | Brian Hiltebrand | So. | 17:12.6 | Glenbrook South | | | |
| 12 | Ethan Walker | Sr. | 17:17.4 | Kaneland | | | |
| 13 | Jacob Johnson - Wright | Sr. | 17:20.3 | Rolling Meadows | | | |
| 14 | James Kurtzweil | Sr. | 17:21.5 | Glenbrook South | | | |
| 15 | Ian Barnes | So. | 17:22.7 | Cary-Grove | | | |
| 16 | Alex Picchi | Jr. | 17:24.8 | Crystal Lake South | | | |
| 17 | Ethan Neal | Sr. | 17:36.0 | Kaneland | | | |
| 18 | Jack Wolski | Sr. | 17:36.8 | Fremd | | | |
| 19 | Ben Durbala | Sr. | 17:45.1 | Kaneland | | | |
| 20 | Topher Davis | Sr. | 17:50.8 | Crystal Lake South | | | |
| 21 | Max Wizgird | Sr. | 17:52.3 | Dundee-Crown | | | |
| 22 | Noah Munoz | Jr. | 17:57.2 | Elgin | | | |
| 23 | Dhruv Purohit | Sr. | 17:58.0 | Fremd | | | |
| 24 | Aidan Schleutermann | Jr. | 17:58.8 | Woodstock | | | |
| 25 | Jack Hansen | Jr. | 17:59.2 | Woodstock | | | |
| 26 | Jose Castillo | Sr. | 18:02.6 | Rolling Meadows | | | |
| 27 | Thomas Novak | Sr. | 18:08.6 | Fremd | | | |
| 28 | Anish Pokharkar | Jr. | 18:10.5 | Fremd | | | |
| 29 | Jaret Godinez | Sr. | 18:13.3 | Elgin | | | |
| 30 | Aaron Lodwig | Jr. | 18:14.5 | Kaneland | | | |
| 31 | Daniel Berkebile | Sr. | 18:14.6 | Woodstock | | | |
| 32 | Emiliano Mendoza | Jr. | 18:20.5 | Streamwood | | | |
| 33 | Daniel Montoya | Jr. | 18:21.6 | Dundee-Crown | | | |
| 34 | Nolan Allen | So. | 18:24.8 | Kaneland | | | |
| 35 | Seth Nosek | Sr. | 18:26.9 | Kaneland | | | |
| 36 | Garrett Czajkowski | Jr. | 18:30.0 | Crystal Lake South | | | |
| 37 | Cody Slutzky | Jr. | 18:35.1 | Glenbrook South | | | |
| 38 | Wade Herrera | Sr. | 18:36.9 | Glenbrook South | | | |
| 39 | Jeet Pote | Jr. | 18:41.6 | Fremd | | | |
| 40 | James Grant | So. | 18:42.5 | Cary-Grove | | | |
| 41 | Zander Casis | Sr. | 18:44.3 | Belvidere North | | | |
| 42 | John Bresnahan | Sr. | 18:48.7 | Glenbrook South | | | |
| 43 | Steven Austin | So. | 18:48.9 | Harvard | | | |
| 44 | James Scott | Jr. | 18:49.4 | Glenbrook South | | | |
| 45 | Mrugesh Thakor | Jr. | 18:52.3 | Glenbrook South | | | |
| 46 | Josiah Mc Lean | Jr. | 18:55.9 | West Chicago | | | |
| 47 | Andrew Ardon | Jr. | 18:57.4 | Johnsburg | | | |
| 48 | Matthew Finkel | Jr. | 18:58.6 | Glenbrook South | | | |
| 49 | Connor Humphreys | Jr. | 18:59.0 | Elgin | | | |
| 50 | Parker Malone | Jr. | 19:04.8 | Kaneland | | | |
| 51 | Kevin Lui | Sr. | 19:05.5 | Fremd | | | |
| 52 | Josh Diersen | Jr. | 19:07.8 | Crystal Lake South | | | |
| 53 | Logan Hagmann | Jr. | 19:09.4 | Woodstock | | | |
| 54 | Aiden Miller | Jr. | 19:10.6 | Wauconda | | | |
| 55 | Justin Wilde | Sr. | 19:13.5 | McHenry | | | |
| 56 | Luiz Guzman | Sr. | 19:15.4 | West Chicago | | | |
| 57 | Gabe Waz | Sr. | 19:17.1 | Crystal Lake South | | | |
| 58 | Caleb Reed | Jr. | 19:20.7 | Fremd | | | |
| 59 | Steve Brown | Sr. | 19:21.8 | Belvidere North | | | |
| 60 | Josh Martinez | Jr. | 19:22.7 | Belvidere North | | | |
| 61 | Adam Caesar | Sr. | 19:22.8 | Cary-Grove | | | |
| 62 | Jose Castro | Jr. | 19:25.0 | Dundee-Crown | | | |
| 63 | Aiden Massman | Sr. | 19:27.9 | Belvidere North | | | |
| 64 | Cristian Rodriguez | Jr. | 19:32.9 | Dundee-Crown | | | |
| 65 | Preston Davidson | Jr. | 19:33.1 | Glenbrook South | | | |
| 66 | Kai Keene | Jr. | 19:33.2 | Wauconda | | | |
| 67 | Jack Lyons | Jr. | 19:36.9 | Crystal Lake South | | | |
| 68 | James Murphy | Sr. | 19:38.6 | Belvidere North | | | |
| 69 | Julian Anselmo | Sr. | 19:39.7 | Elgin | | | |
| 70 | Brayden Singer | Sr. | 19:39.8 | McHenry | | | |
| 71 | Jake Letmanski | Sr. | 19:41.9 | McHenry | | | |
| 72 | Will Puls | Sr. | 19:48.8 | McHenry | | | |
| 73 | Alex Sanchez | Jr. | 19:49.7 | Rolling Meadows | | | |
| 74 | Parker Zancho | Sr. | 19:50.3 | McHenry | | | |
| 75 | Eric Christensen | Sr. | 19:54.8 | Cary-Grove | | | |
| 76 | Dominic Garrard | So. | 19:55.5 | Cary-Grove | | | |
| 77 | Will Finucane | Sr. | 19:56.4 | Dundee-Crown | | | |
| 78 | J J Lich | Sr. | 19:57.6 | Harvard | | | |
| 79 | Angelo Butcher | Sr. | 19:59.4 | Larkin | | | |
| 80 | Dylan Siena | Jr. | 19:59.8 | Fremd | | | |
| 81 | Carter Adams | Jr. | 20:00.3 | Glenbrook South | | | |
| 82 | Brad Wizceb | Jr. | 20:01.1 | Johnsburg | | | |
| 83 | K T Siversten | Jr. | 20:01.9 | Crystal Lake South | | | |
| 84 | Nate Puls | Jr. | 20:04.4 | McHenry | | | |
| 85 | Christopher Fountain | Jr. | 20:04.7 | Kaneland | | | |
| 86 | Casjen Riedell | Jr. | 20:07.5 | Wauconda | | | |
| 87 | Thomas Han | Sr. | 20:07.6 | Fremd | | | |
| 88 | Andrew Pascente | Sr. | 20:10.3 | Marian Central | | | |
| 89 | Titus Simpson | Sr. | 20:11.7 | Cary-Grove | | | |
| 90 | Kevin Villa | Jr. | 20:14.9 | Dundee-Crown | | | |
| 91 | Chris Diaz | Jr. | 20:16.8 | Dundee-Crown | | | |
| 92 | Aidan Gillespie | Jr. | 20:17.3 | Lakes Community | | | |
| 93 | Ismael Ramirez | Jr. | 20:18.0 | Elgin | | | |
| 94 | Krish Shah | Jr. | 20:20.4 | Elgin | | | |
| 95 | Solomon Foley | Jr. | 20:20.7 | Belvidere North | | | |
| 96 | Marcus Ramos | Sr. | 20:21.3 | Kaneland | | | |
| 97 | Lucas Ziegler | Sr. | 20:22.7 | Dundee-Crown | | | |
| 98 | Anthony Zamudio | Fr. | 20:23.7 | Cary-Grove | | | |
| 99 | Matthew Jasinski | Jr. | 20:25.3 | Wauconda | | | |
| 100 | Michael O'keeffe | Jr. | 20:25.8 | Rolling Meadows | | | |
| 101 | Noah Anderson | Sr. | 20:28.9 | Belvidere North | | | |
| 102 | Gavin Lobbins | Sr. | 20:30.3 | McHenry | | | |
| 103 | Omar Sanchez | Sr. | 20:31.0 | Dundee-Crown | | | |
| 104 | Matthew Helminski | Sr. | 20:37.0 | Rolling Meadows | | | |
| 105 | Will Wickersty | Jr. | 20:38.0 | Crystal Lake South | | | |
| 106 | Giovanni Mendoza | Sr. | 20:39.0 | Belvidere North | | | |
| 107 | Jack Malone | Jr. | 20:41.1 | Fremd | | | |
| 108 | Kaleb Berger | Jr. | 20:42.5 | Elgin | | | |
| 109 | Jose Briseno | So. | 20:43.5 | Cary-Grove | | | |
| 110 | Alex Goto | Jr. | 20:45.1 | Larkin | | | |
| 111 | Ethan Rische | Jr. | 20:45.2 | Cary-Grove | | | |
| 112 | David Moreno | Jr. | 20:46.1 | West Chicago | | | |
| 113 | Grady Germann | Jr. | 20:46.1 | Johnsburg | | | |
| 114 | Brandon Munoz | Sr. | 20:46.7 | Streamwood | | | |
| 115 | Ryan Nguyen | Jr. | 20:46.7 | West Chicago | | | |
| 116 | Zander Hodzic | Sr. | 20:47.2 | Belvidere North | | | |
| 117 | Caleb Shade | Jr. | 20:47.5 | West Chicago | | | |
| 118 | George Boutot | Sr. | 21:01.4 | Dundee-Crown | | | |
| 119 | Patrick Jenkins | Jr. | 21:03.1 | Wauconda | | | |
| 120 | Kenneth Gonzales | Sr. | 21:06.2 | McHenry | | | |
| 121 | Theo Gikas | Sr. | 21:08.3 | Glenbrook South | | | |
| 122 | Owen Galicia | Fr. | 21:09.4 | Cary-Grove | | | |
| 123 | Peter Wallis | Jr. | 21:10.2 | Cary-Grove | | | |
| 124 | Nathan Helminski | Sr. | 21:13.3 | Rolling Meadows | | | |
| 125 | Peter Giardino | Sr. | 21:16.7 | Dundee-Crown | | | |
| 126 | Jack Suarez | Jr. | 21:21.3 | Marian Central | | | |
| 127 | Mark Bavaro | Jr. | 21:26.7 | Elgin | | | |
| 128 | Tim Lorenz | Sr. | 21:27.8 | Crystal Lake South | | | |
| 129 | Ben Potter | Sr. | 21:28.0 | Belvidere North | | | |
| 130 | Zander Myers | Jr. | 21:29.3 | Elgin | | | |
| 131 | Leo Solis | Sr. | 21:30.3 | Larkin | | | |
| 132 | Tyler Thomas | Sr. | 21:33.2 | McHenry | | | |
| 133 | Addy Otgontseren | Sr. | 21:33.2 | Glenbrook South | | | |
| 134 | Jesus Hernandez | Sr. | 21:35.3 | Belvidere North | | | |
| 135 | Coen Garling | Jr. | 21:37.0 | West Chicago | | | |
| 136 | Quentin Crown | Jr. | 21:39.9 | Woodstock | | | |
| 137 | Gabriel Cole | Jr. | 21:42.1 | Glenbrook South | | | |
| 138 | Danny Gemignani | Sr. | 21:45.1 | Glenbrook South | | | |
| 139 | Marco Serna | Sr. | 21:45.6 | Streamwood | | | |
| 140 | Marcos Olague | Sr. | 21:48.5 | West Chicago | | | |
| 141 | Jesse Ortega | Sr. | 21:49.7 | Dundee-Crown | | | |
| 142 | Harrison Wollney | Jr. | 21:51.5 | Glenbrook South | | | |
| 143 | William Huber | Jr. | 21:51.7 | Kaneland | | | |
| 144 | Charlie Kuhn | Sr. | 21:52.2 | Glenbrook South | | | |
| 145 | Brady Johnson | Jr. | 21:52.7 | Kaneland | | | |
| 146 | Ben Reuter | Sr. | 21:53.0 | Marian Central | | | |
| 147 | Justin Wrona | Sr. | 21:53.4 | Glenbrook South | | | |
| 148 | Jack Holder | Sr. | 21:54.3 | Kaneland | | | |
| 149 | Cole Brady | Jr. | 21:59.8 | Glenbrook South | | | |
| 150 | Isai Reducindo | Sr. | 22:02.5 | Dundee-Crown | | | |
| 151 | Max Coryell | Sr. | 22:03.2 | Elgin | | | |
| 152 | Cameron Boebel | Sr. | 22:10.3 | Crystal Lake South | | | |
| 153 | Chris Hernandez | Jr. | 22:23.4 | West Chicago | | | |
| 154 | Jayson Seiflow | Jr. | 22:26.3 | Lakes Community | | | |
| 155 | Liam Simons | So. | 22:27.2 | Cary-Grove | | | |
| 156 | Matthew Conway | Sr. | 22:31.9 | Fremd | | | |
| 157 | James Romas | Jr. | 22:33.2 | Elgin | | | |
| 158 | Jesus Serrano | Jr. | 22:34.6 | Elgin | | | |
| 159 | Axel Vargas | Jr. | 22:37.9 | Elgin | | | |
| 160 | Nick Lemke | Jr. | 22:39.8 | Dundee-Crown | | | |
| 161 | Brandon Ortiz | Jr. | 22:40.4 | Larkin | | | |
| 162 | Enrique Rivas | Jr. | 22:41.8 | Dundee-Crown | | | |
| 163 | Eduardo Loa | Sr. | 22:42.1 | West Chicago | | | |
| 164 | Suyash Tewari | Jr. | 22:43.4 | Fremd | | | |
| 165 | Jacob Mueller | Jr. | 22:45.9 | Lakes Community | | | |
| 166 | Freddy Munoz - Miranda | Sr. | 22:50.2 | West Chicago | | | |
| 167 | Daniel Brubacher | Jr. | 22:51.6 | Cary-Grove | | | |
| 168 | Alfonso Napoles | Sr. | 22:52.0 | Elgin | | | |
| 169 | Gabino Uriostegui | Sr. | 22:54.3 | Elgin | | | |
| 170 | Levi Austin | Sr. | 22:55.9 | Harvard | | | |
| 171 | Dan O'Brien | Sr. | 22:57.3 | Glenbrook South | | | |
| 172 | Lance Olsen | Sr. | 23:00.7 | Dundee-Crown | | | |
| 173 | Alex Johnston | Sr. | 23:05.8 | Kaneland | | | |
| 174 | Lucas Kascher | So. | 23:09.7 | Cary-Grove | | | |
| 175 | Minh Duong | So. | 23:21.9 | Rolling Meadows | | | |
| 176 | Hunter Thompson | Jr. | 23:23.4 | Wauconda | | | |
| 177 | Cade Empen | Jr. | 23:34.8 | Lakes Community | | | |
| 178 | Edward Vasquez | Jr. | 23:39.5 | Larkin | | | |
| 179 | Thomas Wozniak | So. | 23:39.7 | Cary-Grove | | | |
| 180 | Roshan Betkerur | Sr. | 23:39.8 | Elgin | | | |
| 181 | Aron Olivares | Jr. | 23:41.3 | Marian Central | | | |
| 182 | Manuel Luna | Sr. | 23:41.3 | Elgin | | | |
| 183 | Kyle Dickson | Jr. | 23:42.7 | Crystal Lake South | | | |
| 184 | Dylan Borja | Jr. | 23:43.5 | West Chicago | | | |
| 185 | Martin Oropeza | Sr. | 23:44.0 | West Chicago | | | |
| 186 | Liam Faustino | Sr. | 23:44.8 | Lakes Community | | | |
| 187 | Sebastian Waz | Jr. | 23:45.8 | Dundee-Crown | | | |
| 188 | Nathan Frank | Fr. | 23:45.9 | Cary-Grove | | | |
| 189 | Nate Brown | Sr. | 23:49.0 | Wauconda | | | |
| 190 | Lalo Padilla | Sr. | 23:51.1 | Rolling Meadows | | | |
| 191 | Fredy Valladares | Jr. | 23:51.8 | Dundee-Crown | | | |
| 192 | Charles May | Jr. | 24:01.6 | West Chicago | | | |
| 193 | Danny Donnelly | Jr. | 24:06.7 | Glenbrook South | | | |
| 194 | Nathan Pechotta | Fr. | 24:17.1 | Cary-Grove | | | |
| 195 | Roberto Romero | Sr. | 24:19.7 | Elgin | | | |
| 196 | Frank Redisi | Jr. | 24:23.2 | Dundee-Crown | | | |
| 197 | David Soh | Jr. | 24:23.2 | Dundee-Crown | | | |
| 198 | Luke Gregory | Jr. | 24:25.1 | Glenbrook South | | | |
| 199 | Billy Nestos | Jr. | 24:28.7 | Glenbrook South | | | |
| 200 | Wyatt Griggel | Sr. | 24:42.7 | Dundee-Crown | | | |
| 201 | Dylan Diaz | Sr. | 24:52.8 | West Chicago | | | |
| 202 | Vincent Cielo | Jr. | 24:55.2 | West Chicago | | | |
| 203 | Carlos Luna | Sr. | 24:55.7 | Larkin | | | |
| 204 | Ricky Egen | Jr. | 24:58.6 | Glenbrook South | | | |
| 205 | Luke Morehead | Sr. | 25:00.7 | Marian Central | | | |
| 206 | Max Ray | Sr. | 25:01.0 | Marian Central | | | |
| 207 | Ian Halterman | Jr. | 25:04.1 | Lakes Community | | | |
| 208 | Andrew Kujawa | Sr. | 25:04.4 | Streamwood | | | |
| 209 | Akash Patel | Jr. | 25:06.3 | Lakes Community | | | |
| 210 | David Brazee | Jr. | 25:10.5 | Kaneland | | | |
| 211 | Liam Evans | Jr. | 25:21.3 | Kaneland | | | |
| 212 | Drew Knuettel | Jr. | 25:35.1 | Lakes Community | | | |
| 213 | Charles Smith | Jr. | 25:41.6 | Westlake Christian | | | |
| 214 | Joseph Walsdorf | Jr. | 26:10.1 | Marian Central | | | |
| 215 | Adam Toren | Jr. | 26:14.7 | Elgin | | | |
| 216 | Bradley Johnston | Jr. | 26:18.6 | Dundee-Crown | | | |
| 217 | Andrew Zalewski | Sr. | 26:23.8 | Wauconda | | | |
| 218 | Xavier Lee | Jr. | 26:32.8 | Streamwood | | | |
| 219 | Jovan Terrazas | Jr. | 26:34.8 | Dundee-Crown | | | |
| 220 | Matt Gilbertson | Jr. | 26:39.5 | Belvidere North | | | |
| 221 | Eric Osborn | Jr. | 26:49.5 | Fremd | | | |
| 222 | Danny Koerner | Sr. | 27:14.6 | Dundee-Crown | | | |
| 223 | Nathan Scanlan | Jr. | 27:19.4 | Dundee-Crown | | | |
| 224 | Andrew Valdovinos | Sr. | 27:48.4 | Streamwood | | | |
| 225 | Brandon Kelley | Jr. | 28:06.0 | Larkin | | | |
| 226 | Andrew Lindow | Sr. | 28:27.5 | Kaneland | | | |
| 227 | Garrett Bennema | Jr. | 28:38.7 | West Chicago | | | |
| 228 | Eric Gill | Jr. | 29:07.0 | Westlake Christian | | | |
| 229 | Jaxxon Faver | Jr. | 29:49.8 | West Chicago | | | |
| 230 | Saahil Patel | Jr. | 30:03.4 | Fremd | | | |
| 231 | Matt Conley | Jr. | 30:42.5 | Kaneland | | | |
| 232 | Mc Gwire Landvick | Sr. | 32:59.2 | Wauconda | | | |
Frosh/Soph Results
| Place | Name | Grade | Time | Team | 1 Mile | 2 Mile | Finish |
| --- | --- | --- | --- | --- | --- | --- | --- |
| 1 | Enrique Robles | So. | 11:34.1 | McHenry | | | |
| 2 | Caden Mc Nulty | So. | 11:37.9 | Belvidere North | | | |
| 3 | Jackson Albanese | Fr. | 11:40.1 | McHenry | | | |
| 4 | Nick Lenzen | So. | 11:45.8 | Belvidere North | | | |
| 5 | Caden Lendman | So. | 12:08.2 | Belvidere North | | | |
| 6 | Christian Azar | So. | 12:09.4 | Dundee-Crown | | | |
| 7 | Dylan Hanson | Fr. | 12:09.5 | Woodstock | | | |
| 8 | Alec Melendez | Fr. | 12:11.3 | Dundee-Crown | | | |
| 9 | Carter Wachtel | So. | 12:11.4 | Rolling Meadows | | | |
| 10 | Christian Phillips | So. | 12:11.8 | Kaneland | | | |
| 11 | Jayson Stamm | So. | 12:13.1 | Glenbrook South | | | |
| 12 | Clark Shulfer | So. | 12:20.3 | Woodstock | | | |
| 13 | Diego Montes | Fr. | 12:21.5 | McHenry | | | |
| 14 | Ryan Rininger | So. | 12:24.6 | Wauconda | | | |
| 15 | Elie Nassif | So. | 12:28.8 | Glenbrook South | | | |
| 16 | Ethan Berthoud | Fr. | 12:29.6 | Johnsburg | | | |
| 17 | Matt Sikora | So. | 12:30.1 | McHenry | | | |
| 18 | Tyler Wengronowitz | Fr. | 12:31.3 | Rolling Meadows | | | |
| 19 | Luke Smith | So. | 12:31.8 | Belvidere North | | | |
| 20 | Tyler Malik | So. | 12:33.5 | Fremd | | | |
| 21 | Zach Stegman | So. | 12:33.7 | Belvidere North | | | |
| 22 | Max Hodory | So. | 12:35.4 | Woodstock | | | |
| 23 | Cole Martin | So. | 12:36.9 | Rolling Meadows | | | |
| 24 | Logan Cunz | So. | 12:37.5 | Kaneland | | | |
| 25 | Sebastian Zimmer | So. | 12:39.1 | Glenbrook South | | | |
| 26 | Alex Wickersheim | So. | 12:40.7 | Woodstock | | | |
| 27 | Andy Salazar | So. | 12:40.8 | Larkin | | | |
| 28 | Anthony Fernandez | So. | 12:41.5 | Dundee-Crown | | | |
| 29 | Kaleb Odachowski | So. | 12:42.5 | Fremd | | | |
| 30 | Brandon Massman | So. | 12:44.1 | Belvidere North | | | |
| 31 | Aaron De la Torre | So. | 12:44.3 | Elgin | | | |
| 32 | Alex Petinaux | So. | 12:44.3 | Dundee-Crown | | | |
| 33 | Nate Rotundo | So. | 12:47.1 | McHenry | | | |
| 34 | Yahya Arastu | So. | 12:49.6 | Elgin | | | |
| 35 | Steven Veremis | Fr. | 12:50.4 | Fremd | | | |
| 36 | Michael Labno | So. | 12:51.3 | Fremd | | | |
| 37 | Chris Atadero | So. | 12:51.8 | Marian Central | | | |
| 38 | Matthew Jones | Fr. | 12:52.9 | Fremd | | | |
| 39 | Brett Wittenstein | So. | 12:53.3 | Glenbrook South | | | |
| 40 | Marek Potuznik | So. | 12:53.5 | Fremd | | | |
| 41 | Naitik Patel | So. | 12:56.2 | Fremd | | | |
| 42 | Matthew Penne | So. | 12:57.2 | Glenbrook South | | | |
| 43 | Ryan Rockey | So. | 12:57.3 | Wauconda | | | |
| 44 | Charlie Davis | Fr. | 12:57.6 | Crystal Lake South | | | |
| 45 | Theodore Cunningham | Fr. | 12:59.3 | Fremd | | | |
| 46 | Ryan Jack | Fr. | 13:02.1 | Glenbrook South | | | |
| 47 | Ethan Hernandez | So. | 13:03.7 | Glenbrook South | | | |
| 48 | Thomas Sieck | Fr. | 13:04.4 | Woodstock | | | |
| 49 | James Bloss | So. | 13:04.5 | West Chicago | | | |
| 50 | Conner Mogge | So. | 13:04.7 | Dundee-Crown | | | |
| 51 | Victor Rodriguez | Fr. | 13:05.3 | Larkin | | | |
| 52 | Gavin Murrie | So. | 13:05.7 | Lakes Community | | | |
| 53 | Nic Bourgault | So. | 13:08.2 | Belvidere North | | | |
| 54 | Ome Patel | So. | 13:09.8 | Elgin | | | |
| 55 | Tyler Toms | So. | 13:11.0 | Dundee-Crown | | | |
| 56 | Robert Panzino | Fr. | 13:11.1 | Fremd | | | |
| 57 | Jackson Batt | Fr. | 13:11.5 | Johnsburg | | | |
| 58 | Jake Saelens | So. | 13:12.4 | Dundee-Crown | | | |
| 59 | Erik Tapia | So. | 13:12.8 | McHenry | | | |
| 60 | Micah Lind | Fr. | 13:12.9 | Lakes Community | | | |
| 61 | Jared Diaz | So. | 13:13.4 | West Chicago | | | |
| 62 | Noah Bahnsen | So. | 13:13.6 | McHenry | | | |
| 63 | Lucas Houser | So. | 13:13.8 | Glenbrook South | | | |
| 64 | Uvaldo Ramirez | So. | 13:15.9 | Streamwood | | | |
| 65 | Silas Schroeder | So. | 13:19.9 | West Chicago | | | |
| 66 | Trevor Neal | Fr. | 13:20.7 | Kaneland | | | |
| 67 | David Decker | So. | 13:25.4 | Fremd | | | |
| 68 | Zach Isonhart | Jr. | 13:25.6 | Harvard | | | |
| 69 | Aidan Bruhl | Fr. | 13:26.4 | Kaneland | | | |
| 70 | Henry Lato | Fr. | 13:27.6 | Glenbrook South | | | |
| 71 | Cole Amelse | Fr. | 13:28.4 | McHenry | | | |
| 72 | Daniel Degutis | So. | 13:33.8 | Woodstock | | | |
| 73 | Evan Neuhart | So. | 13:35.6 | Woodstock | | | |
| 74 | John Paul Philbrick | So. | 13:36.5 | Glenbrook South | | | |
| 75 | Tyler Gray | So. | 13:38.9 | Dundee-Crown | | | |
| 76 | Michael Westfall | So. | 13:41.3 | Glenbrook South | | | |
| 77 | Sully Richards | Fr. | 13:41.7 | Glenbrook South | | | |
| 78 | Aidan Greenlee | Fr. | 13:43.1 | Woodstock | | | |
| 79 | Philip Martire | Fr. | 13:44.2 | Rolling Meadows | | | |
| 80 | Ben Freidinger | Fr. | 13:46.7 | Glenbrook South | | | |
| 81 | Heath Vander Ark | Fr. | 13:47.7 | Fremd | | | |
| 82 | Sean Styles | Fr. | 13:48.3 | Larkin | | | |
| 83 | Adam Smith | Fr. | 13:48.4 | Kaneland | | | |
| 84 | Keenan O'Keefe | Fr. | 13:49.0 | West Chicago | | | |
| 85 | Pratham Ujalambkar | So. | 13:51.2 | Fremd | | | |
| 86 | Quin Maloney | Fr. | 13:51.9 | Lakes Community | | | |
| 87 | Derek Lentz | So. | 13:54.6 | Glenbrook South | | | |
| 88 | Will Zunkel | Fr. | 13:55.5 | McHenry | | | |
| 89 | Jacob Rubio | So. | 13:55.6 | Streamwood | | | |
| 90 | Noah Boone | Fr. | 13:56.5 | Johnsburg | | | |
| 91 | Fernan Reyes | Fr. | 13:57.4 | West Chicago | | | |
| 92 | Elliot Lechocki | Fr. | 13:59.1 | Kaneland | | | |
| 93 | Matt Lampa | So. | 13:59.8 | Rolling Meadows | | | |
| 94 | Mathew Klonecki | So. | 14:00.5 | Glenbrook South | | | |
| 95 | David Anthony Cano | So. | 14:00.8 | Fremd | | | |
| 96 | Logan Vincent | Fr. | 14:00.9 | McHenry | | | |
| 97 | Kevin Fernandez | Fr. | 14:01.4 | Dundee-Crown | | | |
| 98 | Jacob Pedersen | Jr. | 14:03.5 | Harvard | | | |
| 99 | Aaron Ginsburg | So. | 14:03.7 | Fremd | | | |
| 100 | Joe Hissem | So. | 14:04.1 | McHenry | | | |
| 101 | Noah Zemba | So. | 14:04.6 | Fremd | | | |
| 102 | Gavin Nielsen | So. | 14:07.5 | Woodstock | | | |
| 103 | Anthony Graziani | So. | 14:14.8 | Rolling Meadows | | | |
| 104 | Connor Zentner | Fr. | 14:16.3 | West Chicago | | | |
| 105 | Alex Iversen | So. | 14:16.9 | Woodstock | | | |
| 106 | Richard (Chad) Mayuga | Fr. | 14:17.6 | West Chicago | | | |
| 107 | Will Steen | Fr. | 14:18.4 | Lakes Community | | | |
| 108 | Landon Frost | Fr. | 14:18.6 | McHenry | | | |
| 109 | Alexander Kutulas | Fr. | 14:21.0 | Dundee-Crown | | | |
| 110 | Ethan Carr | So. | 14:21.3 | Lakes Community | | | |
| 111 | Logan Thielsen | Fr. | 14:23.2 | McHenry | | | |
| 112 | Kurt Pennell | Fr. | 14:24.0 | Fremd | | | |
| 113 | Jovanni MurilloGonzalez | Fr. | 14:24.6 | Woodstock | | | |
| 114 | Joshua Weiby | Fr. | 14:26.4 | Dundee-Crown | | | |
| 115 | Michael Metz | Fr. | 14:28.3 | McHenry | | | |
| 116 | Connor Flores | So. | 14:29.2 | Harvard | | | |
| 117 | Brian Ackerman | So. | 14:29.9 | Belvidere North | | | |
| 118 | Griffin Heft | So. | 14:30.9 | McHenry | | | |
| 119 | Brett Hephner | Fr. | 14:32.0 | McHenry | | | |
| 120 | David Migas | So. | 14:32.1 | Lakes Community | | | |
| 121 | Diego Avalos | Fr. | 14:32.6 | West Chicago | | | |
| 122 | Matt Keyzer | So. | 14:32.6 | Woodstock | | | |
| 123 | Mathew Nugent | Fr. | 14:33.6 | Glenbrook South | | | |
| 124 | Johnathan Trandel | Fr. | 14:35.4 | Woodstock | | | |
| 125 | Mason Price | So. | 14:38.4 | Fremd | | | |
| 126 | Scirys Burnell | So. | 14:39.0 | Johnsburg | | | |
| 127 | Matt Khosrowabadi | So. | 14:39.2 | Elgin | | | |
| 128 | Julian Dinev | Fr. | 14:39.2 | Fremd | | | |
| 129 | Anthony Carney | So. | 14:40.9 | Marian Central | | | |
| 130 | David Welte - Hart | So. | 14:41.0 | Crystal Lake South | | | |
| 131 | Dominic Fiedler | So. | 14:41.9 | Kaneland | | | |
| 132 | Moises Guerrero | Fr. | 14:42.3 | Dundee-Crown | | | |
| 133 | Austin Villa | Fr. | 14:43.1 | Elgin | | | |
| 134 | Jorge Garcia | So. | 14:44.1 | Larkin | | | |
| 135 | Connor Pedersen | Fr. | 14:44.8 | Harvard | | | |
| 136 | Rohan Jawale | Fr. | 14:45.1 | Wauconda | | | |
| 137 | James Hiltebrand | Fr. | 14:48.1 | Glenbrook South | | | |
| 138 | Vince Perez | Fr. | 14:48.4 | Woodstock | | | |
| 139 | Harry Colin | Fr. | 14:48.6 | Wauconda | | | |
| 140 | Carson Walters | So. | 14:51.0 | Glenbrook South | | | |
| 141 | Declan Fruzyna | So. | 14:51.8 | Rolling Meadows | | | |
| 142 | Piortus Stawiarski | Fr. | 14:52.2 | Marian Central | | | |
| 143 | John Tirpak | Fr. | 14:52.6 | Glenbrook South | | | |
| 144 | David Conway | So. | 14:54.7 | Fremd | | | |
| 145 | Ruben Melgarejo | Fr. | 14:55.9 | McHenry | | | |
| 146 | Isaac Abraham | So. | 14:56.8 | Glenbrook South | | | |
| 147 | Thomas Budney | So. | 14:57.8 | Dundee-Crown | | | |
| 148 | Mitchell Mc Hugh | So. | 14:58.2 | Woodstock | | | |
| 149 | Brandon Crenshaw | So. | 15:00.4 | Woodstock | | | |
| 150 | Braden Horne | Fr. | 15:00.5 | Johnsburg | | | |
| 151 | Nolan Hyser | Fr. | 15:01.0 | Belvidere North | | | |
| 152 | Calvin Pennington | Fr. | 15:02.8 | Elgin | | | |
| 153 | Marcos Fernandez | So. | 15:05.2 | Woodstock | | | |
| 154 | Jonathan Link | So. | 15:05.3 | Fremd | | | |
| 155 | Anthony Zablocki | So. | 15:06.1 | Fremd | | | |
| 156 | Sean Canaday | So. | 15:06.4 | Woodstock | | | |
| 157 | Sajeev Gorla | Fr. | 15:09.1 | Glenbrook South | | | |
| 158 | Charlie Coon | So. | 15:10.4 | Rolling Meadows | | | |
| 159 | James Losacco | So. | 15:11.7 | West Chicago | | | |
| 160 | Finn Gannon | Fr. | 15:13.8 | Kaneland | | | |
| 161 | Vikash Kaushik | So. | 15:14.4 | Fremd | | | |
| 162 | Ethan Burns | Fr. | 15:15.5 | Dundee-Crown | | | |
| 163 | Ian Murphy | Fr. | 15:15.9 | Lakes Community | | | |
| 164 | Jack Fostiak | Fr. | 15:17.7 | Wauconda | | | |
| 165 | Srihan Gullapalli | Fr. | 15:18.5 | Fremd | | | |
| 166 | Gio Canalia | Fr. | 15:18.9 | Glenbrook South | | | |
| 167 | Francisco Aguirre | So. | 15:22.2 | Streamwood | | | |
| 168 | Ryan Conner | Fr. | 15:23.4 | Johnsburg | | | |
| 169 | Mitchell Cappel | So. | 15:26.0 | Lakes Community | | | |
| 170 | Hoa Duong | So. | 15:26.2 | Rolling Meadows | | | |
| 171 | Dominik Malave | Fr. | 15:29.2 | Elgin | | | |
| 172 | Cameron O'Brien | Fr. | 15:31.0 | Belvidere North | | | |
| 173 | Nicholas Allen | Fr. | 15:31.6 | Kaneland | | | |
| 174 | Ramon Perez | So. | 15:33.3 | Lakes Community | | | |
| 175 | Jonathan Joseph | So. | 15:34.8 | Glenbrook South | | | |
| 176 | Caleb Hwang | So. | 15:39.2 | Kaneland | | | |
| 177 | Demitrio Trigo | Fr. | 15:40.3 | Elgin | | | |
| 178 | Brogan O'Grady | Fr. | 15:40.5 | Glenbrook South | | | |
| 179 | Owen Musser | Fr. | 15:40.8 | Elgin | | | |
| 180 | Elijah Eggers | Fr. | 15:42.1 | Elgin | | | |
| 181 | James Norris | Fr. | 15:49.7 | McHenry | | | |
| 182 | Justin Maniora | Fr. | 15:50.2 | McHenry | | | |
| 183 | Landon Wright | Fr. | 15:51.3 | West Chicago | | | |
| 184 | Cameron Petrie | Fr. | 15:59.6 | West Chicago | | | |
| 185 | Seth Rowe | So. | 16:01.7 | Woodstock | | | |
| 186 | Caleb Krispin | Fr. | 16:02.0 | Dundee-Crown | | | |
| 187 | Adam Culver | Fr. | 16:06.4 | Elgin | | | |
| 188 | Alexander Dinev | Fr. | 16:18.2 | Fremd | | | |
| 189 | Michael Andal | So. | 16:19.5 | Crystal Lake South | | | |
| 190 | Ishmael Gonzalez | Fr. | 16:20.3 | Dundee-Crown | | | |
| 191 | Mick Mc Cartney | Fr. | 16:21.9 | Rolling Meadows | | | |
| 192 | Williams Sosa | Fr. | 16:24.1 | Elgin | | | |
| 193 | Micah Mc Lean | Fr. | 16:25.1 | West Chicago | | | |
| 194 | Vince Chiappetta | Fr. | 16:26.1 | Elgin | | | |
| 195 | Christian Dierwechter | Fr. | 16:29.6 | Dundee-Crown | | | |
| 196 | Matthew Burke | So. | 16:31.1 | Glenbrook South | | | |
| 197 | Uriel Avila | Fr. | 16:31.7 | Belvidere North | | | |
| 198 | Evan Lich | So. | 16:32.0 | Harvard | | | |
| 199 | Alexander Polli | So. | 16:33.3 | Elgin | | | |
| 200 | Fabian Rodriguez | So. | 16:35.8 | Streamwood | | | |
| 201 | Luis Enrique Resto | Fr. | 16:40.8 | Streamwood | | | |
| 202 | Corey Losacco | Fr. | 16:44.7 | West Chicago | | | |
| 203 | Ben Caspari | So. | 16:46.3 | Woodstock | | | |
| 204 | Carlos Martinez | So. | 16:47.2 | Woodstock | | | |
| 205 | Kyle King | So. | 16:47.5 | Rolling Meadows | | | |
| 206 | Andrew Yoon | Fr. | 16:49.3 | Glenbrook South | | | |
| 207 | Cooper Engelhardf | So. | 16:59.6 | Belvidere North | | | |
| 208 | Banks Laplante | Fr. | 17:02.6 | Belvidere North | | | |
| 209 | Garrison Carter | So. | 17:03.5 | Wauconda | | | |
| 210 | Ethan Walters | Fr. | 17:09.1 | Elgin | | | |
| 211 | Jayden Meyer | Fr. | 17:15.2 | Larkin | | | |
| 212 | Jakson Bending | So. | 17:17.3 | Dundee-Crown | | | |
| 213 | Tommy Olson | So. | 17:18.2 | Crystal Lake South | | | |
| 214 | Jeremy Villalobos | Fr. | 17:19.6 | Elgin | | | |
| 215 | Simon Suaso | Fr. | 17:23.1 | Fremd | | | |
| 216 | Casey Walters | So. | 17:24.1 | Kaneland | | | |
| 217 | Collin Gahagan | So. | 17:26.9 | Lakes Community | | | |
| 218 | Myles Avanzado | So. | 17:28.3 | Dundee-Crown | | | |
| 219 | Liam Posecion | Fr. | 17:38.8 | Dundee-Crown | | | |
| 220 | Jan Ferando | So. | 17:39.1 | Rolling Meadows | | | |
| 221 | Brandon Parsin | Fr. | 17:58.0 | Lakes Community | | | |
| 222 | Omar Salazar - Aquino | Fr. | 17:58.4 | Larkin | | | |
| 223 | Emanuel Rubalcaba | So. | 17:58.5 | Streamwood | | | |
| 224 | Daivik Singh | Fr. | 18:24.7 | West Chicago | | | |
| 225 | Brett Augustyn | So. | 18:34.1 | Crystal Lake South | | | |
| 226 | Eric Elizarraraz | Fr. | 18:48.0 | Harvard | | | |
| 227 | Mylo Avanzado | Fr. | 19:15.4 | Dundee-Crown | | | |
| 228 | Jose Mendez | Sr. | 19:17.2 | Woodstock | | | |
| 229 | Efren Mackintos | So. | 19:41.1 | West Chicago | | | |
| 230 | Aidan Dunphy | Fr. | 19:57.4 | Dundee-Crown | | | |
| 231 | Yucheng Zhang | So. | 20:14.4 | Fremd | | | |
| 232 | Saenz Eduardo | Fr. | 20:19.6 | West Chicago | | | |
| 233 | Anthony Schmidt | Fr. | 21:01.4 | Elgin | | | |
| 234 | Efrain Jacobo | Fr. | 22:25.4 | Elgin | | | |
| 235 | Isias Contreras | Fr. | 22:34.7 | Larkin | | | |
| 236 | Ryan Dickson | Fr. | 23:14.6 | Crystal Lake South | | | |
| 237 | Ossey Paul | So. | 23:22.4 | Glenbrook South | | | |