IHSA 2A State Finals
Saturday, November 09, 1985
Detweiller Park
---
Meet Recap
No meet recap or information is available at this time. Please be sure to use the links on the left to view more about the meet.
If this meet has already occured, our results are missing or have not been processed into our database.
Varsity
This is either an unscored meet, or team results are missing from our database. If you believe this is an error, please reach out.
Team scores only for Distance Events (ones featured on results tabs). This is an automated process, so results should be treated as-is.
Varsity
Course Information & Directions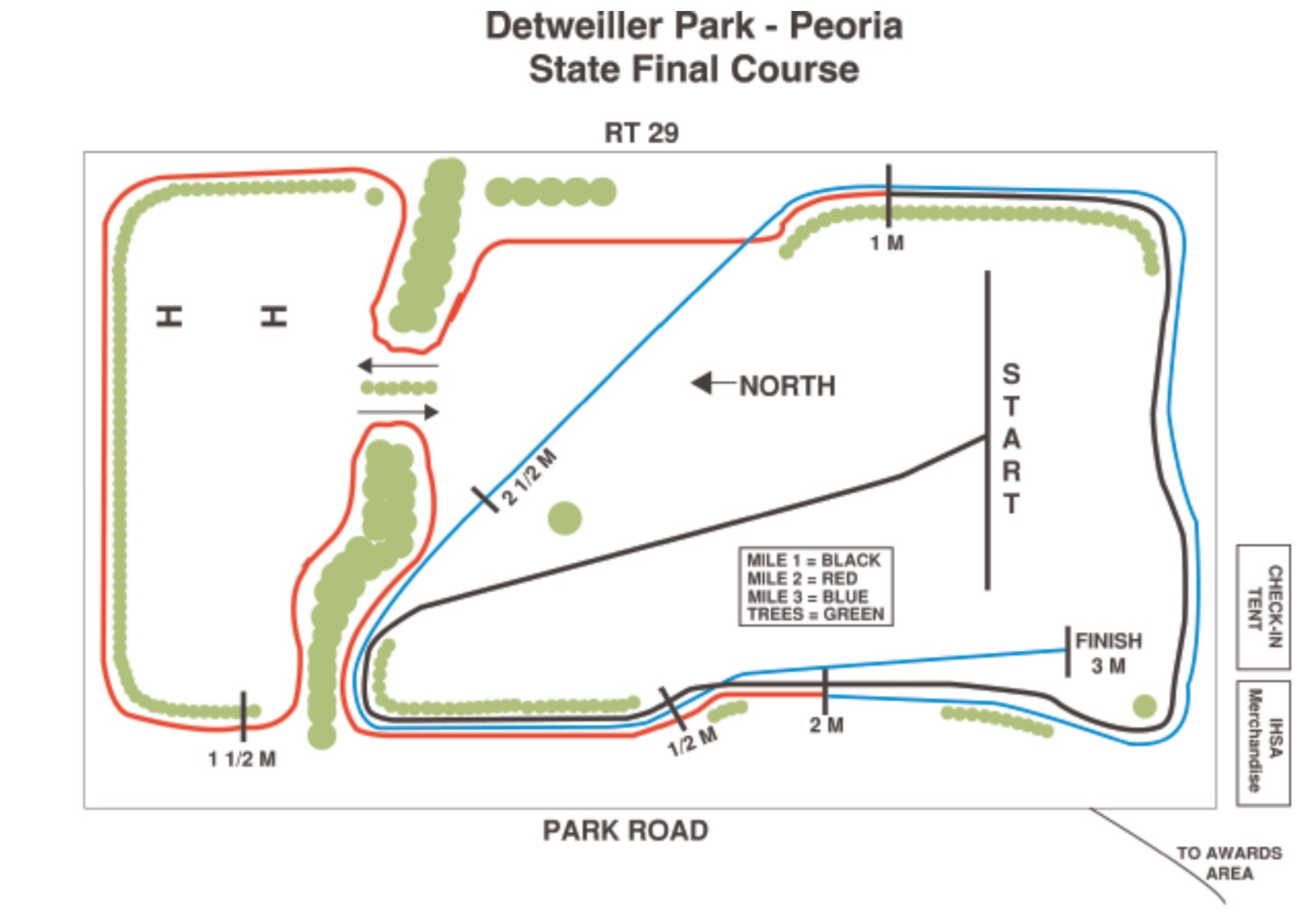 ---
---
Top 3mi Times by GBS Athletes
Previous GBS Appearances
Photos
Official Results (Hand Timed)
Place
Name
Grade
Time
Team
1
Jim Gibson
Sr.
14:28.0
Lake Forest
2
Mitch McCormick
Sr.
14:38.6
Leyden
3
Craig Steele
Sr.
14:42.5
Hoffman Estates
4
Chris Heldt
Sr.
14:46.5
Bloom Trail
5
Rodney Chambers
Sr.
14:47.4
Mendel Catholic
6
Ryan Cahill
Jr.
14:47.9
Glenbrook North
7
Eric Suender
Sr.
14:48.4
Conant
8
Rick Gasparini
Sr.
14:49.0
Rockford East
9
Norman Bilsbury
Sr.
14:50.7
Alton
10
Mark Lishchynsky
Sr.
14:51.1
Schaumburg
11
Jeff Henry
Sr.
14:51.6
Oswego
12
Chris Cook
Jr.
14:52.1
Conant
13
Pat McCann
Sr.
14:52.7
Rockford East
14
Bob Cisler
Jr.
14:53.1
Hinsdale South
15
Mike Rakov
Jr.
14:53.6
Homewood-Flossmoor
16
Tom Pruim
Jr.
14:54.1
Andrew
17
Matt Meinz
Sr.
14:54.6
Naperville Central
18
Andrew Bredfield
Jr.
14:55.1
Schaumburg
19
George Patterson
Jr.
14:55.5
Washington
20
David Rill
Jr.
14:56.1
Fenwick
21
Lenny Sitko
Jr.
14:56.6
Niles Notre Dame
22
Rick Newman
Sr.
14:57.1

PR

Glenbrook South
23
Mark Scheirer
So.
14:57.6
Metamora
24
Tony Daniel
Jr.
14:58.8
Mendel Catholic
25
Bob Lytle
Sr.
14:59.7
Wheeling
26
Pete Wolf
Sr.
15:00.2
Oswego
27
Michael Schuck
Jr.
15:02.0
Schaumburg
28
David Zimmer
Sr.
15:02.5
Hinsdale Central
29
Mike Maciukenus
Sr.
15:03.6
Lincoln-Way
30
Mike Vrentas
Sr.
15:03.6
Danville
31
Tom O'Rourke
Sr.
15:04.0
Loyola Academy
32
Joe Blackstone
Sr.
15:04.5
Bloom Trail
33
Mike Pankow
Sr.
15:05.0
Forest View
34
John Tilson
Sr.
15:05.4
Rockford Guilford
35
Pete Delano
Sr.
15:05.9
Maine South
36
Dave Braun
Sr.
15:06.4
York
37
Tom Maciukenus
Sr.
15:06.8
Lincoln-Way
38
Rob Maue
Sr.
15:07.3
Mascoutah
39
Mike Grals
Sr.
15:08.4
Prospect
40
Bob Berger
Sr.
15:09.1
York
41
Zach Boudreau
Sr.
15:09.6
York
42
Bob Voisard
Sr.
15:10.1
Deerfield
43
Brian Tupper
Sr.
15:10.5
Homewood-Flossmoor
44
Brett Schultz
So.
15:11.0
Decatur MacArthur
45
Jeff McCarty
Sr.
15:11.5
Springfield Lanphier
46
Bill Gould
Fr.
15:12.0
Fremd
47
Mike Rutledge
Sr.
15:12.8
Normal Community
48
Mike Jamieson
Jr.
15:13.4
Benet Academy
49
Phil Palmer
Jr.
15:14.2
East Peoria
50
Marc Burns
Sr.
15:14.6
Wheeling
51
Pat Burnett
Jr.
15:15.1
Glenbrook North
52
Tony Karas
So.
15:15.6
Lake Park
53
Todd Lytle
So.
15:16.1
Conant
54
Shannon Euring
Jr.
15:16.6
Von Steuben
55
Dave Seevers
Sr.
15:17.1
Prospect
56
Jim Westphal
Jr.
15:17.6
Oak Park-River Forest
57
Brian Reck
Sr.
15:18.2
Rockford Guilford
58
Neal West
Jr.
15:18.8
Centralia
59
Brian Brasher
Sr.
15:19.3
Mascoutah
60
Brian Wilson
Jr.
15:19.9
Sterling
61
Doug Stapelton
Sr.
15:20.4
Marist
62
David Tamburrino
Jr.
15:20.8
Elmwood Park
63
Paul Laskonis
Jr.
15:21.3
Belvidere
64
Andre Fomby
Sr.
15:21.9
Lake Park
65
Eric Williams
Jr.
15:22.5
Naperville Central
66
Todd Moreman
Sr.
15:22.9
Danville
67
Mike Darby
So.
15:23.4
Homewood-Flossmoor
68
Jim Greenwell
Sr.
15:24.0
Mt. Vernon
69
James Tobin
Jr.
15:24.5
Schaumburg
70
Mike Browning
Sr.
15:25.0
York
71
Dave Aubrey
Fr.
15:25.5
Peoria Richwoods
72
Robert Skupien
Jr.
15:25.9
Schaumburg
73
John Ganz
Sr.
15:26.4
New Trier
74
Ron Fagan
Sr.
15:27
Homewood-Flossmoor
75
Clemente Salazar
Sr.
15:27
Rock Island
76
Nick Schwartz
So.
15:28
Centralia
77
Mike Copeland
Sr.
15:28
Springfield Lanphier
78
Jay Spencer
Jr.
15:30
Lake Park
79
Mark Bybee
Sr.
15:31
Harrisburg
80
Scott Pless
Sr.
15:31
Oswego
81
Wendel McRaven
Sr.
15:32
Wheeling
82
Carnice Brown
Sr.
15:32
Mendel Catholic
83
Jim Fagan
Sr.
15:33
Homewood-Flossmoor
84
Dan Rubin
Jr.
15:34
New Trier
85
Todd Milliner
Sr.
15:34
Conant
86
Mark Larson
So.
15:34
Rockford East
87
Brian Timmons
Jr.
15:35
Rockford Guilford
88
Mike Musci
Jr.
15:35
Marist
89
TJ Bultema
Jr.
15:36
Homewood-Flossmoor
90
David Stanko
So.
15:36
Oak Lawn
91
James Debardelaben
Jr.
15:39
Mendel Catholic
92
Joe Figueroa
Sr.
15:39
Romeoville
93
Scott Runkie
Sr.
15:40
Peoria Richwoods
94
Floyd Harold
Sr.
15:40
Bloomington
95
Dan Boutin
Jr.
15:41
Rockford Guilford
96
Dean Bacon
Sr.
15:42
Lincoln-Way
97
Derek Books
Sr.
15:42
Springfield Lanphier
98
Tim Sieb
So.
15:43
Schaumburg
99
Todd Rieger
Jr.
15:43
Rockford Guilford
100
Kendall Reed
Sr.
15:44
Rock Island
101
Chris Derylo
Jr.
15:44
Naperville Central
102
Jeff Phillips
Sr.
15:45
Peoria Richwoods
103
Tony Benitez
Jr.
15:46
Oswego
104
Everett Whiteside
So.
15:46
Mt. Vernon
105
John Chiotti
Sr.
15:47
Fremd
106
Robert Dowell
So.
15:47
Dixon
107
Aaron Young
Sr.
15:48
Marist
108
Peter Knapik
Jr.
15:48
Lake Park
109
David Weinberg
Sr.
15:49
New Trier
110
Paul Snyder
Jr.
15:49
Bradley-Bourbonnais
111
Ken Frederking
Sr.
15:50
Marist
112
Mike Straza
So.
15:50
Bloomington
113
Jamie Palmer
So.
15:50
Oswego
114
Jamie Barnes
So.
15:51
Lincoln-Way
115
Craig Will
Sr.
15:51
New Trier
116
Joe Twitchell
Jr.
15:52
Alton
117
Paul Bacon
Sr.
15:52
Lincoln-Way
118
Vince Schwartz
Jr.
15:53
Centralia
119
Steve Little
Jr.
15:53
Peoria Richwoods
120
Kevin Buhrfiend
Jr.
15:54
York
121
Rob Scott
Sr.
15:54
Fremd
122
Rick Timm
Jr.
15:55
Wheeling
123
Kevin Fett
Jr.
15:55
Rockford Guilford
124
Pat Donlan
Jr.
15:56
Peoria Richwoods
125
Todd Hursey
Sr.
15:56
Peoria Richwoods
126
Paul Hass
Sr.
15:57
York
127
Tim Clancy
Sr.
15:57
Oak Park-River Forest
128
John Beatty
Sr.
15:58
Conant
129
Darren Derschieter
Sr.
15:58
Rock Island
130
Pete Krauklis
Sr.
15:59
Marist
131
Derek Olenek
So.
15:59
Lake Park
132
Tom Cunningham
Jr.
16:00
Rockford East
133
Brian Drofchick
Sr.
16:01
Springfield Lanphier
134
Jonathan Graves
Jr.
16:01
Danville
135
Lyle Gross
Jr.
16:02
Centralia
136
Paul Vanderwiel
Sr.
16:02
Prospect
137
Tom Littlecreek
So.
16:03
Oak Park-River Forest
138
Mike Butler
Jr.
16:03
Danville
139
Richard Anderson
Sr.
16:04
Glenbrook North
140
Mike Blaser
Sr.
16:05
Rockford East
141
Mario Vessey
So.
16:05
Rock Island
142
Jim Maciukenus
So.
16:06
Lincoln-Way
143
Javier Salazar
So.
16:06
Wheeling
144
Vince Bradley
So.
16:07
Rockford East
145
Mike Benedetto
Jr.
16:07
Whitney Young
146
John Costello
Sr.
16:08
Oak Park-River Forest
147
Alex Wojtiuk
Sr.
16:08
Fenton
148
Jim Peppmuller
Sr.
16:09
Lincoln-Way
149
Joe Karajanis
Sr.
16:09
New Trier
150
Aaron Rogers
So.
16:10
Chicago Vocational
151
Howard Baumert
So.
16:11
Conant
152
Steve Malloy
Jr.
16:11
New Trier
153
David Knutson
Sr.
16:12
Schaumburg
154
Keith Vandermeulen
Sr.
16:12
Galesburg
155
Tyrone Dowdell
Jr.
16:13
Mendel Catholic
156
Ben Wolf
Fr.
16:13
Oswego
157
Matt Hays
Sr.
16:14
Oak Park-River Forest
158
George Kinsey
Jr.
16:15
Mendel Catholic
159
Roger Peto
Jr.
16:15
York
160
Tom Casey
So.
16:16
Naperville Central
161
Jay Harms
So.
16:17
Naperville Central
162
Eric Selburg
Fr.
16:17
Springfield Lanphier
163
Greg Alderman
So.
16:18
Bloomington
164
Kurt Vogt
Jr.
16:19
Wheeling
165
James Lay
Sr.
16:19
Glenbrook North
166
Patrick Ivory
Fr.
16:20
Englewood
167
John Howley
Sr.
16:20
Marist
168
Jose Salazar
Sr.
16:23
Rock Island
169
Kevin Saunders
Jr.
16:23
Calumet
170
Mike Anderson
Sr.
16:24
Lake Park
171
Ed Fulton
Sr.
16:25
Fremd
172
Sam Lucido
Sr.
16:25
Fremd
173
Joe Henn
Sr.
16:26
Prospect
174
Ken Swaggerty
So.
16:27
Springfield Lanphier
175
Scott Shaw
Jr.
16:27
Mt. Vernon
176
Ramel Warner
So.
16:28
Mendel Catholic
177
Daren Mirkarimi
Jr.
16:29
Lane Tech
178
Brian Hendricks
So.
16:30
Mt. Vernon
179
Jay Kahn
Sr.
16:31
Wheeling
180
Willy Farmer
Sr.
16:31
Fremd
181
Steve Tanner
Fr.
16:32
Rock Island
182
Gary Littel
Jr.
16:33
Bloomington
183
Rodrick Glass
Jr.
16:33
Naperville Central
184
Rob Koleno
Sr.
16:34
Prospect
185
Jim Mohan
Sr.
16:35
Marist
186
Jason West
So.
16:35
Fremd
187
Gerry Russell
Sr.
16:36
Lane Tech
188
Paul Santos
Sr.
16:36
Conant
189
Jesse Keith
Jr.
16:37
Centralia
190
Rodney Glass
So.
16:38
Naperville Central
191
Todd Orvis
So.
16:38
Danville
192
Scott Wollenweber
Sr.
16:39
Oswego
193
Don Bonfiglio
Jr.
16:39
Homewood-Flossmoor
194
Andrzej Chruscinski
Sr.
16:40
New Trier
195
Brian Hass
Sr.
16:40
Bloomington
196
Monty Flynn
Jr.
16:41
Springfield Lanphier
197
Bruce Cameron
Sr.
16:42
Glenbrook North
198
Joe Romano
So.
16:42
Glenbrook North
199
Lee Gross
Jr.
16:43
Centralia
200
Carl Hodges
Jr.
16:43
Calumet
201
Will Garbe
Jr.
16:44
Oak Park-River Forest
202
Reginald Alexis
Sr.
16:44
Fenger
203
Tony Thoensen
Jr.
16:45
Rock Island
204
Steve LaCroix
Sr.
16:46
Peoria Richwoods
205
Matt Beaver
So.
16:47
Bloomington
206
Leonard Adams
Sr.
16:47
Calumet
207
Julian Vickers
Sr.
16:48
Prospect
208
Jamie Deffenbaugh
Sr.
16:49
Bloomington
209
Marco Martinez
Jr.
16:53
Prospect
210
Mike Pope
Sr.
16:53
Danville
211
John Stinson
Jr.
16:57
Lane Tech
212
Victor Gonzalez
Fr.
16:58
Lane Tech
213
James Williams
Sr.
16:59
Mt. Vernon
214
Dave White
Jr.
17:00
Oak Park-River Forest
215
Eric Bonatz
Sr.
17:01
Lane Tech
216
Rick Halle
Jr.
17:01
Rockford Guilford
217
David Fiorito
Sr.
17:03
Lane Tech
218
Robert Tichy
Sr.
17:09
Glenbrook North
219
Louie Garvin
Jr.
17:10
Lane Tech
220
Robert Cunningham
Jr.
17:11
Calumet
221
Jim Banks
So.
17:13
Calumet
222
Brian Elliot
Jr.
17:20
Danville
223
Tim Fletcher
Jr.
17:32
Centralia
224
Alan Edmondson
Jr.
17:33
Mt. Vernon
225
Kurt Winkler
So.
17:48
Rockford East
226
Damen Coleman
Sr.
17:55
Calumet
227
Anthony Francios
Jr.
17:56
Calumet
228
Mike Van Zandt
Jr.
18:20
Mt. Vernon
229
Mike Antongovanni
So.
18:31
Lake Park
Print Results