Bill Dawson Blue Devil Invite
Meet Name: Bill Dawson Blue Devil Invite
Meet Date: Saturday, September 16, 2023
Location: Warren O'Plaine Campus
Opponents: Warren Township, Antioch Community, Buffalo Grove, Carmel Catholic High School, Cary-Grove High School, Crystal Lake South High School, Elgin, Larkin, Evanston, Fenton, Fremd, Glenbrook North High School, Lakes Community, Maine East, Manitowoc, Lincoln, Mundelein, Niles North, Rockford East, Rolling Meadows, Round Lake, Schaumburg, Zion-Benton
Levels: Varsity, JV, Freshmen, Sophomore
Boys Cross Country takes 3rd at Warren Invite! Andy Ordway was the top finisher for the Titans in 6th place with an excellent time of 15:25. Andy's time ranks in the top 20 best times in GBS history!
Spencer Rudolph also broke the 16 minute barrier with a quick time of 15:55. Cole Branstrom, William Fontana and Geoff Maddalozzo rounded out the scoring runners.
The Frosh/Soph team placed 4th overall with Ryan Taylor leading the way while Sam Knezevich and Jan Jedynak led the JV runners to a 3rd place finish.
The Titan Distance squad had a banner day as 54 runners set personal best times for the 3 mile distance and 2 of the 3 levels landed in trophy spots.
Awesome job, Titan runners!
Individual Results
Official Results (F.A.T.)
Please select an event/division from the dropdown above.
Varsity
| Place | School | Score |
| --- | --- | --- |
| 1 | Fremd | 48 |
| 2 | Evanston | 62 |
| 3 | Glenbrook South | 148 |
| 4 | Glenbrook North | 149 |
| 5 | Antioch | 187 |
| 6 | Carmel | 209 |
| 7 | Crystal Lake South | 236 |
| 8 | Lakes Community | 261 |
| 9 | Mundelein | 282 |
| 10 | Manitowoc Lincoln | 299 |
| 11 | Elk Grove | 327 |
| 12 | Niles North | 332 |
| 13 | Round Lake | 334 |
| 14 | Schaumburg | 335 |
| 15 | Zion-Benton | 351 |
| 16 | Cary-Grove | 355 |
| 17 | Warren | 401 |
| 18 | Grayslake Central | 409 |
| 19 | Maine East | 473 |
| 20 | Grayslake North | 526 |
| 21 | Larkin | 601 |
Junior Varsity
| Place | School | Score |
| --- | --- | --- |
| 1 | Fremd | 20 |
| 2 | Evanston | 49 |
| 3 | Glenbrook South | 68 |
| 4 | Antioch | 111 |
| 5 | Warren | 150 |
| 6 | Glenbrook North | 175 |
| 7 | Lakes Community | 216 |
| 8 | Rolling Meadows | 226 |
| 9 | Round Lake | 255 |
Frosh/Soph
| Place | School | Score |
| --- | --- | --- |
| 1 | Fremd | 39 |
| 2 | Mundelein | 65 |
| 3 | Buffalo Grove | 73 |
| 4 | Glenbrook South | 95 |
| 5 | Glenbrook North | 192 |
| 6 | Lakes Community | 192 |
| 7 | Warren | 203 |
| 8 | Rolling Meadows | 205 |
| 9 | Round Lake | 282 |
| 10 | Manitowoc Lincoln | 294 |
| 11 | Grayslake Central | 331 |
| 12 | Schaumburg | 350 |
| 13 | Niles North | 367 |
| 14 | Carmel | 401 |
| 15 | Antioch | 426 |
| 16 | Maine East | 453 |
| 17 | Cary-Grove | 463 |
| 18 | Elk Grove | 495 |
| 19 | Evanston | 497 |
| 20 | Zion-Benton | 519 |
| 21 | Larkin | 633 |
Warren O'Plaine Campus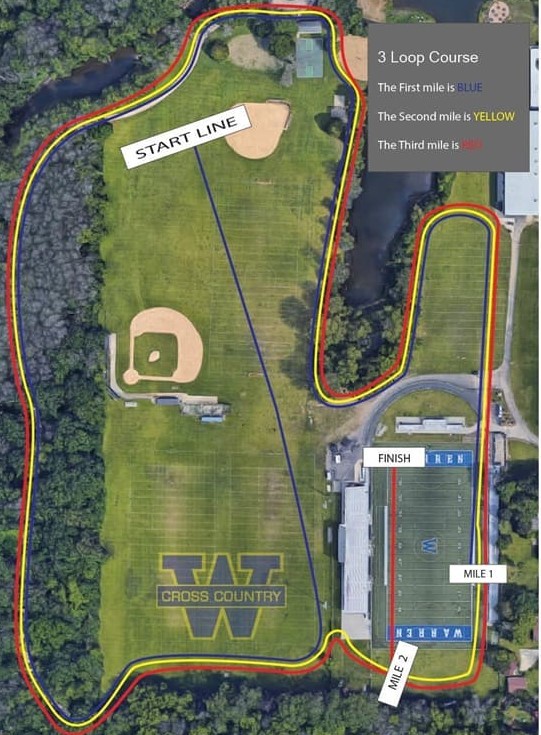 ---
---
Top 3mi Times by GBS Athletes
Previous GBS Appearances
Meet Schedule
All races 3 Miles

| Time | Event |
| --- | --- |
| 9:00 AM | Girls F/S |
| 9:40 AM | Boys F/S |
| 10:20 AM | Girls Varsity |
| 11:00 AM | Boys Varsity |
| 11:40 AM | Girls JV |
| 12:20 PM | Boys JV |