Peoria High School Invitational
Meet Name: Peoria High School Invitational
Meet Date: Saturday, October 02, 2021
Location: Detweiller Park
Opponents: Alton, Auburn, Aurora East, Aurora West, Belleville East, Belleville West, Benet Academy, Downers Grove South, East Moline, Edwardsville, Flossmoor, Fremd, Glenbrook North, Granite City, Hoffman Estates, Hononegah, Huntley, Jacobs, Joliet West, Loyola Academy, Maine East, Maine South, Mather, McHenry, Mt. Prospect, Mundelein, Nequa Valley, New Trier, Normal Community, Pekin, Plainfield Central, Rolling Meadows, Sandburg, St. Charles East, Warren, Wheeling, York
Levels: Varsity
The Top 8 Varsity runners boarded the bus extremely early on Saturday, October 2nd for the famous Peoria High School Invitational at Detweiller Park, which is the Illinois state course due to its speed. The boys spent a lot of time preparing and getting excited for what would be a great opportunity to race against top competition on such a fast course. Unfortunately, the weather ended up being far from ideal, but they have all worked so hard on always focusing only on what is in their control.
Thirty-four teams competed in the race with multiple ranked teams throughout. The main strategy for the team was to work through the middle mile and focus on the little things. This led Senior Jayson Stamm to finally join the Sub-16 Club with an amazing time of 15:51 despite the humid weather. Stamm has gotten extremely close to breaking 16 in the past few weeks and the fun environment of such a big meet plus the fast course finally allowed him to smash through that barrier, so Congratulations Jayson! He led the Titans at Peoria in 42nd place among a massive pack of runners. Senior Elie Nassif also managed to cut off a few seconds from his PR, getting his time down to 16:17 which put him in 68th just behind a junior from our rival, Glenbrook North. Just behind Nassif was Senior Brian Hiltebrand who faced numerous obstacles. He gave it his best effort, and he will definitely get back to where he wants to be very soon. Hiltebrand finished the race in 16:25 for 72nd. Senior Brendan Tanaka got his first experience at a meet of that caliber, and he certainly competed hard. Tanaka came through three miles at 16:44 which dropped his PR by a few more seconds, and he finished in 99th place. Senior Michael Westfall rounded out the scoring runners with a time of 17:27 which put him in 151st. Sophomore Andy Ordway and Senior Michael Jerva were the final two as they hustled to the finish line with times of 17:41 for 163rd and 18:02 for 179th respectively. Overall, the team had extremely high expectations, and they may not have quite met them. The Titans finished 16th out of the 34 teams.
Right after the Top 7 runners completed their race, the alternate, Senior John Paul Philbrick lined up for a 2-mile time trial by himself. He ran a great race, finishing with a time of 11:05. Nice job JP!
The boys raced hard in not-great conditions, especially considering the weather and not being able to sleep in Peoria due to COVID as they normally would. Instead, they had to wake up very early for a three-hour bus ride. Many important lessons were learned from this race as the team looks forward to the post-season where they will have a chance to hopefully get back to Detweiller for the state meet in November. There is a lot that will and needs to happen between now and then as some training schedules need to be altered in different ways to maximize each individual runner's abilities. The six seniors on varsity will not be racing next weekend as the whole team travels to Heritage Park in Arlington Heights for the Wildcat Invitational. We will see you all there!
Individual Results
Official Results (F.A.T.)
Please select an event/division from the dropdown above.
Varsity
| Place | School | Score |
| --- | --- | --- |
| 1 | Sandburg | 50 |
| 2 | New Trier | 109 |
| 3 | Warren | 109 |
| 4 | Neuqua Valley | 109 |
| 5 | St. Charles East | 137 |
| 6 | Downers Grove South | 162 |
| 7 | Edwardsville High School | 183 |
| 8 | Plainfield Central | 241 |
| 9 | Benet Academy | 310 |
| 10 | West Aurora | 311 |
| 11 | Jacobs | 320 |
| 12 | Huntley | 331 |
| 13 | Fremd | 393 |
| 14 | Maine South | 395 |
| 15 | Homewood-Flossmoor | 403 |
| 16 | Glenbrook South | 429 |
| 17 | York | 465 |
| 18 | Glenbrook North | 508 |
| 19 | Pekin | 551 |
| 20 | Normal Community | 594 |
| 21 | East Moline United | 649 |
| 22 | Hononegah | 653 |
| 23 | Auburn | 665 |
| 24 | Wheeling | 686 |
| 25 | Buffalo Grove | 711 |
| 26 | Joliet West | 716 |
| 27 | McHenry | 775 |
| 28 | Aurora East | 797 |
| 29 | Mundelein | 834 |
| 30 | Alton Sr. | 843 |
| 31 | Granite City | 867 |
| 32 | Belleville West | 920 |
| 33 | Hoffman Estates | 924 |
| 34 | Rolling Meadows | 965 |
Detweiller Park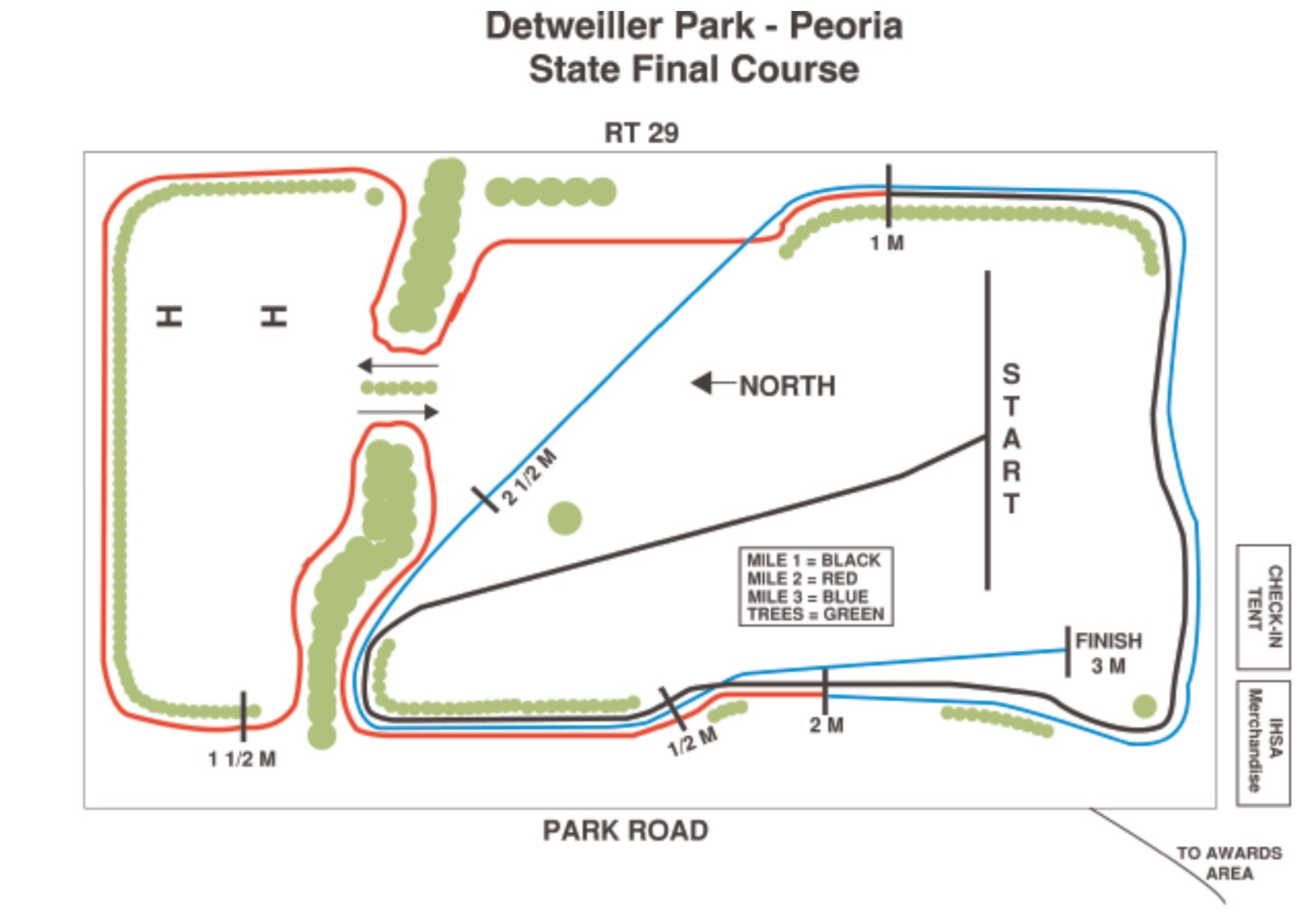 ---
---
Top 3mi Times by GBS Athletes
Previous GBS Appearances
Date
Name
Season
11/9/19
IHSA 3A State Finals
Cross Country 2019
10/5/19
Peoria High School Invitational
Cross Country 2019
9/29/18
Peoria High School Invitational
Cross Country 2018
9/30/17
Peoria High School Invitational
Cross Country 2017
10/1/16
Peoria High School Invitational
Cross Country 2016
10/3/15
Peoria High School Invitational
Cross Country 2015
10/4/14
Peoria High School Invitational
Cross Country 2014
11/9/13
IHSA 3A State Finals
Cross Country 2013
10/5/13
Peoria High School Invitational
Cross Country 2013
10/3/09
Peoria Invite
Cross Country 2009
9/30/06
Peoria Invite
Cross Country 2006
10/1/05
Peoria Invite
Cross Country 2005
11/9/96
IHSA 2A State Finals
Cross Country 1996
11/5/94
IHSA 2A State Finals
Cross Country 1994
11/9/91
IHSA 2A State Finals
Cross Country 1991
10/1/91
Peoria High School Invitational

U

Cross Country 1991
11/3/90
IHSA 2A State Finals
Cross Country 1990
11/4/89
IHSA 2A State Finals
Cross Country 1989
10/1/89
Peoria High School Invitational

U

Cross Country 1989
11/8/86
IHSA 2A State Finals
Cross Country 1986
11/9/85
IHSA 2A State Finals
Cross Country 1985
11/10/84
IHSA 2A State Finals
Cross Country 1984
10/1/84
Peoria High School Invitational

U

Cross Country 1984
11/12/83
IHSA 2A State Finals
Cross Country 1983
11/1/75
IHSA State Finals
Cross Country 1975
11/2/74
IHSA State Finals
Cross Country 1974