GBS/GBN Crosstown Classic
Saturday, April 24, 2021
John Davis Titan Stadium
---
On Saturday, April 24th, the Titans competed in their first outdoor track meet in nearly 2 whole years. Racing against the Glenbrook North Spartans, the Titans ran phenomenally. Though the meet was unscored, it was clear that the Titans came out on top. To watch the recorded meet, please see HERE.
GBS and GBN challenged all athletes and spectators to bring non-perishable food and home goods to donate to the Northfield Township Food Pantry. In all, we collected over a hundred pounds of food and home supplies. Thank you to the Glenbrook community for all of the help!
The meet kicked off with a single heat of the 3200m run. 7 Titans represented Titan Distance, racing hard for all 8 laps. Nick Ihrke (SR) of Glenbrook North took the crown, finishing first in a time of 9:58. Behind him were Cody Slutzky (SR) and Jayson Stamm (JR), who finished in times of 10:20 and 10:23 respectively. Freshman Andy Ordway finished in 5th place with a time of 10:55, a great way to start his track and field career as a Titan.
The next distance event was the 800m run, where Brian Hiltebrand (JR) dominated the field with a time of 2:00.5 (hand-timed). The Titans showed off their depth in this event, with Harrison Wollney (SR), Matthew Klonecki (JR), and Matthew Penne (JR), finishing in 3rd, 4th, and 5th. Klonecki came through with a massive PR of over 20 seconds.
Five Titan Distance runners competed in the 400m, with Carter Adams (SR) notching a 6th place finish in a time of 58.9 (hand-timed).
The real highlight of the afternoon was the 1600m run, where the Titans took 1st, 2nd, 4th, and 6th. Michael Jerva (JR) and Michael Westfall (JR) battled it out for much of the race, but Jerva prevailed in a time of 4:48 to Westfall's 4:49, both massive PRs. Behind them, Elie Nassif (JR) finished in a time of 4:54. Coming in 6th was Sophomore James Hiltebrand, who joined the Sub-5 Club with a time of 4:57. Not to be forgotten, though, was Lucas Houser (JR), who ran his first race in over a year after tearing his meniscus last summer.
Overall, it was a great day to be a Titan, and we couldn't be more thrilled with how the team competed in their first competition. Congratulations to everyone on a solid first meet, let's keep it going!
Team scores for all events, including short-distance, field, etc.
Open
This is either an unscored meet, or team results are missing from our database. If you believe this is an error, please reach out.
Team scores only for Distance Events (ones featured on results tabs). This is an automated process, so results should be treated as-is.
Open
| | | |
| --- | --- | --- |
| 1 | Glenbrook South | 69 |
| 2 | Glenbrook North | 39 |
John Davis Titan Stadium
Glenbrook South's Outdoor Stadium
---
Our newly-repaved outdoor 400m-track is ready for competition! With 8-lanes and plenty of spectator seating, John Davis Titan Stadium is no stranger to hosting large competitions.
Some Things to Know:
Concessions are available in our new concessions stand, located near the south endzone.
Pay attention to announcements from the clerk over the PA System. Typical events will have two calls followed by a final call. Please check-in with the clerk as soon as possible.
Bathrooms are available in our concessions stand building, located near the south endzone.
While most events have free entry, certain invites have nominal entrance fees to help cover timing costs. Thanks for your understanding!
Stadium Map: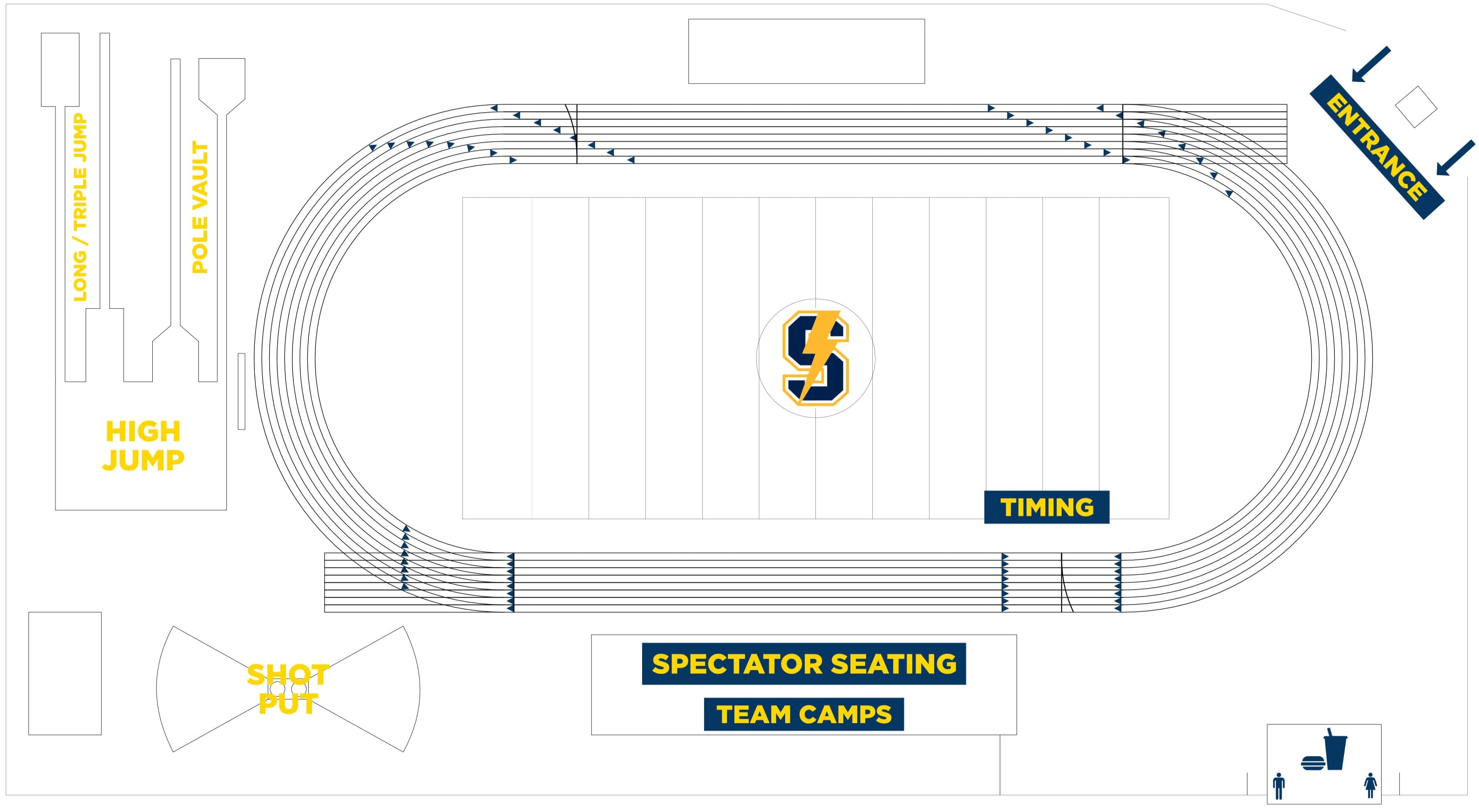 Getting Here:
John Davis Titan Stadium is located on the campus of Glenbrook South High School, located between West Lake Avenue, Pfingsten Road, and Landwehr Road. Once you arrive at Glenbrook South, the most convient parking is in the West parking lots. Turn into the parking lot at the light of West Lake Avenue and Robin Lane and proceed to the stadium.
Find on Google Maps
Stadium Records:
Event
Mark
Name
School
Year
100m Dash
10.4
Colin Hepburn
Glenbrook South
2009
10.4
Michael Bellamy
Kenwood Academy
1985
200m Dash
21.2
Neil Melcher
Glenbrook South
1991
400m Run
47.7
Neil Melcher
Glenbrook South
1991
800m Run
1:54.0
Neal Omar
Niles West
2012
1600m Run
4:09.8
Tom Robbins
Loyola
2007
3200m Run
9:03.5
Nico Composto
Loyola
2010
110m High Hurdles
13.8
Nat Page
Evanston
1975
300m Int. Hurdles
37.8
John Strickland
Glenbrook South
1990
4 x 100m Relay
42.08
Evanston
2015
4 x 200m Relay
1:28.5
Niles West
2010
4 x 400m Relay
3:18.3
Evanston
2004
4 x 800m Relay
7:55.4
Wheeling
1986
High Jump
2.13m (7-0 ft)
Nat Page
Evanston
1975
Pole Vault
2.74m (15-6 ft)
Declan Ritzenthaler
Loyola
2018
Long Jump
3.89m (23-10 ¼ ft)
Steve Battle
Gordon Tech
1989
Triple Jump
14.33m (48-1 ft)
Smith
Evanston
1985
Shot Put
17.60m (60-2 ¼ ft)
Ira Dolin
Glenbrook North
1979
Discus
49.68m (174-11 ft)
Ron Eichaker
Niles North
1974
Field events converted to metric, with actual distance measured listed.
Photos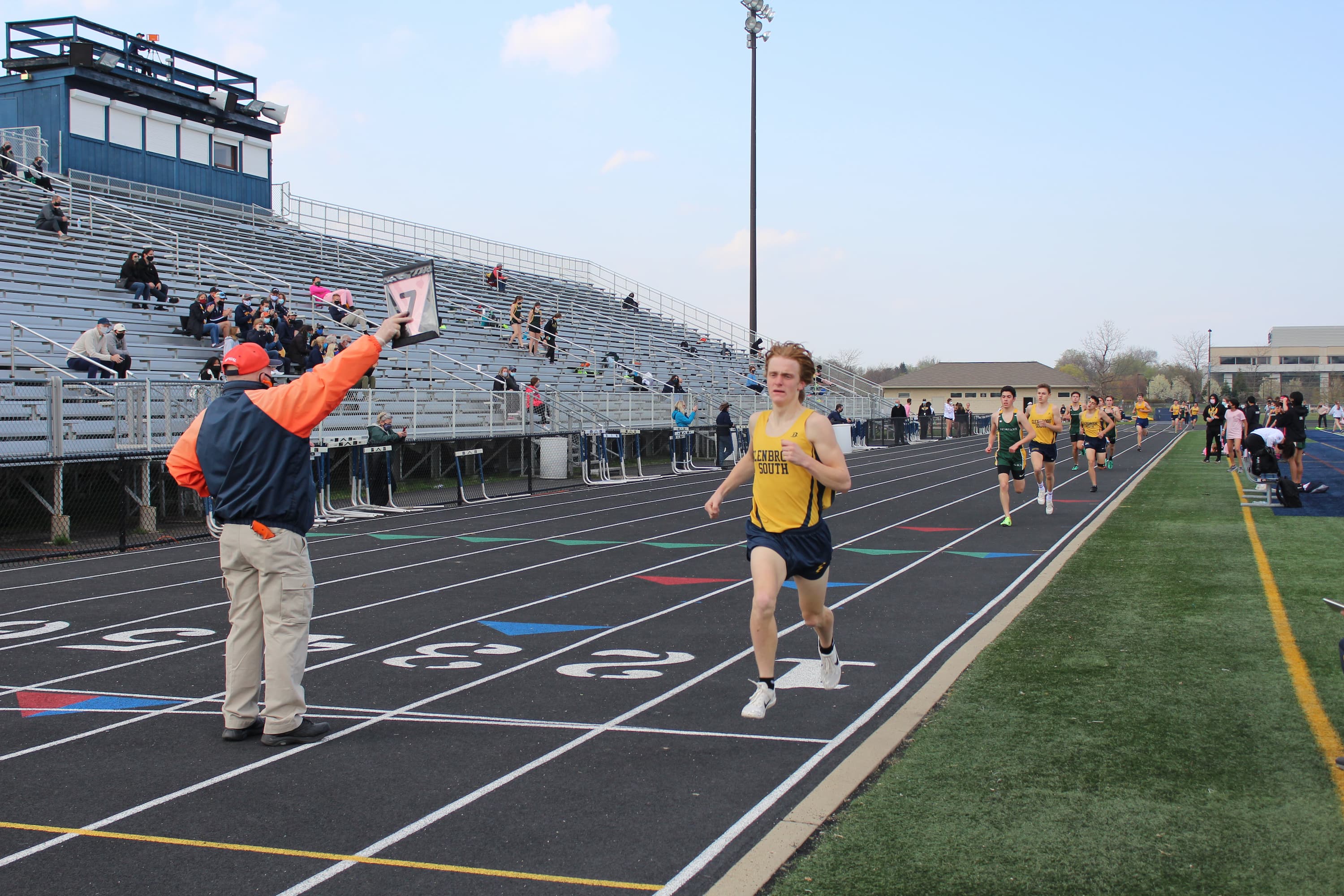 Photographer(s): Preston Davidson, Cody Slutzky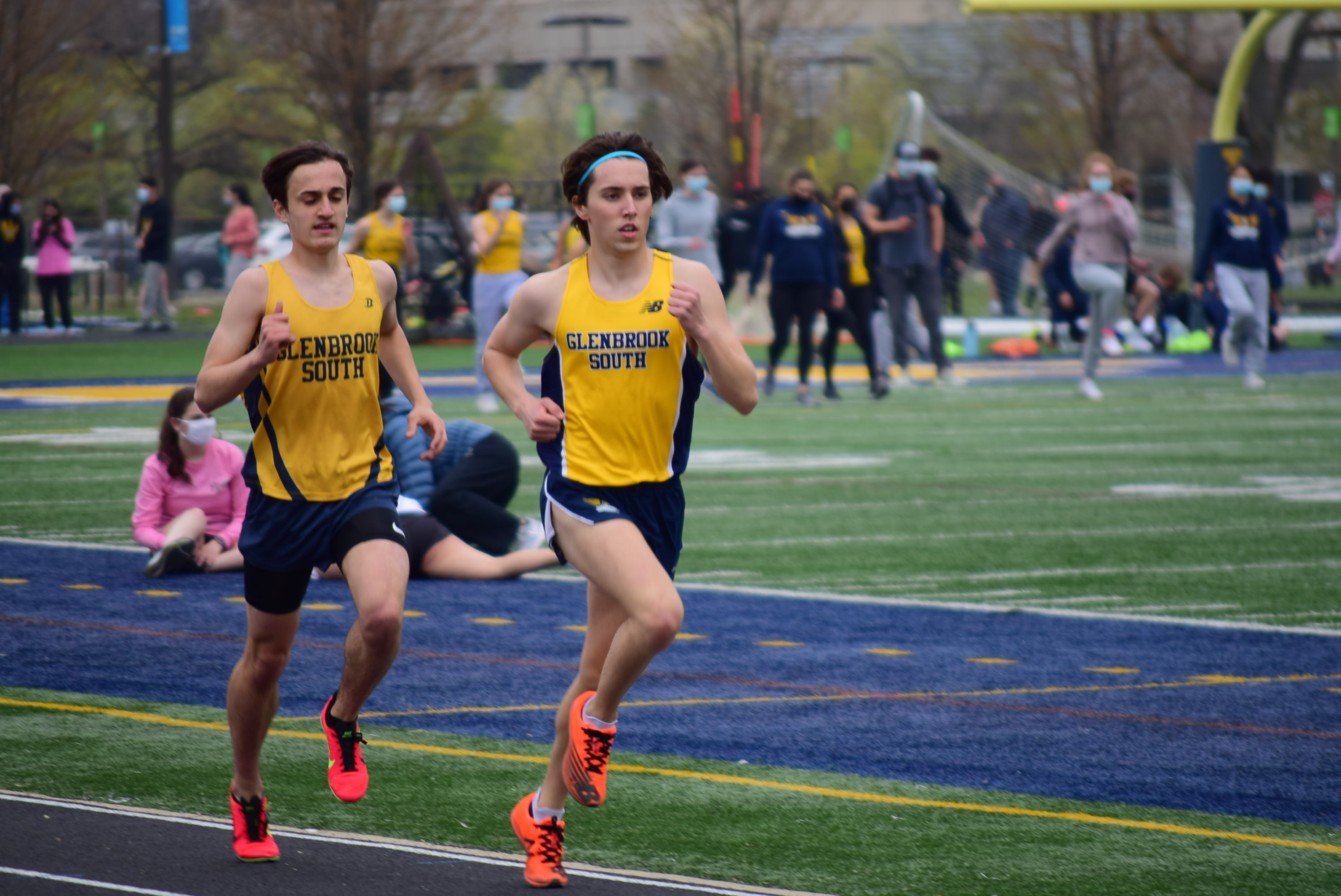 Photographer(s): Mr. Jortberg
Official Results (Hand Timed)
3200m
Place
Name
Grade
Time
Team
400m
800m
1200m
1600m
2000m
2400m
2800m
3200m
1
Nick Ihrke
Sr.
9:58
Glenbrook North
2:25
2:34
2:34
2:25
2
Cody Slutzky
Sr.
10:20
Glenbrook South
72
78
76
80
80
82
79
73
3
Jayson Stamm
Jr.
10:23
Glenbrook South
73
77
76
81
79
82
79
76
4
Branden Chi
Jr.
10:52
Glenbrook North
5
Andy Ordway
Fr.
10:55
Glenbrook South
74
81
84
85
88
88
83
72
6
Daniel Weaver
Sr.
11:07
Glenbrook North
Jefferson Wei
Fr.
11:11
Glenbrook South
77
86
87
88
83
86
83
81
Luke Gregory
Sr.
11:19
Glenbrook South
78
86
88
86
86
86
86
83
Ryan Gershowitz
Fr.
12:18
Glenbrook South
77
87
88
89
1:36
1:45
1:47
89
Danny Laurenelle
Fr.
14:29

PR

Glenbrook South
1:39
1:47
1:50
1:50
1:51
1:57
1:54
1:45
800m
400m
1600m
Print Results