GBS Quad 3
Thursday, March 05, 2020
David Pasquini Fieldhouse
What a Night!
On Thursday, GBS Hosted Glenbrook North, Highland Park, and Conant in the David Pasquini Fieldhouse. This was the first meet of the year to include the famous, 20 lap, 3200m run!
In the 3200m run, Mrugesh Thakor ran the #2 Indoor Meet time of 10:12.1! James Kurtzweil also ran the #7 Indoor Meet time of 10:25 at the meet. In all, 7 Athletes finished under the 11-minute mark.
In the 1600m run, Will Houser set the GBS Indoor Varsity Record in the 1600m, running a 4:26.1! He beat the previous record of 4:27.3 by over a second! Will also finished just 0.3 seconds short of the David Pasquini Fieldhouse record, set in 2015 by Richards of Mundelein at 4:25.8. In addition to Will, three athletes finished under the 5-minute mark, with both Westfall brothers (Michael and Sam) entering the Sub-5 Club for the first time.
Be sure to check out meet results, meet photos, and our roster page for top performances!
Follow along over the next two busy weeks for the Titan Distance teams the indoor season comes to a conclusion.
Team Scores
This is either an unscored meet, or team results are missing from our database. If you believe this is an error, please reach out.
Map & Directions
Photos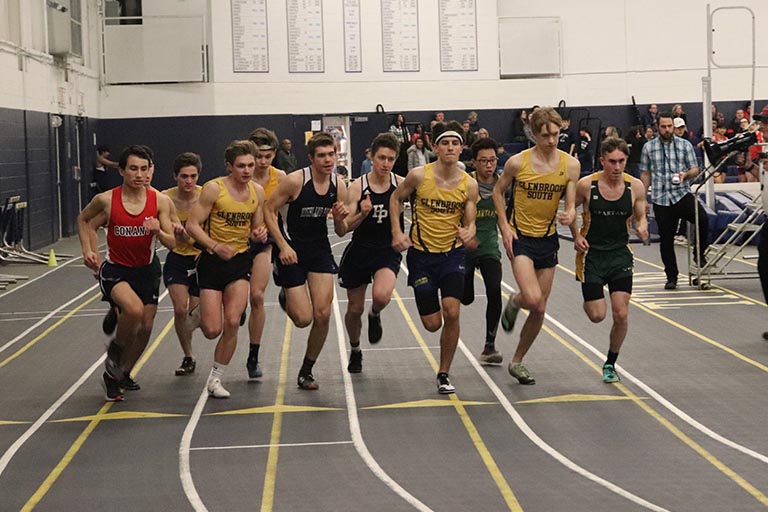 Photographer: Preston Davidson and James Kurtzweil
Open Results
Official Results (Hand Timed)
3200m
800m
| Place | Name | Grade | Time | Team | 400m | 800m |
| --- | --- | --- | --- | --- | --- | --- |
| 1 | Graham Paterson | Jr. | 2:10.4 | Glenbrook North | | |
| 2 | Scott Phadnis | Sr. | 2:14.7 | Glenbrook North | | |
| 3 | Daniel Weaver | Jr. | 2:15.6 | Glenbrook North | | |
| 4 | Jason Thomas | Jr. | 2:17.1 | Conant | | |
| 5 | Thomas Henrikson | Jr. | 2:18.1 | Glenbrook North | | |
| | Theo Gikas | Sr. | 2:22.8 | Glenbrook South | 69.0 | 73.0 |
| | Jacob Baim | So. | 2:33 | Glenbrook South | 74.0 | 79.0 |
| | Ricky Egen | Jr. | 2:40 | Glenbrook South | 75.0 | 80.0 |
| | Jack Olson | So. | 2:42 | Glenbrook South | 75.0 | 87.0 |
| | Ossey Paul | So. | 2:56 | Glenbrook South | 80.0 | 96.0 |
| | Luke Gregory | Jr. | 2:57 | Glenbrook South | 83.0 | 94.0 |
| | Will Patton | Fr. | 2:58 | Glenbrook South | 83.0 | 95.0 |
1600m