Hoffman Estates (H.S.) Sectional
Saturday, October 31, 2020
Hoffman Estates High School
---
Measurements for the 1 and 2 Mile markers were off. Splits are not completely accurate.
Well, just like that, the 2020 Cross Country season is a wrap. This Saturday, the boys ran their last meet of the season at Hoffman Estates High School in the IHSA Sectional. It was a very windy day, but the Titans battled it out and left their hearts on the course. Overall, the team finished in 10th place with a score of 278 points.
Due to COVID health restrictions, the meet was run in a very abnormal format. The 118 person race was broken down into 5 flights of 20-30 runners. In the first flight, the 1st runner from each team ran with individual qualifiers from the various Regional meets. In the second and third flights, the 2nd and 3rd runners from each team did the same. The fourth flight comprised the 4th and 5th runners from each team, and in the fifth and final flight were the 6th and 7th runners.
Brian Hiltebrand (JR) represented the Titans in the first flight of the meet. It was a very tight race as some of the best runners in the state competed for the Sectional Title. Brian finished in 35th overall with a time of 16:17.
In the next flight was Mrugesh Thakor (SR), running the last cross country race of his high school career. Mrugesh took 62nd place with a time of 16:45.
Next was Cody Slutzky (SR) in the 3rd flight. Cody finished in 16:52, earning him a 72nd place finish.
Jayson Stamm (JR) and Michael Jerva (JR) ran together in the 4th flight. They used each other to push through tough conditions, taking 66th and 93rd respectively in times of 16:49 and 17:19.
In the last race of the day were seniors Matthew Finkel and Preston Davidson. The two ran competitively, pushing each other as the race went on. They finished in 88th and 100th place with times of 17:16 and 17:27.
Congratulations to Mrugesh, Cody, Matthew, and Preston for finishing a great four years of cross country.
In retrospect, what the team accomplished in this strange season is something to be immensely proud of. We trained hard, raced fast, and had a lot of fun–all while staying safe. Even though this might not have been the season that we hoped for, it was a great season nonetheless. We made the best out of what we were given, and we are immensely grateful that we had the opportunity to compete. Thank you to everyone who helped make this season a success.
Until track season,
–Titan Distance
Team scores for all events, including short-distance, field, etc.
Varsity
| | | |
| --- | --- | --- |
| 1 | Winnetka (New Trier) | 50 |
| 2 | Barrington | 72 |
| 3 | Lake Zurich | 86 |
| 4 | Arlington Heights (Hersey) | 149 |
| 5 | Wilmette (Loyola Academy) | 158 |
| 6 | Libertyville | 193 |
| 7 | Gurnee (Warren) | 204 |
| 8 | Mt. Prospect (Prospect) | 216 |
| 9 | Highland Park | 273 |
| 10 | Glenview (Glenbrook South) | 278 |
| 11 | Evanston (Twp.) | 289 |
| 12 | Hoffman Estates | 306 |
| 13 | Des Plaines (Maine West) | 309 |
| 14 | Cary (C.-Grove) | 335 |
| 15 | Fox Lake (Grant) | 372 |
Team scores only for Distance Events (ones featured on results tabs). This is an automated process, so results should be treated as-is.
Varsity
Course Map & Directions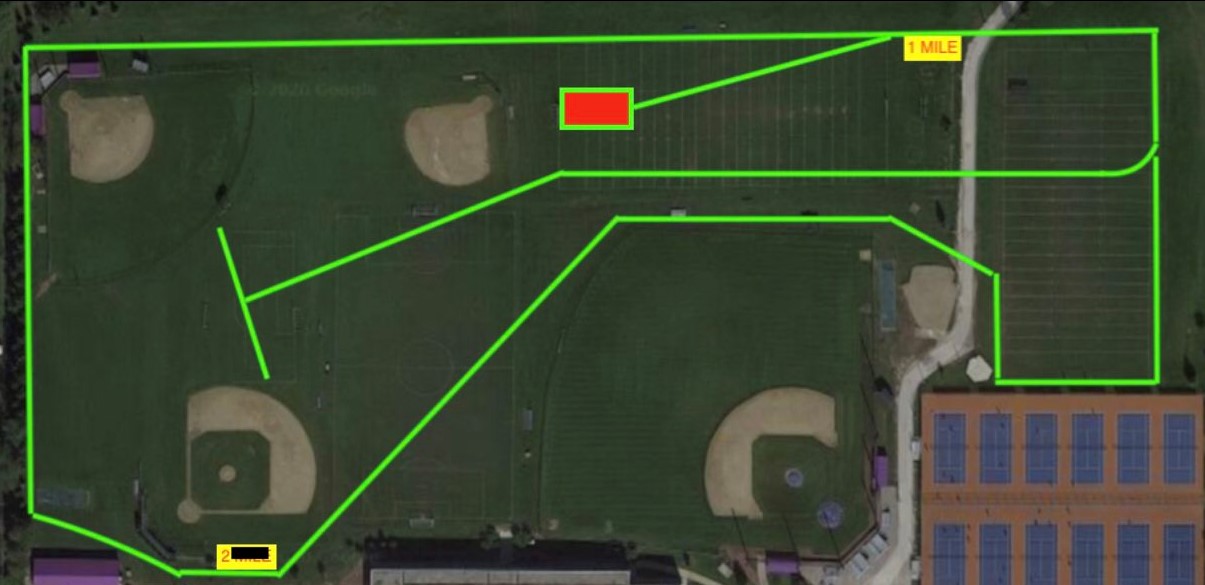 ---
Photos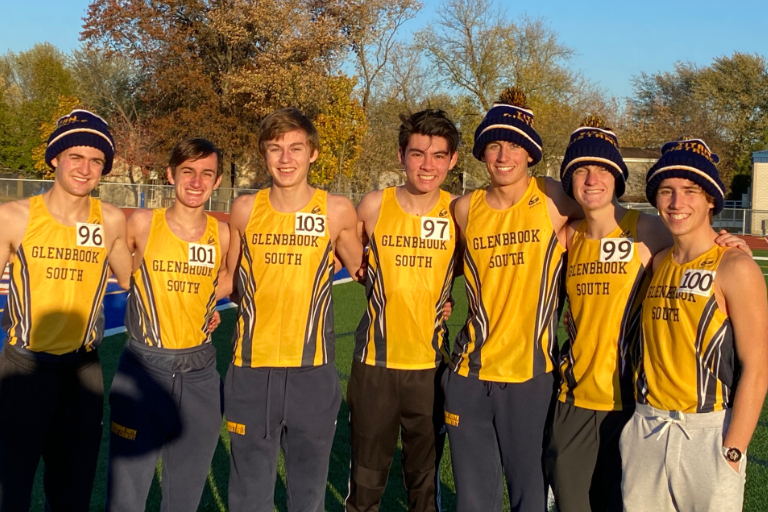 Photographer(s): Preston Davidson, Luke Gregory
Official Results (F.A.T.)
| Place | Name | Grade | Time | Team | 1 Mile | 2 Mile | Finish |
| --- | --- | --- | --- | --- | --- | --- | --- |
| 1 | Luke Wiley | Jr. | 15:07.27 | Gurnee (Warren) | | | |
| 2 | Jacob Myers | Sr. | 15:19.05 | Lake Zurich | | | |
| 3 | Nick Falk | Jr. | 15:22.33 | Winnetka (New Trier) | | | |
| 4 | Charlie Siebert | Sr. | 15:22.58 | Winnetka (New Trier) | | | |
| 5 | Spencer Werner | Jr. | 15:27.85 | Wilmette (Loyola Academy) | | | |
| 6 | Stephen Barretto | Sr. | 15:28.25 | Rolling Meadows | | | |
| 7 | Essay Tolosa | Jr. | 15:29.27 | Evanston (Twp.) | | | |
| 8 | Jack Gilboy | Sr. | 15:30.86 | Lake Zurich | | | |
| 9 | Joey Furlong | Jr. | 15:31.00 | Barrington | | | |
| 10 | Jason Polydoris | Sr. | 15:33.61 | Highland Park | | | |
| 11 | Quinn Born | Sr. | 15:39.44 | Arlington Heights (Hersey) | | | |
| 12 | Alfredo Arnieri | Sr. | 15:41.89 | Barrington | | | |
| 13 | George Cahill | Jr. | 15:44.05 | Winnetka (New Trier) | | | |
| 14 | Jake Ziebarth | Sr. | 15:44.84 | Barrington | | | |
| 15 | George Esteve | Sr. | 15:45.95 | Winnetka (New Trier) | | | |
| 16 | Danny Burns | Jr. | 15:47.34 | Lake Zurich | | | |
| 17 | Mario Torres | So. | 15:51.19 | Buffalo Grove | | | |
| 18 | Sean Safford | Jr. | 15:52.61 | Arlington Heights (Hersey) | | | |
| 19 | Conor O'Neill | Sr. | 15:54.60 | Winnetka (New Trier) | | | |
| 20 | Liam Tucker | Sr. | 15:54.81 | Libertyville | | | |
| 21 | Josh Puyear | Sr. | 15:54.97 | Deerfield | | | |
| 22 | Brandon Waller | Sr. | 15:55.55 | Palatine | | | |
| 23 | Grant Ackard | Sr. | 15:59.08 | Barrington | | | |
| 24 | Aidan Simon | Jr. | 16:02.12 | Wilmette (Loyola Academy) | | | |
| 25 | Ryan Fryer | Jr. | 16:03.86 | Barrington | | | |
| 26 | Ian Barnes | Jr. | 16:05.05 | Cary (C.-Grove) | | | |
| 27 | Noah Rush | Sr. | 16:05.32 | Winnetka (New Trier) | | | |
| 28 | Jack Hamilton | Jr. | 16:09.18 | Libertyville | | | |
| 29 | Ali Faiz | Jr. | 16:09.21 | Libertyville | | | |
| 30 | Carter Hart | Sr. | 16:09.42 | Barrington | | | |
| 31 | Andrew Flynn | Sr. | 16:09.65 | Winnetka (New Trier) | | | |
| 32 | Nate Wehner | Fr. | 16:13.00 | Highland Park | | | |
| 33 | Dylan Myers | So. | 16:13.08 | Lake Zurich | | | |
| 34 | Adam Gorcyca | Sr. | 16:16.52 | Des Plaines (Maine West) | | | |
| 35 | Brian Hiltebrand | Jr. | 16:17.78 | Glenview (Glenbrook South) | 5:02 | 5:23 | 5:52 |
| 36 | Nick Ihrke | Sr. | 16:18.05 | Northbrook (Glenbrook North) | | | |
| 37 | Luis Vazquez | Sr. | 16:19.56 | Arlington Heights (Hersey) | | | |
| 38 | Liam Perreault | Sr. | 16:20.44 | Skokie (Niles North) | | | |
| 39 | Kevin Loftus | Jr. | 16:20.52 | Lake Zurich | | | |
| 40 | Declan Ahern | So. | 16:22.20 | Evanston (Twp.) | | | |
| 41 | Kaleb Whiteside | Sr. | 16:22.48 | Lake Forest | | | |
| 42 | Jack Casaccio | So. | 16:23.28 | Palatine | | | |
| 43 | Sean Kura | Jr. | 16:23.99 | Mt. Prospect (Prospect) | | | |
| 44 | Maxwell Zeisler | Jr. | 16:24.28 | Gurnee (Warren) | | | |
| 45 | Spencer Dzyacky | Sr. | 16:24.49 | Wilmette (Loyola Academy) | | | |
| 46 | Nic Squillacioti | Sr. | 16:25.46 | Mt. Prospect (Prospect) | | | |
| 47 | Matt Hargrave | Sr. | 16:25.72 | Barrington | | | |
| 48 | Bodie McCall | Fr. | 16:25.81 | Lake Zurich | | | |
| 49 | Jesus Vallejo | Sr. | 16:27.78 | Des Plaines (Maine West) | | | |
| 50 | Alex Rider-Leiner | Jr. | 16:31.25 | Mt. Prospect (Prospect) | | | |
| 51 | Johnny Lifka | Jr. | 16:32.02 | Arlington Heights (Hersey) | | | |
| 52 | Jack Dechoudens | Sr. | 16:32.58 | Mt. Prospect (Prospect) | | | |
| 53 | Harry Wood Prince | Jr. | 16:34.38 | Wilmette (Loyola Academy) | | | |
| 54 | Ken Winston | Sr. | 16:35.01 | Hoffman Estates | | | |
| 55 | Carlos Montes | Sr. | 16:35.63 | McHenry | | | |
| 56 | Nathan Garcia | Jr. | 16:38.04 | Gurnee (Warren) | | | |
| 57 | Luke Linscott | Sr. | 16:42.35 | Arlington Heights (Hersey) | | | |
| 58 | Lucas DaSilva | Sr. | 16:42.48 | Des Plaines (Maine West) | | | |
| 59 | Andrew Clark | Sr. | 16:43.12 | Libertyville | | | |
| 60 | Michael Solmos | Sr. | 16:43.86 | Wilmette (Loyola Academy) | | | |
| 61 | Cole Kaether | So. | 16:44.89 | Gurnee (Warren) | | | |
| 62 | Mrugesh Thakor | Sr. | 16:45.22 | Glenview (Glenbrook South) | 5:14 | 5:31 | 6:00 |
| 63 | Iverson Solis | Sr. | 16:47.41 | Hoffman Estates | | | |
| 64 | Nick Frank | Jr. | 16:47.43 | Hoffman Estates (Conant) | | | |
| 65 | Cole Boudreault | So. | 16:48.97 | Lake Zurich | | | |
| 66 | Jayson Stamm | Jr. | 16:49.39 | Glenview (Glenbrook South) | 5:15 | 5:30 | 6:03 |
| 67 | Luka Kuzmanovic | So. | 16:50.49 | Mt. Prospect (Prospect) | | | |
| 68 | Wesley Park | Sr. | 16:51.12 | Lincolnshire (Stevenson) | | | |
| 69 | Rudolph LaFave | Sr. | 16:51.13 | Hoffman Estates | | | |
| 70 | TJ Garland | Jr. | 16:52.68 | Mt. Prospect (Prospect) | | | |
| 71 | Charlie Hamann | Jr. | 16:52.93 | Fox Lake (Grant) | | | |
| 72 | Cody Slutzky | Sr. | 16:52.97 | Glenview (Glenbrook South) | 5:14 | 5:33 | 6:05 |
| 73 | Dane Glover | So. | 16:53.11 | Fox Lake (Grant) | | | |
| 74 | Gavin Kafkakis | Sr. | 16:53.81 | Mt. Prospect (Prospect) | | | |
| 75 | Cameron Matejka | Sr. | 16:56.24 | Wilmette (Loyola Academy) | | | |
| 76 | Connor Oiler | Jr. | 16:56.29 | Arlington Heights (Hersey) | | | |
| 77 | Getsemani Aguirre | Jr. | 16:57.31 | Hoffman Estates | | | |
| 78 | James Grant | Jr. | 16:57.84 | Cary (C.-Grove) | | | |
| 79 | David Lara | Jr. | 16:59.72 | Gurnee (Warren) | | | |
| 80 | Dominic Garrard | Jr. | 17:02.12 | Cary (C.-Grove) | | | |
| 81 | Remy Jankusky | Sr. | 17:04.34 | Arlington Heights (Hersey) | | | |
| 82 | Carlos Villa | Sr. | 17:04.59 | Gurnee (Warren) | | | |
| 83 | Josh Delgado | Sr. | 17:08.39 | Fox Lake (Grant) | | | |
| 84 | Alex Brown | Jr. | 17:09.40 | Highland Park | | | |
| 85 | Leo Stanton | Sr. | 17:10.30 | Wilmette (Loyola Academy) | | | |
| 86 | Dylan Eyler | Jr. | 17:10.88 | Evanston (Twp.) | | | |
| 87 | Andrew Brooks | Jr. | 17:11.26 | Libertyville | | | |
| 88 | Matthew Finkel | Sr. | 17:16.02 | Glenview (Glenbrook South) | 5:20 | 5:44 | 6:12 |
| 89 | Nathan Clapp | Sr. | 17:17.01 | Mundelein | | | |
| 90 | Carson Hendrey | Sr. | 17:17.48 | Cary (C.-Grove) | | | |
| 91 | Jason Werneth | Sr. | 17:18.80 | Highland Park | | | |
| 92 | Ryan Moats | Fr. | 17:19.10 | Gurnee (Warren) | | | |
| 93 | Michael Jerva | Jr. | 17:19.45 | Glenview (Glenbrook South) | 5:15 | 5:46 | 6:18 |
| 94 | Preetpaul Singh | Jr. | 17:22.17 | Hoffman Estates | | | |
| 95 | Solomon Greene | Jr. | 17:23.56 | Evanston (Twp.) | | | |
| 96 | Angel Zeferino | So. | 17:24.13 | Highland Park | | | |
| 97 | Colton Romig | Sr. | 17:24.33 | Fox Lake (Grant) | | | |
| 98 | Noah Jackson | So. | 17:25.11 | Highland Park | | | |
| 99 | Erik Anderson | Sr. | 17:26.36 | Highland Park | | | |
| 100 | Preston Davidson | Sr. | 17:27.71 | Glenview (Glenbrook South) | 5:20 | 5:46 | 6:21 |
| 101 | Enrique Robles | Jr. | 17:29.85 | McHenry | | | |
| 102 | Isaac Sweitzer | Sr. | 17:31.12 | Libertyville | | | |
| 103 | Dylan McCarty | Jr. | 17:33.10 | Libertyville | | | |
| 104 | Ellis Allen | Sr. | 17:37.23 | Evanston (Twp.) | | | |
| 105 | Vijay Krishnamoorthi | So. | 17:41.26 | Hoffman Estates (Conant) | | | |
| 106 | Owen Briggeman | Sr. | 17:45.90 | Evanston (Twp.) | | | |
| 107 | Randal Holm | Jr. | 17:48.20 | Fox Lake (Grant) | | | |
| 108 | Andrew Stutheit | Jr. | 17:51.23 | Des Plaines (Maine West) | | | |
| 109 | Joey Langridge | Sr. | 17:51.42 | Des Plaines (Maine West) | | | |
| 110 | Mohammed Saleem | Sr. | 17:52.87 | Hoffman Estates | | | |
| 111 | Jalen Rios | Sr. | 18:00.01 | Fox Lake (Grant) | | | |
| 112 | Emilio Figueroa | Sr. | 18:02.51 | Fox Lake (Grant) | | | |
| 113 | Kyle Nordengren | Fr. | 18:06.81 | Cary (C.-Grove) | | | |
| 114 | Peter Wallis | Sr. | 18:08.90 | Cary (C.-Grove) | | | |
| 115 | Jacob Diaz | Sr. | 18:30.89 | Des Plaines (Maine West) | | | |
| 116 | Kennon Moy | Sr. | 18:32.05 | Hoffman Estates | | | |
| 117 | Ethan Rische | Sr. | 18:35.23 | Cary (C.-Grove) | | | |
| 118 | Joseph Thalackan | Jr. | 19:28.27 | Des Plaines (Maine West) | | | |
Print Results