Titans Advance to IHSA Sectional
---
---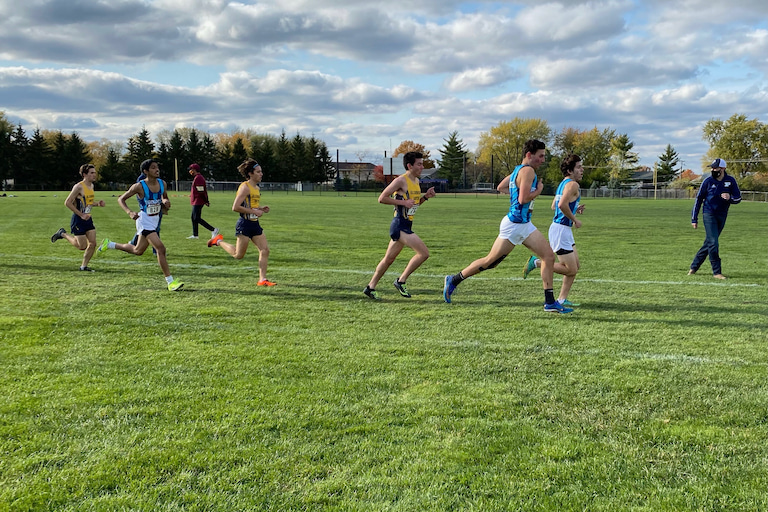 This Saturday, the Titans raced at Hoffman Estates High School in the IHSA Regional. There, they competed with 11 other schools to advance to the IHSA Sectional. The Titans took 4th overall, finishing behind Prospect, Maine West, and Evanston. This is the 6th year in a row that the team advanced to the Sectional meet.
The meet's format was very different from a normal year. Rather than all 11 teams lining up together to race, the meet was run in 3 flights of 20 to 30 runners. The 1st and 2nd runners from each team made up the first flight; the 3rd and 4th runners the second; and the 5th, 6th, and 7th in the third. Brian Hiltebrand (JR) and Mrugesh Thakor (SR) led the Titans on the soft and muddy course in the first flight. It was a tough race up in front, and Brian ultimately finished in 3rd place, earning him an "All-Regional" title. Mrugesh finished in 22nd. Michael Jerva (JR) and Jayson Stamm (JR) followed Brian and Mrugesh in the second flight, finishing in 17th and 24th. It was a great run for Jerva, who finished 2nd for the Titans and 5th in his flight. Cody Slutzky (SR), Matthew Finkel (SR), and Preston Davidson (SR) brought up the rear in the last flight, where they finished in 23rd, 41st, and 44th respectively. Cody led the group, finishing 3rd in the flight.
Next weekend, the Titans will run their last meet of the season at the IHSA Sectional, also hosted at Hoffman Estates. As the course dries out over the next week, it's sure to become a fast course.
---