Meet Recap
The Titans ran very successful meets with the JV team competing at home against Loyola, Highland Park, and New Trier, and the Freshman and Sophomore teams competed at the Trevian Frosh-Soph Invitational. There were many PRs and races to be excited about!
James Scott (So) continues to dominate at the sophomore level. He just entered the sub-5 club running a 4:59.26!
Michael Jerva (Fr) ran a great race at the freshmen level finishing the 800m in 2:13.51.
The Titans compete next at Glenbrook North this Friday.
Team Scores
| | | |
| --- | --- | --- |
| 1 | Deerfield | 125 |
| 2 | New Trier | 112 |
| 3 | Glenbrook South | 109 |
| 4 | Loyola Academy | 76 |
| 5 | Maine South | 74 |
| 6 | Glenbrook North | 37 |
| 7 | Highland Park | 24 |
| | | |
| --- | --- | --- |
| 1 | New Trier | 103 |
| 2 | Deerfield | 99 |
| 3 | Glenbrook North | 84 |
| 4 | Maine South | 82 |
| 5 | Glenbrook South | 65 |
| 6 | Highland Park | 61 |
| 7 | Loyola Academy | 58 |
Map
Photos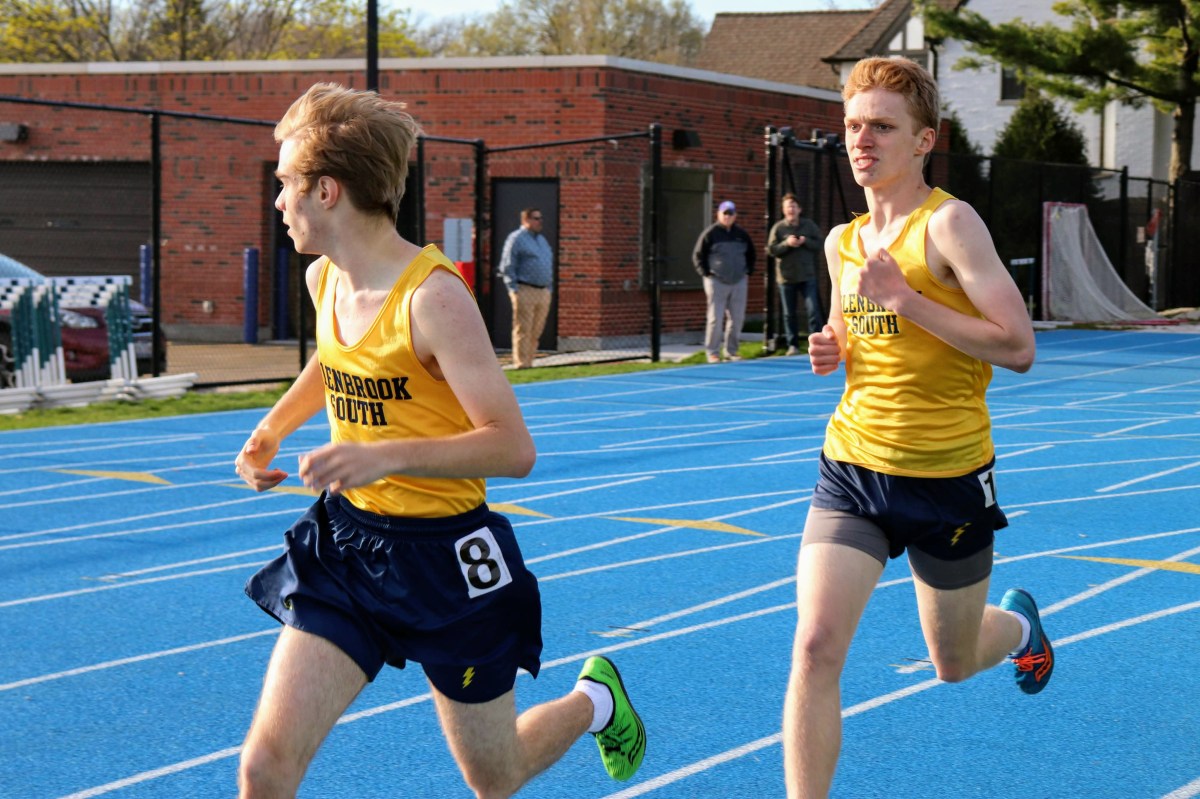 Photographer: James Kurtzweil
Freshmen Results
800m
| Place | Name | Grade | Time | Team | 400m | 800m |
| --- | --- | --- | --- | --- | --- | --- |
| 1 | Seichi Shinozaki | Fr. | 2:08.58 | Loyola Academy | | |
| 2 | George Cahill | Fr. | 2:09.72 | New Trier | | |
| 3 | Eric Lakemaker | Fr. | 2:11.11 | Deerfield | | |
| 4 | Ryan Bernstein | Fr. | 2:12.91 | Deerfield | | |
| 5 | Michael Jerva | Fr. | 2:13.51 | Glenbrook South | 64.0 | 69.0 |
| 6 | Jakub Iwanski | Fr. | 2:15.12 | Maine South | | |
| 7 | Casey Gibbons | Fr. | 2:17.31 | Loyola Academy | | |
| 8 | Michael Westfall | Fr. | 2:20.18 | Glenbrook South | 69.0 | 71.0 |
| 9 | Alejandro Sieden | Fr. | 2:20.84 | Highland Park | | |
| 10 | RJ Guhl | Fr. | 2:23.47 | Highland Park | | |
| 11 | Andrew Qian | Fr. | 2:25.22 | Glenbrook North | | |
| 12 | Kevin Rogowski | Fr. | 2:30.43 | Maine South | | |
| 13 | Jack Moran | Fr. | 2:34.68 | New Trier | | |
| 14 | Jack Klapman | Fr. | 2:47.68 | Glenbrook North | | |
1600m
| Place | Name | Grade | Time | Team | 400m | 800m | 1200m | 1600m |
| --- | --- | --- | --- | --- | --- | --- | --- | --- |
| 1 | Blake Deger | Fr. | 4:43.93 | New Trier | | | | |
| 2 | Cole Bernstein | Fr. | 4:46.75 | Deerfield | | | | |
| 3 | Malcolm Waite | Fr. | 4:49.55 | New Trier | | | | |
| 4 | John Phillips | Fr. | 4:56.31 | Loyola Academy | | | | |
| 5 | Alex Brown | Fr. | 5:02.45 | Highland Park | | | | |
| 6 | Aidan Simon | Fr. | 5:04.67 | Loyola Academy | | | | |
| 7 | Elie Nassif | Fr. | 5:06.91 | Glenbrook South | 71.0 | 77.0 | 79.0 | 80.0 |
| 8 | Lucas Houser | Fr. | 5:07.88 | Glenbrook South | 71.0 | 76.0 | 81.0 | 80.0 |
| 9 | Jonah Satyr | Fr. | 5:10.60 | Deerfield | | | | |
| 10 | Hunter Kells | Fr. | 5:10.63 | Highland Park | | | | |
| 11 | Patrick Herbst | Fr. | 5:16.57 | Glenbrook North | | | | |
| 12 | Ross Trippiedi | Fr. | 5:56.55 | Maine South | | | | |
| 13 | Norbert Wojtkowski | Fr. | 6:26.27 | Glenbrook North | | | | |
3200m
| Place | Name | Grade | Time | Team | 800m | 1600m | 2400m | 3200m |
| --- | --- | --- | --- | --- | --- | --- | --- | --- |
| 1 | Brian Hiltebrand | Fr. | 10:13.04 | Glenbrook South | 2:30 | 2:35 | 2:37 | 2:31 |
| 2 | Nick Friedman | Fr. | 10:48.92 | New Trier | | | | |
| 3 | Tamar Frydman | Fr. | 10:49.52 | New Trier | | | | |
| 4 | Branden Chi | Fr. | 11:25.34 | Glenbrook North | | | | |
| 5 | Sebastian Zimmer | Fr. | 11:27.40 | Glenbrook South | 2:45 | 2:55 | 3:00 | 2:47 |
| 6 | Robert Getty | Fr. | 11:36.64 | Deerfield | | | | |
| 7 | Peter Scheidt | Fr. | 12:12.18 | Loyola Academy | | | | |
| 8 | Brandon Stein | Fr. | 12:14.48 | Deerfield | | | | |
| 9 | Matt Schmidt | Fr. | 12:33.49 | Glenbrook North | | | | |
4x800m
Place
Name
Grade
Time
Team
400m
800m
1
Relay Team
8:47.17
Deerfield
2
Relay Team
10:02.82
New Trier
3
Relay Team
10:16.11
Glenbrook South
Jayson Stamm
2:17.4
Glenbrook South
64.0
71.0
Brett Wittenstein
2:24.7
Glenbrook South
71.0
73.0
Matt Penne
2:18.4
Glenbrook South
67.0
71.0
Derek Lentz
2:17.3
Glenbrook South
70.0
77.0
4
Relay Team
10:18.99
Glenbrook North
5
Relay Team
11:04.73
Loyola Academy
6
Relay Team
11:24.43
Maine South
Sophomore Results
800m
| Place | Name | Grade | Time | Team | 400m | 800m |
| --- | --- | --- | --- | --- | --- | --- |
| 1 | Matt Cull | So. | 2:06.73 | Maine South | | |
| 2 | Liam Brennan | So. | 2:07.71 | Loyola Academy | | |
| 3 | Graham Paterson | So. | 2:09.85 | Glenbrook North | | |
| 4 | Jonah Kaplan | So. | 2:10.83 | Deerfield | | |
| 5 | Jack Michel | So. | 2:11.50 | New Trier | | |
| 6 | Joshua Holtgreive | So. | 2:13.77 | Loyola Academy | | |
| 7 | Charlie Martin | So. | 2:13.84 | Glenbrook North | | |
| 8 | Ben Keenan | So. | 2:14.55 | New Trier | | |
| 9 | Joe Healy | So. | 2:14.66 | Deerfield | | |
| 10 | Tyson Anthony | So. | 2:15.29 | Glenbrook South | 65.0 | 70.0 |
| 11 | Dane Branstrom | So. | 2:15.58 | Glenbrook South | 65.0 | 70.0 |
| 12 | Alec Livney | So. | 2:18.96 | Highland Park | | |
| 13 | Tyler Carlson | So. | 2:19.54 | Highland Park | | |
| 14 | Michael Dort | So. | 2:25.49 | Maine South | | |
1600m
| Place | Name | Grade | Time | Team | 400m | 800m | 1200m | 1600m |
| --- | --- | --- | --- | --- | --- | --- | --- | --- |
| 1 | Jason Polydoris | So. | 4:36.07 | Highland Park | | | | |
| 2 | Ben Zamler | So. | 4:36.89 | Deerfield | | | | |
| 3 | Eamon Brady | So. | 4:48.19 | Maine South | | | | |
| 4 | Nick Redstone | So. | 4:50.34 | Glenbrook North | | | | |
| 5 | Cameron Matejka | So. | 4:50.91 | Loyola Academy | | | | |
| 6 | Charlie Hart | So. | 4:54.36 | Deerfield | | | | |
| 7 | Matt Flick | So. | 4:54.43 | New Trier | | | | |
| 8 | Lincoln Crowe | So. | 4:56.51 | New Trier | | | | |
| 9 | James Scott | So. | 4:59.26 | Glenbrook South | 70.0 | 77.0 | 77.0 | 75.0 |
| 10 | Preston Davidson | So. | 5:03.43 | Glenbrook South | 70.0 | 77.0 | 78.0 | 78.0 |
| 11 | Alex Krull | So. | 5:06.78 | Glenbrook North | | | | |
| 12 | Jorge Jiminez | So. | 5:11.01 | Maine South | | | | |
| 13 | Daniel Riordan | So. | 5:13.58 | Loyola Academy | | | | |
3200m
| Place | Name | Grade | Time | Team | 800m | 1600m | 2400m | 3200m |
| --- | --- | --- | --- | --- | --- | --- | --- | --- |
| 1 | Spencer Werner | Fr. | 09:39.72 | Loyola Academy | | | | |
| 2 | Josh Puyear | So. | 09:42.60 | Deerfield | | | | |
| 3 | Charlie Siebert | So. | 09:42.86 | New Trier | | | | |
| 4 | Spencer Dzyacky | So. | 09:53.67 | Loyola Academy | | | | |
| 5 | Patrick Jamieson | Fr. | 10:05.45 | New Trier | | | | |
| 6 | Nick Ihrke | So. | 10:23.71 | Glenbrook North | | | | |
| 7 | George Esteve | So. | 10:27.66 | New Trier | | | | |
| 8 | Matt Coyle | So. | 10:31.06 | Maine South | | | | |
| 9 | Michael Solmos | So. | 10:40.36 | Loyola Academy | | | | |
| 10 | Erik Anderson | So. | 10:42.27 | Highland Park | | | | |
| 11 | Andrew Osborn | So. | 10:58.44 | Deerfield | | | | |
| 12 | Matthew Finkel | So. | 11:08.63 | Glenbrook South | 2:38 | 2:49 | 2:51 | 2:49 |
| 13 | Carter Adams | So. | 11:10.62 | Glenbrook South | 2:38 | 2:49 | 2:51 | 2:51 |
| 14 | Leo Stanton | So. | 11:23.00 | Loyola Academy | | | | |
| 15 | Nathan Hetzler | So. | 11:31.85 | Glenbrook North | | | | |
4x800m
Place
Name
Grade
Time
Team
400m
800m
1
Relay Team
9:16.84
Glenbrook North
2
Relay Team
9:25.13
Deerfield
3
Relay Team
9:41.23
New Trier
4
Relay Team
9:50.66
Glenbrook South
Jacob Baim
2:31.1
Glenbrook South
68.0
83.0
Jack Cleary
2:37.4
Glenbrook South
73.0
84.0
Cole Brady
2:33.4
Glenbrook South
72.0
81.0
Ricky Egen
2:34.1
Glenbrook South
74.0
80.0
5
Relay Team
9:54.56
Maine South