Meet Recap
The Titans have just got back from Buffalo Grove after a competitive day of racing. The Titans had a different lineup this week due to ACT testing, but stepped up to the challenge. Overall, the entire Glenbrook South Track Team scored as the #2 team overall, tied with New Trier. Comparing distance teams, the varsity team came in third and the frosh/soph team came in tied for fourth.
Will Kelly (Jr) and Brian Hiltebrand (Fr) both won their respective races by a large margin. Brian won the Frosh/Soph 1600m by a margin of 8 seconds, running a 4:43.05. Will won the Varsity 3200m also by a margin of 8 seconds, running a 9:45.88. Running alone is not easy, and both runners did an awesome job!
We get to add a runner to the sub-11 club in the 3200m run, with James Scott (So) running the distance in 10:55.14.
The Titans will run next this Wednesday at Niles North for the Dan Horyn Invite. Information will be posted soon.
Team Scores
| | | |
| --- | --- | --- |
| 1 | Prospect | 162 |
| 2 | New Trier | 137 |
| 3 | Glenbrook South | 97 |
| 4 | Crystal Lake South | 95 |
| 5 | Crystal Lake Central | 53 |
| 6 | Conant | 52 |
| 7 | Elk Grove | 32 |
| 8 | Belvidere North | 31 |
| 9 | Buffalo Grove | 23 |
| | | |
| --- | --- | --- |
| 1 | Glenbrook South | 114 |
| 2 | Prospect | 97 |
| 3 | New Trier | 74 |
| 4 | Crystal Lake Central | 72 |
| 5 | Conant | 42 |
| 6 | Crystal Lake South | 29 |
| 7 | Belvidere North | 20 |
| 8 | Elk Grove | 4 |
| 9 | Buffalo Grove | 3 |
Photos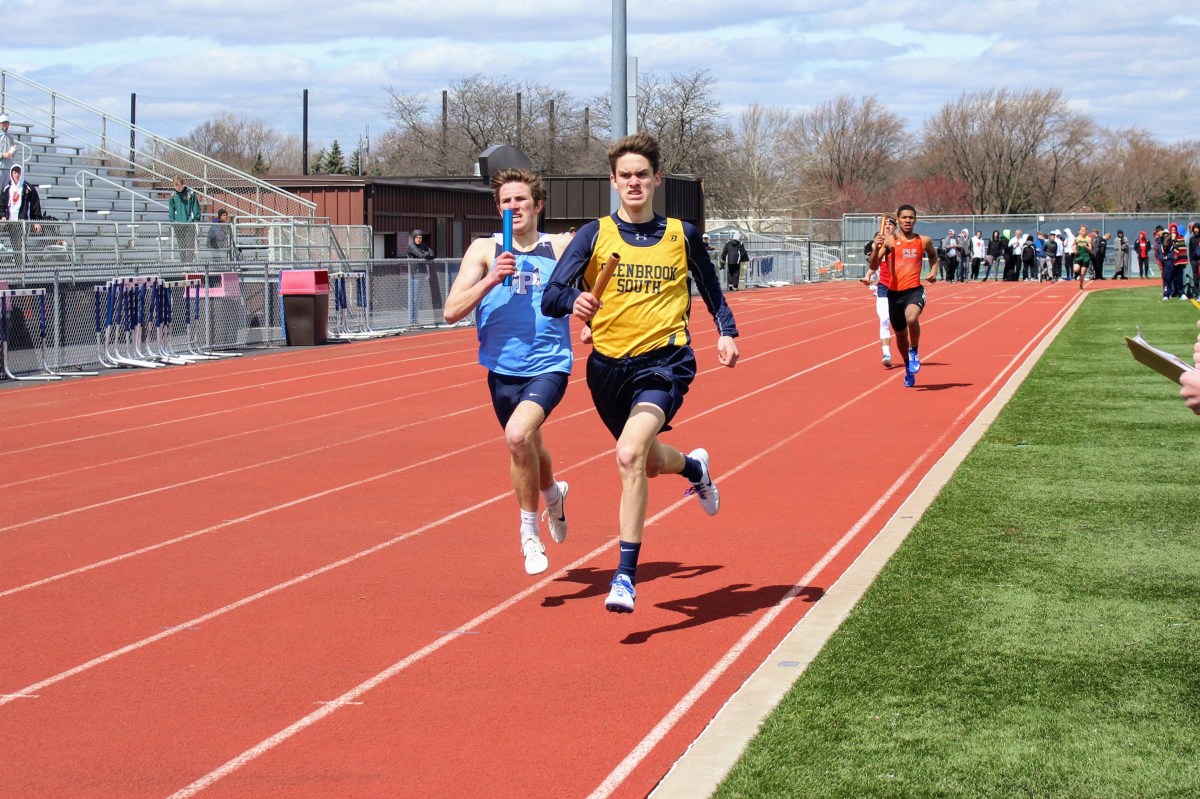 Photographer: Sam Westfall
Varsity Results
4x800m
Place
Name
Grade
Time
Team
400m
800m
1
Relay Team
8:22.53
New Trier
2
Relay Team
8:25.86
Glenbrook South
Charlie Schultz
Sr.
2:05.7
Glenbrook South
61.0
65.0
Joey Pauletto
Sr.
2:08.6
Glenbrook South
63.0
65.0
Jason Leszynski
Sr.
2:08.9
Glenbrook South
60.0
69.0
Will Houser
Jr.
2:02.5
Glenbrook South
60.0
63.0
3
Relay Team
8:27.82
Prospect
4
Relay Team
8:35.71
Conant
5
Relay Team
8:38.26
Crystal Lake Central
6
Relay Team
8:40.17
Belvidere North
7
Relay Team
8:45.82
Elk Grove
3200m
| Place | Name | Grade | Time | Team | 800m | 1600m | 2400m | 3200m |
| --- | --- | --- | --- | --- | --- | --- | --- | --- |
| 1 | Will Kelly | Jr. | 09:45.88 | Glenbrook South | 2:27 | 2:23 | 2:28 | 2:28 |
| 2 | Nick Falk | Fr. | 09:53.96 | New Trier | | | | |
| 3 | Patrick Jamieson | Fr. | 09:58.77 | New Trier | | | | |
| 4 | Alex Picchi | So. | 10:18.40 | Crystal Lake South | | | | |
| 5 | Grant Wasielewski | Jr. | 10:22.52 | Buffalo Grove | | | | |
| 6 | Paul Khairallah | Sr. | 10:35.47 | Prospect | | | | |
| 7 | J.T. Bautista | So. | 10:42.27 | Prospect | | | | |
| 8 | Jordan Lynch | Sr. | 10:46.83 | Glenbrook South | 2:39 | 2:43 | 2:44 | 2:40 |
| 9 | Steve Brown | Jr. | 11:04.14 | Belvidere North | | | | |
| 10 | Brandon Kriepke | Sr. | 11:09.84 | Conant | | | | |
| 11 | Aiden Massman | Jr. | 11:12.30 | Belvidere North | | | | |
| 12 | James Bayus | Sr. | 11:17.34 | Elk Grove | | | | |
| 13 | Gabe Waz | Sr. | 11:26.62 | Crystal Lake South | | | | |
| 14 | Trevor May | Sr. | 11:28.85 | Crystal Lake Central | | | | |
| 15 | Drew McGinness | So. | 11:51.06 | Crystal Lake Central | | | | |
| 16 | Charles Plettau | Jr. | 11:56.93 | Conant | | | | |
| 17 | Carlos Zavala | Sr. | 12:23.04 | Elk Grove | | | | |
1600m
| Place | Name | Grade | Time | Team | 400m | 800m | 1200m | 1600m |
| --- | --- | --- | --- | --- | --- | --- | --- | --- |
| 1 | Max Beutel | Jr. | 4:37.31 | Belvidere North | | | | |
| 2 | JD Shelly | Jr. | 4:38.34 | New Trier | | | | |
| 3 | Charlie Siebert | So. | 4:38.51 | New Trier | | | | |
| 4 | Jack Dechoudens | So. | 4:38.86 | Prospect | | | | |
| 5 | Luke Wenzel | Sr. | 4:41.17 | Buffalo Grove | | | | |
| 6 | Thomas Walter | Jr. | 4:43.90 | Prospect | | | | |
| 7 | James Preucil | Jr. | 4:53.93 | Conant | | | | |
| 8 | Alex Picchi | So. | 4:56.12 | Crystal Lake South | | | | |
| 9 | Ethan Parham | Jr. | 4:57.48 | Conant | | | | |
| 10 | Zander Casis | Jr. | 5:01.23 | Belvidere North | | | | |
| 11 | Ethan Bilodeau | Sr. | 5:02.27 | Elk Grove | | | | |
| 12 | Austin May | So. | 5:12.18 | Crystal Lake Central | | | | |
| 13 | Wade Herrera | Jr. | 5:15.22 | Glenbrook South | 70.0 | 79.0 | 84.0 | 82.0 |
| 14 | Gabe Waz | Sr. | 5:33.79 | Crystal Lake South | | | | |
800m
| Place | Name | Grade | Time | Team | 400m | 800m |
| --- | --- | --- | --- | --- | --- | --- |
| 1 | Erik Snell | Jr. | 1:59.43 | Prospect | | |
| 2 | Jackson Flick | Jr. | 2:06.35 | New Trier | | |
| 3 | Kendall Morrow | Sr. | 2:07.09 | Prospect | | |
| 4 | Clayton Pfeifer | Sr. | 2:08.14 | Crystal Lake South | | |
| 5 | Christopher Davis | Jr. | 2:09.66 | Crystal Lake South | | |
| 6 | Javier Guerrero | Sr. | 2:10.50 | Buffalo Grove | | |
| 7 | Ricardo Torres | So. | 2:12.43 | Buffalo Grove | | |
| 8 | Charlie Forbes | Sr. | 2:13.37 | New Trier | | |
| 9 | Noah Anderson | Jr. | 2:15.13 | Belvidere North | | |
| 10 | Joey Patronik | Sr. | 2:16.89 | Glenbrook South | 66.0 | 71.0 |
| 11 | Benjamin Kveton | Sr. | 2:18.10 | Elk Grove | | |
| 12 | Giovani Mendoza | Jr. | 2:18.97 | Belvidere North | | |
| 13 | Kushin Patel | Jr. | 2:21.34 | Conant | | |
| 14 | Brendan Burke | Sr. | 2:33.22 | Conant | | |
| 15 | Josh Castic | Jr. | 2:35.37 | Elk Grove | | |
| 16 | Gerry Bermudez | Jr. | 2:36.81 | Glenbrook South | 69.0 | 87.0 |
Frosh/Soph Results
4x800m
Place
Name
Grade
Time
Team
400m
800m
1
Relay Team
9:01.01
Crystal Lake Central
2
Relay Team
9:06.08
Conant
3
Relay Team
9:13.98
New Trier
4
Relay Team
9:20.61
Prospect
5
Relay Team
9:21.10
Glenbrook South
Matthew Finkel
So.
2:18.3
Glenbrook South
65.0
73.0
Jayson Stamm
Fr.
2:22.4
Glenbrook South
67.0
75.0
Lucas Houser
Fr.
2:20.0
Glenbrook South
64.0
76.0
Tyson Anthony
So.
2:20.5
Glenbrook South
67.0
73.0
6
Relay Team
9:57.97
Belvidere North
3200m
| Place | Name | Grade | Time | Team | 800m | 1600m | 2400m | 3200m |
| --- | --- | --- | --- | --- | --- | --- | --- | --- |
| 1 | George Cahill | Fr. | 10:36.33 | New Trier | | | | |
| 2 | Sean Kura | Fr. | 10:44.87 | Prospect | | | | |
| 3 | Garrett Czajkowski | So. | 10:47.30 | Crystal Lake South | | | | |
| 4 | Lincoln Crowe | So. | 10:50.72 | New Trier | | | | |
| 5 | TJ Garland | Fr. | 10:52.81 | Prospect | | | | |
| 6 | James Scott | So. | 10:55.14 | Glenbrook South | 2:35 | 2:46 | 2:50 | 2:44 |
| 7 | Julian Ryerson | So. | 11:13.63 | Crystal Lake Central | | | | |
| 8 | William (Liam) Saluski | So. | 11:28.72 | Elk Grove | | | | |
| 9 | Thomas Yoo | So. | 11:29.97 | Conant | | | | |
| 10 | Josh Diersen | Sr. | 11:43.55 | Crystal Lake South | | | | |
| 11 | Evan Lee | So. | 11:48.94 | Conant | | | | |
| 12 | Ryan Atkinson | So. | 11:59.05 | Crystal Lake Central | | | | |
| 13 | Brandon Massman | Fr. | 12:28.31 | Belvidere North | | | | |
| 14 | Brian Ackerman | Fr. | 12:46.23 | Belvidere North | | | | |
1600m
| Place | Name | Grade | Time | Team | 400m | 800m | 1200m | 1600m |
| --- | --- | --- | --- | --- | --- | --- | --- | --- |
| 1 | Brian Hiltebrand | Fr. | 4:43.05 | Glenbrook South | 66.0 | 70.0 | 75.0 | 72.0 |
| 2 | Blake Deger | Fr. | 4:51.66 | New Trier | | | | |
| 3 | Nicolas Frank | So. | 4:55.96 | Conant | | | | |
| 4 | Tommy Landt | So. | 4:57.96 | Crystal Lake Central | | | | |
| 5 | Malcolm Waite | Fr. | 4:59.68 | New Trier | | | | |
| 6 | Kosta Skoufos | Fr. | 5:00.21 | Prospect | | | | |
| 7 | Antanas Rishko | So. | 5:05.48 | Prospect | | | | |
| 8 | Garrett Czajkowski | So. | 5:08.77 | Crystal Lake South | | | | |
| 9 | Nick Lenzen | Fr. | 5:11.30 | Belvidere North | | | | |
| 10 | Carter Adams | So. | 5:14.37 | Glenbrook South | 70.0 | 78.0 | 85.0 | 81.0 |
| 11 | Riyen Patel | So. | 5:18.72 | Conant | | | | |
| 12 | William (Liam) Saluski | So. | 5:34.29 | Elk Grove | | | | |
| 13 | Josh Diersen | Sr. | 5:40.21 | Crystal Lake South | | | | |
| 14 | Reilly Wheeland | So. | 5:40.52 | Crystal Lake Central | | | | |
800m
| Place | Name | Grade | Time | Team | 400m | 800m |
| --- | --- | --- | --- | --- | --- | --- |
| 1 | Gavin Kafkakis | So. | 2:08.20 | Prospect | | |
| 2 | Nic Squillacioti | So. | 2:13.30 | Prospect | | |
| 3 | Jack Michel | So. | 2:19.01 | New Trier | | |
| 4 | Matt Flick | So. | 2:21.98 | New Trier | | |
| 5 | Sebastian Zimmer | Fr. | 2:22.31 | Glenbrook South | 67.0 | 75.0 |
| 6 | Dane Branstrom | So. | 2:22.51 | Glenbrook South | 68.0 | 75.0 |
| 7 | Ethan Greenlea | Fr. | 2:28.49 | Crystal Lake Central | | |
| 8 | Sam Reitenbach | So. | 2:28.87 | Crystal Lake Central | | |
| 9 | Will Herrick | So. | 2:30.14 | Conant | | |
| 10 | Bernard Waters | Fr. | 2:41.88 | Elk Grove | | |
| 11 | Billy Sanchez | Fr. | 2:57.60 | Belvidere North | | |