Meet Recap
Titan Distance had so many amazing performances to cap off the indoor season. The Titans ran at Evanston Township High School Friday night at the CSL South Indoor Conference. The Evanston Fieldhouse is known for its tight turns, but the competition helped push the Titans to some amazing races!
Not enough can be said about Brian Hiltebrand (Fr). Brian Hiltebrand set his third Indoor Freshmen record. Brian Hiltebrand now holds the 4x160m relay indoor freshmen record, 800m indoor freshmen record, and the 1600m freshmen record. Not only did Brian beat the record, he CRUSHED it. The previous record was set by Will Houser in 2017 running a 4:48.0, and Brian ran a 4:38.53. We are all so excited to see Brian for the next four years!
Setting personal PRs at the meet were sophomores Preston Davidson (11:09.73, 3200m) and Tyson Anthony (2:18.11, 800m), junior James Kurtzweil (10:35.32, 3200m), and seniors Joey Pauletto (4:43.64, 1600m) and Charlie Schultz (2:04.81, 800m).
As a team, the Varsity team placed fourth after Evanston, Maine South, and New Trier. The Sophomore team placed second after Maine South. Comparing the Titan Distance team to the other Distance teams, Titan Distance placed third after New Trier and Maine South.
The Titan Distance team's next race is at Palatine High School this Wednesday.
Team Scores
| | | |
| --- | --- | --- |
| 1 | Evanston | 173 |
| 2 | Maine South | 123 |
| 3 | New Trier | 77.5 |
| 4 | Glenbrook South | 64 |
| 5 | Niles West | 29 |
| 6 | Niles North | 28.5 |
| | | |
| --- | --- | --- |
| 1 | Maine South | 127 |
| 2 | Glenbrook South | 120 |
| 3 | New Trier | 109 |
| 4 | Evanston | 64 |
| 5 | Niles West | 52 |
| 6 | Niles North | 22 |
Map
Photos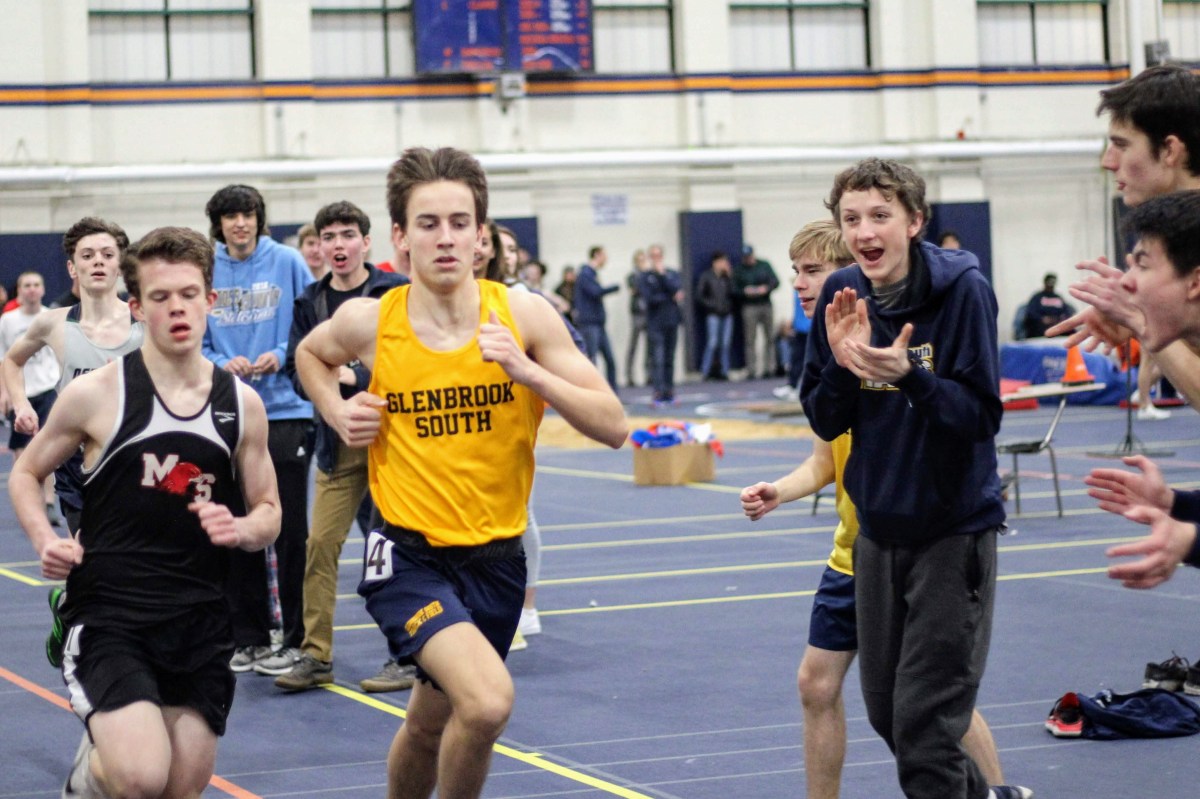 Photographer: Sam Westfall
Varsity Results
4x800m
Place
Name
Grade
Time
Team
400m
800m
1
Relay Team
8:42.11
New Trier
2
Relay Team
8:48.27
Evanston
3
Relay Team
8:53.17
Maine South
4
Relay Team
8:54.44
Niles West
5
Relay Team
9:06.21
Glenbrook South
Jason Leszynski
Sr.
2:12.5
Glenbrook South
61.0
72.0
Joey Patronik
Sr.
2:16.3
Glenbrook South
63.0
73.0
Sam Westfall
Jr.
2:15.3
Glenbrook South
64.0
71.0
Wade Herrera
Jr.
2:21.6
Glenbrook South
67.0
74.0
6
Relay Team
9:16.51
Niles North
3200m
| Place | Name | Grade | Time | Team | 800m | 1600m | 2400m | 3200m |
| --- | --- | --- | --- | --- | --- | --- | --- | --- |
| 1 | Tommy Brady | Sr. | 09:31.94 | Maine South | | | | |
| 2 | Max Ebeling | Sr. | 09:46.18 | Evanston | | | | |
| 3 | Will Kelly | Jr. | 09:47.87 | Glenbrook South | 2:19 | 2:27 | 2:32 | 2:29 |
| 4 | Ian Spears | Sr. | 09:50.15 | Maine South | | | | |
| 5 | Charlie Forbes | Sr. | 09:52.35 | New Trier | | | | |
| 6 | JD Shelly | Jr. | 09:58.46 | New Trier | | | | |
| 7 | Amin Sahid | Sr. | 10:31.66 | Niles North | | | | |
| 8 | James Kurtzweil | So. | 10:35.32 | Glenbrook South | 2:22 | 2:50 | 2:50 | 2:43 |
| 9 | Isaiah Iverson | Jr. | 11:12.58 | Niles West | | | | |
| 10 | Sam Montgomery | Jr. | 11:33.58 | Niles West | | | | |
| 11 | Max Battle | Sr. | 12:11.74 | Niles North | | | | |
800m
| Place | Name | Grade | Time | Team | 400m | 800m |
| --- | --- | --- | --- | --- | --- | --- |
| 1 | Max Peterson | Jr. | 2:00.45 | Evanston | | |
| 2 | Will Houser | Jr. | 2:02.42 | Glenbrook South | 58.0 | 64.0 |
| 3 | Giacomo Conde | Jr. | 2:03.85 | Evanston | | |
| 4 | Umar Chaudhry | Jr. | 2:04.03 | Niles West | | |
| 5 | Ben Weiler | Sr. | 2:04.45 | New Trier | | |
| 6 | Charlie Schultz | Sr. | 2:04.81 | Glenbrook South | 59.0 | 65.0 |
| 7 | Sean Bauer | Jr. | 2:06.07 | Maine South | | |
| 8 | Jackson Flick | Jr. | 2:06.66 | New Trier | | |
| 9 | Liam Perreault | So. | 2:09.18 | Niles North | | |
| 10 | Ali Chaudhry | Sr. | 2:10.62 | Niles West | | |
| 11 | Brad Altman | Jr. | 2:13.83 | Maine South | | |
1600m
| Place | Name | Grade | Time | Team | 400m | 800m | 1200m | 1600m |
| --- | --- | --- | --- | --- | --- | --- | --- | --- |
| 1 | Max Peterson | Jr. | 4:34.35 | Evanston | | | | |
| 2 | Joey Kasch | Jr. | 4:37.87 | Maine South | | | | |
| 3 | Ford Baker | Sr. | 4:39.02 | New Trier | | | | |
| 4 | Ben Akason | Jr. | 4:43.21 | New Trier | | | | |
| 5 | Joey Pauletto | Sr. | 4:43.64 | Glenbrook South | 67.0 | 73.0 | 71.0 | 72.0 |
| 6 | Luke Burkum | Jr. | 4:46.06 | Maine South | | | | |
| 7 | Charlie Montgomery | Sr. | 4:49.49 | Niles North | | | | |
| 8 | Jay Patel | Sr. | 4:49.68 | Niles North | | | | |
| 9 | Giacomo Conde | Jr. | 4:53.73 | Evanston | | | | |
| 10 | Jordan Lynch | Sr. | 5:03.51 | Glenbrook South | 70.0 | 79.0 | 78.0 | 76.0 |
| 11 | Trevor Glancy | Jr. | 5:24.08 | Niles West | | | | |
4x400m
Place
Name
Grade
Time
Team
1
Relay Team
3:32.25
Evanston
2
Relay Team
3:33.32
New Trier
3
Relay Team
3:44.45
Maine South
4
Relay Team
3:45.11
Niles West
5
Relay Team
3:56.05
Niles North
Relay Team
DQ
Glenbrook South
Jason Leszynski
Sr.
57.1
Glenbrook South
Charlie Schultz
Sr.
57.0
Glenbrook South
Will Houser
Jr.
54.7
Glenbrook South
Frosh/Soph Results
4x800m
Place
Name
Grade
Time
Team
400m
800m
1
Relay Team
9:14.11
New Trier
2
Relay Team
9:27.01
Glenbrook South
Jayson Stamm
Fr.
2:21.3
Glenbrook South
66.0
75.0
Michael Jerva
Fr.
2:16.8
Glenbrook South
66.0
71.0
Elie Nassif
Fr.
2:22.6
Glenbrook South
67.0
76.0
Michael Westfall
Fr.
2:26.1
Glenbrook South
72.0
74.0
3
Relay Team
9:30.52
Evanston
4
Relay Team
9:55.29
Niles West
5
Relay Team
9:55.29
Niles North
6
Relay Team
10:14.03
Maine South
3200m
| Place | Name | Grade | Time | Team | 800m | 1600m | 2400m | 3200m |
| --- | --- | --- | --- | --- | --- | --- | --- | --- |
| 1 | Matt Coyle | So. | 10:15.88 | Maine South | | | | |
| 2 | Blake Deger | Fr. | 10:20.70 | New Trier | | | | |
| 3 | Lincoln Crowe | So. | 10:36.46 | New Trier | | | | |
| 4 | Solomon Greene | Fr. | 10:54.22 | Evanston | | | | |
| 5 | Kyle Kenmotsu | So. | 10:58.16 | Niles North | | | | |
| 6 | Matthew Finkel | So. | 11:05.31 | Glenbrook South | 2:33 | 2:44 | 2:54 | 2:54 |
| 7 | Preston Davidson | So. | 11:09.73 | Glenbrook South | 2:33 | 2:44 | 2:55 | 2:57 |
800m
| Place | Name | Grade | Time | Team | 400m | 800m |
| --- | --- | --- | --- | --- | --- | --- |
| 1 | Patrick Jamieson | Fr. | 2:12.14 | New Trier | | |
| 2 | Connor O'Neill | So. | 2:12.35 | New Trier | | |
| 3 | Ebaad Siddiqui | So. | 2:16.26 | Niles West | | |
| 4 | Bora Celiknal | Fr. | 2:17.55 | Niles West | | |
| 5 | Tyson Anthony | So. | 2:18.11 | Glenbrook South | 66.0 | 71.0 |
| 6 | Jack Nelson | So. | 2:18.55 | Evanston | | |
| 7 | Lucas Houser | Fr. | 2:19.06 | Glenbrook South | 67.0 | 71.0 |
| 8 | Red Reyes | So. | 2:33.06 | Niles North | | |
1600m
| Place | Name | Grade | Time | Team | 400m | 800m | 1200m | 1600m |
| --- | --- | --- | --- | --- | --- | --- | --- | --- |
| 1 | Matt Cull | So. | 4:38.03 | Maine South | | | | |
| 2 | Brian Hiltebrand | Fr. | 4:38.53 | Glenbrook South | 67.0 | 73.0 | 71.0 | 67.0 |
| 3 | Charlie Siebert | So. | 4:40.15 | New Trier | | | | |
| 4 | Nick Falk | Fr. | 4:45.11 | New Trier | | | | |
| 5 | Eamon Brady | So. | 4:52.90 | Maine South | | | | |
| 6 | Steven Reed | So. | 5:01.25 | Niles North | | | | |
| 7 | Ellis Allen | So. | 5:03.30 | Evanston | | | | |
| 8 | Ethan Suh | So. | 5:04.31 | Niles West | | | | |
| 9 | Matthew Carey | So. | 5:06.50 | Niles West | | | | |
| 10 | Nahiyan Chowdhury | So. | 5:18.26 | Niles North | | | | |
| 11 | Carter Adams | So. | 5:21.01 | Glenbrook South | 71.0 | 80.0 | 84.0 | 85.0 |
4x400m
Place
Name
Grade
Time
Team
1
Relay Team
3:55.20
Niles West
2
Relay Team
3:55.33
New Trier
3
Relay Team
4:00.60
Maine South
4
Relay Team
4:01.07
Glenbrook South
Michael Jerva
Fr.
60.3
Glenbrook South
Tyson Anthony
So.
61.0
Glenbrook South
5
Relay Team
4:11.49
Niles North