Post-Season Time Trial
Meet Name: Post-Season Time Trial
Meet Date: Wednesday, November 03, 2021
Location: John Davis Titan Stadium
Opponents: None
Levels: Open to All
Meet Recap
No meet recap or information is available at this time. Please be sure to use the links on the left to view more about the meet.
If this meet has already occured, our results are missing or have not been processed into our database.
Individual Results
Official Results (Hand Timed)
Please select an event/division from the dropdown above.
Open
This is either an unscored meet, or team results are missing from our database. If you believe this is an error, please reach out.
John Davis Titan Stadium
Glenbrook South's Outdoor Stadium
---
Get ready to witness thrilling competitions on our recently-resurfaced 400m outdoor track! John Davis Titan Stadium is the perfect venue, with eight lanes and comfortable bleacher seating for spectators. The stadium is named after longtime boys and girls track and field head coach John Davis, who lost his battle with pancreatic cancer in 2001. His legacy is honored with the annual John Davis Titan Invitational in early May. Home-track advantage has been proven, with Glenbrook South winning two consecutive Sectional Championships in 2021 and 2022. Come and experience the excitement for yourself!
Some Things to Know:
Concessions are available in our new concessions stand, located near the south endzone.
Pay attention to announcements from the clerk over the PA System. Most meets will be conducted with two calls for each event- a first and a final call. Please check-in with the clerk as soon as possible.
Bathrooms are available in our concessions stand building, located near the south endzone.
While many events have free entry, certain invites have nominal entrance fees to help cover timing costs. Thanks for your understanding!
Stadium Map: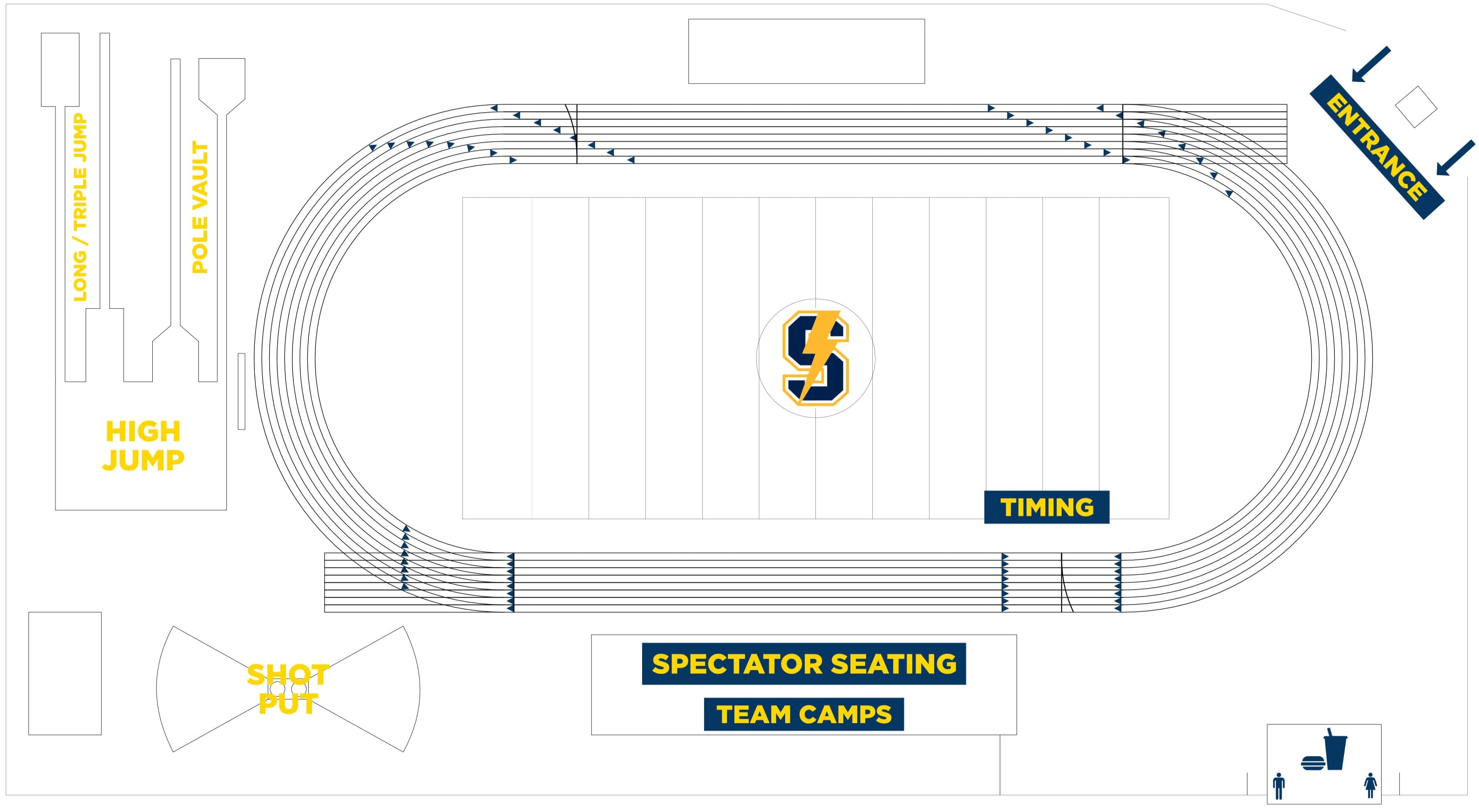 Getting Here:
John Davis Titan Stadium is located on the campus of Glenbrook South High School, located between West Lake Avenue, Pfingsten Road, and Landwehr Road. Once you arrive at Glenbrook South, the most convient parking is in the West parking lots. Turn into the parking lot at the light of West Lake Avenue and Robin Lane and proceed to the stadium.
Find on Google Maps
Stadium Records:
Event
Mark
Name
School
Year
100m Dash
10.4h
Colin Hepburn
Glenbrook South
2009
10.4h
Michael Bellamy
Kenwood Academy
1985
10.59
Nathan Shapiro
Glenbrook South
2022
200m Dash
21.2
Neil Melcher
Glenbrook South
1991
400m Run
47.7
Neil Melcher
Glenbrook South
1991
800m Run
1:54.0
Neal Omar
Niles West
2012
1600m Run
4:09.8
Tom Robbins
Loyola
2007
3200m Run
9:03.5
Nico Composto
Loyola
2010
110m High Hurdles
13.8
Nat Page
Evanston
1975
300m Int. Hurdles
37.8
John Strickland
Glenbrook South
1990
4 x 100m Relay
42.08
Evanston
2015
4 x 200m Relay
1:27.29
Prospect
2022
4 x 400m Relay
3:18.3
Evanston
2004
4 x 800m Relay
7:55.4
Wheeling
1986
High Jump
2.13m (7-0 ft)
Nat Page
Evanston
1975
Pole Vault
4.72m (15-6 ft)
Declan Ritzenthaler
Loyola
2018
Long Jump
7.42m (24-04 ¼ ft)
Nathan Shapiro
Glenbrook South
2022
Triple Jump
14.66m (48-1 ft)
Smith
Evanston
1985
Shot Put
18.35m (60-2 ¼ ft)
Ira Dolin
Glenbrook North
1979
Discus
53.31m (174-11 ft)
Ron Eichaker
Niles North
1974
Photos