GBS Quad 1
Friday, February 08, 2019
David Pasquini Fieldhouse
---
Congratulations on the completion of the first home quad meet! The Titans had a very successful today with many successful races. Congrats to non-Strava user @Will Kelly for completing the 1600m in less than 4:40 and making the top ten list! There were so many great races today and it's hard to highlight each and every one, but congrats. It's a long season and this is only one of many. Now you know what it's like to run indoors! See you at practice Monday.
Team scores for all events, including short-distance, field, etc.
Open
This is either an unscored meet, or team results are missing from our database. If you believe this is an error, please reach out.
Team scores only for Distance Events (ones featured on results tabs). This is an automated process, so results should be treated as-is.
Open
| | | |
| --- | --- | --- |
| 1 | Dundee-Crown | 28 |
| 2 | Lakes Community | 22 |
| 3 | Glenbrook South | 20 |
| 4 | Loyola Academy | 19 |
| 5 | Niles North | 10 |
David P. Pasquini Fieldhouse
Glenbrook South's Premiere Indoor Track Facility
---
We have an excellent 160-meter track with 8 lanes on the straightaway and 6 lanes on the turns.
Some Things to Know:
Any shoes can be worn on the track surface, as long as they are without spikes. Shoes with spikes are allowed, as long as the spikes have been removed.
No Food or Drinks are allowed inside the Fieldhouse. A seating area near the concessions stand in the lobby is available.
Pay attention to announcements from the clerk over the PA System. Typical events will have two calls followed by a final call. Indoor Quads are not run by levels, but are grouped by times. All athletes, regardless of times, should check in with the clerk as soon as possible after the first call.
The easiest parking for spectators is in a North Lot on campus. Enter in the North athletics door near the tennis courts (Door FF, west of the Titan Dome).
Bathrooms are available in the hallway alongside the Titan Dome. Please follow overhead signage for directions.
Fieldhouse Map: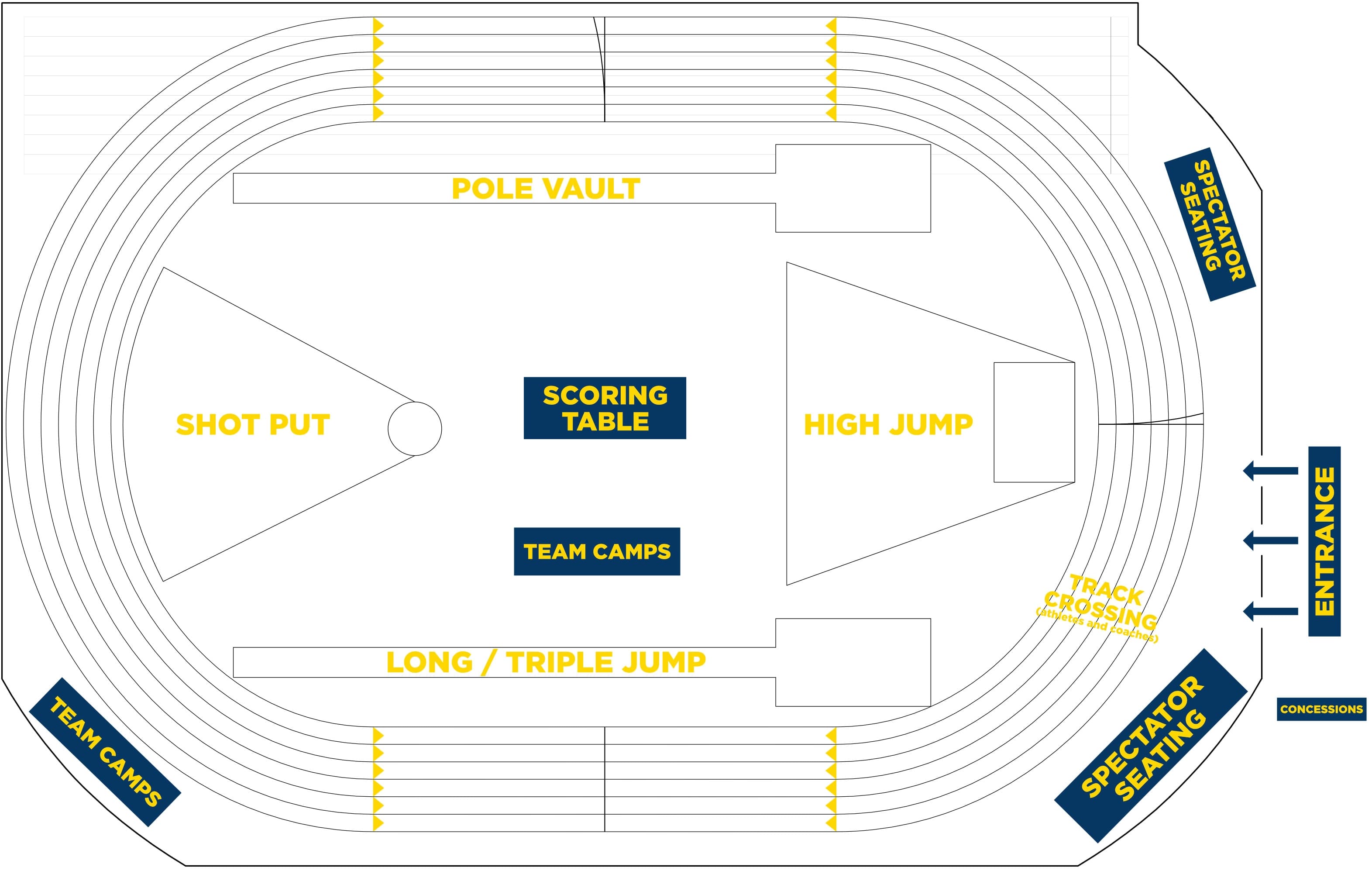 Getting Here:
The David P. Pasquini Fieldhouse is located on the campus of Glenbrook South High School, located between West Lake Avenue, Pfingsten Road, and Landwehr Road. Once you arrive at Glenbrook South, the most convient parking is in the North parking lots. Enter at Door FF, just west of the Titan Dome.
Find on Google Maps
Fieldhouse Records:
Event
Mark
Name
School
Year
50m Dash
5.7
Adam Harris
Wheaton North
2005
5.7
Colin Hepburn
Glenbrook South
2009
200m Dash
22.7
Colin Hepburn
Glenbrook South
2010
400m Dash
51.3
Malcolm Engel
Glenbrook South
2013
800m Run
2:00.7
Zak Avila
Glenbrook South
2010
1000m Run
2:34.4
Cermak
Palatine
1996
2:34.4
Mat Smoody
Palatine
2007
1600m Run
4:25.8
Bryce Richards
Mundelein
2015
3200m Run
9:43.2
Will Kelly
Glenbrook South
2019
55m Int. Hurdles
7.3
Adam Harris
Wheaton North
2005
55m High Hurdles
7.4
Adam Harris
Wheaton North
2005
4 x 160m Relay
1:14.1
Wheaton Warrenville South
1995
Sprint Medley
1:58.1
Glenbrook South
2013
4 x 400m Relay
3:35.3
Glenbrook South
2013
4 x 800m Relay
8:22.5
Mundelein
2018
Throwers
1:20.8
Glenbrook South
2008
High Jump
6-7"
Brandon Ellis
Warren
2017
Pole Vault
14-8"
Declan Ritzenthaler
Loyola
2018
Long Jump
22-4.5"
Ardian Asani
Dundee-Crown
2012
Triple Jump
46-8"
Deandre Bovan
South Shore
2001
Shot Put
57-3"
Ted Cnota
Hoffman Estates
1997
Photos
Official Results (Hand Timed)
800m
1600m
4x800m
Place
Name
Grade
Time
Team
400m
800m
1
Relay Team
9:01.8
Niles North
2
Relay Team
9:56.0
Lakes Community
3
Relay Team
10:02.5
Dundee-Crown
4
Relay Team
10:11.1
Glenbrook South
Theo Gikas
Jr.
2:25.1
Glenbrook South
66.0
79.0
Sam Westfall
Jr.
2:22.7
Glenbrook South
68.0
74.0
Gerry Bermudez
Jr.
2:46.0
Glenbrook South
72.0
94.0
Adrian Ciszyk
Jr.
2:38.0
Glenbrook South
69.0
89.0
5
Relay Team
10:32.6
Dundee-Crown
Relay Team
11:12.3
Glenbrook South
John Paul Philbrick
Fr.
2:46.6

SR

Glenbrook South
78.0
89.0
Cole Brady
So.
2:39.2
Glenbrook South
74.0
85.0
Ricky Egen
So.
2:59.0
Glenbrook South
82.0
97.0
Robert Hartsig
So.
2:47.5
Glenbrook South
74.0
94.0
Print Results