CSL Dual vs. Niles West
CSL
Saturday, October 03, 2020
Glenbrook South High School
Niles West did not compete against Glenbrook South head-to-head, but instead raced prior to and had times compared. JV and Freshmen teams raced with Loyola.
Titans vs. Wolves
On Saturday, October 3rd, the Titans ran their last home meet of the seasons against the Niles West Wolves. Due to the Niles District's health restriction, the format of the meet was abnormal. Rather than running each race together, the Wolves ran their own race, cleared the course, and were then followed by Glenbrook South's runners. While the Titan Varsity team ran alone, the Freshman and JV levels were able to run their races against Loyola in an unscored race. Though the meet's format was strange, it was a good day of racing on all levels.
At the Varsity level, Brian Hiltebrand (JR) led the Titans in a time of 15:56. Behind him, Mrugesh Thakor (SR) finished at 16:29. Though he didn't know it while running, he finished just barely behind Niles West's top runner. The rest of the Titan pack took the 4th through 8th place spots, defeating Niles West in a score of 19 to 43.
Half an hour later, the JV team ran their race against Loyola. Niles West had no JV team. Loyola's front runners finished with a perfect score of 15 to GBS's 48, taking the 1st through 5th place spots. Ryan Schaefer (SO) was the first Titan through the line in a season best of 17:43. Behind him, Jacob Baim (JR) finished in with a time of 18:27.
The Freshman 2 mile was the real highlight of the meet. Loyola's front runner, Xavier Klatt, finished way ahead of the field in a time of 11:01. Behind him, though, it was a tight battle between the Titans and Ramblers. Andy Ordway finished in 2nd place at 11:27. After battling it out with Loyola's runners for much of the race, Geoff Maddalozzo (11:43), Jefferson Wei (11:44), and Matt Barney (11:47) came through the line in 3rd, 4th, and 5th place. Behind them, Jack Qualkenbush showed just how important the fifth man on the team can be. With just 300 meters to go, Jack was at least 5 seconds behind the three Loyola runners in front of him. Over the last minute of the race, Jack pushed past all three of those runners, finishing in 6th place and clinching the win for the Titan.
This was the last regular-season meet for most of the Titans. The Top 14 runners will run next Saturday at Heritage Park in an invitational hosted by Wheeling High School. The following Monday, the rest of the team will run their last meet of the season at the Central Suburban League Conference Championship. As the season starts to wrap up, we're excited to see how the team will do in the coming weeks.
Team Scores
| | | |
| --- | --- | --- |
| 1 | Glenbrook South | 19 |
| 2 | Niles West | 43 |
| | | |
| --- | --- | --- |
| 1 | Glenbrook South | 15 |
| 2 | Niles West | 46 |
| 1 | Glenbrook South | 20 |
| 2 | Loyola | 37 |
| | | |
| --- | --- | --- |
| 1 | Loyola | 15 |
| 2 | Glenbrook South | 48 |
Course Map & Directions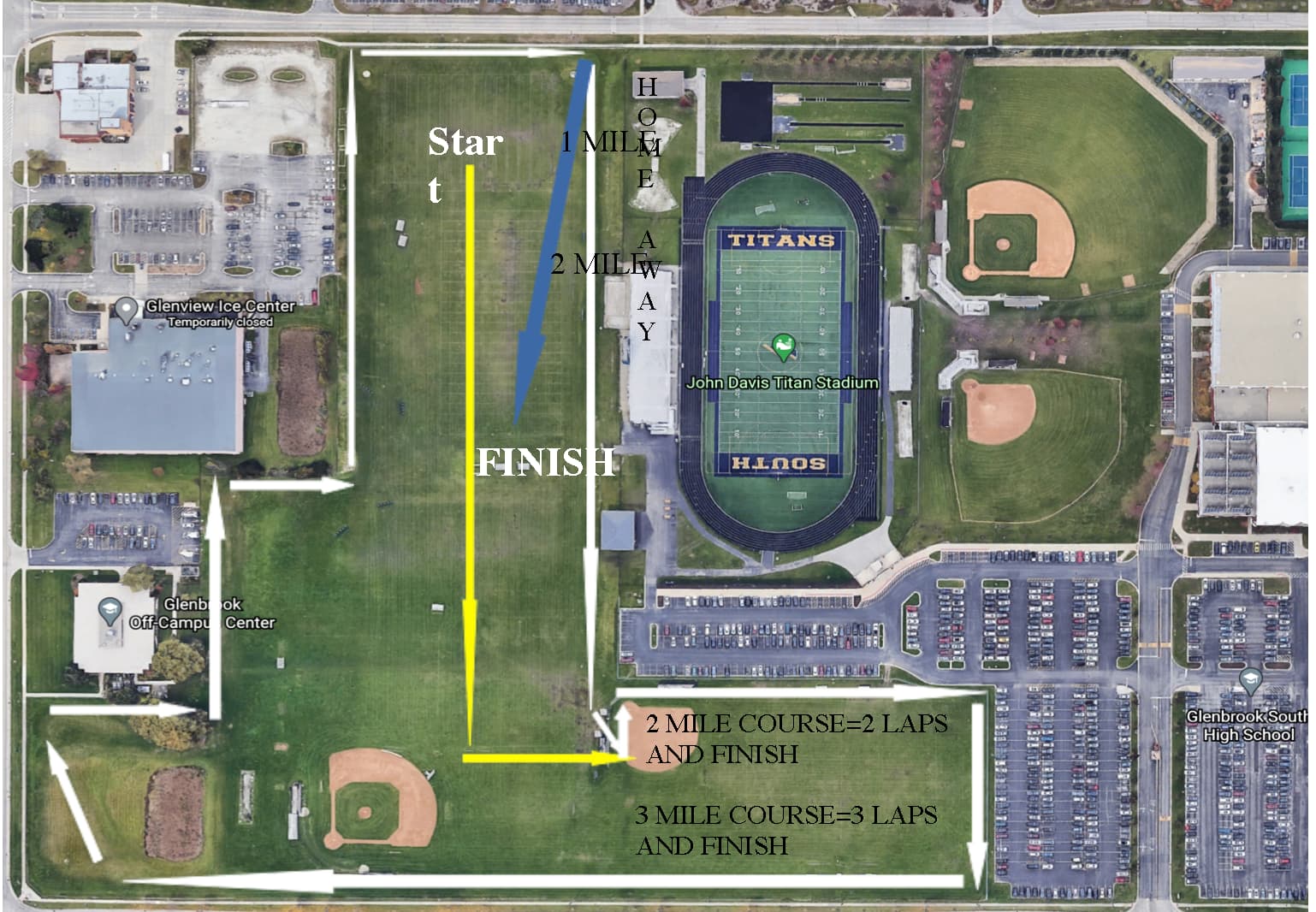 ---
Photos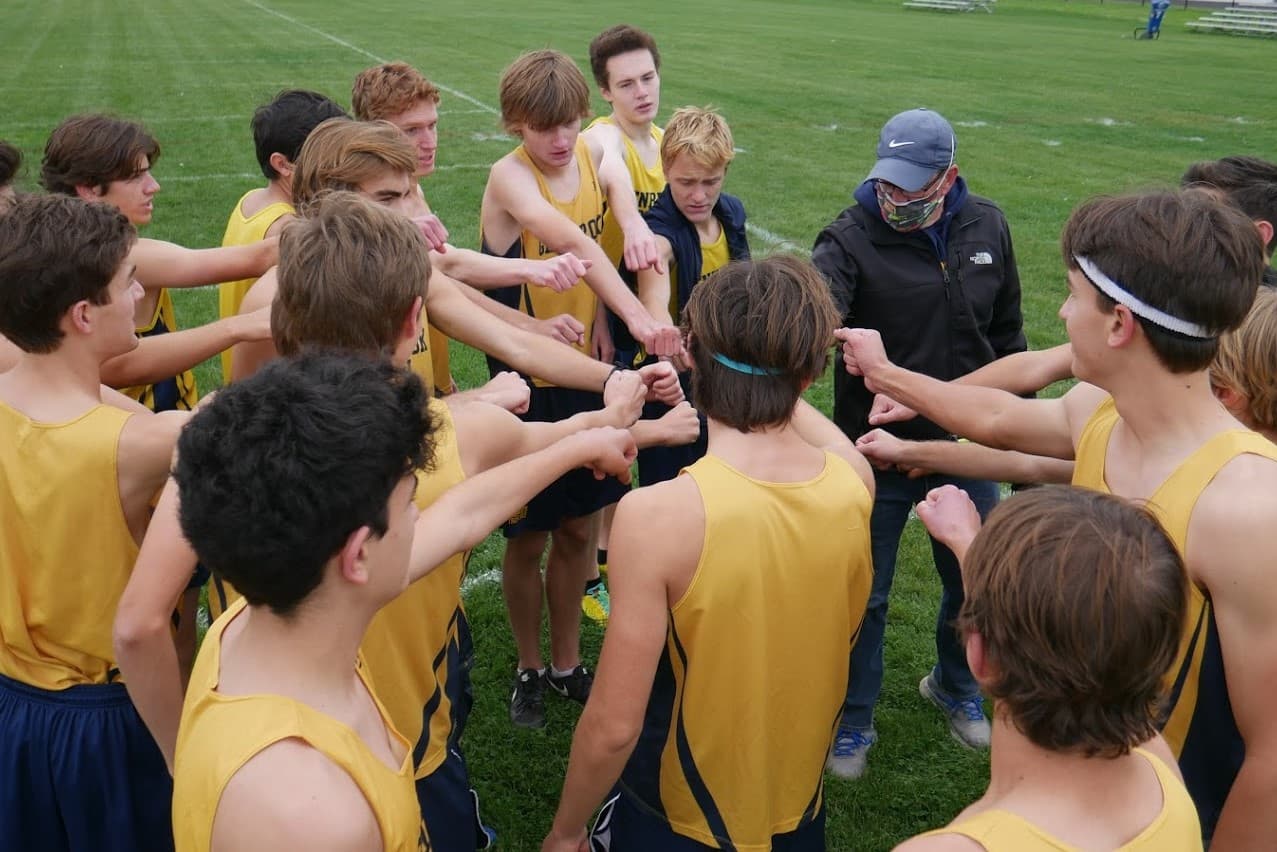 Photographer: Preston Davidson, Matthew Finkel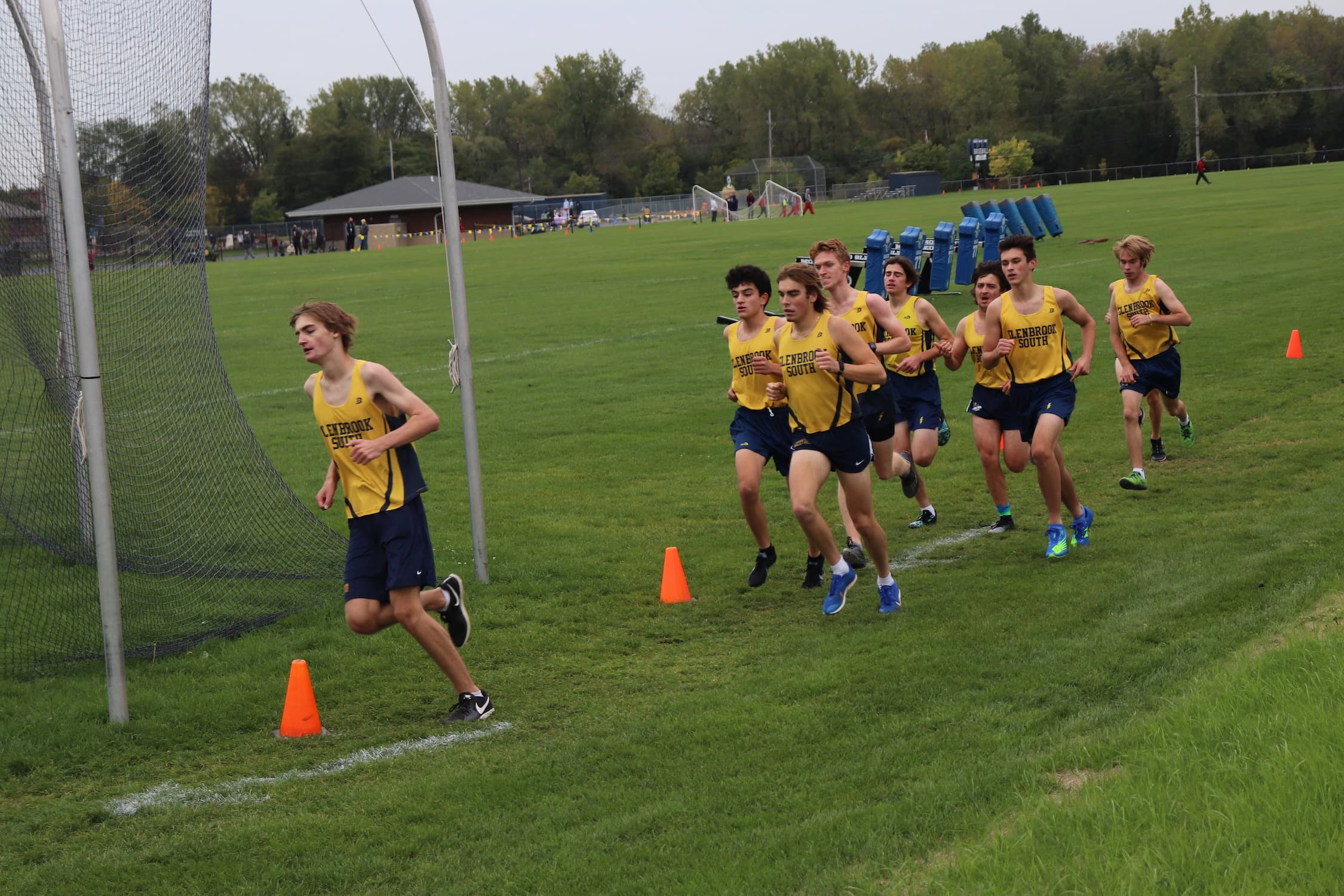 Photographer: James Kurtzweil
| Place | Name | Grade | Time | Team | 1 Mile | 2 Mile | Finish |
| --- | --- | --- | --- | --- | --- | --- | --- |
| 1 | Brian Hiltebrand | Jr. | 15:56 | Glenbrook South | 5:00 | 5:30 | 5:26 |
| 2 | Bora Celiknal | Jr. | 16:29 | Niles West | | | |
| 3 | Mrugesh Thakor | Sr. | 16:29.6 | Glenbrook South | 5:16 | 5:36 | 5:37 |
| 4 | Jayson Stamm | Jr. | 16:43 | Glenbrook South | 5:20 | 5:45 | 5:38 |
| 5 | Michael Jerva | Jr. | 16:48 | Glenbrook South | 5:20 | 5:45 | 5:43 |
| 6 | Cody Slutzky | Sr. | 16:52 | Glenbrook South | 5:20 | 5:45 | 5:47 |
| 7 | Preston Davidson | Sr. | 16:58 | Glenbrook South | 5:20 | 5:45 | 5:53 |
| 8 | Jack Wernecke | Jr. | 17:00 | Niles West | | | |
| 9 | Michael Westfall | Jr. | 17:15 | Glenbrook South | 5:31 | 5:59 | 5:45 |
| 10 | John McGivern | Sr. | 17:15 | Niles West | | | |
| 11 | Elie Nassif | Jr. | 17:24 | Glenbrook South | 5:40 | 5:55 | 5:49 |
| 12 | Max Nauman | Jr. | 17:24 | Niles West | | | |
| 13 | Danny Laurencelle | So. | 17:24 | Niles West | | | |
| 14 | Sebastian Zimmer | Jr. | 17:26 | Glenbrook South | 5:40 | 5:55 | 5:51 |
| 15 | Brett Wittenstein | Jr. | 17:26.5 | Glenbrook South | 5:40 | 5:55 | 5:51 |
| 16 | John Paul Philbrick | Jr. | 17:32 | Glenbrook South | 5:40 | 5:55 | 5:57 |
| 17 | Harrison Wollney | Sr. | 17:32 | Glenbrook South | 5:40 | 5:55 | 5:57 |
| 18 | Ethan Suh | Sr. | 17:35 | Niles West | | | |
| 19 | Anthony Raciti | Jr. | 17:39 | Niles West | | | |
| 20 | Matthew Klonecki | Jr. | 17:45 | Glenbrook South | 5:40 | 6:06 | 5:59 |
| 21 | Ebaad Siddiqui | Sr. | 17:47 | Niles West | | | |
| 22 | Ali Karatas | Jr. | 17:49 | Niles West | | | |
| 23 | Dane Branstrom | Sr. | 17:54 | Glenbrook South | 5:40 | 5:55 | 6:19 |
| 24 | Zach Cheuk | Sr. | 17:56 | Niles West | | | |
| 25 | James Scott | Sr. | 17:59 | Glenbrook South | 5:36 | 6:10 | 6:13 |
| 26 | Carter Adams | Sr. | 18:02 | Glenbrook South | 5:37 | 6:11 | 6:14 |
| 27 | Sully Richards | So. | 18:06 | Glenbrook South | 5:49 | 6:03 | 6:14 |
| 28 | Luke Gregory | Jr. | 18:17 | Glenbrook South | 5:50 | 6:17 | 6:10 |
| 29 | Tyson Anthony | Sr. | 18:36 | Glenbrook South | 5:49 | 6:21 | 6:26 |
| 30 | Evan Polak | So. | 18:40 | Niles West | | | |
| 31 | Matthew Penne | Jr. | 18:47 | Glenbrook South | 5:50 | 6:28 | 6:29 |
| 32 | Thomas Magdelano | Jr. | 18:53 | Niles West | | | |
| 33 | Otmane Jbara | Jr. | 18:54 | Niles West | | | |
| 34 | Sam Lee | So. | 19:11 | Niles West | | | |
| 35 | Ayaan Siddiqi | Jr. | 19:14 | Niles West | | | |
| 36 | Nate Bilicki | Sr. | 19:20 | Niles West | | | |
| 37 | Rainn del Mundo | Jr. | 19:20 | Niles West | | | |
| 38 | Derrick Ho | Jr. | 19:28 | Niles West | | | |
| 39 | Joshua Logsdon | So. | 19:36 | Niles West | | | |
| 40 | Albert Ruehlman | So. | 19:51 | Niles West | | | |
| 41 | Jordan Rizov | Jr. | 20:11 | Niles West | | | |
| 42 | Gabriel Cole | Sr. | 20:18 | Glenbrook South | 5:49 | 7:13 | 7:16 |
| 43 | Charles Parker | So. | 20:29 | Niles West | | | |
| 44 | Ted Clarke | Sr. | 20:46 | Niles West | | | |
| 45 | Julian Alanis | So. | 20:48 | Niles West | | | |
| 46 | Nick Zervos | Jr. | 20:52 | Niles West | | | |
| 47 | Evan Cheuk | So. | 20:52 | Niles West | | | |
| 48 | Brandon Yuen | So. | 21:02 | Niles West | | | |
| 49 | Nicholas Soruco | So. | 21:35 | Niles West | | | |
| 50 | Kunga Ngabtak | So. | 24:37 | Niles West | | | |
| 51 | Diego Vargas | Jr. | 25:38 | Niles West | | | |
| 52 | Alex Koeberl | Sr. | 25:45 | Niles West | | | |
| Place | Name | Grade | Time | Team | 1 Mile | Finish |
| --- | --- | --- | --- | --- | --- | --- |
| 1 | Xavier Klatt | Fr. | 11:01.1 | Loyola | | |
| 2 | Andy Ordway | Fr. | 11:27 | Glenbrook South | 5:38 | 5:49 |
| 3 | Geoff Maddalozzo | Fr. | 11:43 | Glenbrook South | 5:39 | 6:04 |
| 4 | Jefferson Wei | Fr. | 11:44 | Glenbrook South | 5:39 | 6:05 |
| 5 | Matt Barney | Fr. | 11:47 | Glenbrook South | 5:44 | 6:03 |
| 6 | Jack Qualkenbush | Fr. | 11:56 | Glenbrook South | 5:56 | 6:00 |
| 7 | Kristian Uremovic | Fr. | 11:57.8 | Loyola | | |
| 8 | Tobias Galson* | Fr. | 11:58 | Niles West | | |
| 9 | Aidan O'Sullivan | Fr. | 11:58.2 | Loyola | | |
| 10 | Owen O'Donnell | Fr. | 12:00.8 | Loyola | | |
| 11 | Sebastian Ramirez* | Fr. | 12:15 | Niles West | | |
| 12 | Yosh Jedynak | Fr. | 12:25 | Glenbrook South | 6:04 | 6:21 |
| 13 | Sam Knezevich | Fr. | 12:29 | Glenbrook South | 6:04 | 6:25 |
| 14 | Nicholas Majcher* | Fr. | 12:35 | Niles West | | |
| 15 | Daniel Thannert* | Fr. | 12:42 | Niles West | | |
| 16 | Logan Werth* | Fr. | 12:44 | Niles West | | |
| 17 | William Gayford* | Fr. | 12:45 | Niles West | | |
| 18 | Patrick Kuprewicz | Fr. | 12:48 | Glenbrook South | 6:15 | 6:33 |
| 19 | Matei Cotofrea* | Fr. | 12:50 | Niles West | | |
| 20 | Leonardo Romano | Fr. | 12:53.7 | Loyola | | |
| 21 | Jack Clark | Fr. | 12:55 | Glenbrook South | 6:09 | 6:46 |
| 22 | John Fowler | Fr. | 13:02.5 | Loyola | | |
| 23 | Charles Cox | Fr. | 13:03.7 | Loyola | | |
| 24 | Chris Rodriguez* | Fr. | 13:09 | Niles West | | |
| 25 | Nathan Mihm | Fr. | 13:20 | Glenbrook South | 6:36 | 6:43 |
| 26 | Luke Chavez | Fr. | 13:25 | Glenbrook South | 6:38 | 6:47 |
| 27 | Nate Trossman | Fr. | 13:29 | Glenbrook South | 6:29 | 7:00 |
| 28 | John Bae* | Fr. | 13:35 | Niles West | | |
| 29 | Tom McDonagh | Fr. | 13:51 | Glenbrook South | 6:39 | 7:12 |
| 30 | Jermaine Li* | Fr. | 14:26 | Niles West | | |
| 31 | Adam Wojciechowicz | Fr. | 14:30 | Glenbrook South | 7:11 | 7:18 |
| 32 | Aditya Shah | Fr. | 14:34 | Glenbrook South | 7:11 | 7:23 |
| 33 | Aidan Hogan | Fr. | 14:35 | Glenbrook South | 7:05 | 7:30 |
| 34 | Luis Garcia | Fr. | 14:57.2 | Loyola | | |
| 35 | Danny Laurencelle | Fr. | 15:03 | Glenbrook South | 7:19 | 7:44 |
| 36 | Jovan Gvero | Fr. | 15:13 | Glenbrook South | 7:29 | 7:44 |
| 37 | Ryan Solesky | Fr. | 15:27 | Glenbrook South | 7:31 | 7:56 |
| 38 | Ryan Kunitzer | Fr. | 15:34.5 | Loyola | | |
| 39 | Aayan Ali | Fr. | 15:35 | Glenbrook South | 7:31 | 8:04 |
| 40 | Alex Montoya | Fr. | 17:07 | Glenbrook South | 8:07 | 9:00 |
| 41 | Adrian Ene* | Fr. | 17:40 | Niles West | | |
| 42 | Eric Nardulli | Fr. | 18:23 | Glenbrook South | 8:41 | 9:42 |
| 43 | Derek Truong* | Fr. | 18:40 | Niles West | | |
Junior Varsity Results (3mi)