Illinois Meet of Champions
Saturday, August 01, 2020
Hope Academy Stadium
---
This event is not school-sponsored, in accordance with IHSA By-law 3.101. Athletes compete Unattached at these events, and are only listed as Glenbrook South* for technical purposes.
Results shown are the times for the 1600m split. The full mile results can be found from the "Downloadable Results".
On Saturday, August 2nd, some Titan Distance athletes competed in the Illinois Meet of Champions, hosted at Chicago Hope Academy Stadium. In the inaugural year for the meet, the format was changed to a multi-day structure to comply with COVID guidelines. Seven Titan Distance athletes were given the opportunity to run in the Mile Run of a very high-quality meet for the first time in 149 days. The athletes run for GBS, but rather for Fleet Feet Racing on a beautiful new track in the North Lawndale neighborhood of Chicago.
Brian Hiltebrand set a new PR in the 1600m as well as the Mile. Brian ran the Mile in 4:34.95 with a 1600m split of 4:32.91.
Cody Slutzky finished first in his heat of the Mile, finishing in 4:54.30. Cody was interviewed by MileSplit Illinois after finishing his race.
Mrugesh Thakor and Michael Jerva both had very good races with the circumstances, finishing 4:53.21 and 4:55.71 respectively.
This meet was the first meet under COVID conditions, and was very well managed. Social distancing, mask-wearing, and temperature checks was the norm for the spectators, and the athletes were still able to focus on their race. If this meet was an indication conditions of the upcoming Cross Country season, while it will be different, it will still be a very exciting season!
Team scores for all events, including short-distance, field, etc.
Open
This is either an unscored meet, or team results are missing from our database. If you believe this is an error, please reach out.
Team scores only for Distance Events (ones featured on results tabs). This is an automated process, so results should be treated as-is.
Open
| | | |
| --- | --- | --- |
| 1 | Unattached | 39 |
| 2 | Chicago Lakeside Rabbits | 0 |
| 3 | Glenbrook South* | 0 |
| 4 | Sauganash Striders | 0 |
| 5 | Yellow Brick TC | 0 |
Map & Directions
Photos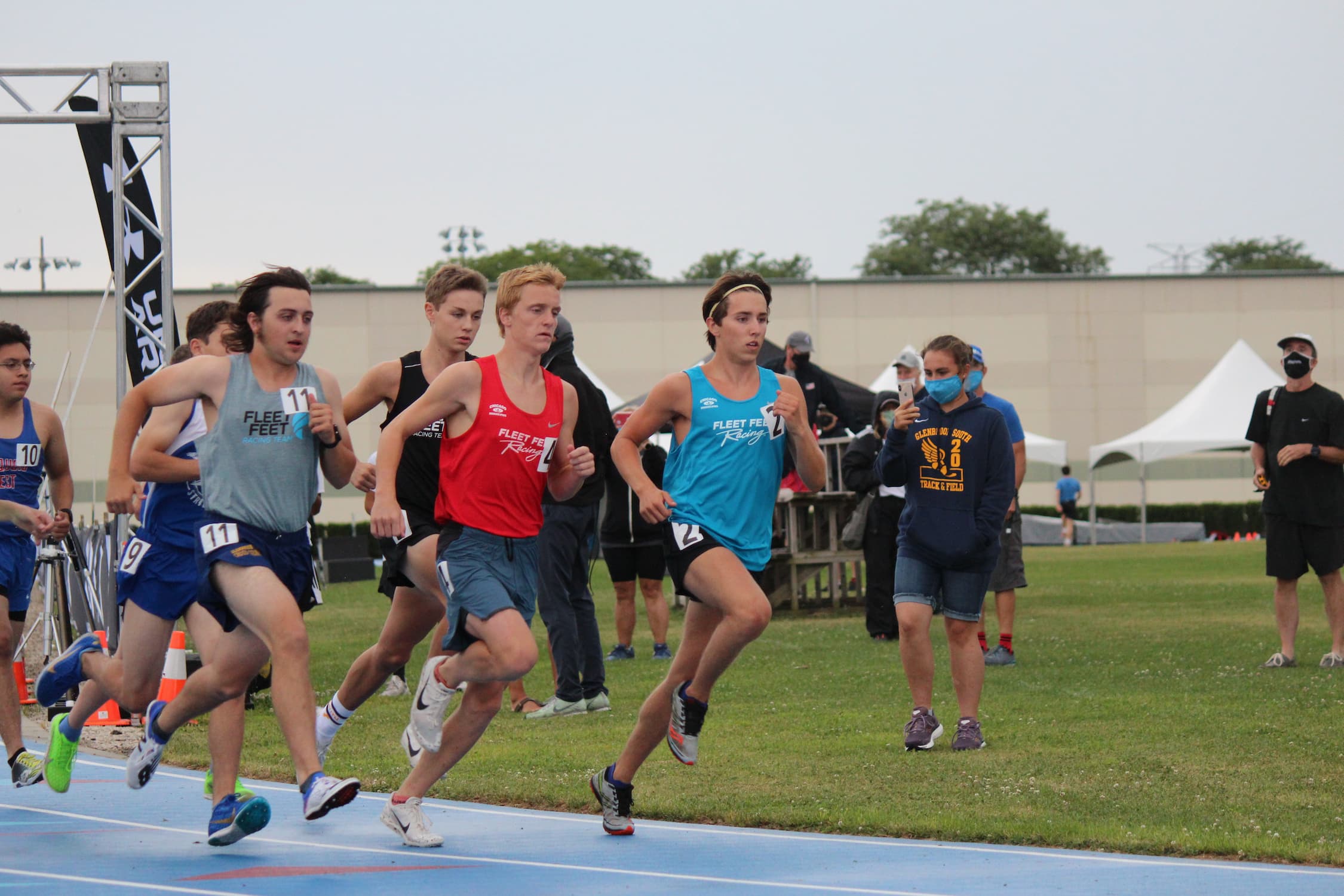 Photographer(s): Sam Westfall
Official Results (F.A.T.)
1600m
Place
Name
Grade
Time
Team
400m
800m
1200m
1600m
1
Izaiah Steury
So.
4:12.85
Unattached
2
Xavier Jemison
So.
4:15.11
Unattached
3
Drew Rogers
So.
4:15.73
Unattached
4
Matt Cull
Jr.
4:22.86
Unattached
5
Ivan Westcott
Jr.
4:25.47
Unattached
6
Mathew Olech
Jr.
4:27.86
Unattached
7
Alex Boyden
So.
4:28.51
Unattached
8
Peter Bernhardt
Jr.
4:30.39
Unattached
9
Carson Heath
Jr.
4:31.48
Unattached
10
Justin Mumford
Jr.
4:32.11
Unattached
11
Brian Hiltebrand
So.
4:32.91

PR

Glenbrook South*
1:04
1:08
1:10
1:10
12
Eli Mojonnier
So.
4:34.48
Unattached
13
Jack FitzPatrick
Jr.
4:34.55
Unattached
14
Connor Price
Jr.
4:34.66
Unattached
15
Robert Perry
So.
4:36.50
Unattached
16
Kembre Daniel
Sr.
4:40.49
Yellow Brick TC
17
Alec Means
So.
4:41.24
Unattached
18
Jack Rhyner
Fr.
4:41.57
Chicago Lakeside Rabbits
19
Maximilian Elder
Fr.
4:42.11
Unattached
20
Akili Parekh
Fr.
4:43.59
Unattached
21
Daniel Murphy
Jr.
4:43.74
Unattached
22
Mrugesh Thakor
Jr.
4:51.00

SR

Glenbrook South*
1:05
1:11
1:17
1:18
23
Cody Slutzky
Jr.
4:52.15

SR

Glenbrook South*
1:12
1:15
1:15
1:11
24
Michael Jerva
So.
4:53.48

SR

Glenbrook South*
1:12
1:15
1:15
1:12
25
Michael Westfall
So.
4:59.32

SR

Glenbrook South*
1:12
1:15
1:19
1:13
26
Sebastian Zimmer
So.
5:15.30

SR

Glenbrook South*
1:12
1:16
1:25
1:19
27
Brandon Mendoza
5:17.17
Unattached
28
John Paul Philbrick
So.
5:17.23

SR

Glenbrook South*
1:15
1:21
1:24
1:18
29
Mick Crowley
6th
5:18.19
Unattached
30
Gino Arcuri
7th
5:25.44
Sauganash Striders
31
Tony Espinosa
So.
5:49.01
Unattached
Print Results