Meet Recap
It was a night to remember in the David Pasquini Fieldhouse on Friday, February 21st with Glenbrook South, Fremd, Hersey, Loyola, and Mundelein in attendance. The Titan Distance team had many amazing performances, even with the athletes running their "off-event".
In the 1000m event, only run once a year, Will Kelly narrowly edged Max Svienty of Hersey for second place, finishing at 2:41.9. Following Will were James Kurtzweil, Jayson Stamm, and Matthew Finkel. State Champion Josh Mether of Hersey finished first at 2:36.7.
Will Houser set fire to the David Pasquini Fieldhouse with his time of 4:28.1 in the 1600m! This performance currently ranks #3 in the State according to Athletic.net. In addition, this performance is the fastest for a GBS Home Meet and just 0.8 seconds off the Indoor Varsity Record. This is a 3.25 second PR for Will, and it is only February.
Also in the 1600m, Michael Jerva ran a 5:03 after being boxed in, and Junior Cody Slutzky ran a 5:04 in his first race after the Swim season. Harrison Wollney returned to the 1600m with a 5:04 as well, right before Sam Westfall at 5:06.
Overall, this was an an amazing meet and a great showing of the potential for Titan Distance in 2020. There is less than a month until Indoor Conference!
Team Scores
This is either an unscored meet, or team results are missing from our database. If you believe this is an error, please reach out.
Photos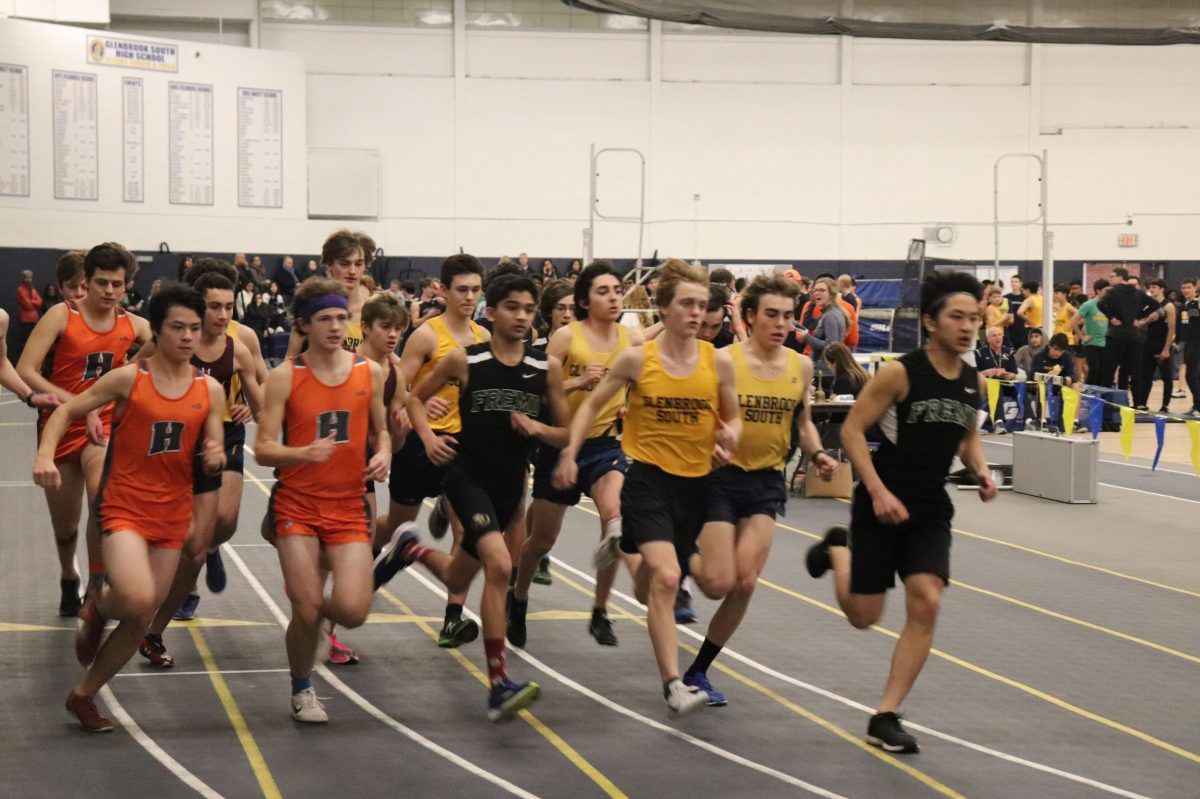 Photographer: Preston Davidson and James Kurtzweil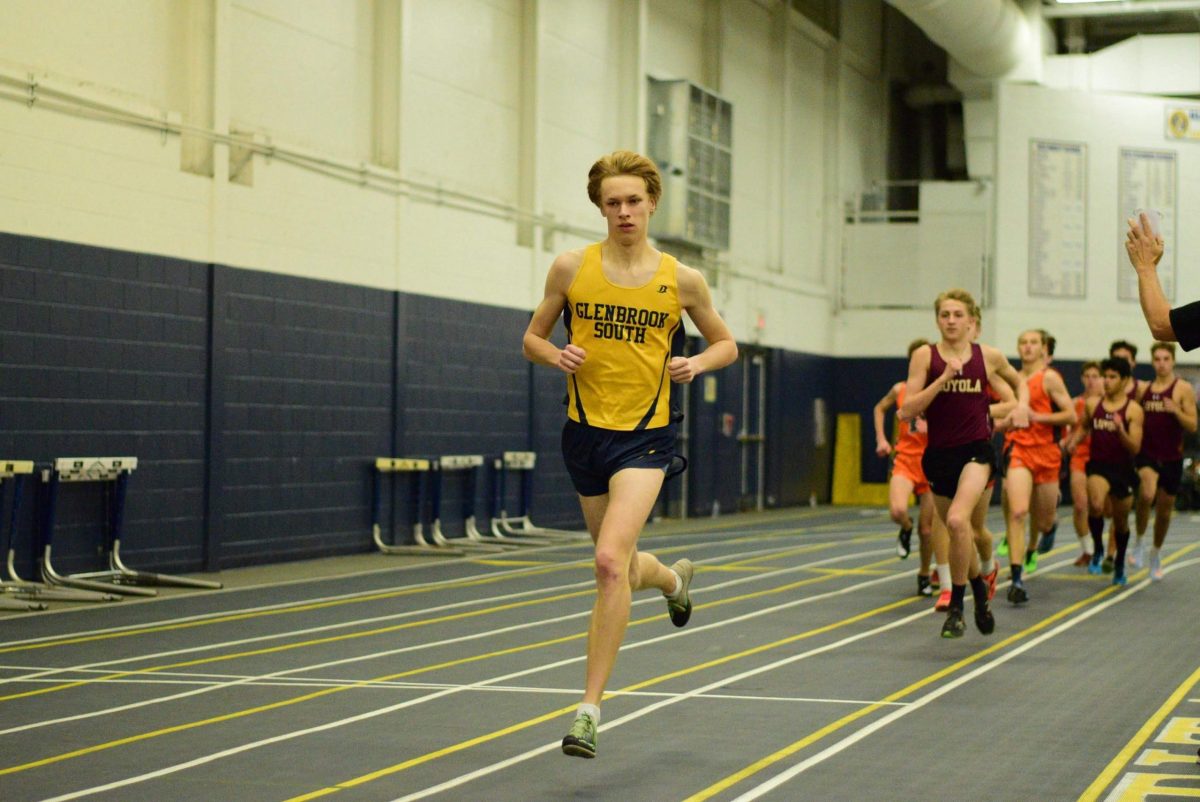 Photographer: Mr. Jortberg
Open Results
4x800m
Place
Name
Grade
Time
Team
400m
800m
1
Relay Team
8:40.5
Loyola Academy
2
Relay Team
8:43.6
Hersey
3
Relay Team
8:44.9
Loyola Academy
4
Relay Team
9:00.0
Loyola Academy
5
Relay Team
9:06.1
Hersey
Relay Team
9:20.4
Glenbrook South
Mrugesh Thakor
Jr.
2:11.7
Glenbrook South
63.0
68.0
Preston Davidson
Jr.
2:18.3
Glenbrook South
66.0
72.0
Wade Herrera
Sr.
2:22.0
Glenbrook South
66.0
76.0
Justin Wrona
Sr.
2:28.4
Glenbrook South
70.0
78.0
Relay Team
9:50.2
Glenbrook South
Elie Nassif
So.
2:19.8
Glenbrook South
64.0
75.0
Ethan Hernandez
So.
2:26.1
Glenbrook South
Derek Lentz
So.
2:29.1
Glenbrook South
Matthew Klonecki
So.
2:35.2
Glenbrook South
Relay Team
10:11.7
Glenbrook South
Cole Brady
Jr.
2:29.3
Glenbrook South
68.0
81.0
Jack Cleary
So.
2:22.9
Glenbrook South
68.0
74.0
Sanjeev Gorla
Fr.
2:34.7
Glenbrook South
70.0
84.0
Jonathan Joseph
So.
2:44.8
Glenbrook South
78.0
82.0
1000m
| Place | Name | Grade | Time | Team |
| --- | --- | --- | --- | --- |
| 1 | Josh Methner | Sr. | 2:37.0 | Hersey |
| 2 | Will Kelly | Sr. | 2:41.9 | Glenbrook South |
| 3 | Max Svienty | Sr. | 2:41.9 | Hersey |
| 4 | Colin Safford | Sr. | 2:44.8 | Hersey |
| 5 | James Kurtzweil | Sr. | 2:53.3 | Glenbrook South |
| | Jayson Stamm | So. | 2:55.0 | Glenbrook South |
| | Matthew Finkel | Jr. | 2:58.0 | Glenbrook South |
| | John Bresnahan | Sr. | 3:06.0 | Glenbrook South |
| | Jacob Baim | So. | 3:16.0 | Glenbrook South |
| | Issac Abraham | So. | 3:19.0 | Glenbrook South |
| | Will Patton | So. | 3:42.0 | Glenbrook South |
| | Ossey Paul | So. | 3:57.0 | Glenbrook South |
1600m
| Place | Name | Grade | Time | Team | 400m | 800m | 1200m | 1600m |
| --- | --- | --- | --- | --- | --- | --- | --- | --- |
| 1 | Will Houser | Sr. | 4:28.3 | Glenbrook South | 64.0 | 68.0 | 69.0 | 67.0 |
| 2 | Jack Garrigus | Jr. | 4:51.6 | Loyola Academy | | | | |
| 3 | Harry Wood Prince | So. | 4:51.9 | Loyola Academy | | | | |
| 4 | Michael Solmos | Jr. | 4:53.8 | Loyola Academy | | | | |
| 5 | Sean Safford | So. | 4:52.9 | Hersey | | | | |
| | Michael Jerva | So. | 5:03.0 | Glenbrook South | 72.0 | | | |
| | Cody Slutzky | Jr. | 5:04.0 | Glenbrook South | 72.0 | 78.0 | 78.0 | 76.0 |
| | Harrison Wollney | Jr. | 5:04.0 | Glenbrook South | 72.0 | | | |
| | Sam Westfall | Sr. | 5:06.0 | Glenbrook South | 72.0 | 78.0 | 78.0 | 78.0 |
| | Matthew Penne | So. | 5:11.0 | Glenbrook South | 74.0 | | | |
| | Brett Wittenstein | So. | 5:12.0 | Glenbrook South | 73.0 | | | |
| | Carter Adams | Jr. | 5:15.0 | Glenbrook South | 74.0 | | | |
| | James Soctt | Jr. | 5:20.0 | Glenbrook South | 73.0 | | | |
| | Lucas Houser | So. | 5:21.0 | Glenbrook South | 74.0 | | | |
| | Theo Gikas | Sr. | 5:26.0 | Glenbrook South | 75.0 | | | |
| | Sully Richards | Fr. | 5:31.0 | Glenbrook South | | | | |
| | John Paul Philbrick | So. | 5:35.0 | Glenbrook South | 77.0 | | | |
| | James Hiltebrand | Fr. | 5:38.0 | Glenbrook South | 81.0 | | | |
| | Danny Gemignani | Sr. | 5:48.0 | Glenbrook South | 80.0 | | | |
| | Andy Carrillo-Perea | Fr. | 5:52.0 | Glenbrook South | | | | |
| | Jayden Yum | Fr. | 5:52.0 | Glenbrook South | | | | |
| | Danny Donnelly | Jr. | 5:55.0 | Glenbrook South | | | | |
| | Andrew Yoon | Fr. | 6:12.0 | Glenbrook South | | | | |
| | Ricky Egen | So. | 6:13.0 | Glenbrook South | | | | |
4x400m
Place
Name
Grade
Time
Team
1
Relay Team
3:50.6
Hersey
2
Relay Team
3:51.4
Loyola Academy
3
Relay Team
3:53.7
Loyola Academy
4
Relay Team
3:54.5
Loyola Academy
5
Relay Team
4:56.8
Glenbrook South
Relay Team
4:09.4
Glenbrook South
Jayson Stamm
60.3
Glenbrook South
James Kurtzweil
59.8
Glenbrook South
John Bresnahan
63.1
Glenbrook South
Theo Gikas
65.2
Glenbrook South
Relay Team
4:09.4
Glenbrook South
Mrugesh Thakor
59.1
Glenbrook South
Wade Herrera
62.1
Glenbrook South
Justin Wrona
62.6
Glenbrook South
Danny Gemignani
65.6
Glenbrook South
Relay Team
4:14.3
Glenbrook South
Elie Nassif
61.4
Glenbrook South
Ethan Hernandez
65.0
Glenbrook South
Derek Lentz
63.5
Glenbrook South
Matthew Penne
64.4
Glenbrook South
Relay Team
4:40.0
Glenbrook South
Jacob Baim
65.0
Glenbrook South
Issac Abraham
69.0
Glenbrook South
Matthew Klonecki
69.0
Glenbrook South
Will Patton
77.0
Glenbrook South
Relay Team
4:41.0
Glenbrook South
Cole Brady
66.0
Glenbrook South
Jack Cleary
65.0
Glenbrook South
Sanjeev Gorla
68.0
Glenbrook South
Jonathan Joseph
72.0
Glenbrook South