Meet Recap
The first competition of the year is in the books! The Titans competed against Niles North, Dundee-Crown, Lakes Community, and Loyola Academy at home in the David Pasquini Fieldhouse. There was a great showing by all athletes who were ready to compete!
Already, eight athletes achieved a performance that matched or beat their top performances from last track season: Mrugesh Thakor, Michael Jerva, Jayson Stamm, Michael Westfall, Brett Wittenstein, Jack Cleary, Justin Wrona, and Jonathan Joseph. Will Kelly and Will Houser both had Top-10 Performances for GBS Athletes in the David Pasquini Fieldhouse, with Houser finishing the 800m in 2:02.0 and Will Kelly finishing the 1600m in 4:35.9. Many athletes achieved their SMART goal that they set for the week in their events. New for the 2020 Track season, goals will be set and written each week by the athletes.
The Titans compete again next Friday (2/21) at the David Pasquini Fieldhouse against Fremd, Hersey, Mundelein, and Loyola.
Team Scores
This is either an unscored meet, or team results are missing from our database. If you believe this is an error, please reach out.
Photos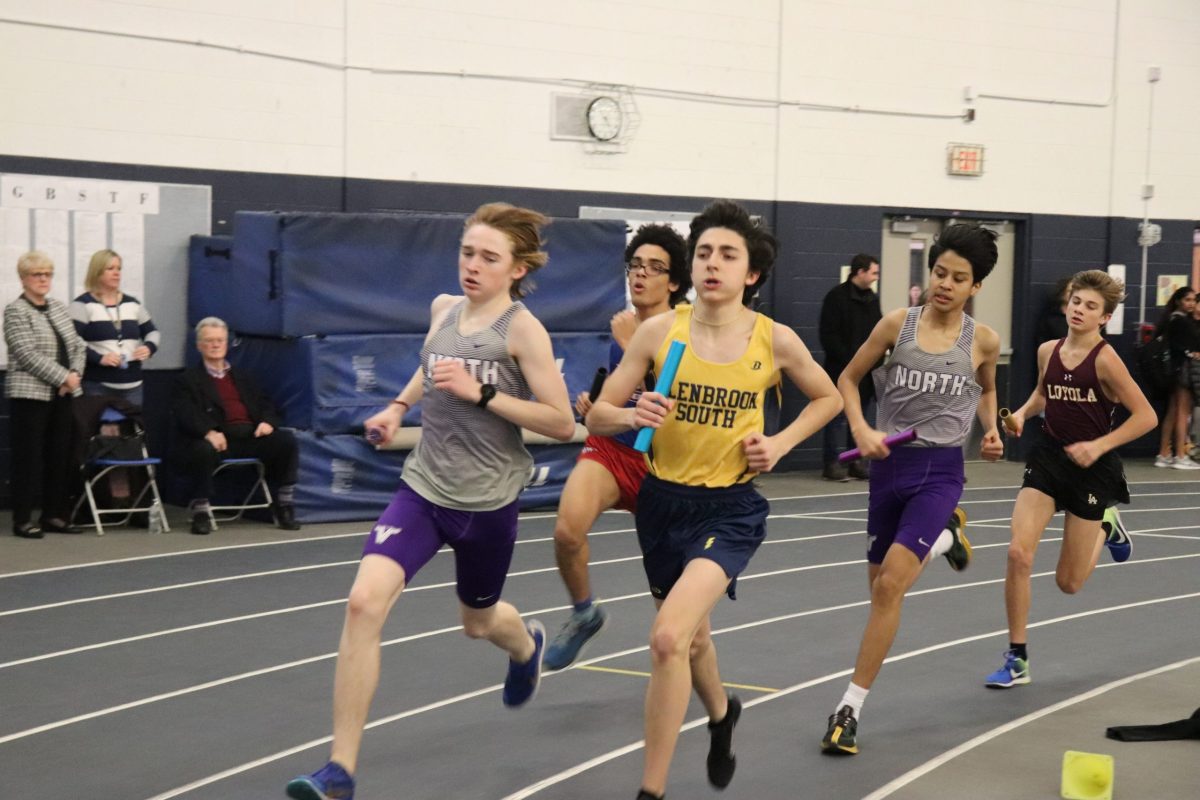 Photographer: Jayson Stamm and James Kurtzweil
Open Results
4x800m
Place
Name
Grade
Time
Team
400m
800m
1
Relay Team
9:07.7
Lakes Community
2
Relay Team
9:15.7
Dundee-Crown
3
Relay Team
9:17.5
Niles North
4
Relay Team
9:31.5
Dundee-Crown
5
Relay Team
9:35.8
Glenbrook South
Matthew Finkel
Jr.
2:19.5
Glenbrook South
66.0
73.5
James Scott
Jr.
2:23.4
Glenbrook South
68.0
75.4
Preston Davidson
Jr.
2:26.5
Glenbrook South
Carter Adams
Jr.
2:26.5
Glenbrook South
Relay Team
10:20.9
Glenbrook South
Sully Richards
Fr.
2:31.1
Glenbrook South
69.0
82.0
James Hiltebrand
Fr.
2:34.4
Glenbrook South
71.0
83.0
Jayden Yum
Fr.
2:36.8
Glenbrook South
73.0
83.0
Andy Carrillo-Perea
Fr.
2:38.6
Glenbrook South
75.0
83.0
800m
| Place | Name | Grade | Time | Team | 400m | 800m |
| --- | --- | --- | --- | --- | --- | --- |
| 1 | Will Houser | Sr. | 2:02.0 | Glenbrook South | 62.0 | 60.0 |
| 2 | Jack Garrigus | Jr. | 2:09.0 | Loyola Academy | | |
| 3 | Michael Jerva | So. | 2:11.0 | Glenbrook South | 65.0 | 66.0 |
| 4 | Leo Brett | Sr. | 2:12.0 | Loyola Academy | | |
| 5 | Alexander Owens | Sr. | 2:14.0 | Loyola Academy | | |
| | Harrison Wollney | Jr. | 2:17.0 | Glenbrook South | | |
| | Lucas Houser | So. | 2:17.0 | Glenbrook South | 67.0 | 70.0 |
| | Michael Westfall | So. | 2:18.0 | Glenbrook South | | |
| | Sam Westfall | Sr. | 2:20.0 | Glenbrook South | | |
| | Matthew Penne | So. | 2:20.0 | Glenbrook South | | |
| | Brett Wittenstein | So. | 2:21.0 | Glenbrook South | | |
| | Theo Gikas | Sr. | 2:25.0 | Glenbrook South | | |
| | John Paul Philbrick | So. | 2:33.0 | Glenbrook South | | |
| | Danny Gemgnani | Sr. | 2:35.0 | Glenbrook South | | |
| | Andrew Yoon | Fr. | 2:51.0 | Glenbrook South | | |
1600m
| Place | Name | Grade | Time | Team | 400m | 800m | 1200m | 1600m |
| --- | --- | --- | --- | --- | --- | --- | --- | --- |
| 1 | Will Kelly | Sr. | 4:35.9 | Glenbrook South | 70.0 | 70.0 | 68.0 | 77.0 |
| 2 | Mrugesh Thakor | Jr. | 4:47.0 | Glenbrook South | 71.0 | 71.0 | 74.0 | 70.0 |
| 3 | Jack Garrigus | Jr. | 4:50.8 | Loyola Academy | | | | |
| 4 | Harry Wood Prince | So. | 4:53.0 | Loyola Academy | | | | |
| 5 | Alexander Owens | Jr. | 4:53.0 | Loyola Academy | | | | |
| | James Kurtzweil | Sr. | 4:53.9 | Glenbrook South | 71.0 | 73.0 | 77.0 | 73.0 |
| | Jayson Stamm | So. | 4:56.0 | Glenbrook South | | | | |
| | Sebastain Zimmer | So. | 5:08.0 | Glenbrook South | | | | |
| | Elie Nassif | So. | 5:09.0 | Glenbrook South | | | | |
| | John Bresnahan | Sr. | 5:12.0 | Glenbrook South | 75.0 | 81.0 | 73.0 | 83.0 |
| | Wade Herrera | Sr. | 5:22.0 | Glenbrook South | 75.0 | 81.0 | 78.0 | 17.0 |
| | Ethan Hernandez | So. | 5:29.0 | Glenbrook South | | | | |
| | Derek Lentz | So. | 5:33.0 | Glenbrook South | | | | |
| | Jack Cleary | So. | 5:35.0 | Glenbrook South | | | | |
| | Matthew Klonecki | So. | 5:37.0 | Glenbrook South | | | | |
| | Justin Wrona | Sr. | 5:39.0 | Glenbrook South | | | | |
| | Jacob Baim | So. | 5:43.0 | Glenbrook South | | | | |
| | Issac Abraham | So. | 5:48.0 | Glenbrook South | | | | |
| | Jonathan Joseph | So. | 6:04.0 | Glenbrook South | | | | |
| | Will Patton | So. | 6:09.0 | Glenbrook South | | | | |
| | Ossey Paul | So. | 7:02.0 | Glenbrook South | | | | |
4x400m
Place
Name
Grade
Time
Team
1
Relay Team
3:51.0
Lakes Community
2
Relay Team
3:55.0
Niles North
3
Relay Team
3:57.0
Glenbrook South
Sam Westfall
60.2
Glenbrook South
Harrison Wollney
58.5
Glenbrook South
James Scott
63.6
Glenbrook South
Will Houser
54.7
Glenbrook South
4
Relay Team
3:59.0
Loyola Academy
5
Relay Team
4:23.0
Niles North
Relay Team
4:08.1
Glenbrook South
Matthew Finkel
60.3
Glenbrook South
Dane Branstrom
60.6
Glenbrook South
Preston Davidson
64.0
Glenbrook South
Carter Adams
63.2
Glenbrook South
Relay Team
4:41.0
Glenbrook South
Sully Richards
67.0
Glenbrook South
James Hiltebrand
65.9
Glenbrook South
Jayden Yum
70.7
Glenbrook South
Andy Carrillo-Perea
77.4
Glenbrook South
Relay Team
4:03.6
Glenbrook South
Michael Westfall
60.7
Glenbrook South
Lucas Houser
62.1
Glenbrook South
Brett Wittenstein
63.0
Glenbrook South
Michael Jerva
57.8
Glenbrook South