Meet Recap
For the first time since 1994, the Titans have qualified as a team for the IHSA State Meet!
---
After a fiery speech from Tim Casey ('95), alumni of the previous State team of 1994, the Titans were off to work.
Will Kelly (Sr) absolutely crushed the muddy Busse Woods course finishing in 9th place with All-Sectionals Honors.
Will Houser (Sr) and Brian Hiltebrand (So) both ran some of the best races they've ever ran, despite the conditions. Both finished in the Top 25, with Will finishing 17th and Brian finishing 24th.
James Kurtzweil (Sr) and Jayson Stamm (So) rounded out the Top 5 with 46th and 88th place respectively, leading to a point total of 166 for the Titans.
Mrugesh Thakor (Jr) and Matthew Finkel (Jr) also ran amazing races finishing together at 111th and 112th place.
---
Aside from the racing, this was an amazing experience for all the athletes. The support from the parents, family, alumni, athletes, and classmates was amazing and it was awesome being able to celebrate with you all.
See you in Peoria next Saturday!
Team Scores
| | | |
| --- | --- | --- |
| 1 | Arlington Heights (Hersey) | 88 |
| 2 | Lake Zurich | 120 |
| 3 | McHenry | 153 |
| 4 | Glenview (Glenbrook South) | 166 |
| 5 | Barrington | 178 |
| 6 | Gurnee (Warren) | 192 |
| 7 | Palatine (H.S.) | 213 |
| 8 | Mundelein (H.S.) | 224 |
| 9 | Deerfield (H.S.) | 235 |
| 10 | Libertyville | 258 |
| 11 | Lake Forest (H.S.) | 260 |
| 12 | Rolling Meadows | 265 |
| 13 | Lincolnshire (Stevenson) | 266 |
| 14 | Mt. Prospect (Prospect) | 282 |
| 15 | Cary (C.-Grove) | 379 |
| 16 | Algonquin (Jacobs) | 423 |
| 17 | Palatine (Fremd) | 424 |
| 18 | Glenbrook North | 439 |
Map
Photos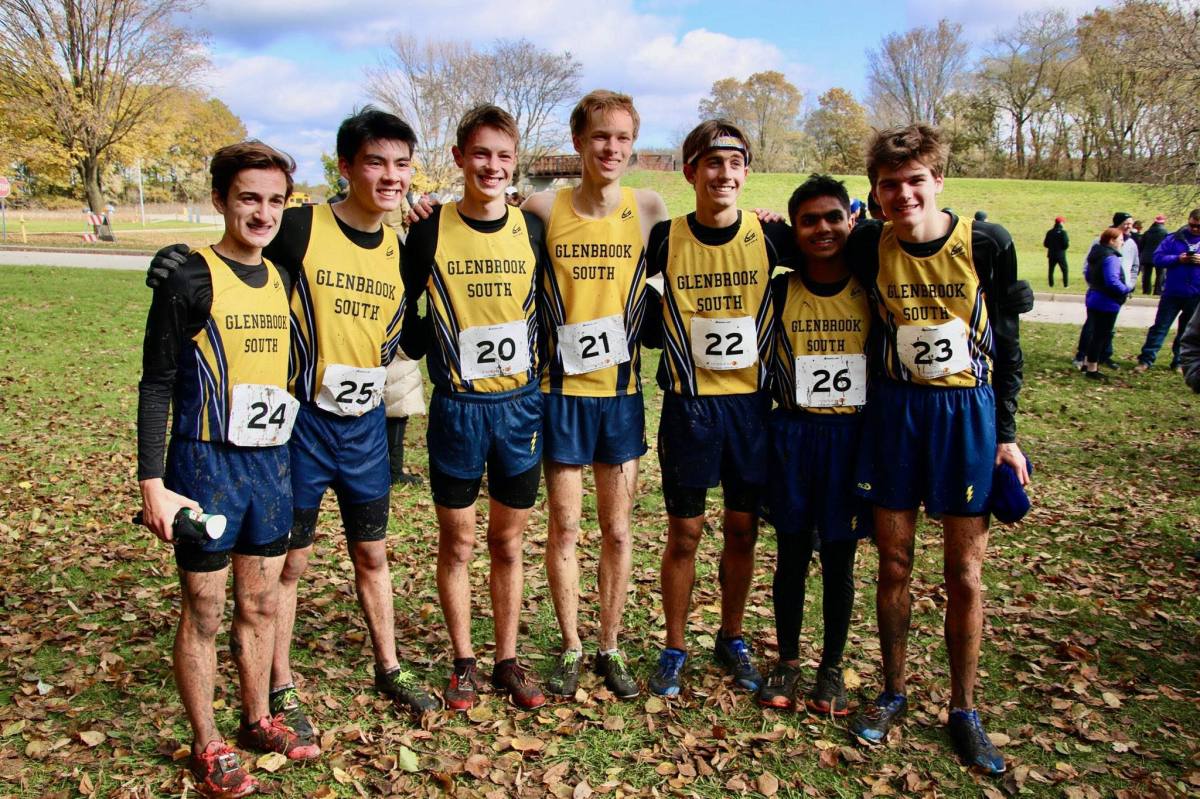 Photographer: Preston Davidson and Mrs. Kurtzweil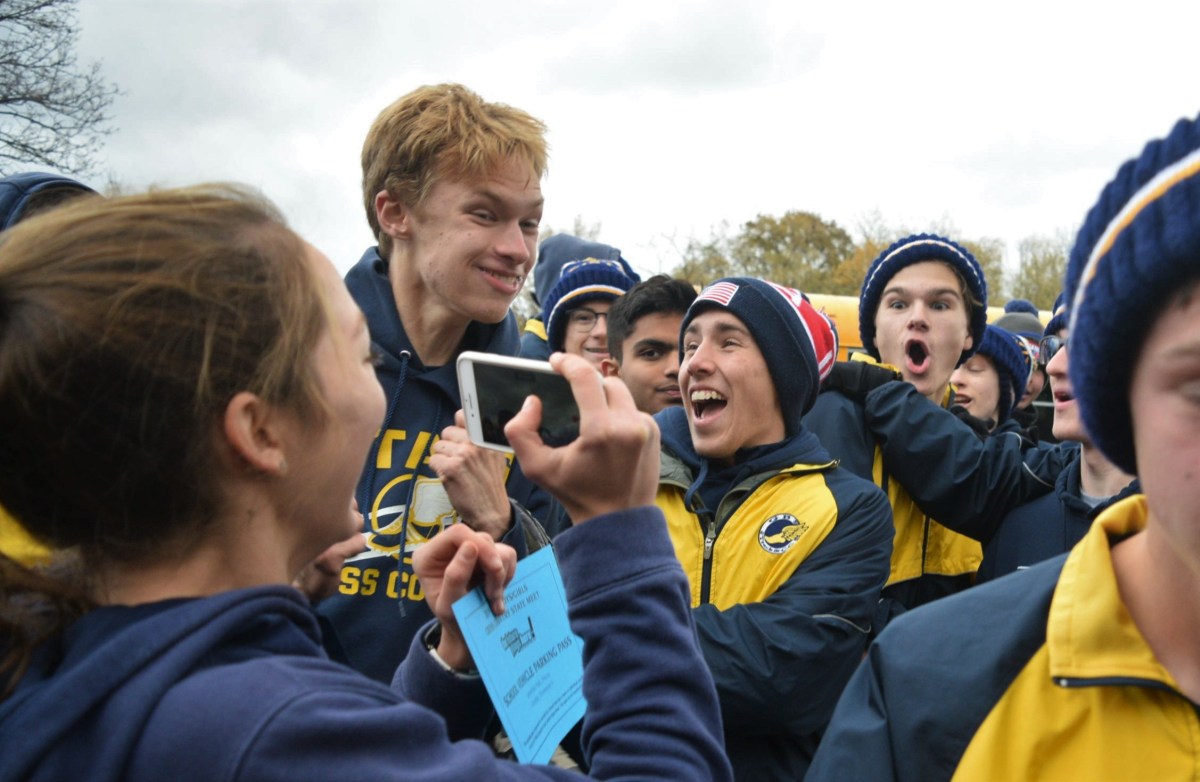 Photographer: Mr. Jortberg
Varsity Results
| Place | Name | Grade | Time | Team | 1 Mile | 2 Mile | Finish |
| --- | --- | --- | --- | --- | --- | --- | --- |
| 1 | Josh Methner | Sr. | 15:23.6 | Hersey | | | |
| 2 | Carter Schorr | Sr. | 15:33.6 | Mundelein | | | |
| 3 | Jason Polydoris | Jr. | 15:34.7 | Highland Park | | | |
| 4 | Anthony Rodriguez | Sr. | 15:34.8 | Lincolnshire (Stevenson) | | | |
| 5 | Corey Pacernick | Sr. | 15:38.4 | Lincolnshire (Stevenson) | | | |
| 6 | Dillon Blake | Sr. | 15:41.6 | Mundelein | | | |
| 7 | Jack Gilboy | Jr. | 15:41.6 | Lake Zurich | | | |
| 8 | Colin Safford | Sr. | 15:47.8 | Hersey | | | |
| 9 | Will Kelly | Sr. | 15:48.6 | Glenview (Glenbrook South) | 5:02 | 5:23 | 5:24 |
| 10 | Will Gordon | Sr. | 15:51.4 | Libertyville | | | |
| 11 | Maxum Caesar | Sr. | 15:54.2 | Cary-Grove | | | |
| 12 | Nathan Schmitt | Sr. | 15:54.5 | Lake Forest | | | |
| 13 | Justin Splitt | Sr. | 15:58.7 | Fox Lake (Grant) | | | |
| 14 | Jessi Garcia | Sr. | 16:00.7 | McHenry | | | |
| 15 | Max Svienty | Sr. | 16:01.1 | Hersey | | | |
| 16 | Griffin Pasha | Jr. | 16:01.2 | Warren Township | | | |
| 17 | Will Houser | Sr. | 16:02.1 | Glenview (Glenbrook South) | 5:07 | 5:31 | 5:24 |
| 18 | Kaleb Whiteside | Jr. | 16:03.1 | Lake Forest | | | |
| 19 | Richie Jacobo | Sr. | 16:04.3 | Palatine | | | |
| 20 | Stephen Barretto | Jr. | 16:08.2 | Rolling Meadows | | | |
| 21 | Luke Wiley | So. | 16:11.4 | Warren Township | | | |
| 22 | Jacob Myers | Jr. | 16:13.8 | Lake Zurich | | | |
| 23 | Jack Martin | Sr. | 16:14.2 | Rolling Meadows | | | |
| 24 | Brian Hiltebrand | So. | 16:15.2 | Glenview (Glenbrook South) | 5:07 | 5:34 | 5:34 |
| 25 | Ben Rosa | Sr. | 16:15.8 | Lake Forest | | | |
| 26 | Patrick Furlong | Sr. | 16:15.9 | Barrington | | | |
| 27 | Ben Kraemer | Sr. | 16:16.3 | Deerfield | | | |
| 28 | Quinn Rudy | Sr. | 16:19.2 | Hersey | | | |
| 29 | Patrick Hart | Sr. | 16:19.7 | Lake Zurich | | | |
| 30 | Ben DeWeerdt | Jr. | 16:19.8 | Barrington | | | |
| 31 | Corey Fairchild | Sr. | 16:20.7 | Highland Park | | | |
| 32 | Danny Burns | So. | 16:23.9 | Lake Zurich | | | |
| 33 | Josh Puyear | Jr. | 16:24.8 | Deerfield | | | |
| 34 | Erik Snell | Sr. | 16:25.0 | Mt. Prospect (Prospect) | | | |
| 35 | Carlos Montes | Jr. | 16:25.1 | McHenry | | | |
| 36 | Liam Tucker | Jr. | 16:25.9 | Libertyville | | | |
| 37 | Caleb Schopen | Jr. | 16:26.3 | McHenry | | | |
| 38 | Ian Knebl | Sr. | 16:26.7 | McHenry | | | |
| 39 | Trevor Giampa | Sr. | 16:26.8 | Barrington | | | |
| 40 | Alfredo Arnieri | Jr. | 16:30.2 | Barrington | | | |
| 41 | Adam Cupples | Sr. | 16:32.9 | Lake Zurich | | | |
| 42 | Jack Mason | Jr. | 16:33.4 | Lake Zurich | | | |
| 43 | Dylan Jensen | Sr. | 16:34.6 | McHenry | | | |
| 44 | Luis Vazquez | Jr. | 16:35.9 | Hersey | | | |
| 45 | Colton Romig | Jr. | 16:36.2 | Fox Lake (Grant) | | | |
| 46 | James Kurtzweil | Sr. | 16:36.5 | Glenview (Glenbrook South) | 5:11 | 5:46 | 5:40 |
| 47 | Andrew Metcalf | Sr. | 16:36.6 | Warren Township | | | |
| 48 | Jackson Albanese | Fr. | 16:36.7 | McHenry | | | |
| 49 | Jack Casaccio | Fr. | 16:37.2 | Palatine | | | |
| 50 | Andrew Jordan | Fr. | 16:39.4 | Palatine | | | |
| 51 | James Spencer | Sr. | 16:39.5 | Palatine | | | |
| 52 | Grant Wasielewski | Sr. | 16:40.9 | Buffalo Grove | | | |
| 53 | Jacob Johnson Wright | Sr. | 16:42.3 | Rolling Meadows | | | |
| 54 | Jack Dechoudens | Jr. | 16:42.5 | Mt. Prospect (Prospect) | | | |
| 55 | Ryan Bernstein | So. | 16:43.0 | Deerfield | | | |
| 56 | Thomas Walter | Sr. | 16:43.5 | Mt. Prospect (Prospect) | | | |
| 57 | Elian Salgado | Jr. | 16:44.3 | Mundelein | | | |
| 58 | Matt Hargrave | Jr. | 16:44.4 | Barrington | | | |
| 59 | John Wiser | Sr. | 16:44.5 | Warren Township | | | |
| 60 | Enrique Robles | So. | 16:44.7 | McHenry | | | |
| 61 | Dhruv Purohit | Sr. | 16:45.1 | Palatine (Fremd) | | | |
| 62 | Carter Hart | Jr. | 16:45.3 | Barrington | | | |
| 63 | Andrew Duran | Sr. | 16:45.4 | Palatine | | | |
| 64 | Corey Brend | Sr. | 16:46.0 | Lake Zurich | | | |
| 65 | Jack Wolski | Sr. | 16:46.1 | Palatine (Fremd) | | | |
| 66 | Cole Bernstein | So. | 16:46.5 | Deerfield | | | |
| 67 | Hunter Subry | Sr. | 16:49.2 | Warren Township | | | |
| 68 | Diego Giron | Jr. | 16:51.9 | Round Lake | | | |
| 69 | Ali Faiz | So. | 16:52.0 | Libertyville | | | |
| 70 | Grant Bonatz | Sr. | 16:53.5 | Schaumburg | | | |
| 71 | Ian Barnes | So. | 16:55.8 | Cary-Grove | | | |
| 72 | Joey Furlong | So. | 16:57.5 | Barrington | | | |
| 73 | Nick Methner | Sr. | 16:57.9 | Hersey | | | |
| 74 | Daniel Sanders | Jr. | 16:58.5 | Algonquin (Jacobs) | | | |
| 75 | Brandon Waller | Jr. | 16:59.2 | Palatine | | | |
| 76 | Ben Zamler | Jr. | 16:59.9 | Deerfield | | | |
| 77 | Bryan Martinez | Jr. | 17:01.6 | Wheeling | | | |
| 78 | Jack Hamilton | So. | 17:01.7 | Libertyville | | | |
| 79 | Mason Krieg | Fr. | 17:03.2 | Palatine | | | |
| 80 | Nick Ihrke | Jr. | 17:04.2 | Glenbrook North | | | |
| 81 | Jose Castillo | Sr. | 17:05.3 | Rolling Meadows | | | |
| 82 | Tyler Matsuda | So. | 17:05.7 | Buffalo Grove | | | |
| 83 | Sean Kura | So. | 17:05.8 | Mt. Prospect (Prospect) | | | |
| 84 | Peter Tomson | Sr. | 17:06.2 | Algonquin (Jacobs) | | | |
| 85 | James Grant | So. | 17:08.7 | Cary-Grove | | | |
| 86 | TJ Garland | So. | 17:08.7 | Mt. Prospect (Prospect) | | | |
| 87 | Logan Mertes | Sr. | 17:09.1 | Mt. Prospect (Prospect) | | | |
| 88 | Jayson Stamm | So. | 17:10.7 | Glenview (Glenbrook South) | 5:25 | 5:50 | 5:56 |
| 89 | Alex Brown | So. | 17:10.9 | Highland Park | | | |
| 90 | Ken Winston | Jr. | 17:12.9 | Hoffman Estates | | | |
| 91 | Wesley Park | Jr. | 17:13.2 | Lincolnshire (Stevenson) | | | |
| 92 | Eric Barajas | Fr. | 17:14.6 | Zion-Benton | | | |
| 93 | Carter Laureys | Fr. | 17:15.3 | Mundelein | | | |
| 94 | Lucas Moskovitz | So. | 17:16.2 | Deerfield | | | |
| 95 | Iverson Solis | Jr. | 17:17.5 | Hoffman Estates | | | |
| 96 | Andrew Clark | Jr. | 17:17.6 | Libertyville | | | |
| 97 | Michael Keegan | Sr. | 17:17.8 | Mundelein | | | |
| 98 | James Preucil | Sr. | 17:18.1 | Conant | | | |
| 99 | Michael Kruse | Sr. | 17:19.5 | Glenbrook North | | | |
| 100 | Max Zeisler | So. | 17:23.1 | Warren Township | | | |
| 101 | Tarun Kalyanasundarum | Jr. | 17:23.6 | Lincolnshire (Stevenson) | | | |
| 102 | Eric Lakemaker | So. | 17:26.4 | Deerfield | | | |
| 103 | Kyle Horn | Jr. | 17:27.1 | Algonquin (Jacobs) | | | |
| 104 | Daniel Weaver | Jr. | 17:27.7 | Glenbrook North | | | |
| 105 | Nathan Clapp | Jr. | 17:29.9 | Mundelein | | | |
| 106 | Ethan Parham | Sr. | 17:30.8 | Conant | | | |
| 107 | Tyler Roberts | So. | 17:31.9 | Lincolnshire (Stevenson) | | | |
| 108 | Nick Redstone | Jr. | 17:32.4 | Glenbrook North | | | |
| 109 | Connor Maloney | Jr. | 17:32.7 | Algonquin (Jacobs) | | | |
| 110 | Nick Grasse | Sr. | 17:33.8 | Palatine (Fremd) | | | |
| 111 | Mrugesh Thakor | Jr. | 17:34.5 | Glenview (Glenbrook South) | 5:28 | 6:00 | 6:07 |
| 112 | Matthew Finkel | Jr. | 17:35.4 | Glenview (Glenbrook South) | 5:30 | 5:58 | 6:07 |
| 113 | Colin Brenizer | Sr. | 17:35.5 | Algonquin (Jacobs) | | | |
| 114 | Timothy St. John | Sr. | 17:38.2 | Glenbrook North | | | |
| 115 | Carlos Villa | Jr. | 17:42.4 | Warren Township | | | |
| 116 | Dylan McCarty | So. | 17:42.9 | Libertyville | | | |
| 117 | Josh Stolyarov | So. | 17:47.6 | Glenbrook North | | | |
| 118 | Dylan Siena | Jr. | 17:47.9 | Palatine (Fremd) | | | |
| 119 | Casey Hippel | Jr. | 17:50.1 | Lake Forest | | | |
| 120 | Carter Wachtel | So. | 17:50.4 | Rolling Meadows | | | |
| 121 | Peter Elliott | Jr. | 17:52.3 | Lake Forest | | | |
| 122 | Jack Lee | Jr. | 17:52.8 | Lincolnshire (Stevenson) | | | |
| 123 | Jason Palafox | Sr. | 17:53.3 | Hersey | | | |
| 124 | Mitchell Ruffin | So. | 17:53.5 | Algonquin (Jacobs) | | | |
| 125 | Thomas Novak | Sr. | 17:55.3 | Palatine (Fremd) | | | |
| 126 | Nic Squillacioti | Jr. | 17:55.7 | Mt. Prospect (Prospect) | | | |
| 127 | Jeremy Hernandez | Sr. | 17:56.6 | Mundelein | | | |
| 128 | Dominic Garrard | So. | 17:58.1 | Cary-Grove | | | |
| 129 | Ethan Haller | Jr. | 17:59.2 | Lake Forest | | | |
| 130 | Ian Burke | Fr. | 18:06.9 | Libertyville | | | |
| 131 | Carson Hendrey | Jr. | 18:06.9 | Cary-Grove | | | |
| 132 | Steven Veremis | Fr. | 18:08.9 | Palatine (Fremd) | | | |
| 133 | Sam Rubinstein | So. | 18:09.9 | Glenbrook North | | | |
| 134 | Cameron Sprague | Sr. | 18:17.4 | Lincolnshire (Stevenson) | | | |
| 135 | Cole Martin | So. | 18:23.9 | Rolling Meadows | | | |
| 136 | Tyler Wengronowitz | Fr. | 18:30.3 | Rolling Meadows | | | |
| 137 | Kevin Manlapid | Sr. | 18:35.5 | Algonquin (Jacobs) | | | |
| 138 | Adam Caesar | Sr. | 18:40.8 | Cary-Grove | | | |
| 139 | Kevin Lui | Sr. | 18:56.7 | Palatine (Fremd) | | | |
| 140 | Nicholas Tegel | Jr. | 19:09.2 | Lake Forest | | | |