Meet Recap
The Titans defeated the Spartans on Thursday, September 29th at Home. The Titans begin their season 1-0 before the CSL meets.
At the open level, the Titans finished #1-7 in the 2 mile run, with Jayson Stamm (So) leading the pack with his time of 12:00, despite the 20mph winds. Freshmen Ryan Schaefer finished right behind him with Carter Adams (Jr), Preston Davidson (Jr), Mrugesh Thakor (Jr), Lucas Houser (So), and Tyson Anthony (Jr) trailing closely behind.
At the varsity level, the Titans defeated the Spartans 23-34, with Will Kelly (Sr) and Kate Jortberg (Sr) finishing first with a total time of 22:17. Despite the high winds, times between the two miles were very reasonable. We are looking forward to a very successful season after defeating the Spartans.
Team Scores
This is either an unscored meet, or team results are missing from our database. If you believe this is an error, please reach out.
Map
Photos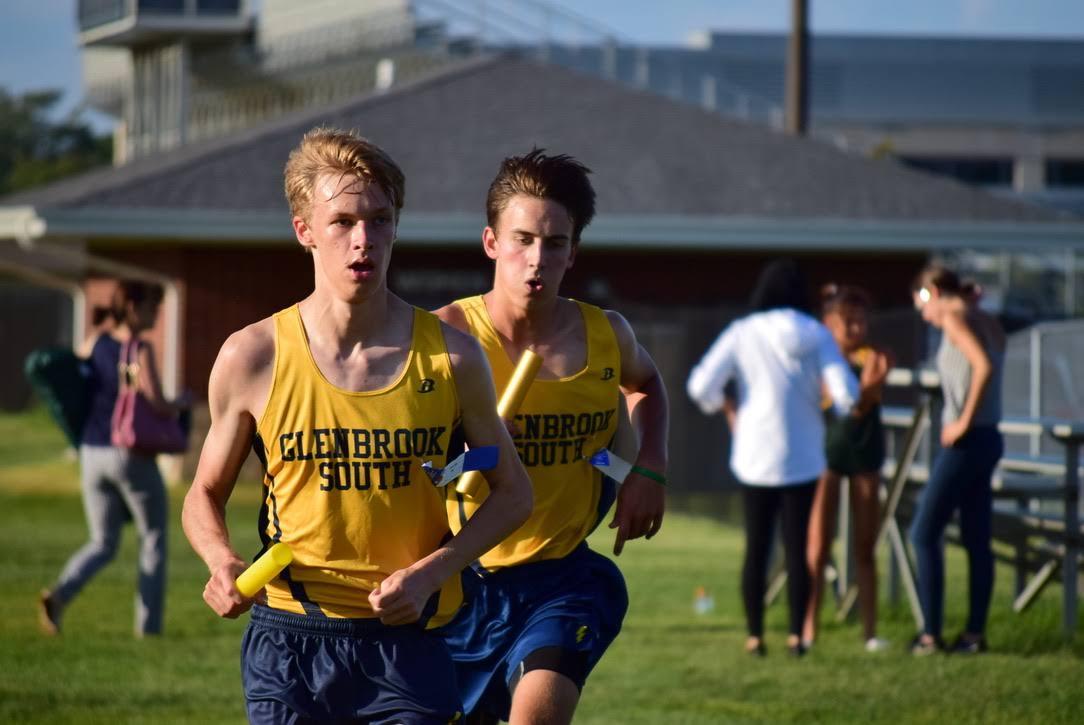 Photographer: Mr. Jortberg
Junior Varsity Results
| Place | Name | Grade | Time | Team | 1 Mile | 2 Mile | Finish |
| --- | --- | --- | --- | --- | --- | --- | --- |
| 1 | Jayson Stamm | | 12:00 | Glenbrook South | | | |
| 2 | Ryan Schaefer | | 12:01 | Glenbrook South | | | |
| 3 | Carter Adams | | 12:02 | Glenbrook South | | | |
| 4 | Preston Davidson | | 12:04 | Glenbrook South | | | |
| 5 | Mrugesh Thakor | | 12:10 | Glenbrook South | | | |
| 6 | Lucas Houser | | 12:17 | Glenbrook South | | | |
| 7 | Graham Paterson | | 12:22 | Glenbrook North | | | |
| 8 | Tyson Anthony | | 12:22 | Glenbrook South | | | |
| 9 | Sebastian Zimmer | | 12:28 | Glenbrook South | | | |
| 10 | Ryan Jack | | 12:29 | Glenbrook South | | | |
| 11 | Gabe Johnson | | 12:30 | Glenbrook North | | | |
| 12 | Michael Westfall | | 12:34 | Glenbrook South | | | |
| 13 | Colin Schaefer | | 12:36 | Glenbrook North | | | |
| 14 | Patrick Herbst | | 12:45 | Glenbrook North | | | |
| 15 | Brett Wittenstein | | 12:49 | Glenbrook South | | | |
| 16 | Theo Gikas | | 12:50 | Glenbrook South | | | |
| 17 | Dean Kousiounelos | | 12:51 | Glenbrook North | | | |
| 18 | Zander Johnson | | 12:58 | Glenbrook North | | | |
| 19 | John Paul Philbrick | | 13:01 | Glenbrook South | | | |
| 20 | Jacob Baim | | 13:08 | Glenbrook South | | | |
| 21 | Erick Vandergaw | | 13:11 | Glenbrook North | | | |
| 22 | Nathan Stolyarov | | 13:13 | Glenbrook North | | | |
| 23 | Matthew Penne | | 13:14 | Glenbrook South | | | |
| 24 | Jack Cleary | | 13:15 | Glenbrook South | | | |
| 25 | Jack Callaghan | | 13:16 | Glenbrook South | | | |
| 26 | Ethan Hernandez | | 13:19 | Glenbrook South | | | |
| 27 | Henry Lato | | 13:21 | Glenbrook South | | | |
| 28 | Emmett Abels | | 13:22 | Glenbrook North | | | |
| 29 | Sully Richards | | 13:23 | Glenbrook South | | | |
| 30 | Michael Levy | | 13:25 | Glenbrook North | | | |
| 31 | Achittenger Otgontseren | | 13:28 | Glenbrook South | | | |
| 32 | Gabriel Cole | | 13:38 | Glenbrook South | | | |
| 33 | Bobby Hartsig | | 13:40 | Glenbrook South | | | |
| 34 | Isaac Abraham | | 13:41 | Glenbrook South | | | |
| 35 | Mathew Klonecki | | 13:43 | Glenbrook South | | | |
| 36 | Michael Ciancanelli | | 13:44 | Glenbrook North | | | |
| 37 | Ben Freidinger | | 13:49 | Glenbrook South | | | |
| 38 | Charlie Kuhn | | 13:50 | Glenbrook South | | | |
| 39 | Graham Hetzler | | 13:52 | Glenbrook North | | | |
| 40 | Matthew Schmidt | | 13:57 | Glenbrook North | | | |
| 41 | Danny Donnelly | | 13:58 | Glenbrook South | | | |
| 42 | Alec Busch | | 14:00 | Glenbrook North | | | |
| 43 | Ryan Parker | | 14:01 | Glenbrook North | | | |
| 44 | Jason Isele | | 14:03 | Glenbrook North | | | |
| 45 | Zach Schaefer | | 14:06 | Glenbrook North | | | |
| 46 | Danny Gemignani | | 14:06 | Glenbrook South | | | |
| 47 | Eli Stern | | 14:07 | Glenbrook North | | | |
| 48 | Cole Brady | | 14:11 | Glenbrook South | | | |
| 49 | Matthew Nugent | | 14:14 | Glenbrook South | | | |
| 50 | Lance Lai | | 14:15 | Glenbrook North | | | |
| 51 | Luke Gregory | | 14:16 | Glenbrook South | | | |
| 52 | Andrew Castro | | 14:18 | Glenbrook North | | | |
| 53 | Joe Clemens | | 14:19 | Glenbrook North | | | |
| 54 | Alex Allegretti | | 14:20 | Glenbrook North | | | |
| 55 | Jesse Sack | | 14:21 | Glenbrook North | | | |
| 56 | Carson Walters | | 14:22 | Glenbrook South | | | |
| 57 | Owen Oldani | | 14:29 | Glenbrook North | | | |
| 58 | Grayson Landsman | | 14:38 | Glenbrook North | | | |
| 59 | Dan O'Brien | | 14:41 | Glenbrook South | | | |
| 60 | Sanjeev Gorla | | 14:45 | Glenbrook South | | | |
| 61 | Davis Fulling | | 14:49 | Glenbrook North | | | |
| 62 | Eli Hincapie | | 14:51 | Glenbrook North | | | |
| 63 | Andrew Marasco | | 14:53 | Glenbrook North | | | |
| 64 | Kamran Tahmooressi | | 14:53 | Glenbrook North | | | |
| 65 | James Hiltebrand | | 15:01 | Glenbrook South | | | |
| 66 | Jack Klapman | | 15:03 | Glenbrook North | | | |
| 67 | Jonathan Joseph | | 15:06 | Glenbrook South | | | |
| 68 | Luke Nelson | | 15:07 | Glenbrook North | | | |
| 69 | Daniel Kramer | | 15:16 | Glenbrook North | | | |
| 70 | Giovanni Canalia | | 15:19 | Glenbrook South | | | |
| 71 | Ethan Levy | | 15:21 | Glenbrook North | | | |
| 72 | Brandon Mesirow | | 15:37 | Glenbrook North | | | |
| 73 | Nathan Malin | | 15:39 | Glenbrook North | | | |
| 74 | Ricky Egen | | 15:45 | Glenbrook South | | | |
| 75 | Connor Love | | 15:51 | Glenbrook North | | | |
| 76 | Michael Bilous | | 15:59 | Glenbrook North | | | |
| 77 | David Keefe | | 16:09 | Glenbrook North | | | |
| 78 | Matthew Burke | | 16:19 | Glenbrook South | | | |
| 79 | Taeho Yu | | 16:29 | Glenbrook North | | | |
| 80 | Timothy Kelly | | 16:33 | Glenbrook North | | | |
| 81 | Diego Duarte | | 16:56 | Glenbrook North | | | |
| 82 | Piotr Szwajnos | | 17:38 | Glenbrook North | | | |
| 83 | Bo MacMillan | | 17:52 | Glenbrook North | | | |
| 84 | Nick Tiesi | | 18:05 | Glenbrook South | | | |
| 85 | Danny Bruns | | 18:13 | Glenbrook North | | | |
| 86 | John Schueller | | 19:00 | Glenbrook North | | | |
| 87 | Gabe Griffith | | 20:06 | Glenbrook North | | | |
| 88 | Patrick Ryan | | 21:46 | Glenbrook North | | | |