Meet Recap
As I write this, I have just returned from a road trip with Brian and Joey to Eastern Illinois University to watch Titan athletes compete in the IHSA State Meet. This year, Titan Distance sent two individual athletes to the meet! Both Charlie Schultz (Sr) and Will Houser (Jr) may not have finished with their best time of the season, but they persevered and competed in the 90° heat, something they haven't done since Cross Country.
Every meet this year, different people stepped up. 95% of Titan Distance athletes performed better than they did last year, or at the beginning of this year. That percentage shows all the hard work and dedication that went in to the performances at the meets this year.
Team Highlights
Brian Hiltebrand (Fr) set four freshmen records this year. Brian now holds the 800m and 1600m indoor and outdoor records! The indoor 800m record is now 2:09.2 and indoor 1600m record is now 4:38.53. The outdoor 800m record is now 2:04.62 and the outdoor 1600m record is now 4:34.20 for freshmen!
Michael Jerva (Fr) finished the year at the IHSA Sectionals running a 2:11.37. He finished as the second best freshmen behind Brian!
James Scott (So) has worked himself up to being a top runner on Titan Distance this year. James Scott set his marks at 2:16, 4:59, and 10:55 this year.
Will Houser (Jr) set the varsity indoor 800m record at the Illinois Top Times meet setting the bar at 1:59.48, becoming the first Titan to break two indoors! Will also qualified for the IHSA State Meet and finished at 1:57.28 at Sectionals and 1:58.46 in the heat at State. Will finished first in the 800m at every invite until the State meet.
Will Kelly (Jr) has had a season plagued with a sickness that hasn't seemed to go away. Will improved his 3200m time to 9:34.40 at Distance Night in Palatine.
Aditya Bhalla (Sr) while not the fastest runner, is an amazing person with a personality and love of running unlike anyone else. There is never a race where you can't hear him on the sidelines. Aditya will be attending Pomona College next year with a hope to major in Political Science.
Jordan Lynch (Sr) has committed to compete in track and field and cross country at Elmhurst College. Go Bluejays!
Joey Patronik (Sr) finished his Senior year in the 800m run with a PR of 2:08, a five second improvement over last year. Joey will do great at Northwestern University next year!
Joey Pauletto (Sr) had a dominating Senior year after years of struggling. He set his PR of 4:35.02 at the CSL Conference Championships at Niles North earlier this month. Joey will study broadcasting at Boston University next year.
Charlie Schultz (Sr) improved by 7 seconds in the 800m run over the last three meets of the season (Titan Invite, CSL Conference, and IHSA Sectionals) to qualify for the state meet. At IHSA Sectionals, Charlie ran a 1:57.79 to qualify for state before running a 2:00.74 at State. Charlie will be attending The University of Minnesota, Twin Cities next year.
Team Scores
This is either an unscored meet, or team results are missing from our database. If you believe this is an error, please reach out.
Map
Photos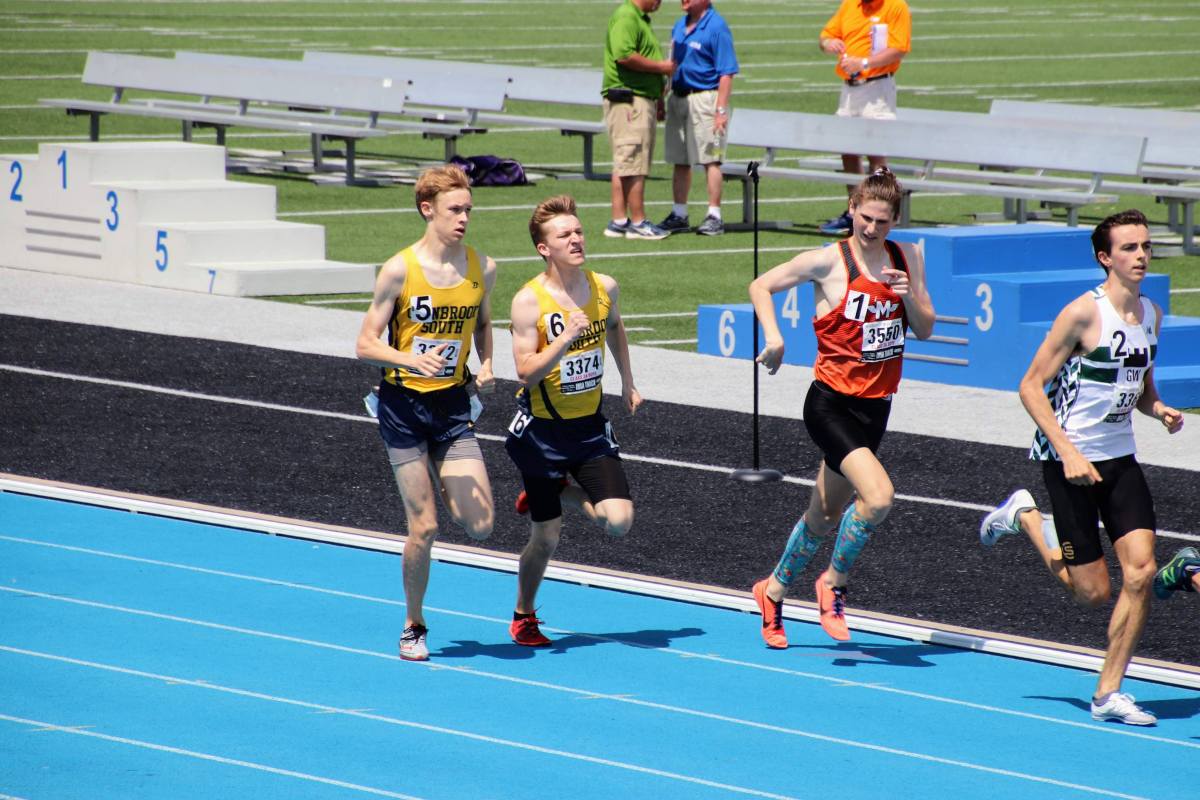 Photographer: James Kurtzweil
Varsity Results
800m
| Place | Name | Grade | Time | Team | 400m | 800m |
| --- | --- | --- | --- | --- | --- | --- |
| 1 | Thomas Shilgalis | Sr. | 1:56.10 | Naperville (Central) | | |
| 2 | Aidan Donohue | Jr. | 1:56.47 | DeKalb | | |
| 3 | Ethan Baker | Sr. | 1:56.73 | Crystal Lake (Prairie Ridge) | | |
| 4 | Ramon Lacey | Sr. | 1:56.73 | Chicago Heights (Bloom Twp.) | | |
| 5 | Grant Jensen | Sr. | 1:56.74 | Crystal Lake (Prairie Ridge) | | |
| 6 | Justin Splitt | Jr. | 1:56.93 | Fox Lake (Grant) | | |
| 7 | Austin Adams | Jr. | 1:57.01 | Maple Park (Kaneland) | | |
| 8 | Will Obrien | Sr. | 1:57.45 | Glen Ellyn (Glenbard West) | | |
| 9 | Cassius Havis | Jr. | 1:57.59 | Alton (Sr.) | | |
| 10 | Grant Wright | Sr. | 1:57.69 | Palos Hills (Stagg) | | |
| 11 | Juan Castro | Jr. | 1:57.86 | DeKalb | | |
| 12 | Kembre Daniel | Jr. | 1:57.87 | Chicago (Lincoln Park) | | |
| 13 | Jocqael Thorpe | So. | 1:58.14 | LaGrange (Lyons) | | |
| 14 | Mikey Parduhn | Sr. | 1:58.20 | Mundelein (H.S.) | | |
| 15 | Jason Hoffman | Jr. | 1:58.44 | Minooka | | |
| 16 | Will Houser | Jr. | 1:58.46 | Glenview (Glenbrook South) | 59.5 | 59.0 |
| 17 | Patrick Sarad | Sr. | 1:58.57 | Franklin Park-Northlake (Leyden) | | |
| 18 | Jorge Corona | Sr. | 1:59.66 | Palatine (H.S.) | | |
| 19 | Emmanuel Angomas | Sr. | 1:59.79 | Plainfield (East) | | |
| 20 | Dathan Maton | Sr. | 2:00.07 | Chatham (Glenwood) | | |
| 21 | Charlie Schultz | Sr. | 2:00.74 | Glenview (Glenbrook South) | 59.5 | 61.0 |
| 22 | Chris Magno | Sr. | 2:00.91 | Riverside (R.-Brookfield) | | |