Meet Recap
CONGRATULATIONS TO CHARLIE SCHULTZ AND WILL HOUSER FOR QUALIFYING FOR THE IHSA STATE COMPETITION!
How do I even start? This was an awesome Sectionals meet. Even though not everyone ran their best race of the season, the determination of all the runners was truly astonishing. Every runner came to compete and that is what is important. Comparing all Distance Teams, Titan Distance scored the most points in distance events! Thanks to all of the athletes not competing and alumni for cheering everyone on!
The 4×800 team consisting of Jason Leszynski (Sr), Joey Patronik (Sr), Michael Jerva (Fr), and James Scott (So) got things started finishing in 8:48.77.
In the 3200m, Will Kelly (Jr) and James Kurtzweil (Jr) both ran in the heat finishing in 9:50.53 and 10:27.68 respectively.
In the 800m, Will Houser (Jr) and Charlie Schultz (Sr) finished first and second and QUALIFIED FOR STATE!! 1:57.28 for Houser and 1:57.79 for Schultz!
In the 1600m, Brian Hiltebrand (Fr) and Joey Pauletto (Sr) crossed the finish line at 4:35.26 and 4:39.89.
Team Scores
| | | |
| --- | --- | --- |
| 1 | Mt. Prospect (Prospect) | 103.5 |
| 2 | Evanston (Twp.) | 87 |
| 3 | Park Ridge (Maine South) | 80.5 |
| 4 | Glenview (Glenbrook South) | 58 |
| 5 | Winnetka (New Trier) | 48 |
| 6 | Lake Forest (H.S.) | 33.5 |
| 7 | Deerfield (H.S.) | 25 |
| 8 | Park Ridge (Maine East) | 24 |
| 9 | Wilmette (Loyola Academy) | 22 |
| 10 | Arlington Heights (Hersey) | 18 |
| 11 | Niles (Notre Dame) | 16 |
| 12 | Northbrook (Glenbrook North) | 15 |
| 13 | Highland Park | 9 |
| 14 | Wheeling | 7 |
| 15 | Skokie (Niles West) | 6.5 |
Photos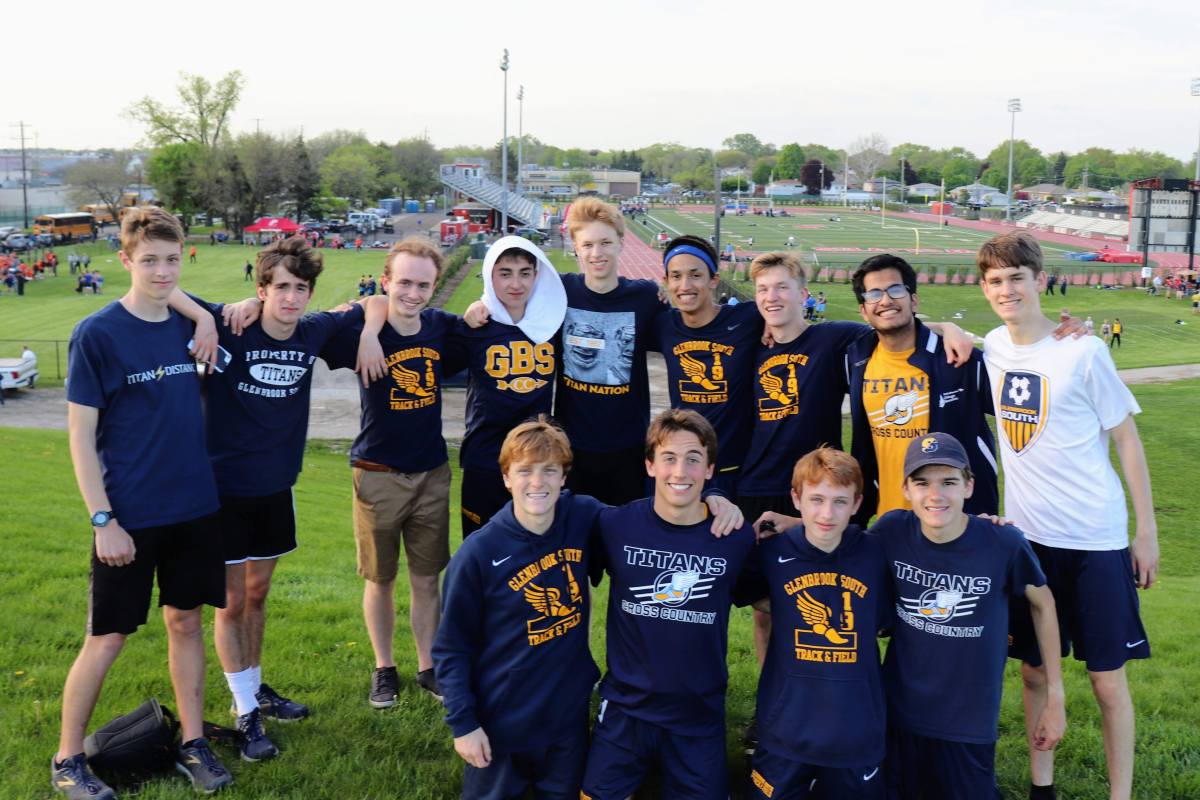 Varsity Results
4x800m
Place
Name
Grade
Time
Team
400m
800m
1
Relay Team
7:57.55
Mt. Prospect (Prospect)
2
Relay Team
7:58.13
Evanston (Twp.)
3
Relay Team
7:58.14
Winnetka (New Trier)
4
Relay Team
7:58.19
Hersey
5
Relay Team
8:14.63
Glenbrook North
6
Relay Team
8:20.73
Maine South
7
Relay Team
8:25.77
Loyola Academy
8
Relay Team
8:30.43
Wheeling
9
Relay Team
8:38.03
Deerfield
10
Relay Team
8:48.77
Glenview (Glenbrook South)
Jason Leszynski
2:06.9
Glenview (Glenbrook South)
58.0
69.0
Joey Patronik
2:10.0
Glenview (Glenbrook South)
63.0
67.0
Michael Jerva
2:11.1
Glenview (Glenbrook South)
64.0
67.0
James Scott
2:19.5
Glenview (Glenbrook South)
65.0
74.0
11
Relay Team
8:51.69
Lake Forest
12
Relay Team
8:52.63
Skokie (Niles West)
13
Relay Team
8:52.72
Niles North
14
Relay Team
9:00.75
Highland Park
3200m
| Place | Name | Grade | Time | Team | 800m | 1600m | 2400m | 3200m |
| --- | --- | --- | --- | --- | --- | --- | --- | --- |
| 1 | Josh Methner | Jr. | 09:17.70 | Hersey | | | | |
| 2 | Tommy Brady | Sr. | 09:17.78 | Maine South | | | | |
| 3 | Spencer Werner | Fr. | 09:18.74 | Loyola Academy | | | | |
| 4 | Ford Baker | Sr. | 09:23.12 | Winnetka (New Trier) | | | | |
| 5 | Charlie Siebert | So. | 09:31.38 | Winnetka (New Trier) | | | | |
| 6 | Max Svienty | Jr. | 09:35.26 | Hersey | | | | |
| 7 | Ian Spears | Sr. | 09:39.87 | Maine South | | | | |
| 8 | Nathan Schmitt | Jr. | 09:41.49 | Lake Forest | | | | |
| 9 | Jason Polydoris | So. | 09:45.13 | Highland Park | | | | |
| 10 | Will Kelly | Jr. | 09:50.53 | Glenview (Glenbrook South) | 2:20 | 2:23 | 2:32 | 2:35 |
| 11 | Thomas Walter | Jr. | 09:56.70 | Mt. Prospect (Prospect) | | | | |
| 12 | Josh Puyear | So. | 09:58.09 | Deerfield | | | | |
| 13 | Spencer Dzyacky | So. | 09:59.41 | Loyola Academy | | | | |
| 14 | Corey Fairchild | Jr. | 10:00.13 | Highland Park | | | | |
| 15 | Charlie Montgomery | Sr. | 10:07.41 | Niles North | | | | |
| 16 | Max Ebeling | Sr. | 10:10.85 | Evanston (Twp.) | | | | |
| 17 | Cole Bernstein | Fr. | 10:15.03 | Deerfield | | | | |
| 18 | Matt Coath | Sr. | 10:20.26 | Niles (Notre Dame) | | | | |
| 19 | Bryan Martinez | So. | 10:20.56 | Wheeling | | | | |
| 20 | Erik Osorio-Cruz | Jr. | 10:20.90 | Maine East | | | | |
| 21 | Ellis Allen | So. | 10:22.59 | Evanston (Twp.) | | | | |
| 22 | Trevor Glancy | Jr. | 10:23.08 | Skokie (Niles West) | | | | |
| 23 | Liam Perreault | So. | 10:23.34 | Niles North | | | | |
| 24 | Nic Squillacioti | So. | 10:24.72 | Mt. Prospect (Prospect) | | | | |
| 25 | James Kurtzweil | Jr. | 10:27.68 | Glenview (Glenbrook South) | 2:22 | 2:40 | 2:45 | 2:40 |
| 26 | Nick Ihrke | So. | 10:28.34 | Glenbrook North | | | | |
| 27 | Matthew Carey | So. | 10:29.48 | Skokie (Niles West) | | | | |
| 28 | Jonah Levine | Sr. | 10:35.88 | Glenbrook North | | | | |
| 29 | Abaan Ansari | So. | 10:55.42 | Maine East | | | | |
| 30 | Joshua Lane | Jr. | 11:00.23 | Lake Forest | | | | |
| 31 | Japnam Hothi | So. | 11:05.87 | Wheeling | | | | |
| 32 | Ryan McPhillips | Fr. | 11:29.45 | Niles (Notre Dame) | | | | |
800m
| Place | Name | Grade | Time | Team | 400m | 800m |
| --- | --- | --- | --- | --- | --- | --- |
| 1 | Will Houser | Jr. | 1:57.28 | Glenview (Glenbrook South) | 59.0 | 58.0 |
| 2 | Charlie Schultz | Sr. | 1:57.79 | Glenview (Glenbrook South) | 59.0 | 58.0 |
| 3 | Umar Chaudhry | Jr. | 1:58.48 | Skokie (Niles West) | | |
| 4 | John Tierney | Sr. | 1:58.79 | Niles (Notre Dame) | | |
| 5 | Jay Patel | Sr. | 1:59.69 | Niles North | | |
| 6 | Jordan Teran | Jr. | 2:00.42 | Wheeling | | |
| 7 | Bradley Brodsky | Sr. | 2:00.46 | Deerfield | | |
| 8 | Charlie Forbes | Sr. | 2:00.88 | Winnetka (New Trier) | | |
| 9 | Billy Delaney | Jr. | 2:00.94 | Loyola Academy | | |
| 10 | Ben Zamler | So. | 2:01.90 | Deerfield | | |
| 11 | Eli Miller | Sr. | 2:02.38 | Loyola Academy | | |
| 12 | Max Marquez | Sr. | 2:04.86 | Glenbrook North | | |
| 13 | Ryan Buch | Sr. | 2:05.70 | Hersey | | |
| 14 | Matt Cull | So. | 2:05.78 | Maine South | | |
| 15 | Patrick Jamieson | Fr. | 2:06.52 | Winnetka (New Trier) | | |
| 16 | Gavin Kafkakis | So. | 2:06.54 | Mt. Prospect (Prospect) | | |
| 17 | Jack Rutstein | Jr. | 2:08.19 | Evanston (Twp.) | | |
| 18 | John McGivern | So. | 2:08.50 | Skokie (Niles West) | | |
| 19 | Brad Altman | Jr. | 2:08.63 | Maine South | | |
| 20 | Scott Phadnis | Jr. | 2:09.13 | Glenbrook North | | |
| 21 | Greg Sevilla | Jr. | 2:09.27 | Wheeling | | |
| 22 | Zach Zwolfer | So. | 2:09.41 | Niles (Notre Dame) | | |
| 23 | Jordy Mazza | Sr. | 2:10.29 | Highland Park | | |
| 24 | Schneider Chery | Jr. | 2:11.36 | Maine East | | |
| 25 | James Wagenblast | Sr. | 2:14.31 | Highland Park | | |
| 26 | Ethan Lane | Jr. | 2:14.53 | Lake Forest | | |
| 27 | Ethan Haller | So. | 2:14.88 | Lake Forest | | |
| 28 | Aby James | So. | 2:28.01 | Niles North | | |
1600m
| Place | Name | Grade | Time | Team | 400m | 800m | 1200m | 1600m |
| --- | --- | --- | --- | --- | --- | --- | --- | --- |
| 1 | Ben Rosa | Jr. | 4:23.43 | Lake Forest | | | | |
| 2 | Joey Kasch | Jr. | 4:24.08 | Maine South | | | | |
| 3 | Erik Snell | Jr. | 4:26.80 | Mt. Prospect (Prospect) | | | | |
| 4 | Tyler Polak | Sr. | 4:28.38 | Wheeling | | | | |
| 5 | Kaleb Whiteside | So. | 4:31.11 | Lake Forest | | | | |
| 6 | Max Peterson | Jr. | 4:31.26 | Evanston (Twp.) | | | | |
| 7 | Nick Falk | Fr. | 4:33.90 | Winnetka (New Trier) | | | | |
| 8 | Ben Kraemer | Jr. | 4:34.19 | Deerfield | | | | |
| 9 | Brian Hiltebrand | Fr. | 4:35.26 | Glenview (Glenbrook South) | 66.0 | 69.0 | 70.0 | 69.0 |
| 10 | Colin Safford | Jr. | 4:36.27 | Hersey | | | | |
| 11 | Felix Boeing | Jr. | 4:37.18 | Winnetka (New Trier) | | | | |
| 12 | Joey Pauletto | Sr. | 4:39.89 | Glenview (Glenbrook South) | 66.0 | 69.0 | 73.0 | 71.0 |
| 13 | Jose Reyes | Sr. | 4:40.50 | Highland Park | | | | |
| 14 | Christopher Holly | Sr. | 4:41.33 | Skokie (Niles West) | | | | |
| 15 | Luke Burkum | Jr. | 4:42.35 | Maine South | | | | |
| 16 | Jackson Gross | Sr. | 4:42.72 | Wheeling | | | | |
| 17 | Bradley Brodsky | Sr. | 4:44.17 | Deerfield | | | | |
| 18 | Hector Lopez | Sr. | 4:44.94 | Maine East | | | | |
| 19 | Sloan Abrams | So. | 4:45.52 | Niles North | | | | |
| 20 | Michael Kruse | Jr. | 4:46.38 | Glenbrook North | | | | |
| 21 | Alex Owens | Jr. | 4:48.71 | Loyola Academy | | | | |
| 22 | J.T. Bautista | So. | 4:50.69 | Mt. Prospect (Prospect) | | | | |
| 23 | Riley Newton | Sr. | 4:51.96 | Niles (Notre Dame) | | | | |
| 24 | Daniel Weaver | So. | 4:53.18 | Glenbrook North | | | | |
| 25 | Tom McCarthy | Sr. | 4:54.02 | Hersey | | | | |
| 26 | Ethan Suh | So. | 4:55.86 | Skokie (Niles West) | | | | |
| 27 | Amin Sahid | Sr. | 4:56.16 | Niles North | | | | |
| 28 | Erik Osorio-Cruz | Jr. | 4:57.48 | Maine East | | | | |
| 29 | Alex Brown | Fr. | 4:59.88 | Highland Park | | | | |
| 30 | Matt Coath | Sr. | 5:06.13 | Niles (Notre Dame) | | | | |