Meet Recap
On Friday, May 10th, 2019, the Titans competed at Niles North High School at the Central Suburban League South Division Conference Championship. Glenbrook South had NINE Individual Conference Champions out of the thirty-six events! That means that GBS won 25% of the events! While our Varsity Distance team placed fourth out of the six schools, this Conference will always hold a special place in our history books.
Will Houser (Jr) continues to set his personal record in the 800m, becoming a Conference Champion with his time of 1:57.29.
Charlie Schultz (Sr) is getting so-close to the magical 2 minute mark, finishing the 800m with his personal best time of 2:00.56.
Joey Pauletto (Sr) and Brian Hiltebrand (Fr) competed and finished together in the Varsity 1600m. Joey set his PR of 4:35.02 with Brian finishing right behind him at 4:35.31.
Michael Jerva (Fr) and Lucas Houser (Fr) continue to do amazing things in the 800m, with Michael running a 2:11.37 and Lucas right behind him at 2:13.07.
The Titans run next at the IHSA Sectional Meet at Niles West on Thursday. Details to come later.
Team Scores
| | | |
| --- | --- | --- |
| 1 | Maine South | 158 |
| 2 | Evanston (Twp.) | 152 |
| 3 | Glenview (Glenbrook South) | 105 |
| 4 | Winnetka (New Trier) | 98 |
| 5 | Niles North | 31 |
| 6 | Skokie (Niles West) | 10 |
| | | |
| --- | --- | --- |
| 1 | Winnetka (New Trier) | 108 |
| 2 | Skokie (Niles West) | 104 |
| 3 | Glenview (Glenbrook South) | 102 |
| 4 | Maine South | 97 |
| 5 | Evanston (Twp.) | 90 |
| 6 | Niles North | 47 |
Photos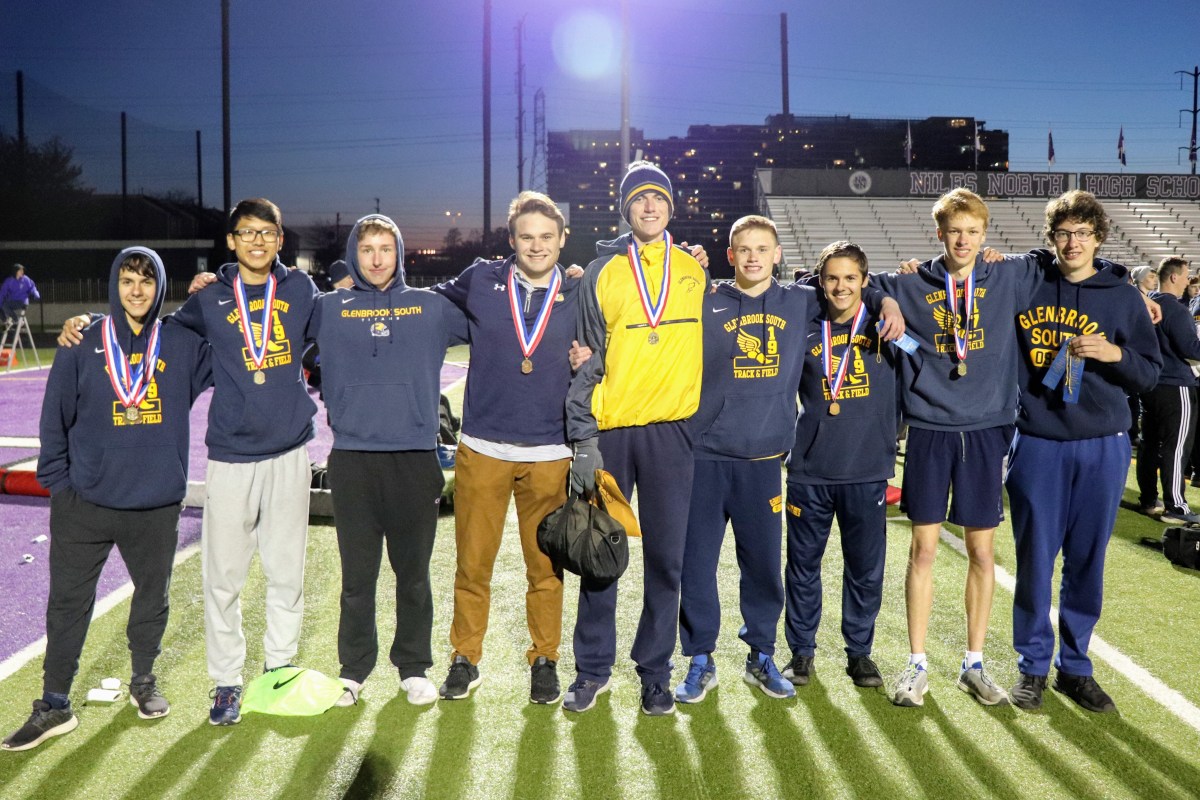 Varsity Results
800m
| Place | Name | Grade | Time | Team | 400m | 800m |
| --- | --- | --- | --- | --- | --- | --- |
| 1 | Will Houser | Jr. | 1:57.29 | Glenbrook South | 57.0 | 60.0 |
| 2 | Max Peterson | Jr. | 1:58.08 | Evanston | | |
| 3 | Julion Michelin | Sr. | 1:58.74 | Evanston | | |
| 4 | Jay Patel | Sr. | 1:58.89 | Niles North | | |
| 5 | Umar Chaudhry | Jr. | 1:59.21 | Niles West | | |
| 6 | Charlie Schultz | Sr. | 2:00.56 | Glenbrook South | 58.0 | 62.0 |
| 7 | Ben Weiler | Sr. | 2:00.58 | New Trier | | |
| 8 | Charlie Forbes | Sr. | 2:02.40 | New Trier | | |
| 9 | Ali Chaudhry | Sr. | 2:09.28 | Niles West | | |
| 10 | Brad Altman | Jr. | 2:09.98 | Maine South | | |
| 11 | Danilo Dobrilovic | Sr. | 2:12.72 | Maine South | | |
| 12 | Luke Ferri | Jr. | 2:20.51 | Niles North | | |
1600m
| Place | Name | Grade | Time | Team | 400m | 800m | 1200m | 1600m |
| --- | --- | --- | --- | --- | --- | --- | --- | --- |
| 1 | Joey Kasch | Jr. | 4:24.45 | Maine South | | | | |
| 2 | Max Peterson | Jr. | 4:27.86 | Evanston | | | | |
| 3 | Luke Burkum | Jr. | 4:33.14 | Maine South | | | | |
| 4 | Joey Pauletto | Sr. | 4:35.02 | Glenbrook South | 1:04 | 1:09 | 1:11 | 1:08 |
| 5 | Brian Hiltebrand | Fr. | 4:35.31 | Glenbrook South | 1:04 | 1:09 | 1:11 | 1:09 |
| 6 | Jackson Flick | Jr. | 4:38.10 | New Trier | | | | |
| 7 | Christopher Holly | Sr. | 4:39.41 | Niles West | | | | |
| 8 | Charlie Montgomery | Sr. | 4:40.91 | Niles North | | | | |
| 9 | JD Shelly | Jr. | 4:41.11 | New Trier | | | | |
| 10 | Giacomo Conde | Jr. | 5:02.21 | Evanston | | | | |
| 11 | Gabe Cohen | Sr. | 5:13.81 | Niles West | | | | |
| 12 | Max Battle | Sr. | 5:29.23 | Niles North | | | | |
3200m
| Place | Name | Grade | Time | Team | 800m | 1600m | 2400m | 3200m |
| --- | --- | --- | --- | --- | --- | --- | --- | --- |
| 1 | Tommy Brady | Sr. | 09:15.66 | Maine South | | | | |
| 2 | Ford Baker | Sr. | 09:31.59 | New Trier | | | | |
| 3 | Ian Spears | Sr. | 09:37.02 | Maine South | | | | |
| 4 | Charlie Siebert | So. | 09:39.16 | New Trier | | | | |
| 5 | Will Kelly | Jr. | 09:45.76 | Glenbrook South | 2:21 | 2:26 | 2:28 | 2:30 |
| 6 | Max Ebeling | Sr. | 10:01.55 | Evanston | | | | |
| 7 | Amin Sahid | Sr. | 10:12.04 | Niles North | | | | |
| 8 | James Kurtzweil | Jr. | 10:24.18 | Glenbrook South | 2:21 | 2:34 | 2:48 | 2:41 |
| 9 | Trevor Glancy | Jr. | 10:26.16 | Niles West | | | | |
| 10 | Kasper Goralczyk | Fr. | 10:39.08 | Niles North | | | | |
| 11 | Isaiah Iverson | Jr. | 10:45.84 | Niles West | | | | |
4x800m
Place
Name
Grade
Time
Team
400m
800m
1
Relay Team
8:16.49
New Trier
2
Relay Team
8:21.50
Evanston
3
Relay Team
8:22.24
Maine South
4
Relay Team
8:27.05
Niles North
5
Relay Team
8:30.88
Niles West
6
Relay Team
8:50.84
Glenbrook South
Jason Lesynski
Sr.
2:04.7
Glenbrook South
59.0
66.0
Joey Patronik
Sr.
2:10.1
Glenbrook South
61.0
69.0
Theo Gikas
Jr.
2:15.4
Glenbrook South
65.0
70.0
Wade Herrera
Jr.
2:20.4
Glenbrook South
66.0
74.0
4x400m
Place
Name
Grade
Time
Team
1
Relay Team
3:25.72
New Trier
2
Relay Team
3:26.47
Evanston
3
Relay Team
3:33.08
Niles North
4
Relay Team
3:33.51
Maine South
5
Relay Team
3:38.46
Niles West
6
Relay Team
3:39.04
Glenbrook South
Charlie Schultz
Sr.
53.0
Glenbrook South
Will Houser
Jr.
55.0
Glenbrook South
Frosh/Soph Results
800m
| Place | Name | Grade | Time | Team | 400m | 800m |
| --- | --- | --- | --- | --- | --- | --- |
| 1 | George Cahill | Fr. | 2:08.63 | New Trier | | |
| 2 | Jack Michel | So. | 2:09.99 | New Trier | | |
| 3 | John McGivern | So. | 2:10.91 | Niles West | | |
| 4 | Michael Jerva | Fr. | 2:11.37 | Glenbrook South | 65.0 | 66.0 |
| 5 | Owen Briggeman | So. | 2:12.26 | Evanston | | |
| 6 | Lucas Houser | Fr. | 2:13.07 | Glenbrook South | 64.0 | 69.0 |
| 7 | Bora Celiknal | Fr. | 2:15.94 | Niles West | | |
| 8 | Jack Nelson | So. | 2:20.95 | Evanston | | |
1600m
| Place | Name | Grade | Time | Team | 400m | 800m | 1200m | 1600m |
| --- | --- | --- | --- | --- | --- | --- | --- | --- |
| 1 | Matt Cull | So. | 4:40.00 | Maine South | | | | |
| 2 | Blake Deger | Fr. | 4:45.23 | New Trier | | | | |
| 3 | Connor O'Neill | So. | 4:46.88 | New Trier | | | | |
| 4 | Eamon Brady | So. | 4:47.82 | Maine South | | | | |
| 5 | Ellis Allen | So. | 4:52.80 | Evanston | | | | |
| 6 | Matthew Carey | So. | 4:57.22 | Niles West | | | | |
| 7 | Nahiyan Chowdhury | So. | 4:58.23 | Niles North | | | | |
| 8 | Dylan Eyler | Fr. | 4:58.76 | Evanston | | | | |
| 9 | James Scott | So. | 4:59.89 | Glenbrook South | 1:08 | 1:15 | 1:21 | 1:16 |
| 10 | Matthew Finkel | So. | 5:00.04 | Glenbrook South | 1:09 | 1:18 | 1:17 | 1:15 |
| 11 | Ethan Suh | So. | 5:00.66 | Niles West | | | | |
| 12 | Kyle Kenmotsu | So. | 5:02.45 | Niles North | | | | |
3200m
| Place | Name | Grade | Time | Team | 800m | 1600m | 2400m | 3200m |
| --- | --- | --- | --- | --- | --- | --- | --- | --- |
| 1 | Nick Falk | Fr. | 09:46.00 | New Trier | | | | |
| 2 | Sloan Abrams | So. | 10:02.54 | Niles North | | | | |
| 3 | Matt Coyle | So. | 10:15.97 | Maine South | | | | |
| 4 | Matt Flick | So. | 10:19.22 | New Trier | | | | |
| 5 | Matthew Carey | So. | 10:33.37 | Niles West | | | | |
| 6 | Ethan Suh | So. | 10:33.61 | Niles West | | | | |
| 7 | Solomon Green | Fr. | 10:41.99 | Evanston | | | | |
| 8 | Aby James | So. | 10:42.32 | Niles North | | | | |
| 9 | Preston Davidson | So. | 11:09.89 | Glenbrook South | 2:34 | 2:49 | | |
| 10 | Carter Adams | So. | 11:09.95 | Glenbrook South | 2:34 | 2:49 | | |
4x800m
Place
Name
Grade
Time
Team
400m
800m
1
Relay Team
8:47.01
Niles North
2
Relay Team
8:49.00
Niles West
3
Relay Team
8:56.45
New Trier
4
Relay Team
9:11.72
Evanston
5
Relay Team
9:47.15
Maine South
6
Relay Team
DQ
Glenbrook South
Derek Lentz
2:15.2
Glenbrook South
64.0
71.0
Matthew Penne
2:18.2
Glenbrook South
64.0
74.0
Tyson Anthony
2:16.3
Glenbrook South
63.0
73.0
Dane Branstrom
2:18.0
Glenbrook South
68.0
70.0
4x400m
Place
Name
Grade
Time
Team
1
Relay Team
3:44.57
New Trier
2
Relay Team
3:45.45
Evanston
3
Relay Team
3:45.49
Niles West
4
Relay Team
3:48.10
Niles North
5
Relay Team
3:51.31
Glenbrook South
Michael Jerva
So.
56.5
Glenbrook South
Tyson Anthony
So.
59.3
Glenbrook South
6
Relay Team
3:57.10
Maine South