Meet Recap
On Thursday, 37 Titan Distance athletes competed at the 3rd Indoor Home Meet. 37 of those athletes had a season record. It's a great day to be a Titan after performances like that! The next indoor meet is the last one of the season Next Friday, March 8.
Some Highlights:
Brian Hiltebrand (Fr) set the freshman indoor track 800m record with a time of 2:09.2. The record was last set by John Grant in 2003. Fresh out of the basketball season, Brian has been apart of two freshman records in the three races he has run! We are looking forward to Brian's future!
Will Kelly (Jr) set the fieldhouse 3200m record with a time of 9:43.7. The record was last set by Glazier from Highland Park in 2017. Will is running amazingly this year, continuing to set his personal records week after week.
Jack Cleary (Fr) made the largest jump in performance points, jumping up 130 points with his 2:31 in the 800m.
Team Scores
This is either an unscored meet, or team results are missing from our database. If you believe this is an error, please reach out.
Photos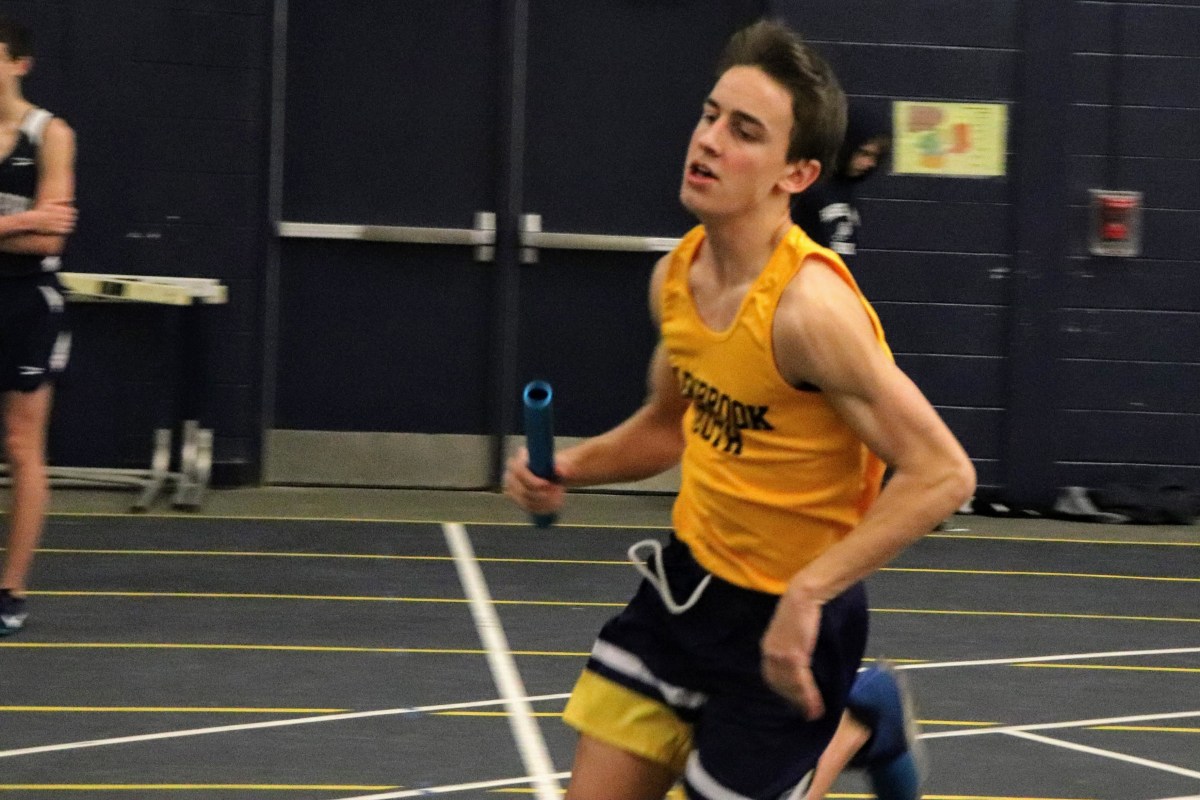 Open Results
800m
| Place | Name | Grade | Time | Team | 400m | 800m |
| --- | --- | --- | --- | --- | --- | --- |
| 1 | Jose Reyes | Sr. | 2:07.3 | Highland Park | | |
| 2 | Brian Hiltebrand | Fr. | 2:09.2 | Glenbrook South | 64.0 | 65.0 |
| 3 | Joey Pauletto | Sr. | 2:09.3 | Glenbrook South | 64.0 | 65.0 |
| 4 | Shevin | | 2:11.3 | Glenbrook North | | |
| 5 | Max Marquez | Sr. | 2:12.0 | Glenbrook North | | |
| | Jason Lesynski | Sr. | 2:13.0 | Glenbrook South | 63.0 | 70.0 |
| | Preston Davidson | So. | 2:23.3 | Glenbrook South | 69.0 | 74.0 |
| | James Scott | So. | 2:25.5 | Glenbrook South | 69.0 | 76.0 |
| | Jacob Baim | Fr. | 2:30.0 | Glenbrook South | 71.0 | 79.0 |
| | Jack Cleary | Fr. | 2:31.1 | Glenbrook South | 71.0 | 80.0 |
1600m
| Place | Name | Grade | Time | Team | 400m | 800m | 1200m | 1600m |
| --- | --- | --- | --- | --- | --- | --- | --- | --- |
| 1 | Will Houser | Jr. | 4:36.3 | Glenbrook South | 63.0 | 70.0 | 73.0 | 70.0 |
| 2 | James Preucil | Jr. | 4:46.0 | Conant | | | | |
| 3 | Charlie Schultz | Sr. | 4:50.1 | Glenbrook South | 67.0 | 74.0 | 76.0 | 73.0 |
| 4 | Cruz | | 4:54.5 | Glenbrook North | | | | |
| 5 | Corey Fairchild | Jr. | 4:56.5 | Highland Park | | | | |
| | Sam Westfall | Jr. | 5:03.0 | Glenbrook South | 73.0 | 78.0 | 79.0 | 73.0 |
| | Joey Patronik | Sr. | 5:03.0 | Glenbrook South | 72.0 | 79.0 | 79.0 | 73.0 |
| | Wade Herrera | Jr. | 5:05.0 | Glenbrook South | 73.0 | 78.0 | 79.0 | 75.0 |
| | Theo Gikas | Jr. | 5:14.0 | Glenbrook South | 73.0 | 84.0 | 78.0 | 79.0 |
| | Tyson Anthony | So. | 5:15.0 | Glenbrook South | 73.0 | 79.0 | 83.0 | 80.0 |
| | Michael Jerva | Fr. | 5:33.0 | Glenbrook South | 78.0 | 89.0 | 87.0 | 79.0 |
| | Ethan Hernandez | Fr. | 5:44.0 | Glenbrook South | 82.0 | 93.0 | 90.0 | 79.0 |
| | Derek Lentz | Fr. | 5:45.0 | Glenbrook South | 79.0 | 89.0 | 89.0 | 88.0 |
| | Gerry Bermudez | Jr. | 5:48.0 | Glenbrook South | 80.0 | 88.0 | 91.0 | 89.0 |
| | Cole Brady | So. | 5:54.0 | Glenbrook South | 82.0 | 95.0 | 92.0 | 85.0 |
| | Adrian Ciszyk | Jr. | 5:56.0 | Glenbrook South | 83.0 | 95.0 | 97.0 | 81.0 |
| | Aditya Bhalla | Sr. | 6:15.0 | Glenbrook South | 83.0 | 94.0 | 98.0 | 100.0 |
3200m
| Place | Name | Grade | Time | Team | 800m | 1600m | 2400m | 3200m |
| --- | --- | --- | --- | --- | --- | --- | --- | --- |
| 1 | Will Kelly | Jr. | 09:43.2 | Glenbrook South | 2:21 | 2:29 | 2:27 | 2:25 |
| 2 | Jason Polydoris | So. | 09:54.9 | Highland Park | | | | |
| 3 | Nick Redstone | So. | 10:36.8 | Glenbrook North | | | | |
| 4 | James Kurtzweil | So. | 10:37.0 | Glenbrook South | 2:30 | 2:41 | 2:43 | 2:43 |
| 5 | Ethan Parham | Jr. | 10:40.0 | Conant | | | | |
| | Jordan Lynch | Sr. | 10:41.0 | Glenbrook South | 2:36 | 2:43 | 2:44 | 2:38 |
| | Matthew Finkel | So. | 11:04.0 | Glenbrook South | 2:38 | 2:49 | 2:51 | 2:46 |
| | John Bresnahan | Jr. | 11:05.0 | Glenbrook South | 2:42 | 2:45 | 2:52 | 2:46 |
| | Michael Westfall | Fr. | 11:40.0 | Glenbrook South | | | | |
| | Sebastian Zimmer | Fr. | 11:40.0 | Glenbrook South | | | | |
| | Luke Houser | Fr. | 11:44.0 | Glenbrook South | | | | |
| | Carter Adams | So. | 11:59.0 | Glenbrook South | | | | |
| | Mrugesh Thakor | So. | 11:52.0 | Glenbrook South | | | | |
| | Elie Nassif | Fr. | 11:34.0 | Glenbrook South | | | | |
| | Jayson Stamm | Fr. | 11:35.0 | Glenbrook South | | | | |
| | Matthew Penne | Fr. | 12:23.0 | Glenbrook South | | | | |
| | John Paul Philbrick | Fr. | 12:34.0 | Glenbrook South | | | | |
| | Justin Wrona | Jr. | 12:43.0 | Glenbrook South | | | | |
| | Brett Wittenstein | Fr. | 12:45.0 | Glenbrook South | | | | |
4x400m
Place
Name
Grade
Time
Team
1
Relay Team
3:44.9
Glenbrook South
Will Houser
Jr.
55.6
Glenbrook South
Brian Hiltebrand
Fr.
56.2
Glenbrook South
Jason Leszynski
Sr.
57.1
Glenbrook South
2
Relay Team
3:48.5
Glenbrook North
3
Relay Team
3:51.1
Highland Park
4
Relay Team
4:01.3
Highland Park
5
Relay Team
4:01.4
Conant